What better way to spend a passionate and intimate evening with your partner than listening to some mellow, uplifting music and countless food options while taking in sights that the magnificent city of Singapore has to offer!
Be it your first date or your 5 year anniversary, these restaurants promise to offer you and your partner the most romantic time ever. Expat Choice looks at some of the most romantic restaurants in Singapore which should not be missed no matter what. - Image Credit: Lucha Loco Facebook Page
​​​​​​​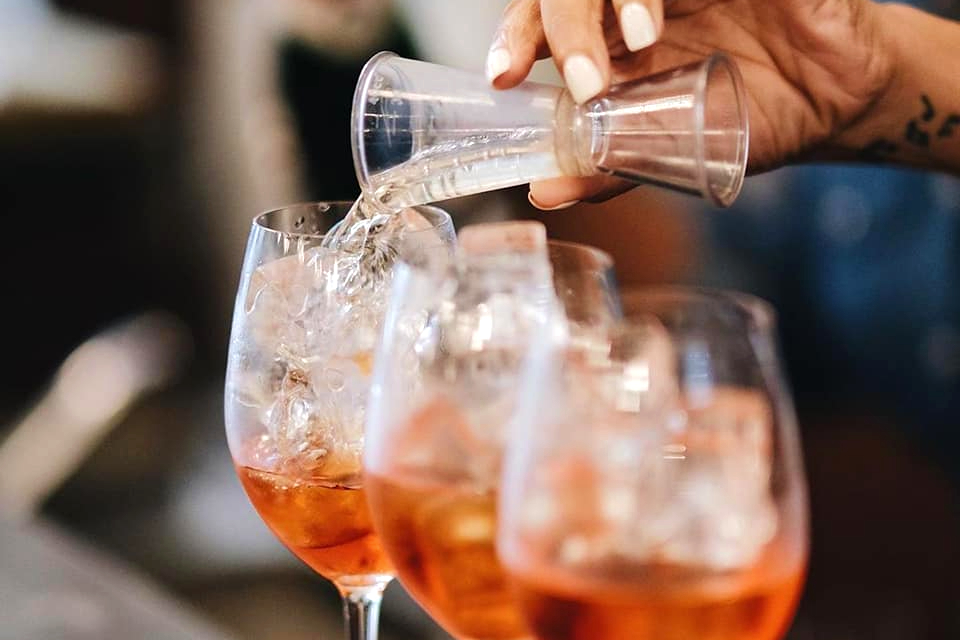 I don't think it gets more intimate than this. This cosy 40 seater reminds you of the city of love as it is reminiscent of the early 20th century cafes in Paris. Comfortable palm chairs, floors made of cobblestone and sophisticated tiled paintings will most certainly make your first date memorable. For people looking to get hammered on the first date, there happens to be a vintage collection of spirits from wine crafters in France. Moreover, Chef Jean Marie has inherited an antique cooker from his dear old grandmother. He is known to whip up delightful treats like tartines, the croque monsieur, croissants, baguettes and champagne. - Image Credit: Café Gavroche Facebook Page
​​​​​​​
It's time to get cheesy with your lover. Located inside the Flower Dome of Gardens by the Bay, this place can get a little nippy- yay for all the cute cuddly couples. Options are plenty at Pollen and even though the chef has a minimalistic style of cooking, you will never go hungry. Some all-time favourites include carabinero shrimp wrapped in lardo and suckling pig with wild Sicilian fennel and anise myrtle. However, if you're not in the mood for a heavy meal, head to the second floor for a nice and quiet afternoon tea to go with some munchies. - Image Credit: Pollen Singapore Facebook Page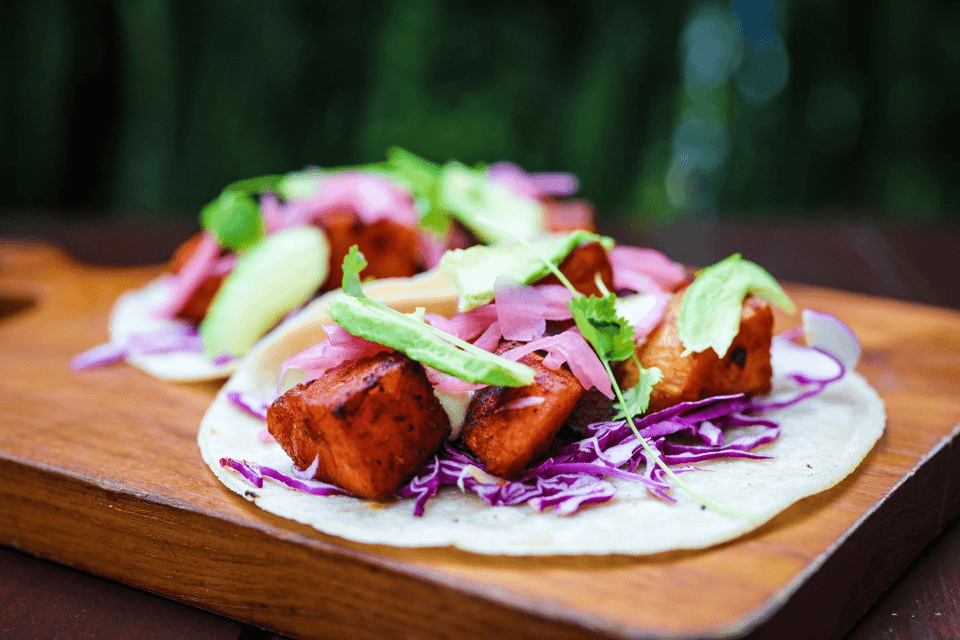 ​​​​​​​
You can choose to dine inside with dim lights hanging above and pastel walls that remind you of the saloons of the City of Mexico or venture out on the terrace to take the romance to the next level in the company of the sunset followed by the candlelight once you lose the sun. The atmosphere at Lucha Loco is upbeat and lively and is reminiscent of the bright and enchanting streets of Mexico, which can be quite refreshing. Promise your date a fun-filled evening with a wide range of main courses and an even wider range of appetizers. Conversations and cocktails go together with pools of sangria, the Mexican Mule, and an exhaustive range of beers gracing the menu card at Lucha Loco. - Image Credit: Lucha Loco Facebook Page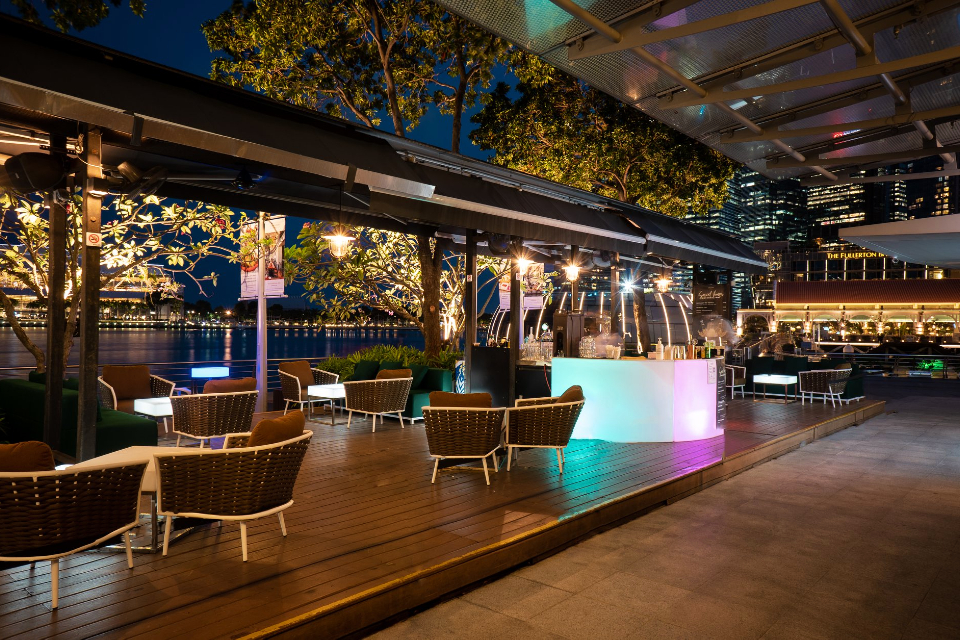 Magnificent views of the Marina Bay await your table at Monti situated in the Fullerton Pavilion. Let the tugboats take care of your date this weekend as you dig into authentic Italian cuisines such as the Acquerello Risotto coupled with some fresh truffle. Don't worry about having garlicky breath at the end of the night, for it is going to be the easiest transition from dinner to cocktails, courtesy of the DJs in the house. Stephen Day, Tirso Garcia, Victoria and Adam Sky take it upon themselves to liven up the evening with not only the Top 40s but some special unheard numbers as well. You know you cannot miss out on a drink that is named after the restaurant itself. Yes, this one is a signature cocktail and a must-have. Prepared with a white rum base, grapefruit juice, grapefruit tonic and fresh basil, Mr. Monti is as refreshing as it gets. - Image Credit: Monti Facebook Page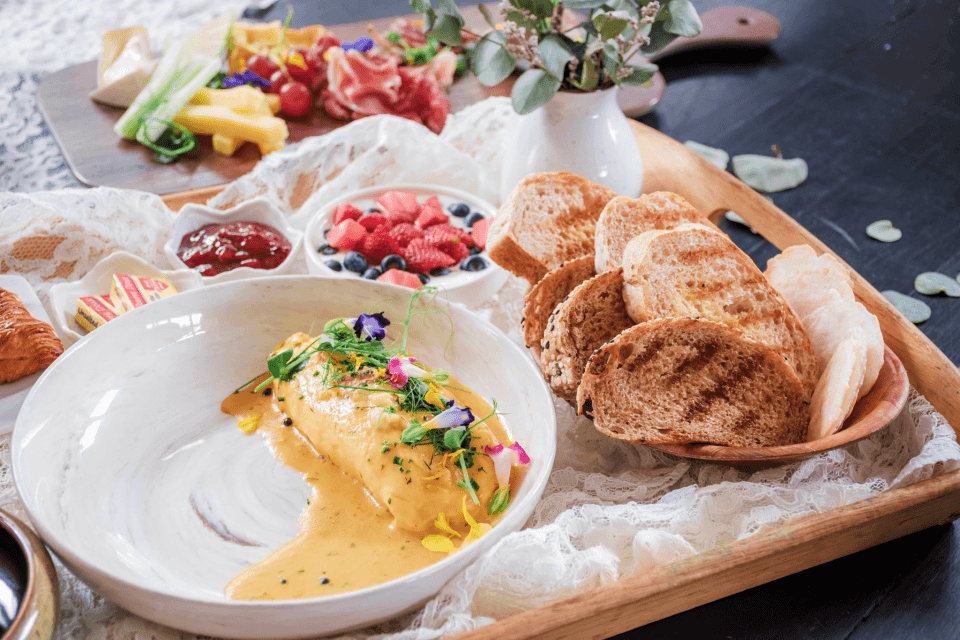 ​​​​​​​
This one is for all the health buffs out there. Buying local produce from Australian and Malaysian farms is encouraged here at the Summerhouse, thereby promoting local vendors and keeping it simple. Food is decorated with fresh herbs plucked from the gardens inside the property. This along with some of the most romantic dining options that the city of Singapore can offer makes this spot the perfect one for you to go down on one knee. Choose to dine in the main restaurant located on the second floor of the bungalow or book one of the three domes centred around different themes to dine in which is a foolproof way of making your partner fall in love with you. - Image Credit: The Summerhouse Facebook Page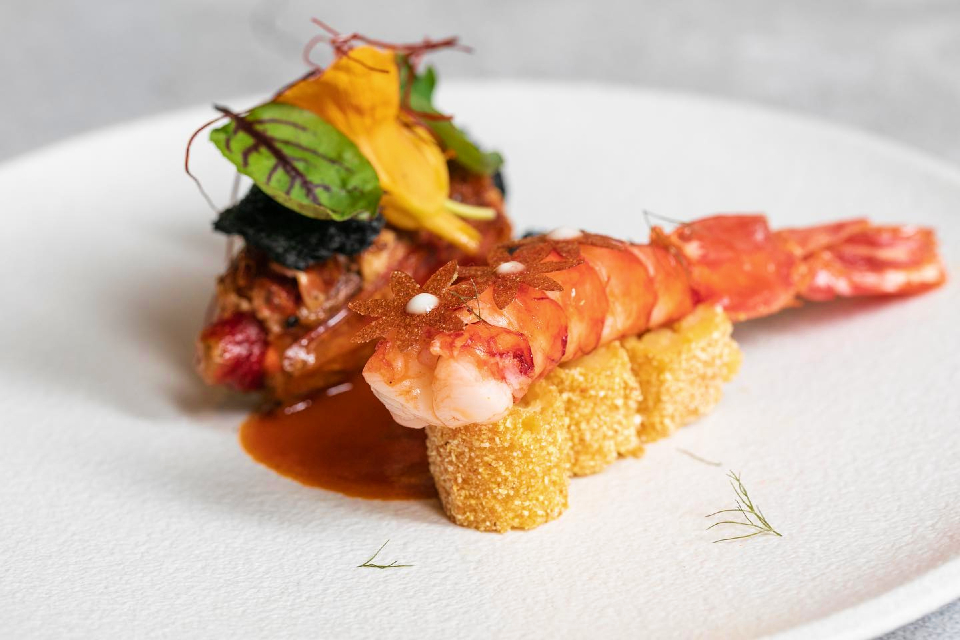 Literally spice up your date at Birds of a Feather. It is Spice Street here as Western delicacies are given a Sichuan twist, reminiscent of the fire breathing in the traditional Sichuanese opera. Whether you are on a date, in need of some alone time or in a hurry to host an urgent meeting, this space is the perfect spot for all occasions. Apart from the scrumptious maincourse, brunch is also a regular affair on all weekends. Two absolute must-have signature dishes are The Birds Skillet and Big Bird 1st which is a unique twist on the classic Eggs Benedict. It comes with rich, creamy mala hollandaise accompanied with crispy bacon, sausage, poached egg and a fluffy English muffin. Dig in! - Image Credit: Birds of a Feather SG Facebook Page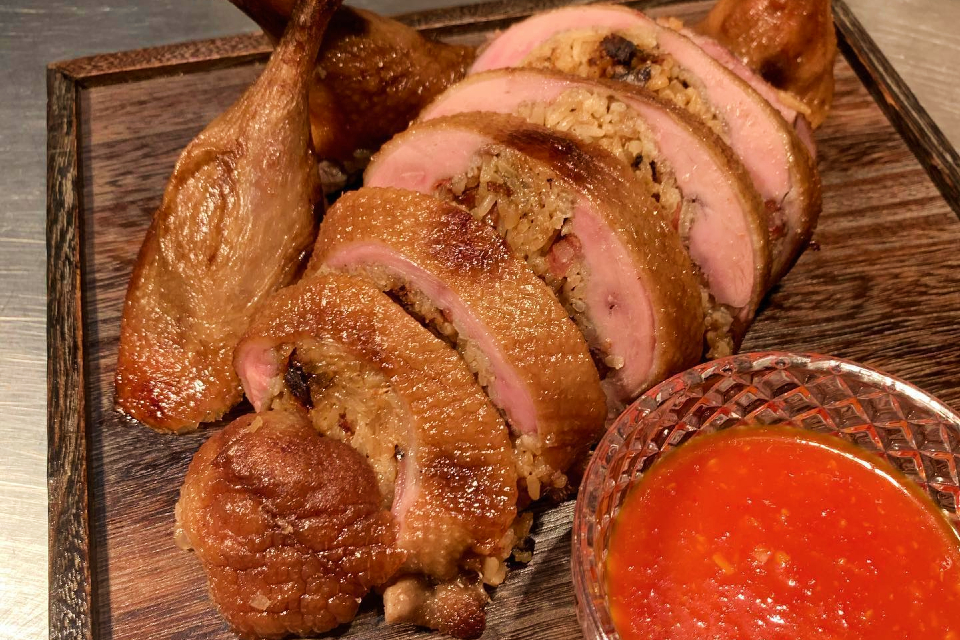 Restaurant Ibid is next up on the list keeping it caszh. If you're not in the mood for dressing up for a luncheon or fine dine, this is the place to be. Food here is one of a kind with a rich Nanyang influence. The perfect blend of Chinese cuisines and soft Singaporean succulents promises you an exceptional evening and is bound to make your partner fall in love with you after they devour the restaurant's six and eight-course meals. Spring onion shaobing with dripping molten cheese, short rib beef which comes with fermented pears and fresh strawberries topped with some luscious cream are among the most sought after dishes at the Ibid. - Image Credit: Restaurant Ibid Facebook Page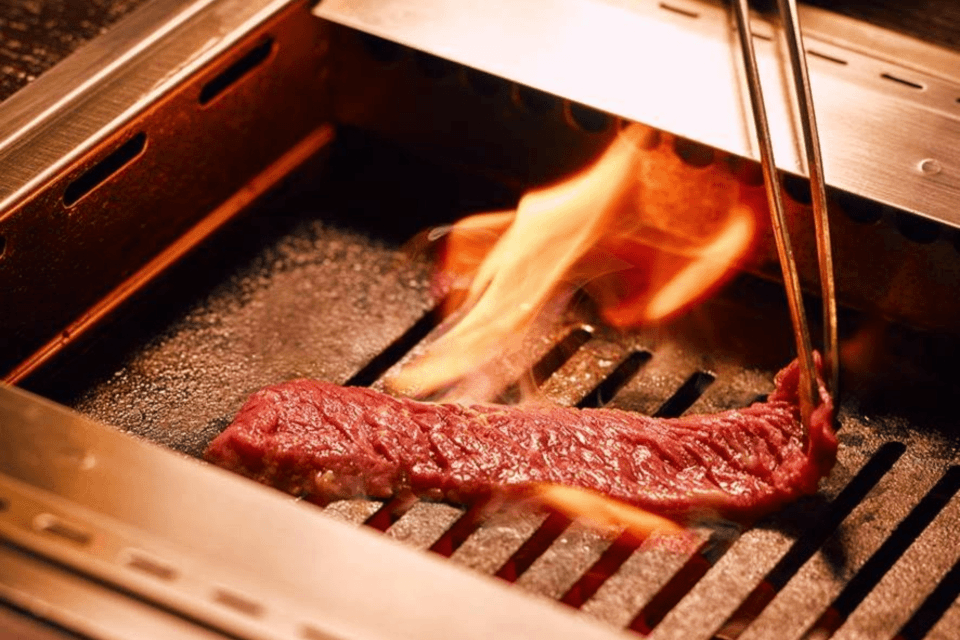 Intimate interiors and complimentary sake welcome you at the 35 seater restaurant The Gyu Bar as the place is wafting with invigorating smoky aromas. It is going to be a meat marathon at this place, so get your cutlery out and get ready to tuck in. A staggering 10 course menu involving various premium Japanese beef cuts awaits famished customers who wait eagerly to cook slices on the grill. However, if you're not in the mood for a meaty slice, feel free to order the Ishiyaki garlic egg rice- definitely a treat for the eyes and the mouth for it is served not in a regular plate but on a piece of searing stone! - Image Credit: The Gyu Bar Facebook Page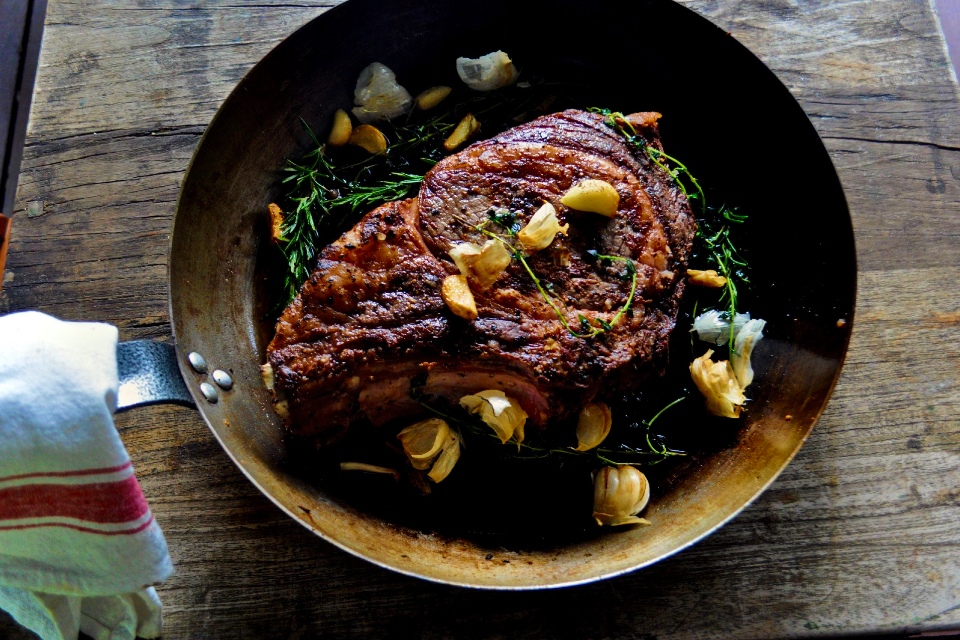 Summer Hill has surely come leaps and bounds, from the time when it started off as a shed serving roasted chicken in disposables to the cosy bistro along Sunset Way it is today. It is not only the food that is homely- guests are welcomed with warm, tight hugs which feel like a balmy breeze on a cold day. It doesn't matter if your babysitter didn't show up as kids can doodle away on the mahjong paper leaving you to gaze dreamily into your partner's eyes on the candlelit table, while you feast on roasted eggplants, crunchy sourdough bread, creamy mussles, and the signature roast chicken. Don't forget to check your calendar to catch a table on the Fried Chicken Day- a once a month event which has gone viral. It does not get better than this!  - Image Credit: Summer Hill Website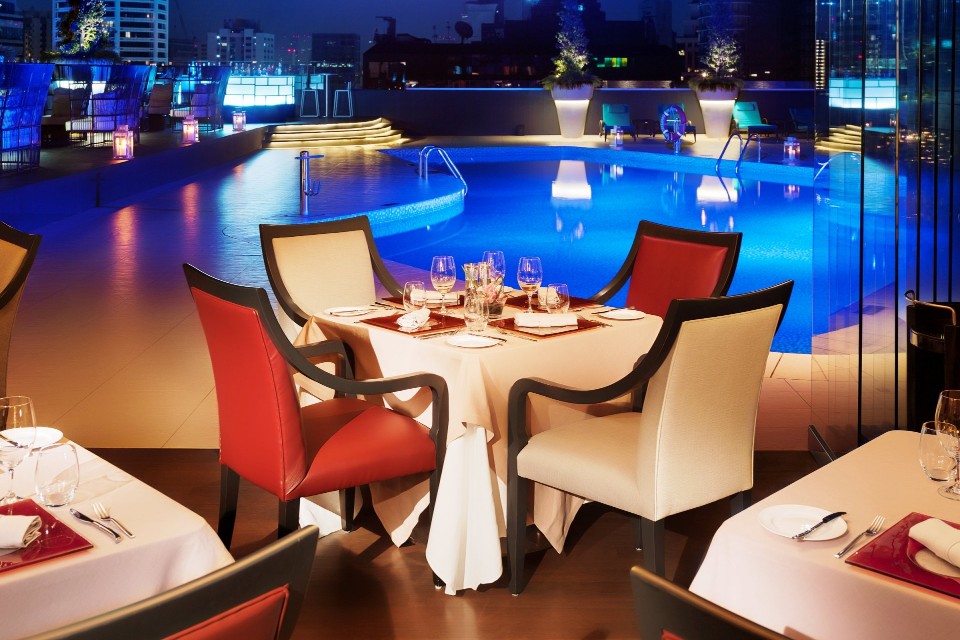 ​​​​​​​
Chef Yohhei Sasaki's repertoire is as healthy as the food at II Cielo. He boasts of having worked at Michelin-starred restaurants around Italy, thereby sprinkling an Italian influence which blends perfectly with his Japanese roots. Naturally, the view from the dining table is stunning- perched up on the 24th floor, you can take insights of the rooftop pool while taking in mouthfuls of Sea Urchin Spaghetti and the Bruschetta al Pamodoro. Try out the Degustazione menu if you want a little authenticity. It comes in two varieties: the Italian one has the Bruschetta with basil crumble and Datterini tomato sorbet, while the Japanese one includes the sea urchin and abalone with the Sakura ebi crumble and Asari clam gelato. - Image Credit: il Cielo Website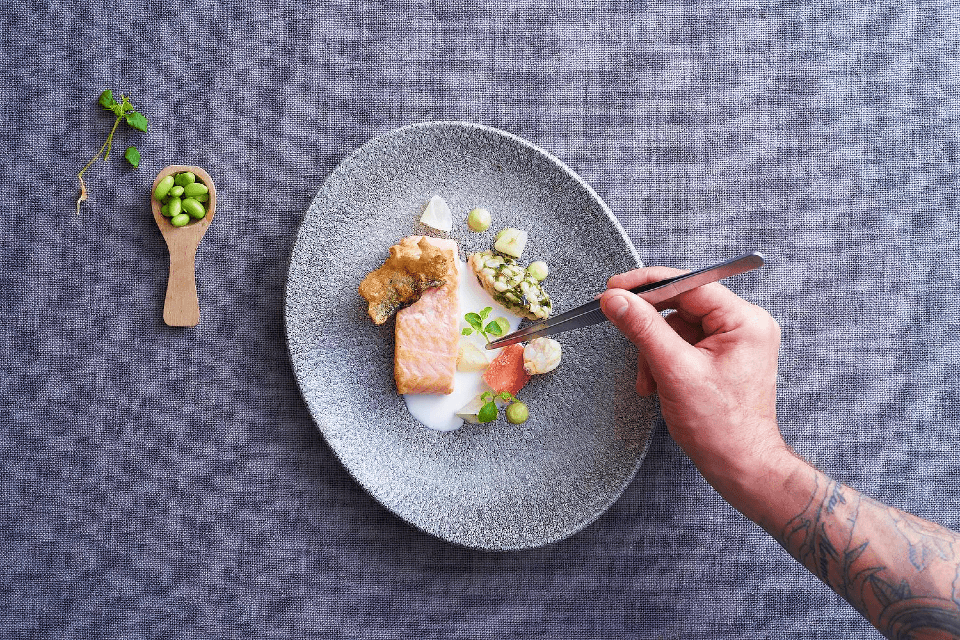 ​​​​​​​
Book a table at Skai and you and your partner will literally be on cloud 9. Breathtaking views of the Civic District await you on the 70th floor as you sit comfortably perched on plush velvet armchairs devouring mouthfuls of beef which comes in 10 rare varieties, courtesy of Chef Paul Hallett. Skai has come leaps and bounds from its predecessor, Equinox- thanks to the lovely team who has taken it upon themselves to push Skai to staggering heights. Well, you can expect nothing less when the kitchen is wheeled by stalwart chefs like Hallett and award-winning pastry chef Chong Koo Jee. Some must-have desserts are the soybean cheesecake and the yuzu white chocolate. - Image Credit: Skai Facebook Page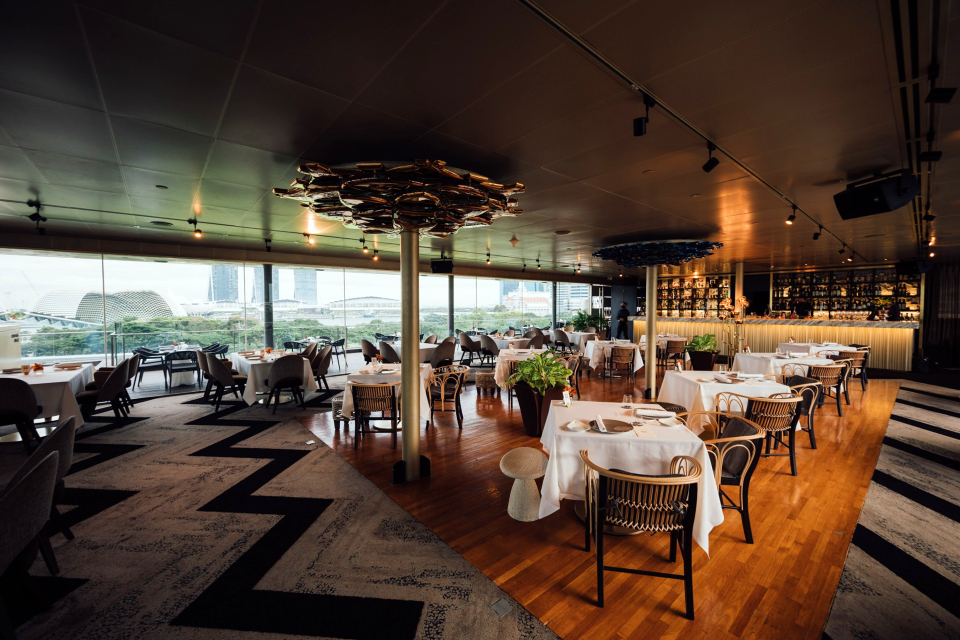 A wise person once said that Food is Art, so it only makes sense to have a restaurant inside the National Gallery of Singapore. This one is for lovers as well as art lovers. Find yourself amidst some of the best collection of South East Asian art. Expect no less from their culinary comrades as they take it upon themselves to paint an appetizing picture brimming with a variety of colours and flavours what with cute little baby radishes loaded with bottarga, crunchy roasted chestnuts cosily wrapped inside 24 month prosciutto and some tangy pickled carrots.
It doesn't end here. The Gianduga Chocolate with Hazelnut gelato is art on a plate and in the mouth. The creaminess of the hazelnut tiramisu coupled with the bitterness of the coffee and the crunch of the tuile make it the perfect dessert to end your dinner with. - Image Credit: Art Facebook Page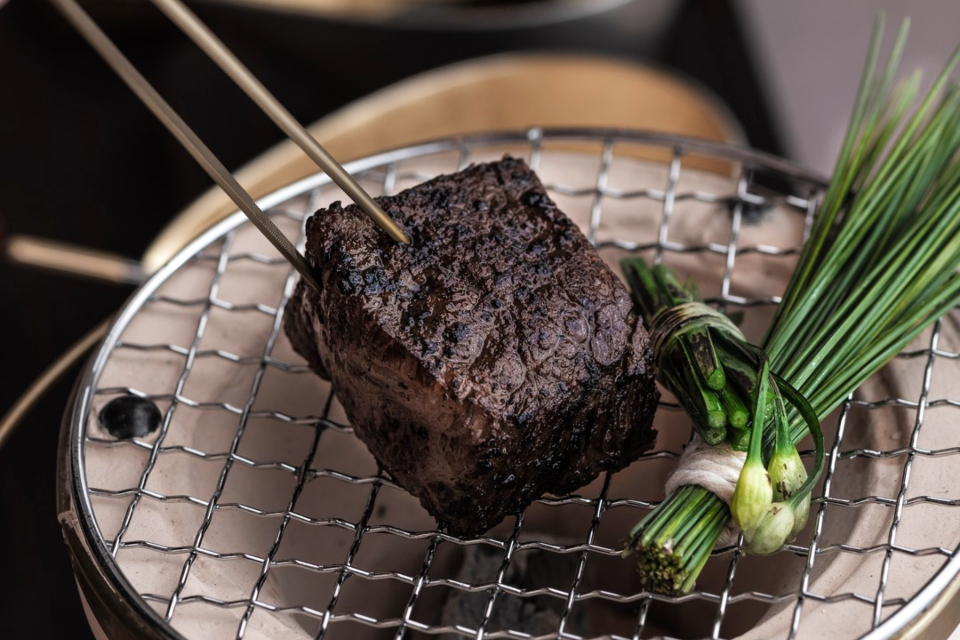 One evening at Restaurant Zen and you're going to leave with a bloated stomach and a shrivelled wallet. As pricey as it is, those $450 are value for money, all thanks to the skilled team of chefs lead by Chef Björn Frantzén. This restaurant stays true to its name as a date here is no different than a mini retreat to a cabin in Sweden, away from the hustle and bustle of daily routine, chaos and pandemonium. Moreover, the food is exquisite; it takes you from the first floor of the ever so charming house on Bukit Pasoh to the third, and this journey tastes even better with the tempting munchies, lip smacking main course and the Swedish simulation that promises you and your partner a truly Zen experience. - Image Credit: Zén Facebook Page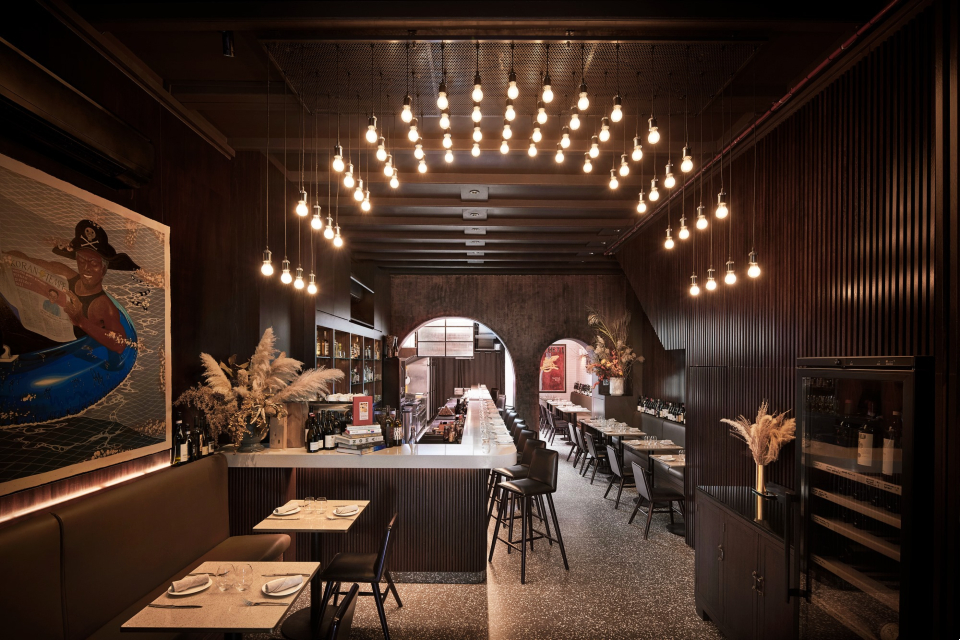 It doesn't need to be Valentine's Day to get spoilt at Bar Cicheti with your lover. It does not get more romantic than this. A dimly lit dining room consisting of pendant lightbulbs arranged in a semicircle, perfumed floral arrangements that promise to create an aroma that wafts around the place and the handmade noodles made from scratch daily will force you to go down on your knees and propose.
Chef Yew Aun Lim and Sommelier Ronald Kamiyama take it upon themselves to make your evening memorable. The squid ink tagliolini, the reimagined classic Italian pesto and the exhaustive collection of wines will leave you and your partner craving for more. - Image Credit: Bar Cicheti Facebook Page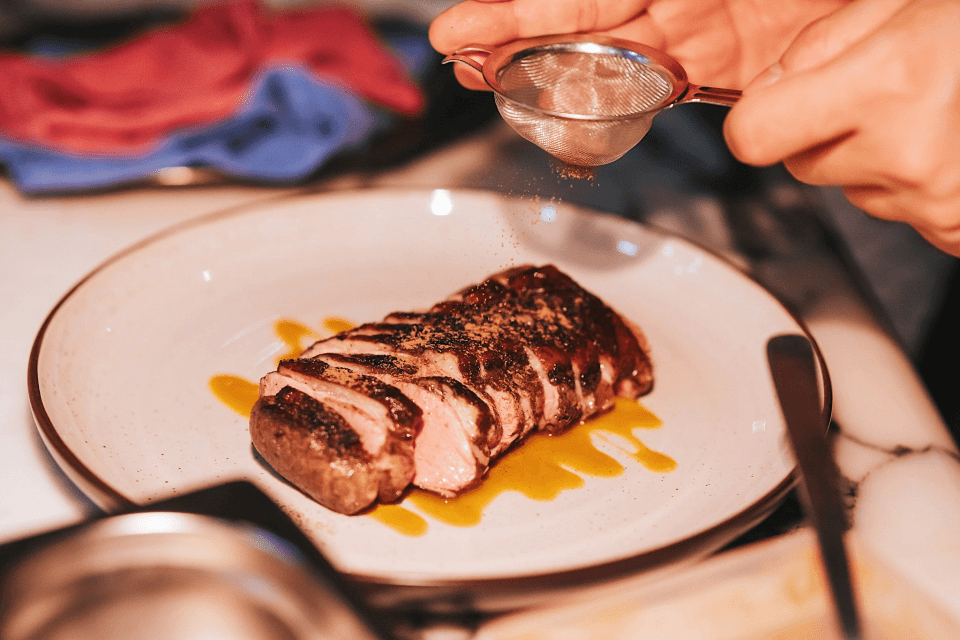 ​​​​​​​
Dining at Siri House has its perks. You are going to be welcomed by a luxurious, yet intimate 42 seater condominium with a diverse range of furniture and blinding lights which come from beautiful chandeliers hanging from the ceiling. Apart from being one of the most sought after restaurants, it also happens to hoard a wide array of artefacts and goods that you can buy.
Be it starters or mains, it is going to be a jam on your next date at the Siri House. Even though the menu is a little straightforward, comfort levels are as high as the skyscrapers of the city of Singapore. Some signature dishes to check include the pappardelle which is a dish comprising a mix of prawns and lobsters coupled with a gooey bisque sauce toppled over some pasta, and the perfectly balanced flavours of the unagi risotto which comes with tangy daikon and smoky unagi which work perfectly with the creaminess of the risotto. - Image Credit: Jam at Siri House Facebook Page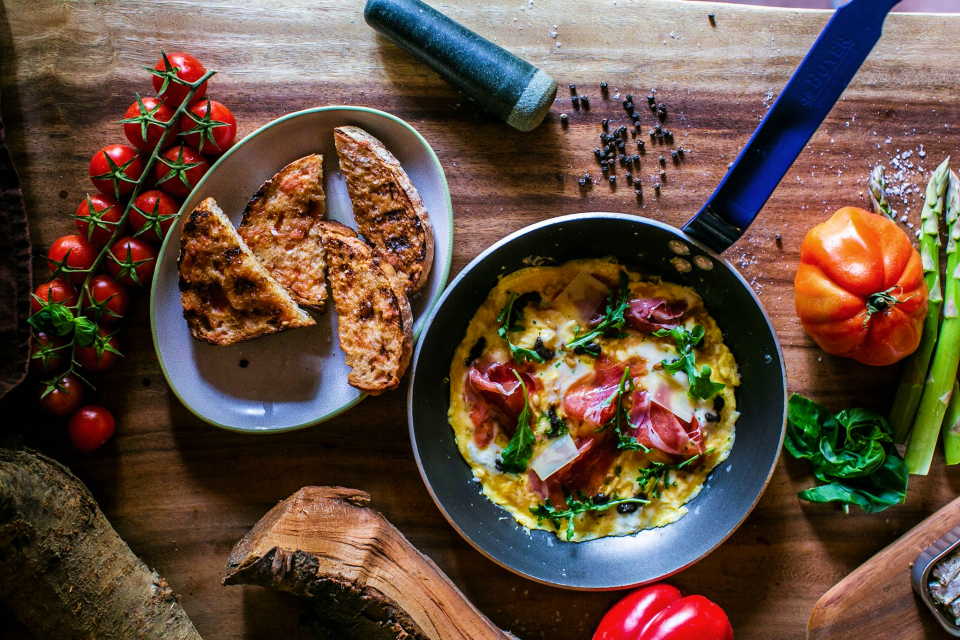 ​​​​​​​
A date at Olivia Restaurant and Lounge promises you the perfect simulation of the bright and airy shoreline of Barcelona in Spain. It doesn't matter what time of the day it is, for the beautiful shophouse area along the Keong Saik Road is evergreen with brick-laden walls, rugged looking sand coloured rope chairs which give it a dusty vibe, and a salty breeze wafting from the sea. It only gets better with the menu which has mouthwatering dishes like the Ibérico ham croquettes ($10), some delicious black rice with smoky grilled Mediterranean red prawn ($32) and confit onion and codfish Spanish Omelette ($22). Dig deep into the creamy layers of the homemade cheesecake at Olivia's for the perfect ending to this feast. ¡Vamos! Don't miss out! - Image Credit: Olivia Restaurant & Lounge Singapore Facebook Page
A little history on the name: The name Lumo translates to "light" in Esperanto- a language devised in the late 19th century. It is based on the roots from some of the main European languages and was also used as an international mode of communication.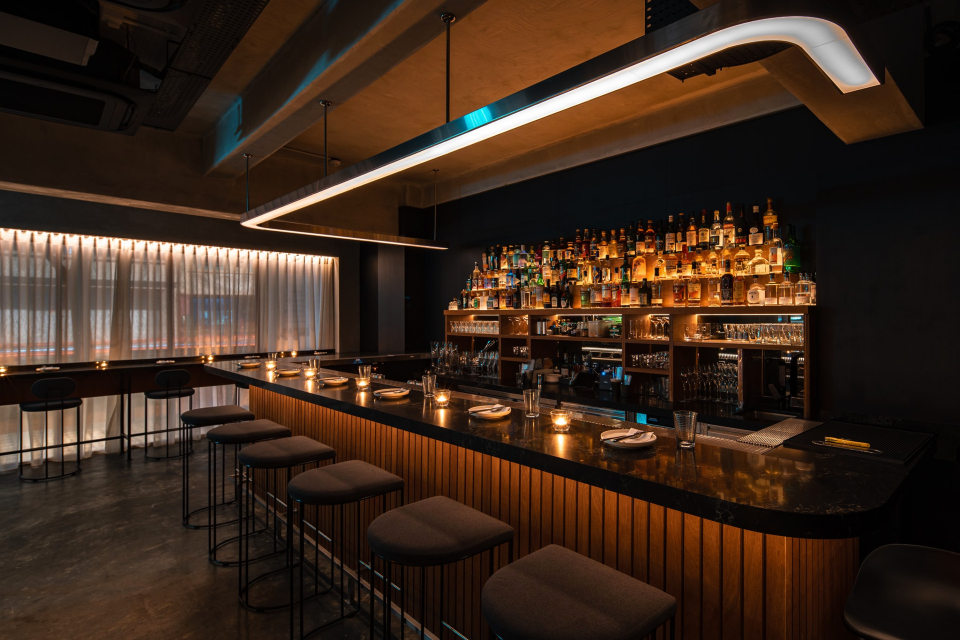 The spirits of this cocktail bar cannot be dampened by the global pandemic. There is something for everyone at Lumo. Whether it be a happy high after a couple of small ones, 4 pitchers of beer for you and your date to tank up or intoxicating potions brewed up by the head bartender, Josiah Chee, Lumo has it all. These come with rows of sparkling, juicy meats grilled to perfection. Add a set list of American rock classics from the early 2000s and you've got yourself a fun date filled with heaps of food, gallons of liquid and music to headbang to. - Image Credit: Lumo SG Facebook Page
The Butcher's Wife is a gluten free gala for those wishing to avoid a gastrointestinal mishap. The team at TBW is extremely particular in ensuring that no gluten is found anywhere remotely close to their door. Since its inauguration in 2018, it has been serving customers exquisitely, providing exhaustive options for both, the gluten free and gluten friendly gentry.
The Butcher's Wife boasts a combination of Brazilian and Asian varieties, led by Head Chef Mariana Campos D'Almeida. Extensive use of fermentation techniques, frequently changing flavours in the homemade Kombucha and an entire cellar of natural wines from The Drunken Farmer make TBW the perfect spot for a romantic meal with your better half.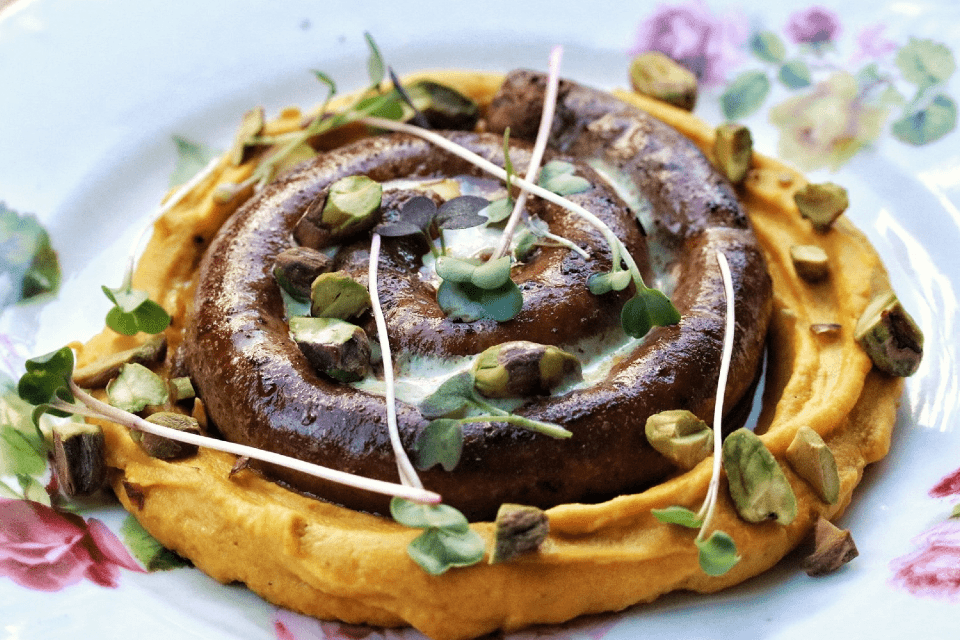 One of the most challenging tasks is to make gluten free naan, but Chef Mariana is undaunted as ever. She uses blue pea flower extract to give the Naan Sandwich an unusual but enticing indigo shade which comes with fermented black beans, yoghurt and green mango chilli sauce to add a bit of zest.
It is a little hard to believe the long list of gluten free dessert options, but this bakery delivers. Get your forks and knives and be ready for a decadent dessert fiesta. - Image Credit: The Butcher's Wife Facebook page
Cloudstreet might be the perfect place for you and your lover if you're looking to take it to the next level of intimacy. Captivating floral designs and an exceptionally diverse array of charming furniture graces the layout of the dining area. This might probably be the only place with an open kitchen, and the best seats in the house are naturally the ones which titillate your visual and olfactory senses. You can spend some quality time with your date, watching completely awestruck as the chefs, led by the prodigious Rishi Naleendra, sautée, brew and stew gorgeously plated delicacies to arouse your taste buds. Some lip smacking dishes include the betel leaf oysters, lamb saddle and jackfruit and a liquorice bun with stout.
Cloudstreet boasts about more than just the decor and the food. The wine collection showcases a staggering 350 labels which includes independent winemakers and classics alike. The wine collection is managed and curated by sommelier Vinodhan Veloo, the former sommelier at Odette. - Image Credit: Cloudstreet Singapore Facebook Page
Acclaimed for its Chinese cuisine, Mott 32 has branches not only in Singapore, but also in Seoul, Las Vegas, Hong Kong and Vancouver- quite a resume! Lavish and grand interiors done by the team of the award winning architect Joyce Wang include apothecary cabinets, chairs with peacock designs and Chinese lanterns hanging from the ceiling, which only further reinforces the Oriental vibe of the place. That being said, there does seem to be a balance between an oriental and a contemporary decor with an industrial touch, a dimly lit dining room and plush couches.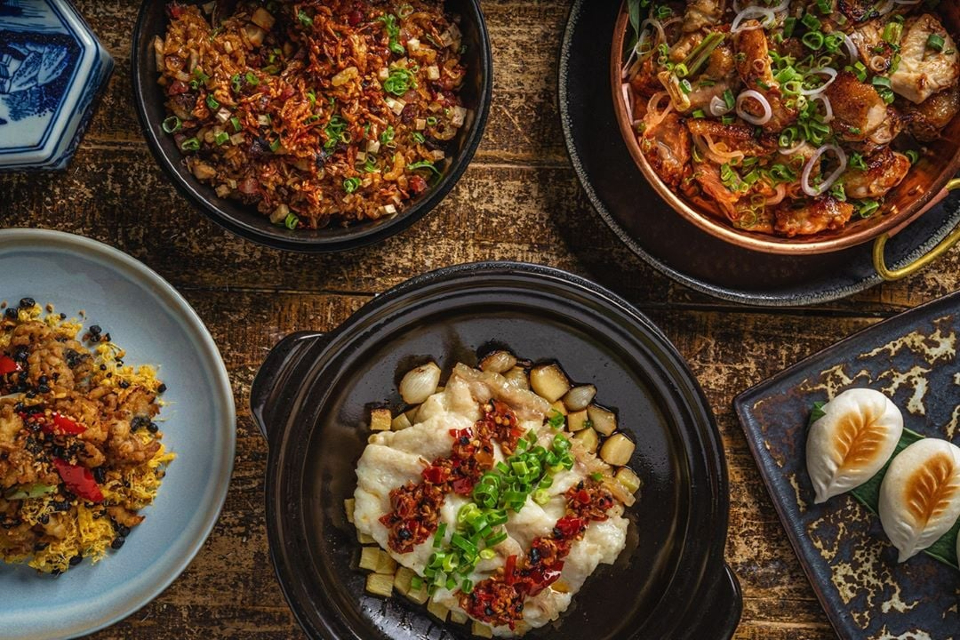 ​​​​​​​
Signature dishes include the monumentous Peking Duck ($108) which is marinated for over two days and is then given a smoky, char-like flavour over applewood, Siew Mai packed with Iberico pork and soft boiled quail egg ($9 for 2) and a Peking duck bun ($10 for 3).
The iconic Mott 32 cocktail is reminiscent of some beautiful Asian flavours while the Hanami includes bourbon, gin, umeshu, yuzu, shiso, ginger beer and chrysanthemum which takes us to Japan. If you're looking for a tropical trip, be sure to order the Harbour Dawn with buttery vanilla rum, coconut pandan, almond, verjus and champagne. - Image Credit: Mott 32 Singapore Facebook Page
It is appreciation for the aperitivo at Caffe Fernet! It doesn't matter if safety protocols hold people back from having an all-nighter where they indulge in inebriation till the strike of dawn. The ever so appealing alfresco bar guarantees to offer you a delightful experience owing to its menu that reeks of the aperitivo culture.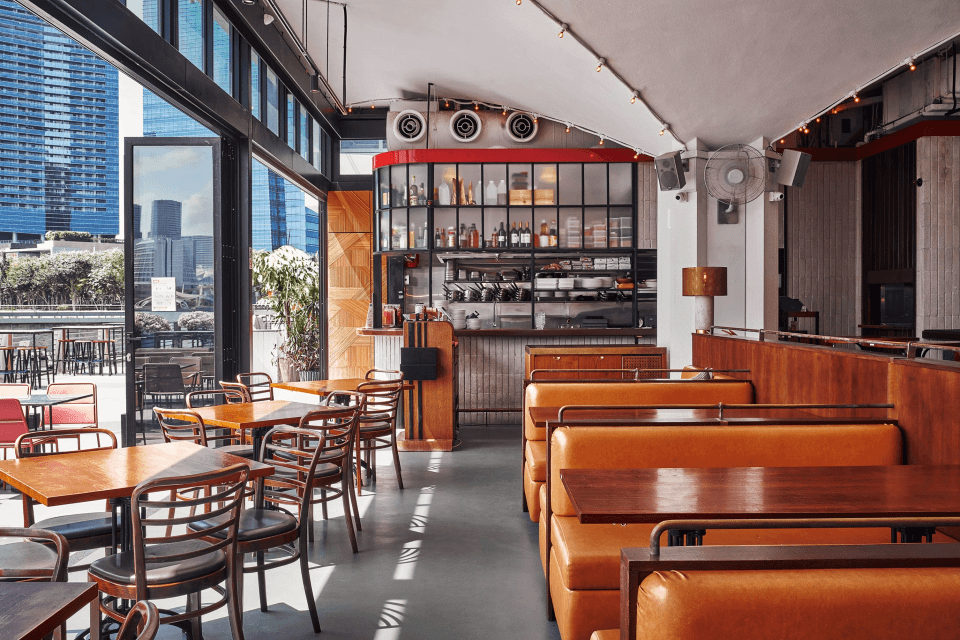 Every hour is happy hour at Caffe Fernet. Right from when the doors open till 7 pm, you can tuck into some tantalising cocktails and bite sized treats before devouring the mains. Treat your taste buds with the savoury Sicilian Spritz ($17) containing Italicus, Aperol, prosecco, soda and a speck of olive brine.
The Bicicletta ($17) is another one which should not be missed, especially because of its unique spin with dry white wine and the Aperitivo Select instead of the Campari, thereby giving it a vanilla flavour for those with a sweet tooth.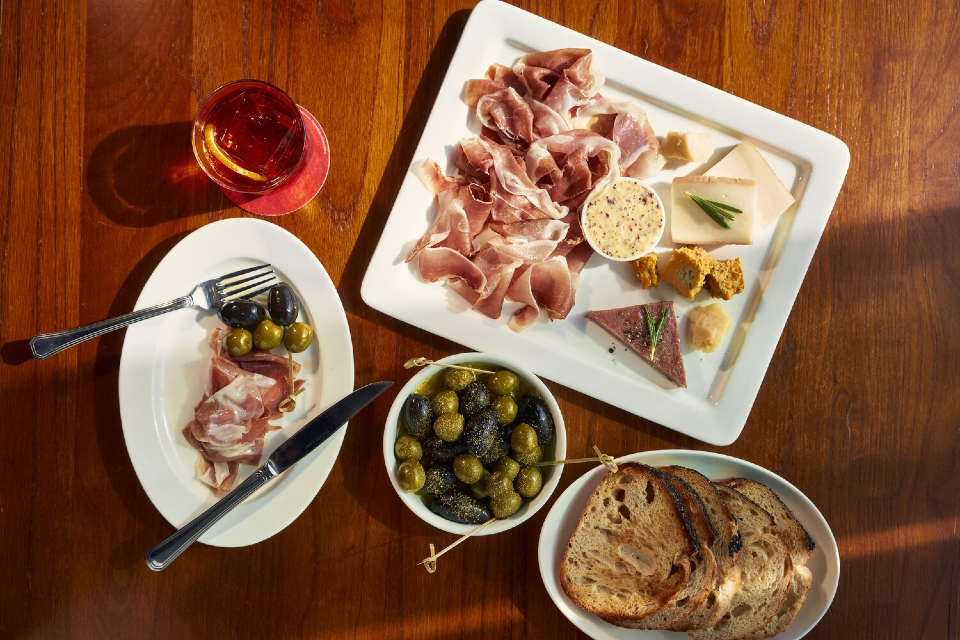 There are as many as four different negronis made with a variety of gins and Camparis- another unique twist to a classic cocktail. Elegante ($23) with the No. 3 gin has a flowery taste whereas the Secco ($22) has a dry, almost crispy texture courtesy to Tanqueray gin.
All these work brilliantly as appetizers- they set up the stomach for some of the best seafood collection. The Squid ink tonnarelli is made of sleek noodles with locally caught shellfish sautéed with an aromatic sauce speckled with citrus butter. The tonnarelli vongole ($29) is another twist on the pasta with clams, while the pompano piccata ($42) doesn't fail to tempt you with half a pomfret deboned with piccata sauce and trout roe.
To add to this feast, there's the cacio e pepe ($26), the lush and creamy local burrata ($24) with green tomatoes which serves as a nice texture with the cream cheese and the mushroom agrodolce. What are you waiting for? Go indulge! - Image Credit: Caffe Fernet Facebook Page
Elevate your date at half past 8 at the one and only Zafferano, where digging into delicious delicacies by the Michelin starred chef Andrea De Paola while taking in astounding views of the Marina Bay from the 43rd floor is a regular affair.
Hailing from the Metropolitan City of Naples, he is exceptionally innovative and carries a mound of experience under his Chef's hat. His knack for creativity is evident from the trio of snacks which involves the use of ingredients which would otherwise have met an unfortunate, stale end.
Salty crisps are sprinkled with cheese rind and accompanied with shredded ham to give the diners some good gourmet gratification. The only hearts that are going to be roasted on this date are ripe tomato hearts with fresh herbs and some yuzu gel. Not even leftover bread crumbs are cast aside- they are instead soaked in water and converted into tart shells.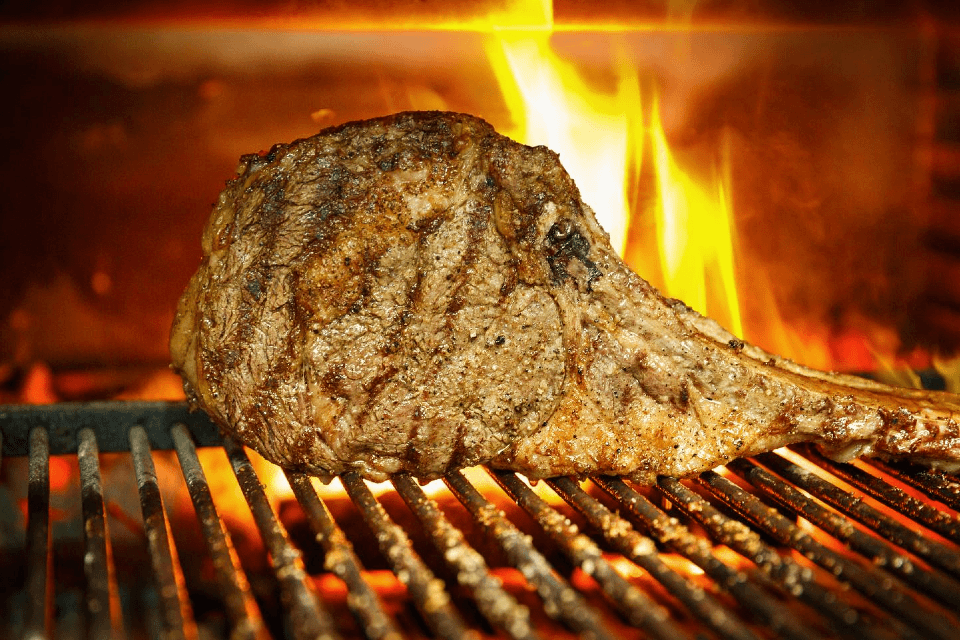 The Scampi ($32) comes with par grilled shellfish toppled with white miso sauce blended with white sesame and some really old mirin. The classic spaghetti with the bottaraga comes with beautiful razor clams cooked in two different ways - one way is the sophisticated blend into a rich veloute whereas the second way is the bold and almost audacious sauté with herb oil in a charcoal oven. It is quite gracefully plated with lumps of lobsters, clumps of charcoal and dollops of dill oil to help cut through the creamy sauce.
While there is no dearth of innovation at Zafferano, some things are better left unchanged. We're talking about some traditional dishes like the Branzino ($48) which is a seabass fillet with tarragon salmoriglio, which is an Italian dressing served with fish or meat.
Chef Andrea leaves no stone unturned in giving their diners an experience like no other. Be it classic dishes or innovative wonders, the Chef's Menu ($118 for four courses and $148 for five courses) has it all. - Image Credit: Zafferano Facebook Page
The Dragon Chamber is as mysterious as The Chamber of Secrets in Harry Potter. The reason: it is almost impossible to find. Believe it or not, it'll seem like you're stepping into a refrigerator, for that is the real entrance to the restaurant once you get past the innocuous kopitiam serving roasted meat and wonton noodles. However, the quest is still not done. Once you step inside, you will witness a vibe akin to hideouts of old gang members of Hong Kong.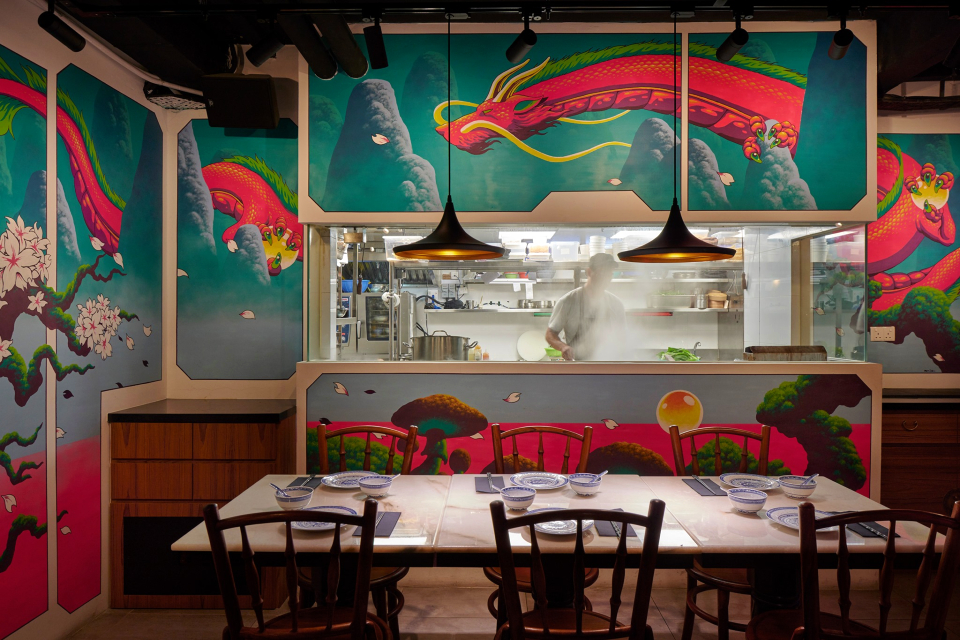 No the adventure does not end there! The Chamber is infamous for using some of the most bizarre ingredients known to mankind. So this is the place to be if you want your Valentine's Day to be memorable in more ways than one. The Dragon Claw ($55) tastes as menacing as it looks. A flaming crocodile paw marinated in herbal sauce is a treat for the eyes and the mouth.
The chef at The Dragon Chamber seems to have an affinity for pyrotechnics. The Theatrical Flaming Pineapple Beef ($30) comes with nicely chopped up pieces of beef inside a pineapple blazed with a flame torch, making it a sight for sore eyes. Double the crazy with the Dick soup ($30) if you're feeling a little too adventurous, where herbs are simmered with the genital organs of a male crocodile for more than six hours.
That being said, there's something for the less daring too. Delicious signature dishes like the Cheeseburger Firecracker Chicken ($16 and higher) and Wagyu Truffle Beef ($36 and higher) are readily available. Don't miss out on the latest dish, Kueh pie tee ($25) where thinly sliced pieces of carrots and cucumbers come with a hefty helping of lobster loaded with some heavenly Kairos caviar.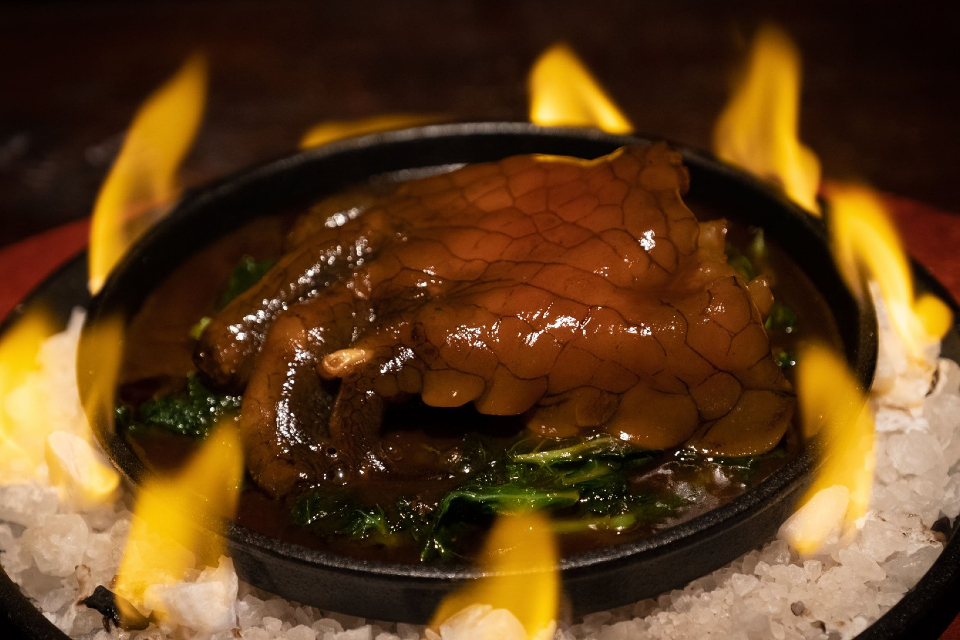 Moreover, food items like baked garlic prawns ($48) have humongous Tiger prawns which come with dollops of garlic butter and crunchy garlic pieces. Another must-have is the Chamber Roasted Chicken ($38) which is accompanied by some zesty piquant lemon chilli sauce. But the Coconugget ($12) is definitely the showstopper. Creamy coconut pudding comes in the shells of the fruit, sprinkled with some brown sugar hazelnut, coconut flakes, lime zest and lime sorbet.
This was just the mains. There is an exhaustive variety of cocktails and the interiors of the place make the experience twice as intimate. Post of Aiden ($24) is like a warm hug, served with a puff of smoke over deep bourbon, amaro herbal liqueur, and Aperol. On the other hand, it is fruit fiesta with Compassion ($24) which is a gin based concoction with lychee liqueur, fresh strawberries, lemon and prosecco. - Image Credit: The Dragon Chamber Facebook Page
Since this restaurant is helmed by Chef Fernando Arévalo, there is no dearth of abstract concepts here. In the first few months after the inauguration of Preludio, his team was challenged to put together theme based cuisines; the first of many was Monochrome.
This dichotomous wonder was followed by Time. It doesn't matter if it's lunch or dinner; Fernando is famous for brewing ideas in multiple, creative ways and those dishes can be found on the menu card ($58- 4 course meal; $188- 6 course meal; $118- 7 course meal; $238- 8 course meal)
It is said that time is the most valuable thing a man can spend- well, Preludio is a classic example of that. The concept of time is used to brew and stew some of the most unique dishes that one can ever imagine.
Flavourful rye bread with fermented mushrooms glazed with some thick gooey honey bacon topped with sweet umami is a real stunner. Wine connoisseur Chip Steel works almost like a history professor, documenting the lineage of grapes to make concoctions of a different age every time.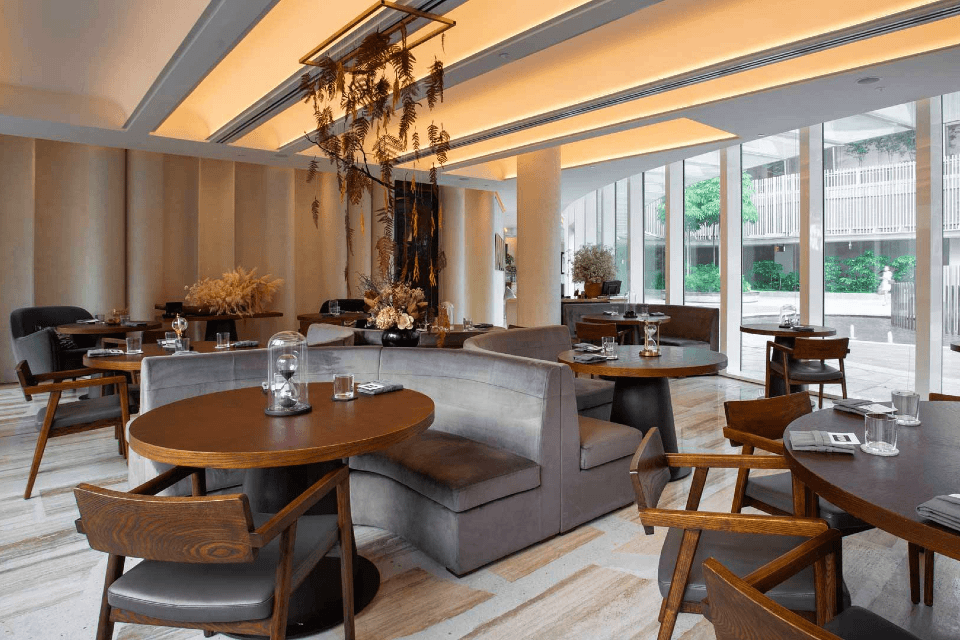 This is not even the show stopper though. The Time Machine (as it is rightly called) is a complex 5 course meal comprising bite sized treats which require different times to prepare. Scallop ceviche is prepared with fresh and zesty piquant Leche de Tigre (a citrusy spicy marinade used to cure fish) and corn water for an hour.
Garlic is fermented for almost a month and toppled with fresh basil pesto and some crunchy purple potato. Apart from these, week old amberjack fillets laced with foie gras and puffed quinoa are exquisite treats for the seafood lover. It is amazing how time is responsible for how the food tastes- little do we realise.
A few signature dishes are also happily reimagined in a monochrome theme. Iberico pork presa comes as a small bite arranged between delicious prawns and rich tomato sauce. Sweet meets sour with the agrodolce sauce and crispy pork poured over pasta filled with confit duck which was raised on a diet of corn and chia seeds.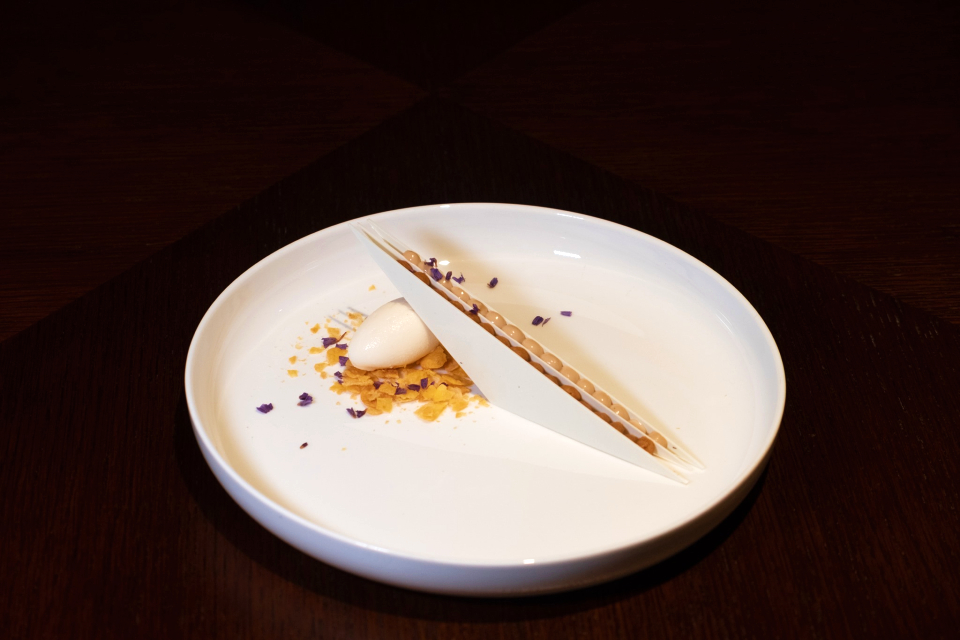 However, time and monochrome aren't the only two themes around which the menu of Preludio is based. Memories and stories are also used to create incredible dishes. Old Chimi is a dish reminiscent of the time the Chef grew up in Colombia whereas pastry Chef Elena Perez de Carrasco pays a tribute to her grandmother with a special take on her dessert recipe.
While the monochrome theme has an immediate striking effect on customers, the second theme is more abstract and literally takes time to grow on people. But once it does, you're in for a treat of a lifetime. - Image Credit: Preludio Facebook Page
This mansion was first erected in the 1920s by Yemeni spice traders, and it was later reconstructed to host not one but three dining concepts at once. Whether you're looking for a variety of appetizers coupled with drinks, some decadent pastries and cakes for the ultimate sugar rush, or some Basque inspired favourites like the Paella de Marisco ($52/$72), the restaurants at The Alkaff Mansion will not disappoint you.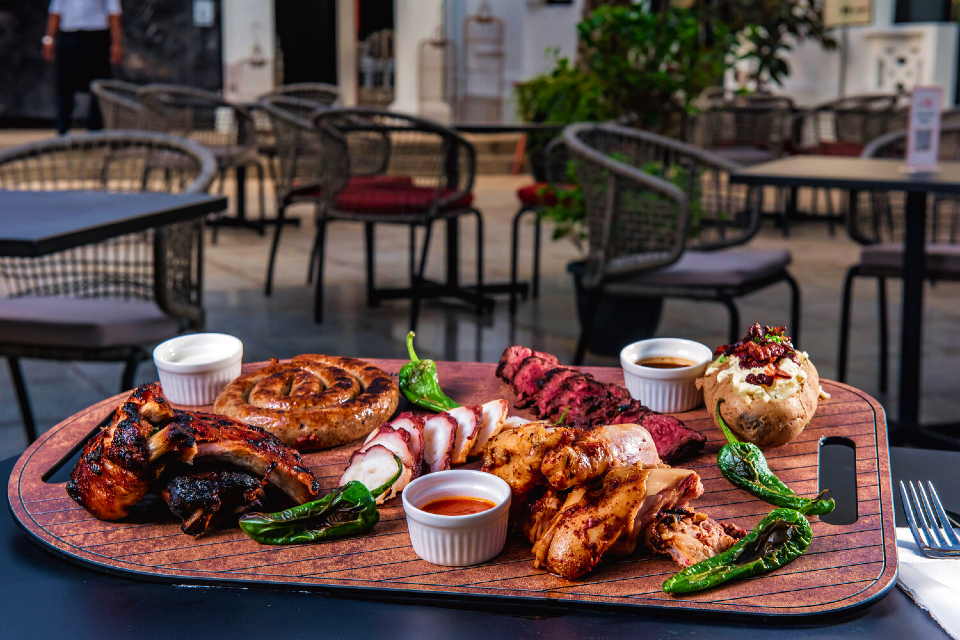 Head over to the Txa Pintxo bar up the flight of stairs and beyond the fountain court, for some of the most appetizing tiny bites of food, or skip that and dive straight into the "dessert islands" at Wildseed Café where the weekend brunch can culminate into a romantic affair out in the yard with your partner.
Besides, the beautiful second-floor staircases will take you to Una where head Chef Tom Kung and his team won't let you go hungry with some mouthwatering favourites from the menu. - Image Credit: Txa Gastrobar Website
Have you ever wondered how romantic it would be to dine with your significant other at one of the most breathtaking tourist destinations in the world, about a hundred metres above sea level while taking in stunning views of Sentosa Island?
If you're looking to kick it up a notch from the ground, the Dusk Restaurant and Bar is the place to be! The tiger prawn capellini and the côte de boeuf (a huge 700 gm char-grilled prime beef "coupled" with roasted potatoes and some mouth-watering red wine sauce) are two signature dishes that will be a sure shot rollercoaster for your taste buds!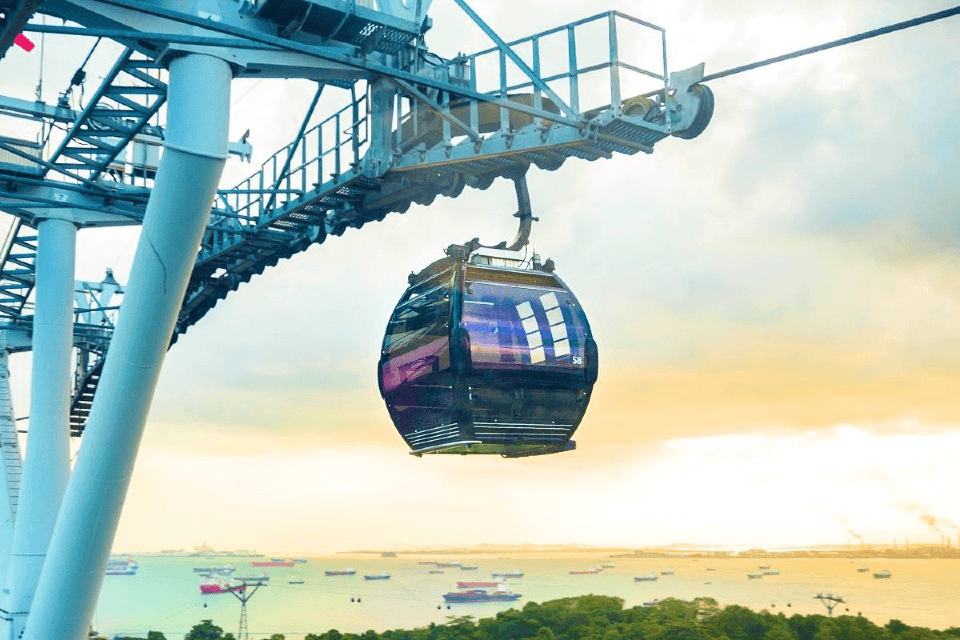 To wrap things up, get yourself and your partner hammered by indulging in the infamous Dusk Till Dawn cocktail which comes with a robust list of ingredients. With vodka, gin, rum, tequila, blue curacao, lemon juice and some delicious peach syrup topped with cranberry juice all in one, you're sure to be plastered from dusk till dawn. Image Credit: One Faber Group Facebook Page
It's not a lesser-known fact that speed gives you the thrills! The Japanese handroll bar, Rappu is evidence of that. Here, customers are encouraged to finish their food within 4 seconds in order to ensure maximum enjoyment.  It is said that music makes us eat in a different way.
There are various studies that indicate that listening to music while eating is likely to increase our food and drink intake. So be it wraps or rap, Rappu is the place to be! The jukebox at Rappu has an exhaustive list of rap music, right from the Wu-Tang Clan to Kendrick Lamar. So groove away to some phat rap music while you cram down sushi rolls faster than the SSC Tuatara!
The show stopper of this space is the 36 seater sushi bar where food is prepared out in the open for everyone to see. While the list is not exhaustive, the over the top creation loaded with wagyu, uni and caviar is not one to miss.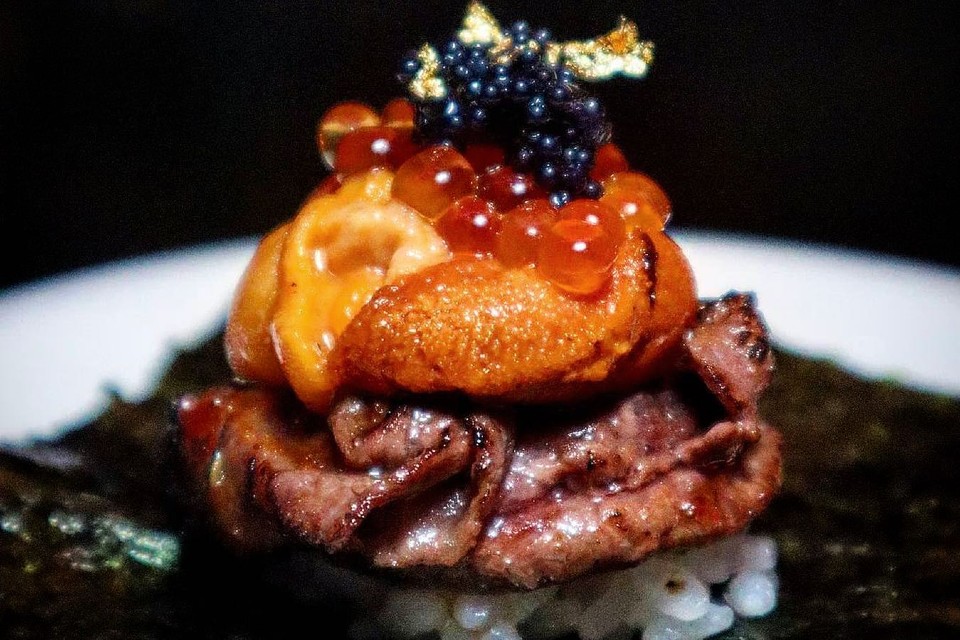 It's a seafood frenzy for a mere $36 at Rappu. People can choose from six fresh handrolls, each one packed with a different selection of freshly caught sea creatures. Be it the innumerable options of the delicious toro, nicely chopped up pieces of hotate or the heavenly salmon brined in the restaurant itself, Rappu has it all. Among other fillings, there is the firm but sweet Kanpachi, the popular crab meat coupled with mayonnaise and the velvety, yet smoked engawa. Throw in an additional $18 to treat yourself and your partner to a sake shot to go with the variety of sushi rolls.
However, nothing beats the gourmandizing High Roller which includes wagyu, mounds of uni, caviar and dashes of gold flakes for the quintessential satisfaction. It is without a doubt a blast of flavours in one quick bite which can be chased down with a swig of warm and cosy miso soup. Moreover, the snack options at Rappu seem to have no end. Get the Nori popcorn for a meagre $3, the chicken cartilage karaage for double the price or the dried stingray fin for just slightly more and guarantee yourself and your date an experience like no other. Image Credit: RAPPU Handroll Bar Facebook Page
Situated along the grand Robertson Quay, the Publico Ristorante stands out among many other eateries, probably because the restaurant is an Italian getaway in itself. Not only the food, but even the interiors are reminiscent of the towns in Italy with their audacious granite floors inside or monstrous green walls which also function as vertical gardens if you care to grab a seat outdoors. People can even choose for a romantic vibe inside with cosy and comfortable lighting and windows that start on the floor and go on to kiss the ceiling with the terrace by the riverside being the spectator.
Some of Italy's finest cuisines have made it to the list at Publico Ristorante. Calamari and cauliflower fritti, housemade pasta, wood fire pizza of Margherita and prosciutto are some of the many delicacies that grace the menu here.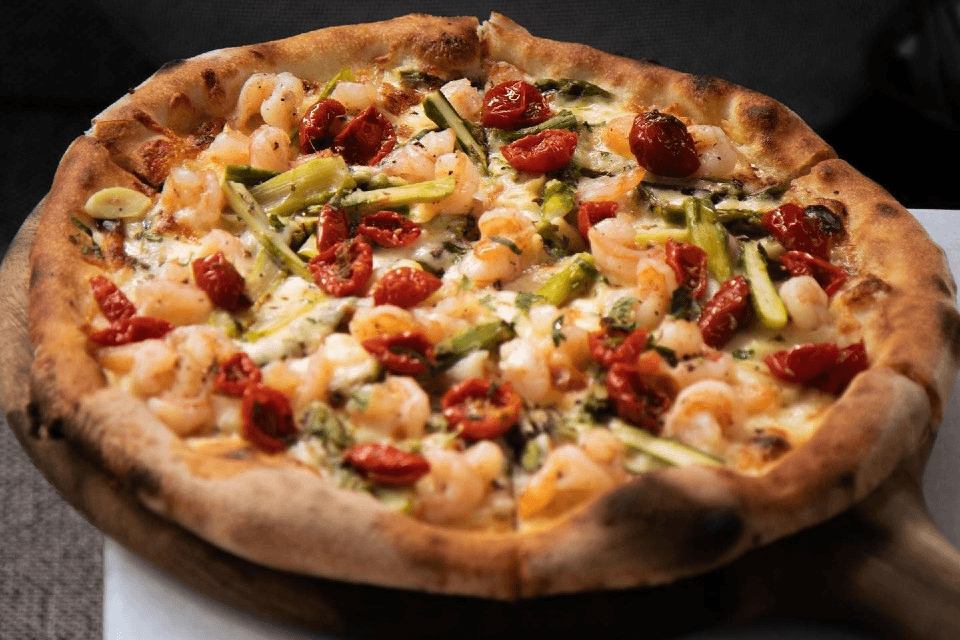 ​​​​​​​
Brunch at the Publico Ristorante is an "egg-citing affair", also with an Italian twist! The fixed Brunch menu features seven special creations. Food is given an artsy twist at the live station where chefs scramble through years of experience to whisk some of the most heavenly dishes of various styles.
Some key highlights on the menu include the classic Publico Prima Dona, with fluffy poached eggs on meaty prosciutto with rockets, the Egg White Cloud, with buoyant egg whites on top of delicious, crunchy sourdough bread with a dash of Dukkah, Frittata with subtle embellishments of pumpkin and kale, an interesting take on scrambled eggs- these are served with fresh truffles on top to give it a nice, garlicky fragrance, or the classic Omelette swimming in some rich, velvety béchamel, bacon and parmesan. Image Credit: Publico Facebook Page
For everyone who wants to be close to nature, this is the place to be, for it is located by the seaside where people can hear the sound of waves crashing on the seashore mingled with distant cries of seagulls. Besides, the latest outlet of PS. Cafe by the beach is not less calming by any means. It is spacious, bright and exceptionally airy which gives off a hint of a tropical holiday experience.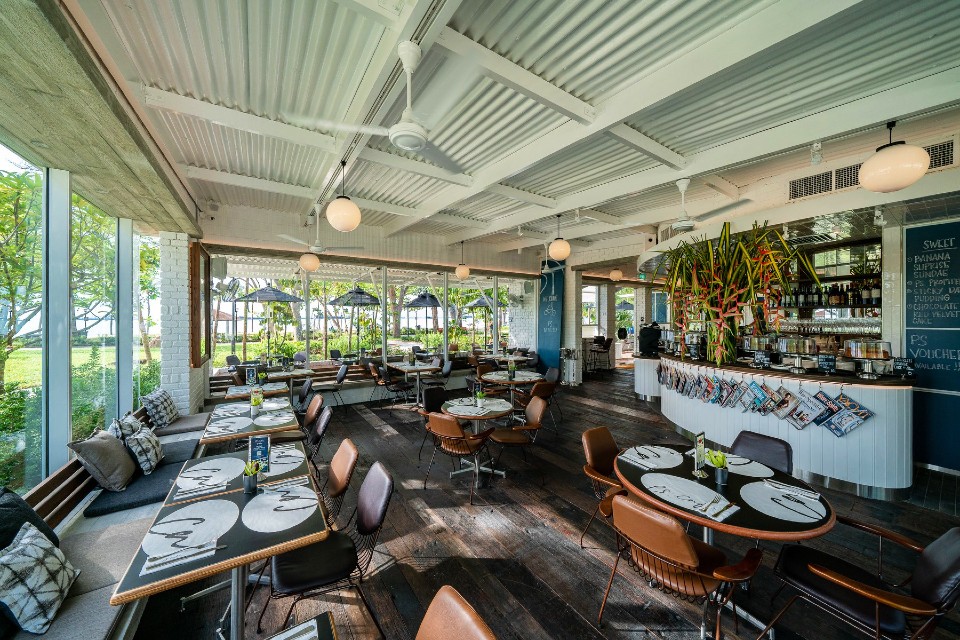 ​​​​​​​
It doesn't make sense for this restaurant to be located by the beach and not specialize in seafood delicacies. The chargrilled octopus where pork is replaced by the eight-legged wonder in a char siew dish ($21), some hot and spicy Singapore chilli crabs and prawns coupled with mantou and fried rice ($32), some mouth-watering lemongrass mussel and clam spaghetti ($29.50), and the filling chorizo and calamari stew served with bread to suck all the sauce up ($30) are a few delightful dishes that the cafe has to offer.
Over and above all of these, you can also order some of the signature dishes that other PS. Cafe outlets have to offer like the succulent Tiger Beer battered fish and chips ($32), famous truffle shoestring fries ($16) and the decadent and gooey sticky date pudding ($15). Image Credit: PS.Cafe at East Coast Park Facebook Page
If you're looking for a quiet romantic evening with your partner filled with exhaustive food options, a never-ending wine list and a breathtaking view along the side of the Chateau TCC, then Buona Terra is the place to be. It has only 24 seats and the dine-in option is available only in the evening, making the experience even more intimate. It is situated in the quiet bungalows of Chateau TCC, along Scotts Road amidst the busy streets of Newton and Orchard. Italian fine dining in Singapore is as authentic as it gets, what with a magnificent spectacle, celebrity chefs brewing and stewing their magic and places like Buona Terra which focus on extensive experimentation with their flavours.
The all-star duo of Chef Dennis Lucchi and virtuosic sommelier Gabriele Rizzardi take it upon themselves to give their diners a delightful evening. Being a wine connoisseur himself, Rizzardi also gives frequent recommendations from his wine cellar which flaunts a list of exclusive Italian varieties.
There is a great disparity in the vibe of the restaurant and the length of the menu. The restaurant might be warm and cosy, but the menu card tells a different story. The sinewy mollusc ($20) is prepared sous vide and comes with a churn of celery, almond, some mouth-watering sweet melons and titillating tagliatelle. A unique take on the blanched asparagus with a crunchy tortellini dumpling and a rich, creamy three-cheese sauce toppled with healthy amounts of black truffle makes it impossible to overlook it on the menu.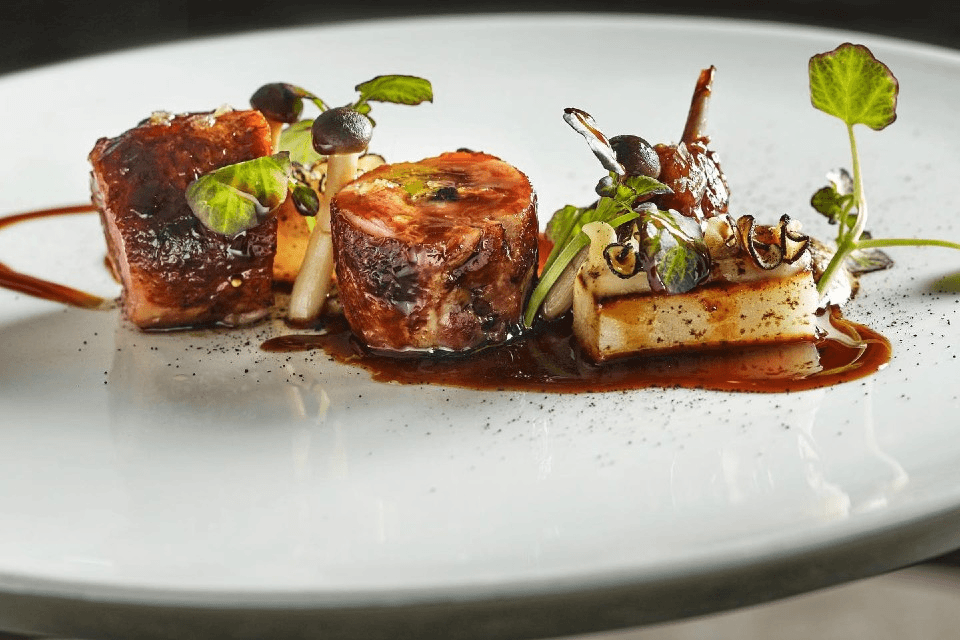 ​​​​​​​
Half the taste is in the smell, but a lot rests on the presentation. Everyone likes eye candy, and the bowl of searing hot seafood bisque is the perfect combination of looks, smell and taste, loaded with shellfish and an entire langoustine head. A burst of flavours as you treat your mouth to the first sip: rich, creamy, spicy and extremely gratifying.
Not only with soups and starters, but Lucchi knocks it out of the park with pasta and mains too. A unique, yet subtle take on the famous combination of tagliolini, crab meat and caviar involves a dash of lemon which contributes to the zest with the pasta being slightly overdone ($34). Even more formidable is his homemade pappardelle: smooth and velvety as it hangs on to a hare and salami ragout with a slightly salty black olive tapenade ($28). Order the ibérico pork jaw and knock yourself out with a burst of flavours with the first bite.
The pork jaw is thinly cut, slightly robust and exceptionally buttery accompanied with leafy Belgian endives and some smooth apple sauce. Prices may seem a little extravagant but if you're looking to dive into a variety of delicious meals, then the six-course degustation menu cannot be missed ($138). This includes the cuttlefish tagliatelle and the crunchy asparagus dumpling with the homemade tagliolini crab pasta and the oxtail tortelli.
This is followed by a tender lamb loin with a crispy pistachio crust accompanied with artichoke and whipped potatoes: something for the health-conscious people. To end this food lovers' paradise, they have the nougat semifreddo. The traditional parfait is nutty and marinated with some delicious Passito wine sauce. The last thing on the menu is the mixed berry tarelette which comes with beautiful fat berries on top of a tart shell and some anglaise pastry cream with a quenelle of vanilla gelato. Image Credit: Buona Terra Italian Restaurant Facebook Page