Image Credit: 123RF
Fried chicken lovers know how important it is to get a crispy, golden exterior and a succulent, juicy interior to get the perfect bite.
Luckily, so do these 12 restaurants in Singapore as they nail the golden delight. Each one of them serves their version of the bird and you should definitely try them all.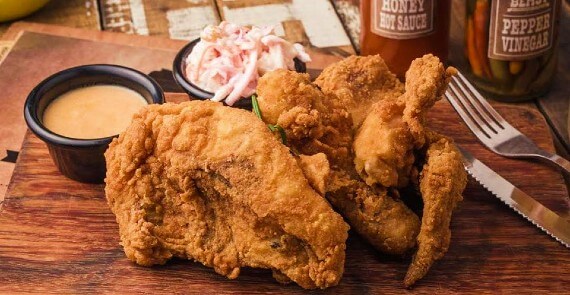 Image Credit: The Beast Facebook Page
Unleash the beast in you by devouring the Southern Fried Chicken for S$20. Brined for a whole day, The Beast serves half chicken with country gravy and southern slaw. You can also go for their Chicken & Waffles for the same price only here you get the boneless fried chicken thigh with buttermilk waffle, sunny side up, and in-house bourbon maple butter sauce. So yum.
S. www.facebook.com/thesgbeast/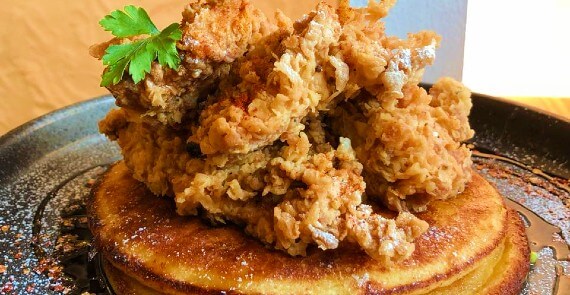 Image Credit: Earlybird Facebook Page
The new café, Earlybird has come up at Jalan Pinang and has an interesting assortment of dishes on their menu. They make delicious fried chicken for their Chicken & Pancakes. For S$19 you'll be served crispy chicken marinated in house-made buttermilk with pancakes and chilli maple. This is one combination we're ready to devour at any time of day.
A. 17 Jln Pinang, Singapore 199149
S. www.facebook.com/earlybirdcafesinga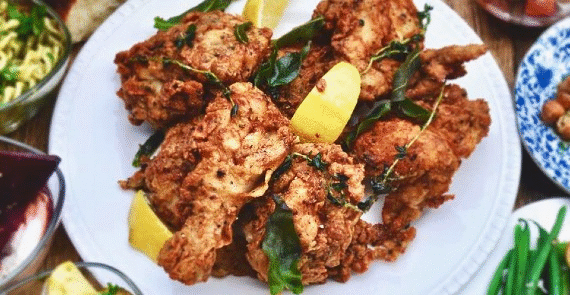 Image Credit: Summer Hill SG Facebook Page
Drenched in herbs, lemon and butter, French Fried Chicken at Summer Hill is worth devouring. Brined for a whole day, the chicken is marinated in buttermilk before deep-frying, and we recommend ordering a two-piece chicken plate with side of the day for S$32. You can also order a fried chicken platter for 2 people featuring 5 pieces of chicken, a sharing platter of all 10 side dishes and 2 milk buns, all for S$32.
A. Block 106, Clementi Street 12, #01-62 120106
S. www.facebook.com/pg/summerhillsg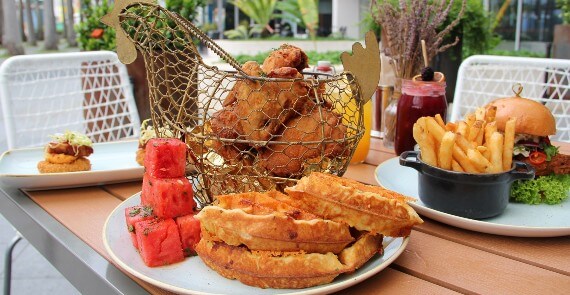 Image Credit: Yardbird Southern Table & Bar Facebook Page
Yardbird makes a mouth-watering combo of Chicken 'N' Watermelon 'N' Waffles for S$40. They brine their chicken for 27 hours straight and their spice blend is on point. Served with cheddar cheese waffle and spiced watermelon, it is one dish you'd come back for. Want just the chicken? Order Lewellyn's Fine Fried Chicken for S$34 and get half the bird along with honey hot sauce. We also love their Fried Chicken Bao with Sichuan mayo for S$14.
A. 2 Bayfront Ave, #B1-07 Singapore 018972
W. www.marinabaysands.com/restaurants/yardbird-southern-table-and-bar.html
S. www.facebook.com/YardbirdSingapor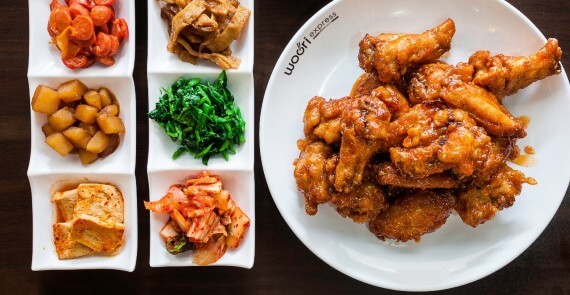 Image Credit: Woorinara Facebook Page
We wouldn't let cheese come anywhere near our fried chicken before but after trying Cheese Fried Chicken at Woorinara we've converted. They serve delicious, Korean-style fried chicken at a price of S$16 and offer flavours like Yum Yum Chicken and Soy Chicken besides the original. You get a choice of boneless chicken or with bones with all the variants and a choice of sweet or spicy with the flavoured fried chicken. And of course, you can get cheese on them all!
A. 19 Lor Kilat, #01-02 Singapore 598120
S. www.facebook.com/woorinarasg/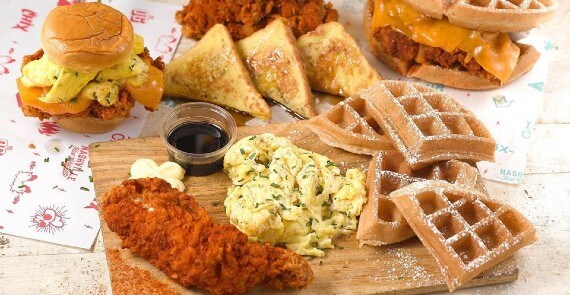 Image Credit: Chix Hot Chicken Facebook Page
Do your taste buds demand spice? Well, it doesn't get better than Nashville Hot Chicken by Chix Hot Chicken. Order via their website and enjoy the fiery chicken at home. 3 pieces of tenders will come for S$12.90, a quarter for S$10.90 and half for S$20.90. Their fried chicken also comes between buns and we love the The Dip, boneless fried chicken thigh in Chix 'Hot' Sauce Dip, pickles and shrettuce all between buttered buns for S$8.90.
A. 1 Jln Pisang, Singapore 199069
S. www.facebook.com/chixhotchicken/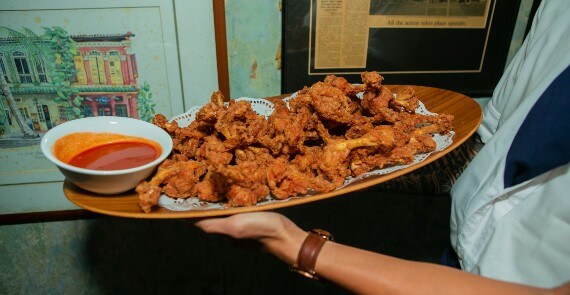 Image Credit: 5 Emerald Hill Cocktail Bar Facebook Page
A legendary bar, No.5 Emerald Hill serves distinguished chicken wings and it's one of their signature dishes. Marinated with shrimp sauce and Chinese wine, these wings will leave you craving for more. This is why we recommend ordering six pieces for S$18 along with one of their lip-smacking cocktails.
S. www.facebook.com/No5EmeraldHill/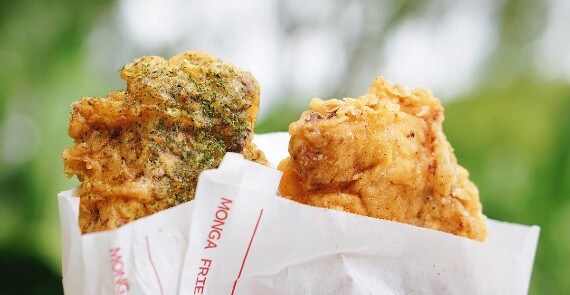 Image Credit: Monga Fried Chicken Singapore Facebook Page
Succulent, juicy chicken inside a flavourful and crispy exterior is the specialty at Monga. These Taiwanese-style chicken cutlets come in various flavours: Hot Chick, fried chicken dusted with Anahein pepper powder; The Taiker, packing a punch with Japanese sauce and seaweed powder; and the original, The King. All three cost S$6.90 each and for S$7.90 you can relish their Chee-z Signature. 
A. 50 Jurong Gateway Rd, Singapore 608549
S. www.facebook.com/mongasingapore/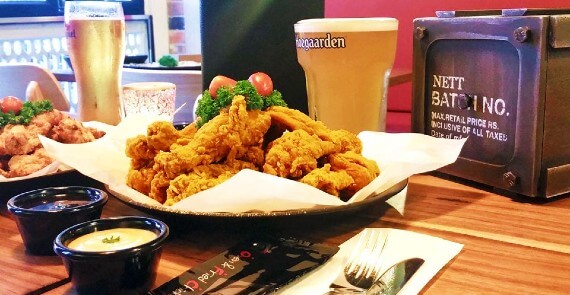 Image Credit: Oven & Fried Chicken Facebook Page
Spread across multiple outlets in Singapore, Oven & Fried Chicken is all about the clucking bird. Their menu features Roasted Chicken, Crunch Chicken made without oil and the good old Fried Chicken made using rice flour. We recommend going for the Fried Wings for S$34 or their Roasted Mixture for S$32.
A. 182 Telok Ayer St, Singapore 068630
S. www.facebook.com/OFC.Singapore/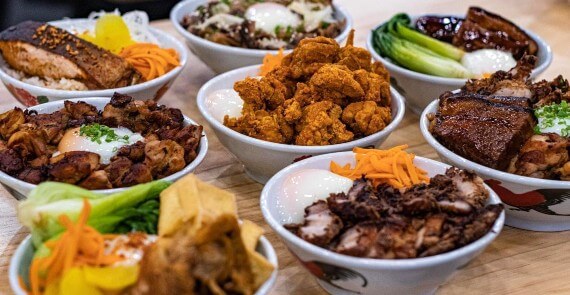 Image Credit: The Salted Plum Facebook Page
Sumptuous fried chicken with a kick of five spice at The Salted Plum is a delight. The spice goes well with the tang of the preserved orange and calamansi. You can order this Fried Chicken 2.1 for S$15 or opt for a fried chicken rice bento meal for S$14.90 served with braised cabbage, silken tofu, smashed cucumber, bok choy & pickles, sous-vide egg and white rice.
A. 10 Circular Rd, Singapore 049366
S. www.facebook.com/TheSaltedPlumSG/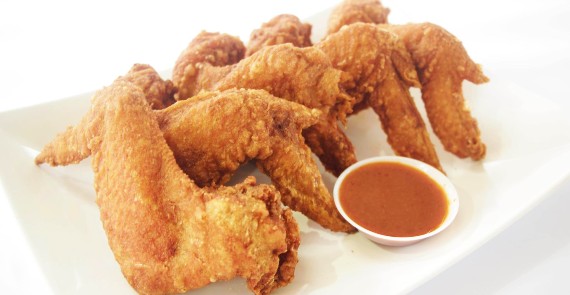 Image Credit: Eng Kee Chicken Wings Facebook Page
The classic chicken wings with no fuss, no embellishments are served for S$1.50 a piece at Eng Kee Chicken Wings. Dip these golden, crispy wings in their chilli sauce for a punch but we could even live without the dip. Super hungry? Place an order for their Chicken Wing Platter for S$15.00 wherein you'll get 10 pieces of this golden delight.
A. 117 Commonwealth Dr, Singapore 141091
W. engkeechickenwings.getz.co/
S. www.facebook.com/Eng-Kee-Chicken-W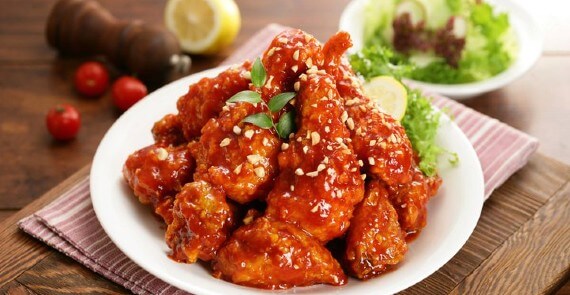 Image Credit: Kko Kko Na Ra Facebook Page
Don't kid us by saying you've never ordered from Kko Kko Na Ra before. No? Well, it's time to treat yourself to their finger-licking fried chicken. You can opt for the original fried chicken or opt for soy garlic, sweet & spicy, spicy garlic, honey, cheese sprinkle or Mala-style. 8 pieces of the original chicken will cost you S$20 and you can opt for boneless by adding S$3.00.
A. 68 Tg Pagar Rd, Singapore 088489