Image Credit: LAVO Singapore Facebook Page
Whether you're an expat living in Singapore or found yourself on an extended stay due to border restrictions, it's essential to have a quick reference to the happening bar scene.
There's so much choice on the island from sophisticated, classy ambience dens offering perfectly crafted cocktails to hip and happening bars with bar food where you can down chilled beers - draft to craft, spirits, and awesome wine from every corner of the globe.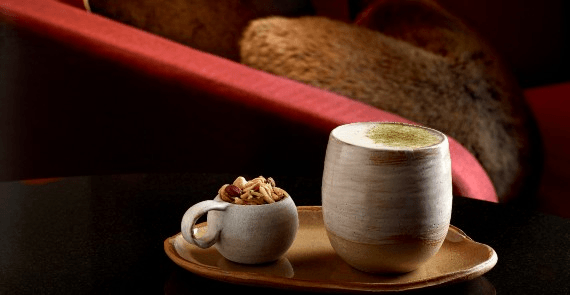 Image Credit: MO BAR at Mandarin Oriental Singapore Facebook Page
The award-winning cocktails at MO Bar have earned them the accolade of 'Asia's 50 Best Bars'. Indulge in delights like Thunder (rice, gin, herbs), Gao (juniper, jasmine, calamansi), Milkyway (whiskey, oolong, brown sugar) and Rubi (whiskey, pineapple, toddy). Pair these refreshing cocktails with delicious crustaceans like seasonal oysters, prawns, snow crab and Maine lobster. Once you're satiated with seafood, try out their brunch menu featuring sumptuous dishes like crispy Tiger Prawns with masala mayo and curry leaves, sumptuous Braised Angus Beef Short Ribs and to end it on a sweet note, Gran Cru Chocolate.
INFORMATION
w. www.mandarinoriental.com/singapore/fine-dining/lounges/mo-bar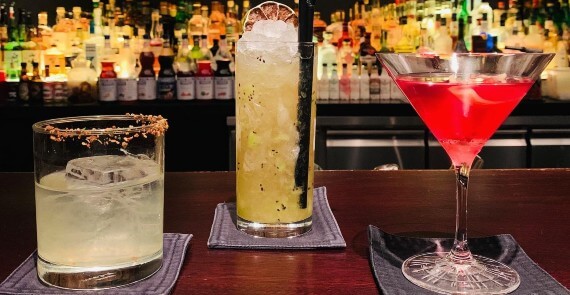 Image Credit: The Horse's Mouth Facebook Page
Sitting in this eclectic basement bar one feels a disconnect from the world outside, something we've all been seeking. After all, 2020 has been all about letting go. So, let it all go with the dynamic vibes and sake at Horse's Mouth. Sip on some tart, stiff and smoky cocktails like A Guava Life, Kopi Kaya, Four Horsemen and Horse's Mulled Wine, a delight in the winters. Do not resist the charms of their donburi, sashimi or ramen as they taste just as dynamic as they look. For bar bites go for their Soft-Shell Crab, Spicy Salmon & Tuna Tartare with Crispy Gyoza Skin or Mentai Cheese Ball. 
INFORMATION
a. 583 Orchard Road, Forum the Shopping Mall, #B1-39, Singapore 238884
s. www.facebook.com/HorsesMouthBar
13% Gastro Wine offers an extensive selection of wines from many regions around the world, and sharing portions of delectable modern European dishes. Wines are available by the glass, bottle or on a retail basis. The 13% Gastro Wine experience is personal and authentic, so customers can truly take pleasure in the journey of wine tasting without a high price tag and without pretension.
A. 123A Telok Ayer Street 068592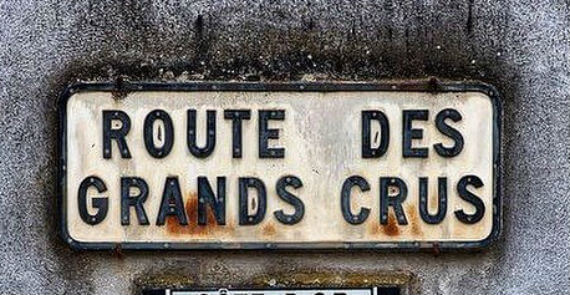 Named "Best Wine Shop of the Year" by La Revue des Vins de France in 2013, Le Quinze Vins is (no surprise here) a wine bar with over a thousand labels on offer. The bar bites here are perfectly paired to wines, and include charcuterie, croque monsieur, artisanal cheeses & sharing platters. If you don't know much about wine, don't worry – Le Quinze Vins' professional sommelier can help you decide based on your palate, and even your budget.
T. 6222 8266
F. www.facebook.com/pg/LQVSingapore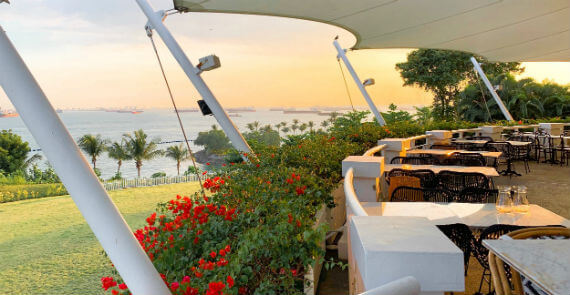 This is a slice of heaven when it comes to living and working in Singapore. Located at the Sentosa Golf Club the aptly-named Panamericana bar and restaurant, which overlooks the South China Sea is spread across a 7,000 square feet area has a massive bar and specialises in farm-to-fire cuisine prepared on an Argentinian grill. Treat yourself to a flame grilled steak and order one of the bar's tongue-in-cheek cocktails. The Grown Up Fanta is a spin on the Aperol Sprtiz. Well worth the tipple. more information here
a. Sentosa Golf Club, 27 Bukit Manis Rd 099892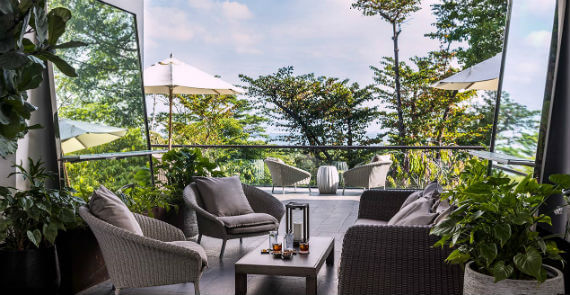 With expansive Panoramic views, this is the place to watch the sunset. Bob's Bar is the perfect spot on Sentosa Island for a cocktail, or a contemporary twist on a classic, often made with Navegante, a rum by Master Distiller Richard Seale made exclusively for Capella Singapore. You are invited every evening at 6.30 pm (5pm on Sundays) for Bob's Bar's Bosun's Call, where bartenders give out tasting rum infused with pineapple and small bites, a nod to the hotel's naval tradition. more information here
a. Capella Hotel Singapore, 1 The Knolls 098297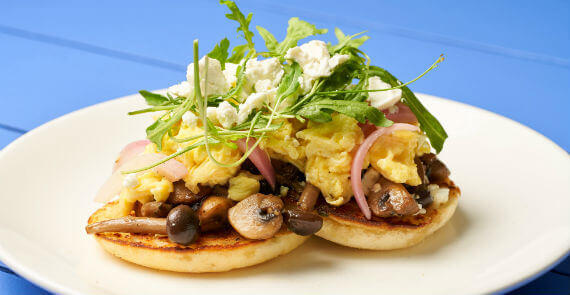 Check out Coastes sumptuous spread of a la carte brunch classics, hearty breakfast mains & more. Try the delightful Rösti with Smoked Salmon & Poached eggs $18++. Perfectly runny poached eggs with smoked salmon, fresh rockets & sun-dried tomatoes resting on a sheet of potato nest. On Saturdays, Sundays and Public Holidays, you can pair your à la carte brunch with unlimited glasses of Freixenet Cordon Negro Brut, red wine and white wine from 11am to 3pm at a surplus of $45++. more information here
a. 50 Siloso Beach Walk, #01-05 Sentosa 099000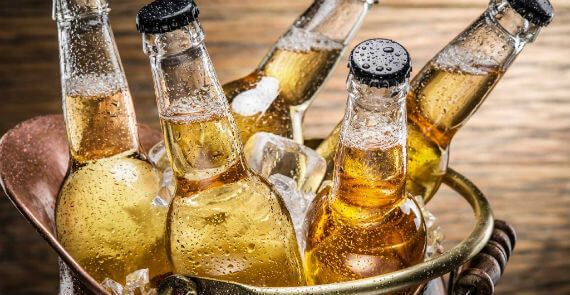 W Singapore has the glamorous reputation of being a hot spot pool party hub, but that's not all the establishment has to offer. This fabulous hotel houses Woo Bar, a swish lounge that features stellar promotions, including bottomless curated Belvedere cocktails at just SGD50++ per lady every Wednesday from 7pm-10pm, an oyster-and-champagne buffet every Friday night, or a gin-themed liquid brunch on Sundays. No need to hold back here. more information here
a. W Singapore - Sentosa Cove, 21 Ocean Way 098374 
Video Credit: Rumours Beach Club
The one beach club in Singapore to make you feel like you're on a vacation is Rumours' and nope this isn't just hearsay. Experience beach fun like no other as you strut about in your favourite bikini and decide to lounge on the mattress at one of the three pools at the club. They serve kickass classic cocktails like Lychee Martini, Mimosa, Lychee Bellini, Kir Royale and the much-famed Singapore Sling. These are enough to keep the buzz going plus they have a dedicated grill for you to binge on treats like BBQ Pork Ribs, Rumours Fish & Chips and Buffalo Wings.
INFORMATION
a. 40 Siloso Beach Walk, Sentosa, Singapore 098996
s. www.facebook.com/rumoursbeachclub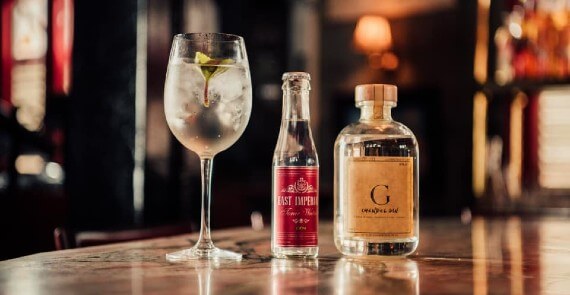 Image Credit: Potato Head Singapore Facebook Page
Famous for its beach club, Potato Head has become an experience in itself by creating a sustainable village known for food, culture, music, performances, dance, drinking and wellness. Head on to their rooftop bar and groove to Balearic beats as you sip on tropical cocktails like Hella Good, Smash The Monkey, Red Velvet and Coconut Negroni. Apart from quirky drinks they've got a good selection of spirits and delicious bar bites. Trust their well-planned menu to keep you afloat from all the high and do try their signature Watermelon Man Burger - beef patty, caramelised watermelon, cheese, ketchup, pickled onions, three-islands mayo in a toasted brioche bun.
INFORMATION
s. www.facebook.com/PotatoHeadSG/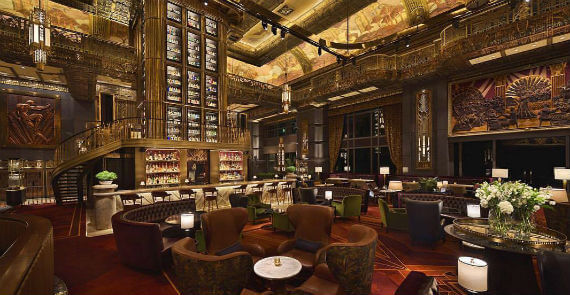 Like what you see? Click on image to find out more.
Atlas, a grand lobby and bar, is a celebration of the 1920's rich culinary and beverage traditions. At Atlas you can enjoy its dining and drinking throughout the day and deep into the night in a truly memorable setting. Beverage highlights include elegant European cocktails and one of Asia's finest collections of gin, spirits and champagnes. A refined selection of modern European dishes, from a light breakfast, fulfilling lunch and an indulgent dinner to late night grazing. read more...
INFORMATION
a. Parkview Square, 600 North Bridge Road 188778
w. atlasbar.sg/
s. www.facebook.com/atlasbarsingapore/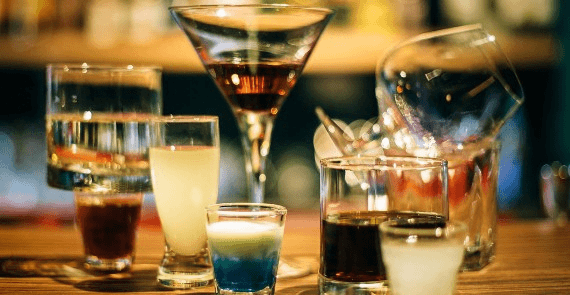 Image Credit: Gem Bar Facebook Page
Another one of Singapore's happening places, you won't have a single dull moment at Gem Bar. Sip on their delicious cocktails like Flower Song (chrysanthemum tea infused vodka, lychee, wild honey) and Kyoho Pornstar (gin, Kyoho grape juice, prosecco, elderflower, lychee). You can also pick spirits from reputed labels pairing them with their shared Gem Platter of stir-fried beef cubes, sliced beef sausages, with a choice of two sauces and three sides. For serious hunger pangs go straight for their Signature Beef Burger or Banger & Mash followed by French Vanilla Ice Cream with dark chocolate hazelnut sauce, salted caramel & crunchy feuilletine biscuits.
INFORMATION
a. 10 Ann Siang Hill, Singapore 069789
s. www.facebook.com/gemsingapore/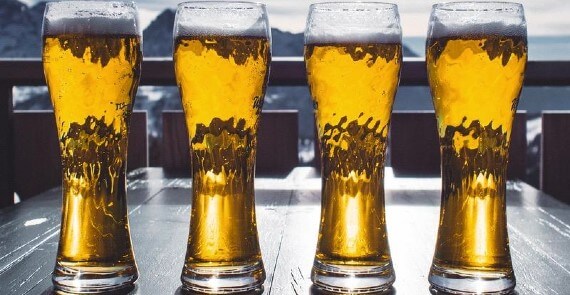 Image Credit: The Pit Restaurant & Bar Facebook Page
The Pit holds true to its name and offers you the right kind of a place when all you want is multiple rounds of chilled beer with your buddies and fuss-free food. The menu is simple but the food is top notch and extremely tasty. Their cheeseburger is made of hand-ground beef patty, melted cheese and a special in-house sauce making it worth every bite. Even their nachos come fully loaded with tortilla, seasoned ground beef, gooey cheese, kidney beans, black olives, jalapeno, sour cream and salsa. Yum!
INFORMATION
a. 21 Lor Liput, Singapore 277733
s. www.facebook.com/thepitrestaurantan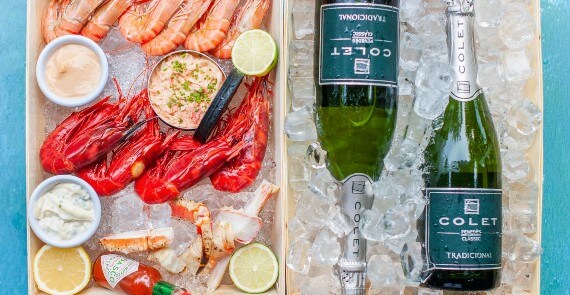 Image Credit: FOC Sentosa Facebook Page
Bringing a slice of Spain to Singapore, FOC specialises in making recipes from Barcelona and bringing them to your table. Michelin Star Chef Nandu Jubany helms the kitchen and does a fantastic job and we love binging on their Manchego Cheese Churros, Padron Peppers with salt, slow-cooked and charcoal-grilled Octopus Galician style on crushed potatoes & smoked paprika and Roasted Baby Lamb Shoulder with burnt onion sauce, potato terrine & Idiazabal foam. Their cocktails are just as intense and we recommend going for Kimchilada, It's Not Your Bee's Knees, Umami Trilogy and Unbeli-bubble.
INFORMATION
a. 110 Tanjong Beach Walk, Singapore 098943
s. www.facebook.com/FOCSentosa/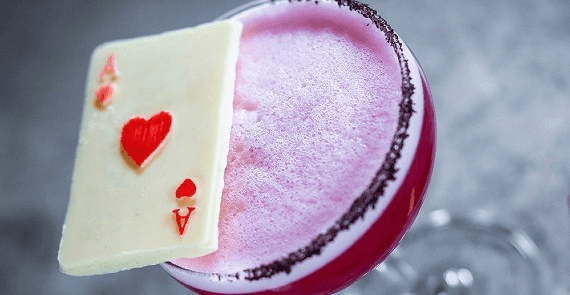 Image Credit: Hopscotch Facebook Page
Bond with your new friends and colleagues over shared plates of splendid barbecue and tipsy concoctions at Hopscotch. Indulge in their House Special Wings, succulent Smoked Beef Brisket or their Baby Back Ribs or get comfortably full with their Wagyu Burger. Their house-cocktails are not to be missed; our recommendations - Little Nonya (tequila, laksa leaf syrup, calamansi, egg white, coriander, ginger flower), White Sands (lychee liquor, nigori sake, rum, vodka, coconut sorbet, lemon juice) and Ace of Hearts (vodka, Chambord, hawthorn syrup, lime, egg white, lemongrass, fresh raspberries).
INFORMATION
a. 45 Malan Rd, Singapore 109455
s. www.facebook.com/HopscotchSG/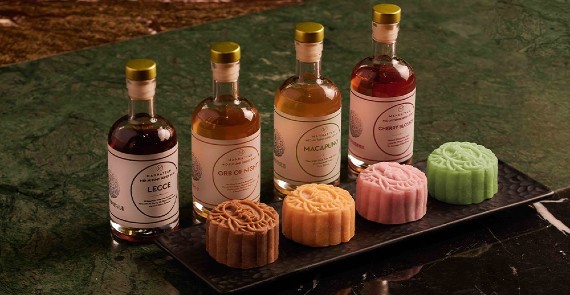 Image Credit: Manhattan Bar Facebook Page
Amongst the top 15 bars in the world, Manhattan takes pride in their chic ambience and cocktails inspired from world renowned Manhattanites like Anthony Bourdain, Ella Fitzgerald, Eleanor Roosevelt and Robert Downey Jr. Sit back and let delights like Cigarette Break (hazelnut & espresso liqueur, toasted coconut, whisky, lemon egg white), Lady Of Song (gin, violet liqueur, orange & chamomile oleo saccharum, champagne) and 3000 (rum, chocolate, vanilla cream, strawberry dust) take over you. Pair these classy drinks with delicious bites like New York Hot Dogs, Rib Eye Steak Frites, Truffle Mac 'N' Cheese and Straight Cut Fries.
INFORMATION
a. 1 Cuscaden Rd, Level 2 Regent Singapore 249715
w. www.regenthotels.com/en/Singapore/Cuisine/Manhattan
s. www.facebook.com/manhattansg/
Image Credit: Tanjong Beach Club Facebook Page
By day Tanjong Beach is the perfect family hangout, and by night the beach club opens up for party animals. Groove to the latest tunes and try out lip smacking cocktails. Perfect spot to have a complete beach experience if you're holidaying in Singapore and aren't too keen on island tripping. Plonk yourself on their daybed and sip on tropical cocktails like Flamingo Margarita (tequila, jalapeno syrup, lime, strawberries), Malayan Mai Tai (pineapple rum, lime, curacao, orgeat, pandan & tropical flavours) and their spicy Signature Bloody Mary (vodka, tomato juice, sesame oil, wasabi, lemon, signature spice mix).
INFORMATION
a. 120 Tanjong Beach Walk, Singapore 098942
s. www.facebook.com/tanjongbeachclub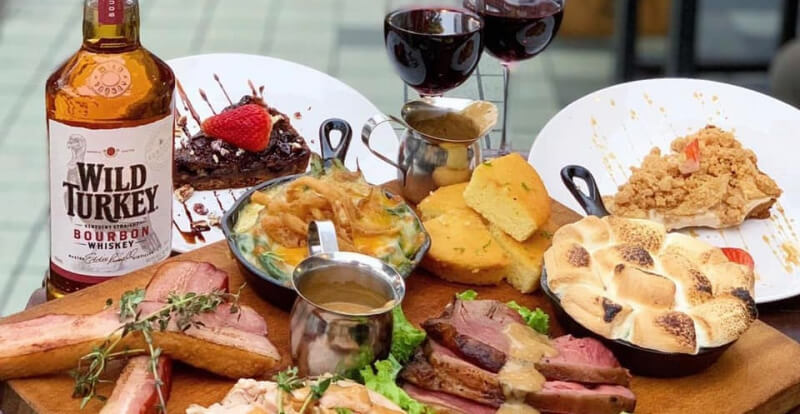 Image Credit: The Beast Facebook Page
Unleash the beast in you by sipping on stiff cocktails by The Beast. Sip on their wild concoctions like Bourbon Pear Smash, No. 132, Scarlet O'Hara Sour or Fat Mama's Shake. Their bar nibbles are delicious and we recommend you devour their Southern Fried Chicken. It is brined for a whole day and is served with country gravy and southern slaw. You can also go for their Chicken & Waffles for the same price only here you get the boneless fried chicken thigh with buttermilk waffle, sunny side up, and in-house bourbon maple butter sauce. So, yum!
INFORMATION
s. www.facebook.com/thesgbeast/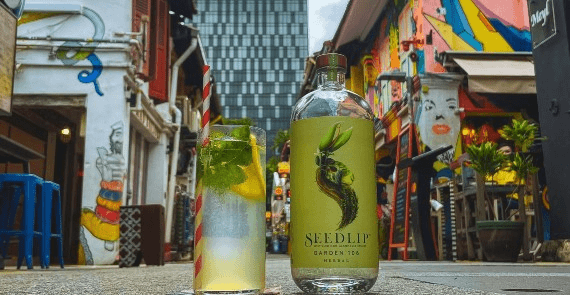 Image Credit: Ah Sam Cold Drink Stall Facebook Page
Don't let the name mislead you, the only cold drinks you'll find here are their cocktails on tap! Ask the mixologist to fill up your glass with fun concoctions like Pornstar Martini, Pandan Singapore Sling or Bruichladdich Long Jing Highball. Some of their other signatures include Dirtier Martini, Osmanthus Sour, Laksa and Kaya Flip. So you don't get too heady we ask you to indulge in one of their delicious burgers like Rum-ly Special with a beef patty and dark rum mustard or BBQ Charsiew Pork Buns, Hokkien Prawn Mee stir-fry and Boneless Crispy Shrimp Paste Chicken.
INFORMATION
a. 12 Haji Ln, Singapore 189205
w. www.ahsamcolddrinkstall.com/
s. www.facebook.com/AhSamColdDrinkS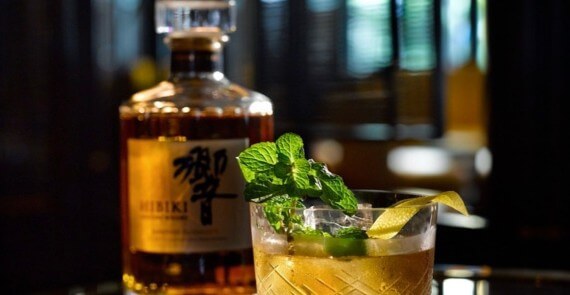 Image Credit: Anouska's Bar Instagram Page
Find the snazziest of cocktails at Anouska's Bar, an ode to Anouska Hempel, the famed Bond girl. Her selection of drinks will take you for a spin and we recommend Escape to Kaifeng (house-made oriental chrysanthemum cordial, herbal Tanqueray Gin), Yellow Pot (tequila reposado, elderflower liqueur, gentian liqueur, lemon, soda) and Hong Long Choc (whisky, lapsang souchong, chocolate liqueur, bitters). Pair these with Sichuan Thunder Fries, Assorted Dim Sum Basket, Deep Fried Vegetable Spring Roll or shoot for something filling like Signature Roast BBQ Duck, Crispy Sichuan Chicken or 14-Day Aged Tofu Mapo Style.
INFORMATION
a. 83 Duxton Rd, Singapore 089540
w. anouskas.sg/
s. www.facebook.com/anouskasbar/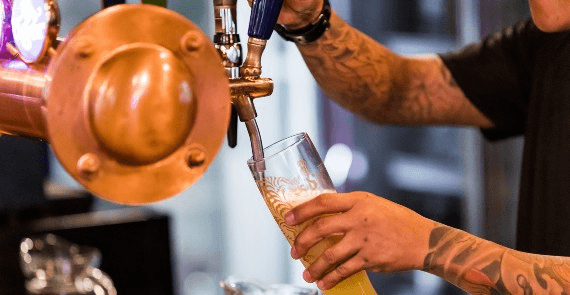 Image Credit: Blu Jaz Cafe Facebook Page
Alcohol alone is not enough to put you in a good mood, the ambience matters and if you want to feel upbeat again, Blu Jaz is the place to be. Sip on a house pour or pick from their range of cocktails and groove as the music takes you over. Make sure you eat a little before you head on to do shots and they've got plenty of those to tempt you. Treat yourself to some smoky Tandoori Murgh, Salmon Fish Tikka, Kebabs, Sambal Prawns and Satay. Their menu can easily spoil you for choice for they've got regular pub food, Indian food as well as local favourites.
INFORMATION
a. 11 Bali Ln, Historic Kampong Glam, Singapore 189848
s. www.facebook.com/blujazcafe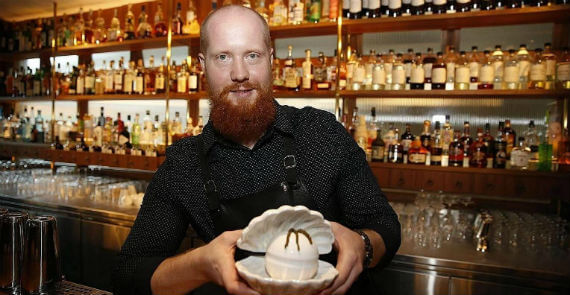 Origin Bar's cocktails are inspired by 5 key districts of Singapore: Orchard, Chinatown, Little India, Boat Quay and Marina Bay. Bar Manager and Slovakian native, Adam Bursik, has carefully concocted each cocktail to reflect the colours, flavours and historical anecdotes of the different neighbourhoods. The namesake, Origin, is a spicy gin-based cocktail made with sugar cane honey, nutmeg, pepper, charred pineapple and lime husk wine; Leaf the Curry, a tart-sweet rum cocktail features curry leaf, tamarind and green cardamom; Buona Vista, an ode to journeys and settlement, offers notes of coffee, fig, distilled hazelnut, chocolate and Campari; and The Pearl, boasts a smooth and floral bouquet of Black Forest gin with tofu, elderflower, sea grapes and Mugi shochu.
INFORMATION
a. Lobby Level, Tower Wing, 22 Orange Grove 258350
w. www.shangri-la.com/singapore/shangrila/dining/bars-lounges/origin-bar/origin-bar/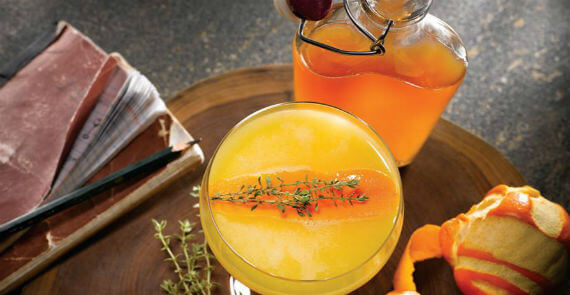 Anti:dote ( antidote ) is a stylish and modern cocktail bar with a progressive selection of concoctions that appeals to the most discerning taste buds. Combining the craftsmanship of traditional bartending and the artistry of experimental mixology techniques, classic recipes are reinterpreted with contemporary flair. At Anti:dote, drinks crafted with premium spirits and house made bitters, liqueurs and sodas are paired perfectly with innovative modern tapas.
INFORMATION
a. Fairmont, Raffles City, 80 Bras Basah Road, Level 1 189560
w. www.fairmont.com/singapore/dining/antidote/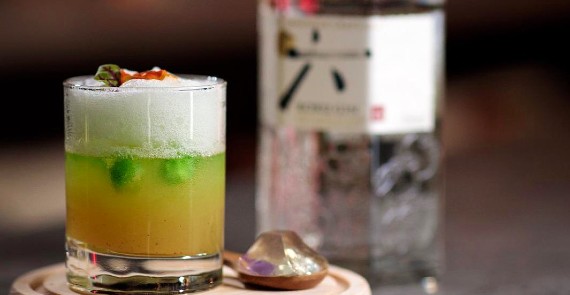 Image Credit: 2 am: Dessert Bar Facebook Page
Intimate dinners were never this sweet nor were gourmet desserts this pleasant on the taste buds; but Janice Wong has worked her magic at the amazing, 2am: dessertbar and we're just loving every bit of it. They have plenty of tipples right from wines to malts to beers and meads as well as cocktails every bit as delicious as their desserts. Go for their Umeshu Elderflower, The Mist, Spume and Opposable Thumbs. Amongst their indulgent Christmas cocktails two have stood out for us - Chocolate Biscotti and Amber & Gold. Don't forget to indulge in their innovative desserts and delicious savouries as well.
INFORMATION
a. 21A Lor Liput, Singapore 277733
w. www.janicewong.com.sg/2amdessertbar
s. www.facebook.com/2amdessertbar/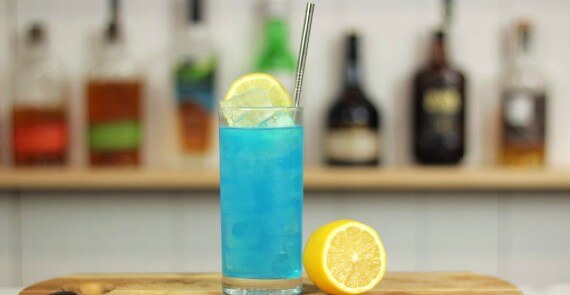 Image Credit: Jekyll & Hyde Facebook Page
When you call up your friend to join you at a bar, they would never be able to guess you're at Jekyll & Hyde sipping on Spice My Monkey Up. As quirky as the bar and its drinks sound, it is just as happening and their concoctions are heady gems that you should definitely not miss. Spice Up My Monkey itself is made up of apricot-infused Monkey Shoulder whisky, salted honey syrup, lemon juice, ginger beer reduction foam & a little magic of smoke spray. With these strong drinks you can ease up with Chilli Crab Nachos, Chicken Tikka and Omni Dumplings.
INFORMATION
a. 74 Neil Rd, Singapore 088839
w. jekyll.sg/
s. www.facebook.com/JekyllAndHyde.SG/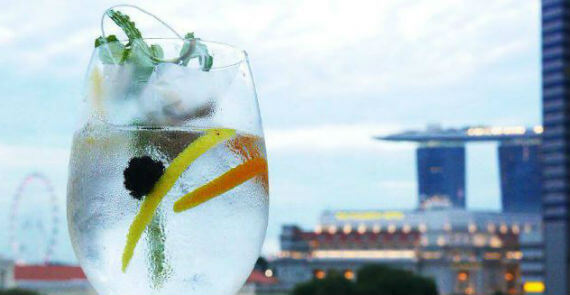 Like what you see? Click on image to find out more.
Perched on the top two floors of a newly-restored heritage shophouse by the Singapore River, Braci is a modern Italian restaurant and rooftop bar. Perfect for sundown and postprandial drinks. Overlooking the Singapore river, the casual-luxe 16-seater open-kitchen restaurant and 30-seater bar features progressive Italian cuisine and classic cocktails. Braci is one of the newest modern Italian restaurant and rooftop cocktail bar by renowned restaurateur Beppe De Vito. 
INFORMATION
w. www.braci.sg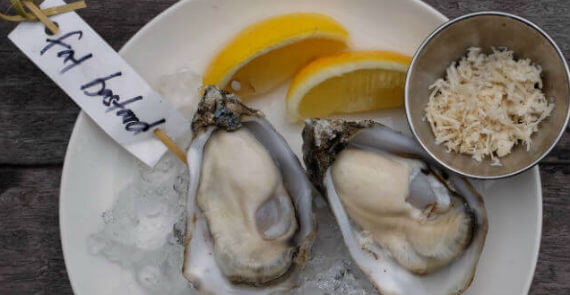 Like what you see? Click on image to find out more.
We popped this one in 'cause the cocktails here deserve to be noted. It all started with one trip to the Hama Hama oyster farm in the Pacific Northwest. With hands dipped in the coldest estuary of the region, shucking live oysters in waist-deep waters, eating them fresh...one holiday experience turned into inspiration for this breezy Seattle-style cocktail bar concept. At Humpback, expect the freshest offerings from sea, land, and garden, with ever-evolving flavours to sample as the seasons change. Their specially-curated beverage menu carefully complements your dining experience, with a focus on white spirit-based cocktails, wines, and beers. To top it all off, the team's friendly hospitality will ensure you have a whale of a time.
INFORMATION
s. www.facebook.com/humpbacksg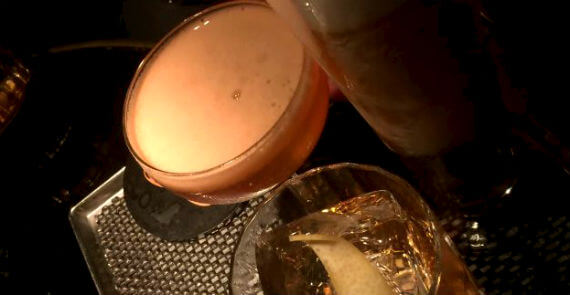 Like what you see? Click on image to find out more.
Singapore's 28 Hong Kong Street topped the inaugural Asia's 50 Best Bars Awards in 2016, along with eight other bars in Singapore.  28 Hong Kong Street (last year's No. 1) was awarded fourth place in 2017 and Operation Daggerat No. 6. Four out of five new Singaporean entrants have their to the list are the hottest bars to have opened up in the last year: Gotham-styled gin bar Atlas (No. 12), the unapologetic Employees Only Singapore (No. 17) that hails from NYC. Nutmeg & Clove scores the 30th spot on the list with cocktails inspired by Singapore's history. 
INFORMATION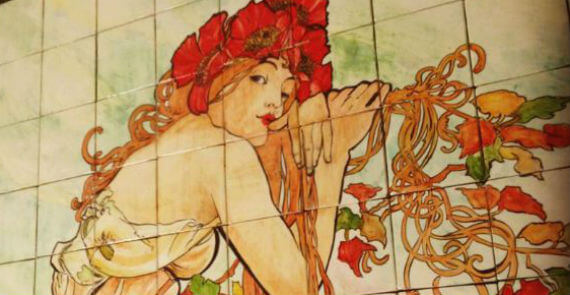 Like what you see? Click on image to find out more.
Following the runaway success of Brasserie Gavroche, Chef Patron Frederic Colin charms his clients with Parisian café, Café & Bar Gavroche, located across from Brasserie Gavroche. Tartines topped with delectable ingredients, charcuterie and cheese boards, hearty cocottes and salads - the food offerings are perfect accompaniments to a large selection of affordable wines sourced from all over France. Diners can also look forward to the Weekend Breakfast À La Française with rustic and hearty portions of freshly-baked croissants, pastries and country breads, along with French jams and egg dishes - a perfect weekend sojourn to Paris on Tras Street. There is a Ladies Night on offer each Wednesday. read more...
INFORMATION
s. www.facebook.com/CafeGavroche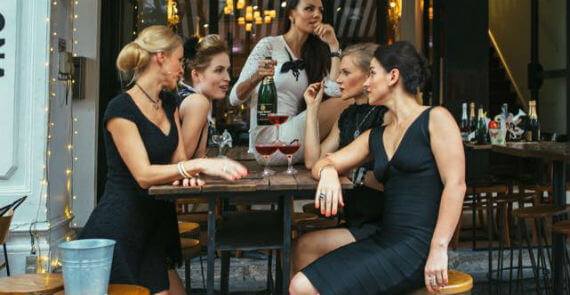 Like what you see? Click on image to find out more.
BAR-CELONA do not make huge margin on CAVA, their concept is to make bubbles affordable. At the same time they sell very high quality CAVA and sparkling wines. The quality is proven by time and by Spain government which only allow to call CAVA sparkling wines made in Spain by "metodo traditionale" when champanisation being in bottles for at least 9 months. read more...
INFORMATION
a. 21 Duxton Hill #01-01 089604
s.www.facebook.com/barcelona.singapore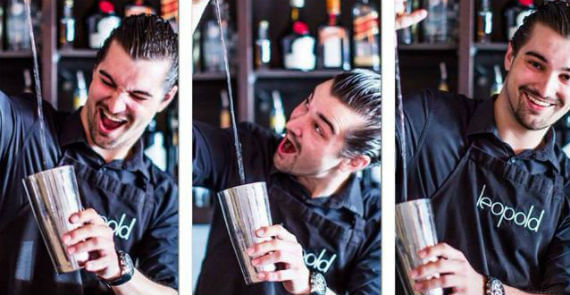 Leopold is an Austrian Tapas gastrobar located on Tanjong Pagar Road and is owned and managed by 25 year old Austrian Mixologist and Chef Klaus Leopold. The 40 seater gastrobar offers Tapas cuisine which matches well with any drinks or wine. Everything is done here with passion for food & beverage. Leopold is all about quality – several unique spirits can be found behind the bar counter. Klaus is a professional Mixologist. Discover his famous concoctions like the well-known Amber Bowl and P for Passion or customized cocktails that suit your taste. read more...
INFORMATION
a. Tanjong Pagar MRT, 96 Tanjong Pagar Road 088517
s. www.facebook.com/leopold.sg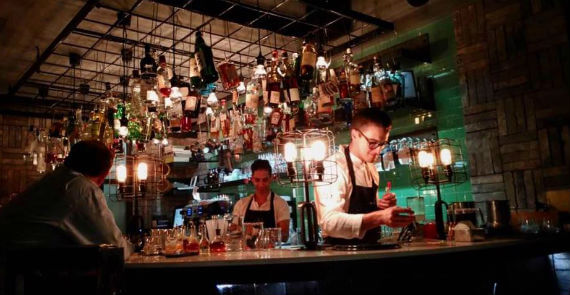 Like what you see? Click on image to find out more.
House Bartenders creating conceptual and innovative drinks that not only stand on their own but also complement the avant garde dishes Tippling Club is known for. Tippling Club Restaurant and Bar in Singapore is one of Asia's most talked about venues where progressive cuisine is paired to unique cocktails.read more...
INFORMATION
a. 38 Tanjong Pagar Road 088461
s. www.facebook.com/tipplingclub/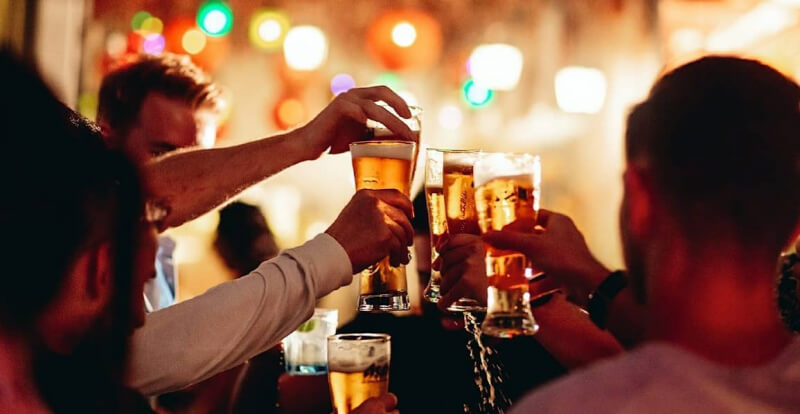 Image Credit: Kinki Facebook Page
Funky in design and fun and playful with the menu, Kinki is known for its tantalizing Japanese flavours. Their signature drinks, Mr. Blue Sky, Aurora Polaris, She's So Unusual and Calpis Colada are impressive and are a must try. To give the diners something new they've not only opened up their rooftop for an alfresco experience but also added lip smacking dishes to their menu. Try out their Spicy Buffalo Katsu featuring pork marinated with worcestershire sauce, Japanese chili oil and a seven-spice mix and Crusty Lamb Rack made using a Koji-aged lamb coated with panko and mentaiko. Yum!
INFORMATION
a. 70 Collyer Quay, #02-02 Customs House, Singapore 049323 049323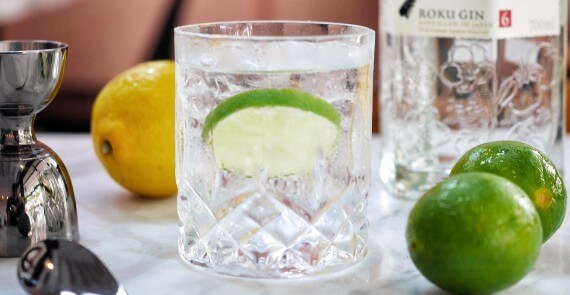 Image Credit: The Refinery Singapore Facebook Page
Sit back and enjoy chilled brews with your buddies after a long day at work or simply to celebrate a Wednesday. The Refinery stocks up draft beers and wines plus they serve amazing coffee to wash all the merriment down before you leave. Pair your beer with their finger-licking bar bites like Seaweed Truffle Popcorn, Mentaiko Fries with kizami nori & charred mentaiko mayo and Salmon Sashimi. For something substantial, order a Mixed Chirashi Bowl packed with salmon cubes, tuna, octopus cuts, ikura, nori & fried wonton skins or Vegetable Tempura Don with togarashi spice, rice and an option of 72 Degree Onsen Tamago.
INFORMATION
a. 115 King George's Ave, #01-02, Singapore 208561
s. www.facebook.com/therefinerysg/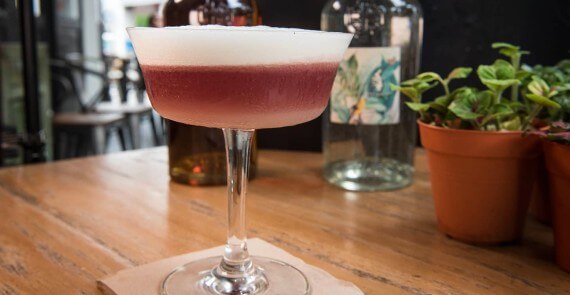 Image Credit: Rabbit Carrot Gun Facebook Page
Take a trip to England by stepping into this suave pub and let the staff here take you through their list of tipples ranging from beer to wine from popular labels. What really makes Rabbit Carrot Gun so charming is the cheery vibes and the food. If you're starving go straight for their signature Ploughman's Lunch featuring honey-baked ham or Melton Mowbray pork pie, cheddar cheese, salad, sliver onions, wholegrain bread served with Branston Pickle or Colman's English Mustard. We usually order their Fish & Chips with tartare & a lemon wedge, Bacon, Avocado & Blue Cheese Sandwich and Sticky Toffee Pudding & Vanilla Bean Ice Cream.
INFORMATION
s. www.facebook.com/rabbitcarrotgun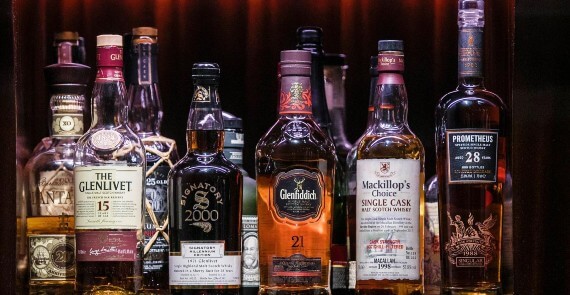 Image Credit: The Vagabond Club, Singapore, a Tribute Portfolio Hotel Facebook Page
Nope, it's not just the name, it is a library dedicated to whiskey and if you love this liquid gold, you have to visit this place. The bar showcases whiskey bottles, rare ones and thousands of them, in opulent red and gold tones and it is a sight worth seeing and experiencing. You can access the bar by booking a table and enjoying the vibe, sipping on a rare golden spirit and if you'd like you can become a member of The Vagabond Club and enjoy other perks too. While you're there do savour their splendid food as well.
INFORMATION
a. 39 Syed Alwi Rd, Singapore 207630
w. www.hotelvagabondsingapore.com/whiskeylibrary
s. www.facebook.com/thevagabondclubsg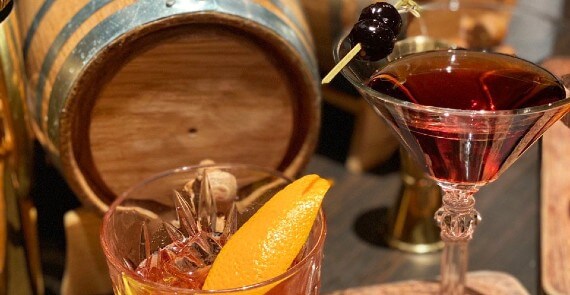 Image Credit:  Grand Hyatt Singapore Facebook Page
If you simply can't pick any other drink but a martini much like James Bond, Martini Bar at Grand Hyatt Singapore is meant for you and martini lovers like you. They've got a variety of 30 martinis amongst their signatures, vodka-based and gin-based martinis. We've tried their Glamorous Cotton Candy, Coco Malibu and Apple Elixir and they are all so, so good. Baba Ganoush with pomegranate seeds & olive oil on a sourdough toast goes well with these drinks as well as their Winter Truffle Arancini with arrabiata sauce. So good!
INFORMATION
a. 10 Scotts Road, Grand Hyatt, Singapore 228211
w. www.hyatt.com/en-US/hotel/singapore/grand-hyatt-singapore/sinrs/dining?src=nplk-sinrs-lclb-martini-bar-at-mezza9
s. www.facebook.com/GrandHyattSingapo
Video Credit: SPH Razor
A place to sip on some good kopi in the day and a cold brew in the evening, Alibabar is not your conventional bar scene. It prides itself as a hawker bar and serves food from local food stalls. So, in the day with your cuppa, you can binge on a simple breakfast of toast, bacon, scrambled eggs or waffles and by night you can relish fried prawn noodles, burgers, spring rolls, Thai pineapple rice with prawns and stir-fry. Sit outdoors, enjoy the local scene and experience Singapore the local way!
INFORMATION
a. 125 E Coast Rd, Singapore 428810
w. alibabar-hawker-bar-east-coast.business.site/
s. www.facebook.com/AlibabaR-The-Haw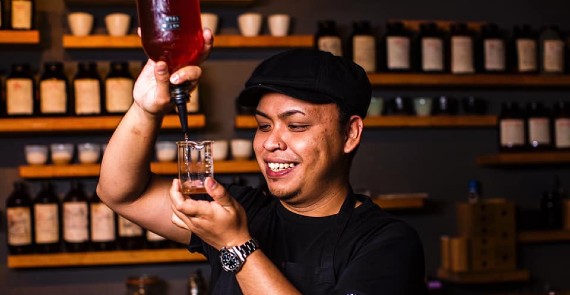 Image Credit: Operation Dagger Facebook Page
Soon to be opening at a new location, Operation Dagger has shown us some good times, and we hope they continue doing so in the future. What we've loved about the bar is its laid-back vibes and fun decor. They have been serving lip-smacking cocktails like So It Wasn't Coffee, Cheese No Egg, Golden Mile and Purple Yamborghini, each of them grammable and heady. We can't wait to lay our hands on these drinks again!
INFORMATION
s. www.facebook.com/operationdagger/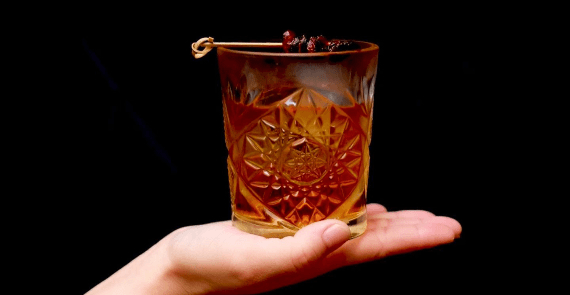 Image Credit: Bitters & Love Facebook Page
For the true appreciation of cocktails, head to Bitters & Love run by people who are deeply passionate about bitters and everything else going into an amazing concoction. Ever thought of mixing certain flavours? Ask the servers and the mixologist might just surprise you with something special. Those not looking for an adventure can stick to their specialities like One Night in Tokyo, Talking to the Moon, The Price and 50 Shades of Earl Grey. The beer-battered Fish & Chips, Beef Tacos and The Blue Swimmer Crab Pasta go best with their fiery drinks.
INFORMATION
a. 118 Telok Ayer Street 068587
s. www.facebook.com/BittersandLove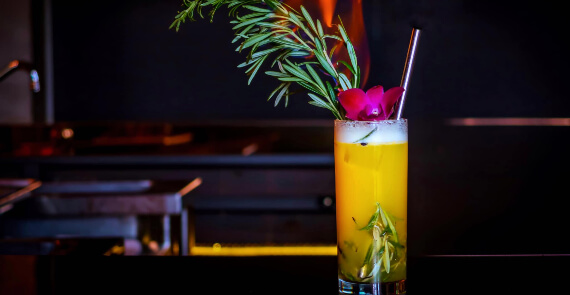 Image Credit: Maison Ikkoku Facebook Page
Crafted with utmost perfection, the cocktails at Maison Ikkoku are worth every flavourful sip especially when it comes to the recrafted Singapore Slings. You'll love these five variants as well as their other refreshing cocktails and broad selection of wine. Do indulge in their sushi, sashimi, maki and tacos. We love going for their Tacos Ebi with kimchi slaw, crispy tiger prawn, sushi rice, mayo & seaweed and Lobster Kyatapiri which is caviar, crabmeat, salmon roe & avocado. Their Signature Lobster Linguine is a mind-blowing broth and is not to be missed nor is their Orange Martinique for dessert.
INFORMATION
s. www.facebook.com/maison.ikkoku.sg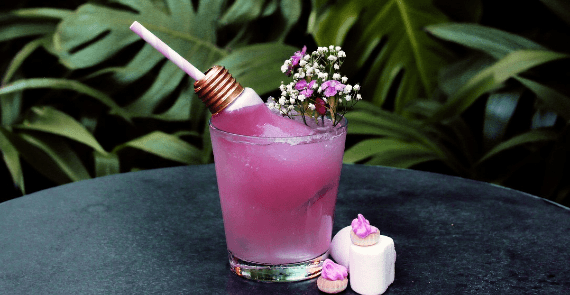 Image Credit: Loof Facebook Page
Step into Loof and enjoy the eclectic setting and vibrancy as you sip on their signature cocktails and groove to the upbeat music. This rooftop bar offers three amazing concoctions apart from the classics, and we love their Loof Bubble Tea, a mix of vodka, gin, rum, orange liqueur, sour plum, citrus, yoghurt & tapioca pearls. For a bit of sweetness, order the Little Pink Dot made with marshmallow gin, raspberry liqueur, berries & yuzu. Their bar bites are quite quirky, and you can enjoy delights like Chilli Crab Waffle Fries, Cheeseburger Yakitori Skewer and The Pork Chopper made with a delicious pork chop!
INFORMATION
a. Odeon Towers Extension Rooftop, 331 North Bridge Rd, #03-07 188720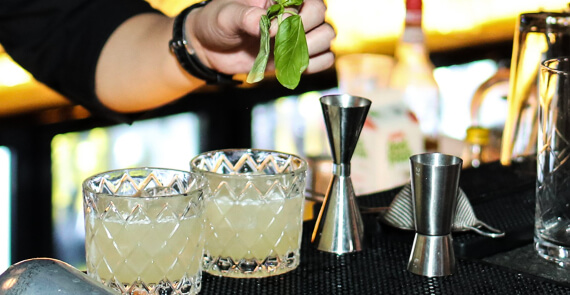 Image Credit: Southbridge Facebook Page
A perfect spot for a date night, Southbridge boasts of spectacular and tranquil views of the Singapore River and the skyline. They serve a selection of oysters flown from across the globe and choicest of champagnes, prosecco and craft cocktails to go with the critters. We love indulging in their gin and usually go for their Rosemary Baby made with gin & berry vodka, rosemary syrup and egg white. Amongst the oysters, our comfort zone is their Mignonette with banana shallot & sherry vinegar. Do go for their Octopus Taco, Triple Cheese Truffle Bikini, Smoked Pork Taco and Chicken Karaage with sriracha mayo.
INFORMATION
s. www.facebook.com/southbridgesg
Video Credit: Insider TV, LeVeL33 | The World's Highest Urban Craft-Brewery | Singapore
There's nothing quite like the gorgeous view of the Marina Bay from a snazzy rooftop bar. LeVeL 33 offers this and a lot more in terms of freshly brewed beer and delicious food to complement the chilled brews. The brewery makes blond lager, Indian pale ale, stout, house porter, wheat beer, brut beer and seasonal craft beer. Take your pick amongst these or their wonderful beer cocktails and pair them with Chicken Wings with house made shichimi & lemon, Freshly Shucked Oyster with lemon, tabasco & lager vinaigrette and Sizzler Beef. We also love binging on some roast trimmings on the weekends with lamb shank & rosemary jus.
INFORMATION
a. MBFC Tower 1, 8 Marina Boulevard, #33-01 018981
s. www.facebook.com/LeVeL33CraftBrewery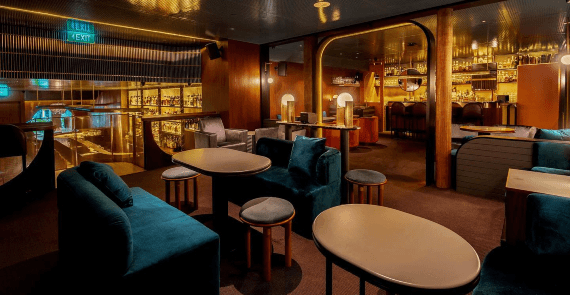 Image Credit: Jigger and Pony Facebook Page
Seat yourself at one of the top ten bars in the world, Jigger & Pony. What makes them the best are the classy cocktails served with a smile in a plush ambience. They've got choicest of concoctions ranging from Bubblegum Fizz, Cacao Pulp Sour, Pandan Gardens and Cocoa Barrel Chancellor, a lovely twist to classic cocktails to punch bowls like King Ferdinand (gin, white rum, chamomile, passionfruit, bee pollen, honey, lemon, prosecco) and Pendennis Punch (whiskey, dry gin, apricot, lime jasmine tea, grapefruit, bitters and soda). Indulge in their cheese, charcuterie and rice boxes with Dry Bak Kut Teh, Beef Rendang, Biryani or Bamboo Chicken.
INFORMATION
a. Amara Hotel, 165 Tanjong Pagar Road 088539
s. www.facebook.com/JiggerandPony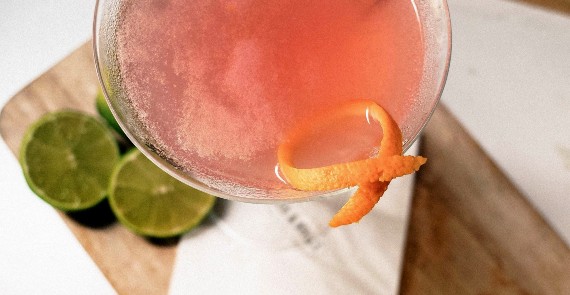 Image Credit: Coq & Balls Facebook Page
One of the sassiest bars in Singapore, Coq & Balls offers the most potent of cocktails in Singapore and once you've had a taste of them, you'd want to come back for more. To ensure a sure shot high, go for their Chuck Norris, fuelled with three kinds of absinthe or Enter The Dragon made with four kinds of absinthe, rum and sambuca. You can also do shots with their yummy shooters or go for their signatures like Coq-O-Nuts, Blended Baileys or Sake Highball. Do us all a favour and eat some of their delicious bar bites aka Coq Bites along with these fiery concoctions.
INFORMATION
a. 6 Kim Tian Road, Kai Fook Mansion 169246
s. www.facebook.com/pg/coqnballs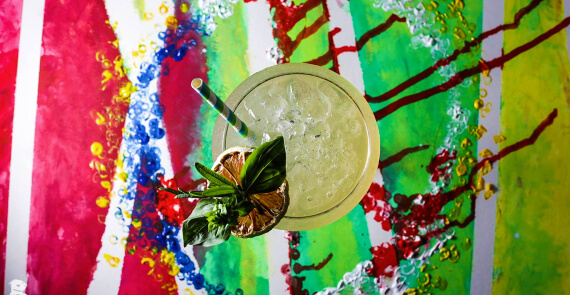 Image Credit: The Secret Mermaid Facebook Page
Encouraging you to drink like a fish, The Secret Mermaid offers a fun vibe and sumptuous cocktails. Our favourites from their signature drinks are Applewood Negroni, Mint Milo, Mermaid Sour and Devil in the Details. Do also give their Happy Hour drinks a try and pick from refreshing ones like Bugs Bunny goes to AA, Crazy Chrys and Raindrops on Roses. Pair these with Sriracha Chicken Wings, Coconut Prawn Tacos, Beef Croquette and Truffle Mushroom Fries.
INFORMATION
a. Ocean Financial Centre, 10 Collyer Quay, B1-08 049315
s. www.facebook.com/thesecretmermaid/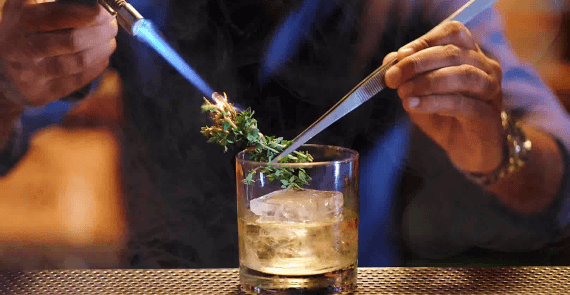 Image Credit: The Spiffy Dapper Facebook Page
The Spiffy Dapper is the kind of place you'd find yourself slobbering drunk because the drinks here are absolutely irresistible. Sip on their most potent cocktails - Lollapalooza (rye, oleo saccharum, lime juice, grapefruit juice & bitters), Sheikh On The Road (black tea gin, demerara sugar syrup, lemon juice, egg white, cardamom bitters & Turkish delight) and Baby Grind (peated scotch whiskey, absinthe, agave syrup & orange bitters). Pair these with Mac & Cheese, George's Indian Nachos, Fried Hot Chicken with hot sauce or Beer Chilli Nachos.
INFORMATION
a. 73 Amoy St, Second Floor 069892
s. www.facebook.com/spiffydapper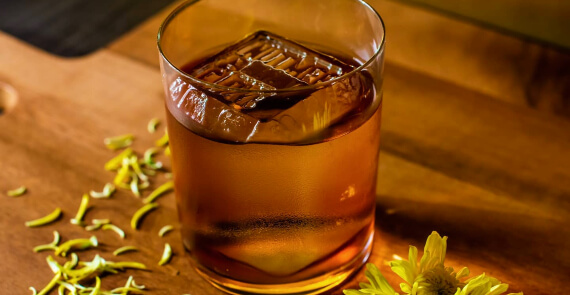 Image Credit: Nutmeg & Clove Facebook Page
Celebrating every aspect of Singaporean history right from the colonial era to a fast-paced metropolitan, Nutmeg & Clove is accredited with reputed awards. Find a piece of history in each of their refreshing cocktails, Putu Highball, Roses & Lychees, The Golden Duck, The Nutmeg & Clove and This is Crab! Each of them unique, full of lip-smacking flavours and go brilliantly with chicken wings and delicious grub like Krapow Prata Pizza and Scallop "Her Kiao" Glass Noodles.
INFORMATION
a. 8 Purvis St, Singapore 188587
s. www.facebook.com/nutmegandclove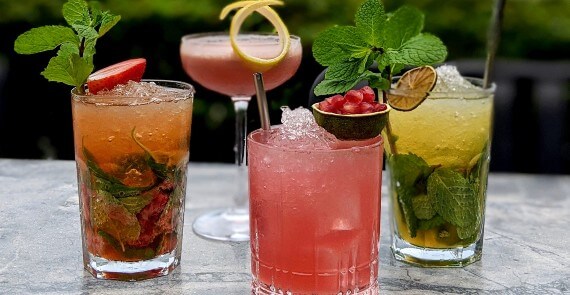 Image Credit: Overeasy Facebook Page
Chomp on super-delicious World Famous Philly Cheesesteak Sliders with bacon marmalade & sauteed onions with your tipples at Overeasy, an American bar in Singapore. They've got plenty of choice in beer, cider, wine and spirits but we recommend going for their Bramble - gin, fresh lemon and creme de mure. For those who want a complete dining experience can go for any one of their milkshakes paired with their The "To-Die-For" Burger made with their signature wagyu chuck blend patty, potato bun, cheddar, lettuce, tomato, pickle and their special burger sauce and house fries.
INFORMATION
a. One Fullerton , 1 Fullerton Road , #01-06 238881
s. www.facebook.com/pg/OverEasySG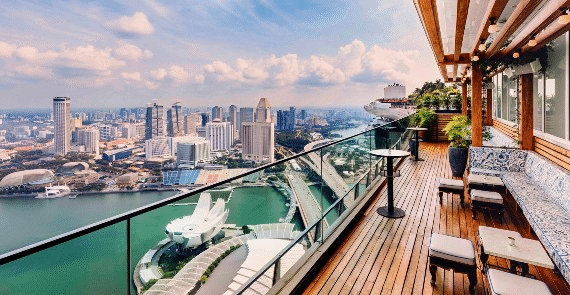 Image Credit: LAVO Singapore Facebook Page
The gorgeous city views from Lavo's gorgeous rooftop bar makes brunches even more intoxicating. They've brought their special brunches back with free flowing Veuve Clicquot champagne and speciality cocktails. The brunch is a la carte and the menu has tempting additions like Truffled Crab Salad, Wagyu Meatball pizza and Prime Hanger Steak. Your teetotaller friends can opt for a free flow of food and enjoy the luscious feast.
INFORMATION
a. Level 57, Sands Skypark Hotel Tower 1, 10 Bayfront Avenue, Marina Bay Sands 018956