Picture Credit : Numbing Burrata From the Lunch menu
Earlier in 2019, Kilo Kitchen introduced a weekend brunch menu that has since been received warmly by the public. Expat Choice visited and loved the lunch menu, so here we have some more news from these changemakers on Duxton Hill
From classic brunch touchstones - fried chicken & waffles, acai bowls, french toast - to adventurous dishes that exemplify the restaurant's worldly roots such as the Catalan breakfast, chorizo huevos rancheros, shakshouka, the menu when launched was only just the beginning.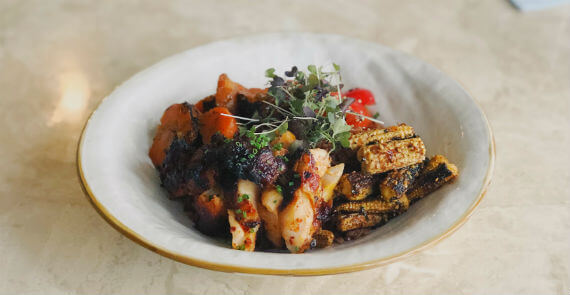 Bulgogi Chicken
Kilo Kitchen is now serving a weekday lunch menu, Tuesday to Friday 11am-2:30pm — catering to the needs of the working professionals within and beyond the vicinity of Duxton Hill. 
We caught up with Joshua Adjodha, co-founder of Kilo Kitchen earlier this week who shared, "With the revamp of Kilo Kitchen last year, we designed the space and direction to evolve into an all-day dining concept," says Joshua  "A place where we provide lunch, dinner and weekend brunches — as we have already been doing at our Bali and Jakarta outlets.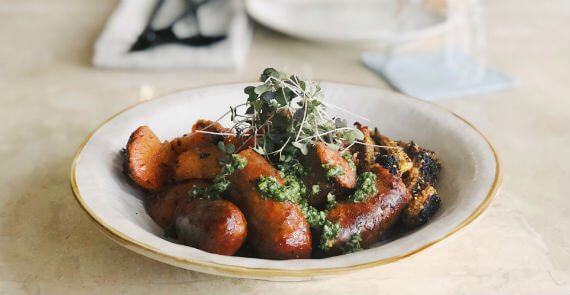 Chorizo with Chimichurri
"The lunch menu shares some of the delights you can find on the restaurant's famed dinner menu, albeit with a slight twist — the mains are served as lunch bowls, with choice of grain (white rice, brown rice, quinoa or kale).
YOU MAY ALSO LIKE Kilo Kitchen Finds A New Groove On Duxton Road
With the exception of the Squid Ink Rice (S$32), all bowls are served with grilled baby corn, roasted carrot, wafu tomatoes & herbs salad. Another thing that sets the lunch menu apart from anything else Kilo Kitchen offers is the option for a set lunch, priced at S$25. It consists of 1 to share, 1 main bowl, 1 sweet snack, 1 broth & 1 non-alcoholic drink (selected items only).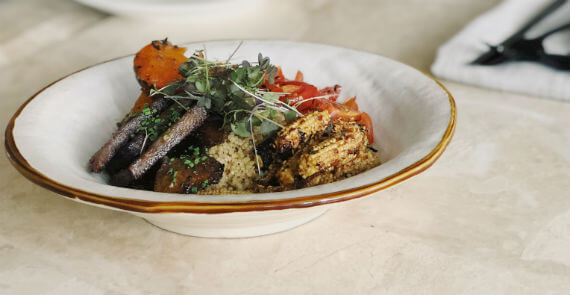 Beef Tongue
Guests with lighter appetites are welcome to share their set lunches with an extra guest at an additional cost of $10, which comes with 1 extra non-alcoholic drink.
"The inspiration for this menu came from our time at Kilo @ Pact on Orchard Road," says Adjodha. "We've always wanted to bring back the lunch version of Kilo that guests used to enjoy with us.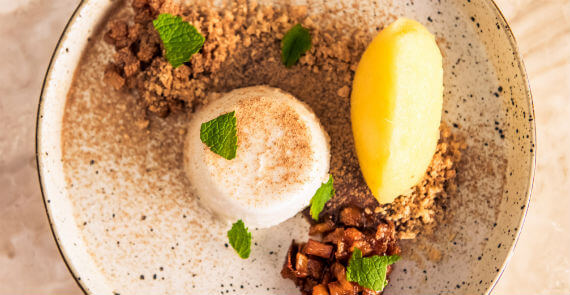 Coconut Tembleque
"The lunch menu reintroduces some of the signature dishes available at dinnertime, from the spicy Numbing Burrata (S$25) to the delectable Crispy Eggplant (S$22), served in shareable portions.
The lunch bowls range from Chorizo with Chimichurri (S$18) to Bulgogi Chicken (S$18), along with Curry Tofu & Vegs (S$17) and Smoked Ahi Tuna Donburi (S$19).
While the set lunch is only available for dine-in customers, our regular lunch menu will be available for delivery via Deliveroo.
The sweet snacks, which are exclusive to set lunches, are offered as Basil Panacotta or a Lemon Tart only.
Comments
Kilo kitchen has just launched a new weekday menu full of flavour and innovation that includes lunch bowls like Smoked Ahi Tuna Donburi, Curry Tofu and my favourite, Beef Tongue. There's an overlap with some of the popular items from the dinner menu, so if you need a quick lunch with work friends or you want to linger for longer then Kilo Kitchen's new menu is just the ticket. ROCK STAR GREETING The location in Duxton is large and open and welcoming. Set amongst a row of shophouses, the space has been affectionately converted into a New York style vintage industrial warehouse, with the inside vibe spilling effortlessly outside! We all love an open kitchen and Kilo's does not disappoint. You can prop yourself up at the bar and while sipping on a glass of cool, crisp white wine, you can observe the kitchen team expertly preparing your lunch! WOW MOMENTS The individual set lunch of 4 courses which includes an appetiser "snack", one of their new bowls, a broth and a sweet "snack" - as well as a non-alcoholic drink - is a bargain at $25++. The Crab Croquettes with Basil Vinaigrette were divine. The lightly fried breadcrumbs that encased the moreish crab mix was taken to the next level with the basil. Another special mention goes to the Numbing Burrata with Mala Oil Dukkah with Croutons: the heat of the mala sauce is offset by the cool silkiness of the burrata, but be warned: eat this dish slowly so your lips survive. It's worth taking the time over. WINE SERVICE I do like a glass of white wine with lunch. The wine list at Kilo Kitchen has been thoughtfully paired to the big bold flavours on the menu. I recommend the Arido Torrontes 2017, which is often underrated, but it pairs perfectly to many styles of food. Torrontés is an Argentinian white grape variety grown in Mendoza. As the winemaker states, "the wine has a misleading nose: this super dry white wine smells like a Gewurztraminer with huge floral aromas but is actually bone dry making it a great match with savoury dishes." Delish. RECOMMENDATION It's really worth popping in for lunch. It will make you want to take the rest of the day off. So make a booking now and say hi to Luca, Gabriel and the friendly crew at Kilo Kitchen. Kilo Kitchen's lunch menu is available Tuesday to Friday between 11am -2:30pm
My second visit to Kilo Kitchen reinforced the first. It was a weekend brunch I was about to review. Just launched earlier in 2019, brunch is now available on Saturdays from 11am to 2.30pm and on Sundays from 11am to 3pm. And by the looks of this article Tuesday to Friday WooHoo. The relaxed ambience of Kilo Kitchen is just magic. Created in a casual setting, the open French doors allow for light cool breeze to flow through. Chef Manel who hails from Spain prides himself on creating different dishes to the stock standard expected brunch fare. On that note I decided to have something different. The BBQ grilled thick bacon called out to me. Totally devilish it sounded tempting with curried scrambled eggs and potato tostones. This was simply delicious! The curry was Japanese, a tad milder than the over powering tones of Indian curry spices. Paired with a chunk of bacon it was a perfect accompaniment to the eggs and potato. I would go back for this and highly recommend that you try it the next time you are at Kilo Kitchen. So tasty and delicious! Much to my delight the brunch menu was limited with eleven items to choose from and two desserts. I prefer restaurants like this that specialise in a few things and make them really well. I totally detest restaurants that try to be everything to everyone. My next choice at Kilo Kitchen today was the shakshouka. A Turkish dish very popularly eaten at breakfast. Cooked with labneh and dukkah spices it was served to the table with a huge baguette length piece of toasted sourdough. The shakshouka was served in a clay pot and the piece of bread sat angled on the top of the pot. A stunning presentation! I was meant to dunk bread into the sauce which had a poached egg in it. The lightly spiced gravy of tomato base made it all the more delicious. I could not stop pulling the bread apart to have more mouthfuls of this delicious sauce – a very apt dish for brunch and truly appetizing to my palette. There were so many interesting dishes on the menu – chorizo huevos rancheros, Catalan breakfast and friend chicken & waffles. I saved these different treats for the next time and decided to do one known standard dish. I ordered the open faced smoked salmon which consisted of Scottish salmon with spicy avocado and crème fraiche. Chef Manel obviously loves a bit of spice as he put his mark on this dish too. It worked every time as it was just a light touch of spice that added to the overall taste of the dish. Of course a glass of white wine always helps to further create the brunch mood and this time I had the Italian Anselmi Pinot Grigio 2017. The fruity tones brought out the flavor of the spicy tones and made it all the more special. Reasonable priced at $15 a glass there were three free flow options for those who would like more than one glass. Ranging in price from $70 to $120 I guess one could choose based on the depth of pocket and alcohol appetite. I was about to order dessert at Kilo Kitchen when Chef Manel joined me for a chat. He asked that I try the chewy chocolate chip cookie rather than the gula melaka, lemon and blueberry muffin. I acceded to his request and was not disappointed. As an extra he added a scoop of dairy free coconut gelato on top of the cookie. A complete indulgence! This gelato was made from coconut milk so vegans and diners who are dairy intolerant can have their fix here and feel totally satiated. The cookie was crunchy on the outside and full of chocolate on the inside. It made this dessert chewy and yummy. Not found in too many places I might add! So if you are looking for a place to have dessert and coffee anytime, I would urge you to consider coming down to Kilo Kitchen to try this. There were too many things I found different and interesting that I hadn't tried. It just summoned the thought in my mind that I would have to come down again to try them. Kilo Kitchen in my mind is a perfect weekend brunch venue, created with superb atmosphere to kick back and relax. With great personal service and passion that is felt from the staff, you will certainly walk out feeling complete. I hope to see you there soon…..