What do you think about Kilo Kitchen Finds A New Groove On Duxton Road?
After nearly eight years at Kampong Bugis Road, Kilo Kitchen has moved out of its original home for a new chapter at 97 Duxton Road.
This move once again reunites Kilo Kitchen with sister property Kilo Lounge, just steps away at 21 Tanjong Pagar Road. With both venues a short stroll apart, Kilo can once again offer guests the ideal night out, great modern comfort food, fresh cocktails and a vibrant after hours experience set against the backdrop of Chinatown's bustling Tanjong Pagar district.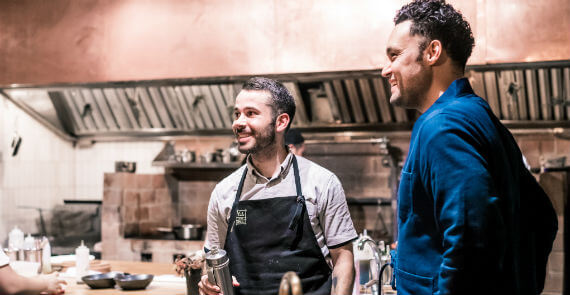 The name 'Kilo' is derived from the half-blue, half-yellow nautical flag for 'K', which signals the message "I wish to communicate with you". As a concept, Kilo aims to communicate moments defined by hearty food, soulful music, warm conversations and unforgettable occasions. Kilo Kitchen welcomes guests from all walks of life for a communal dining and drinking experience among family and friends, both old and new. After dinner, guests can move on to Kilo Lounge to seek comfort in the ultimate living room, decked with an eclectic roster of local and international music acts. 
Manel Valero Executive Chef Kilo Kitchen
"As a brand, Kilo has expanded over the years to include new concepts in Singapore and new locations in Indonesia, but the core of Kilo remains faithfully the same – it is always about food and community, drinks and music," shares co-founder Joshua Adjodha.
"We enjoyed great synergy between Kilo Kitchen and Kilo Lounge when we were located in the same building, and are excited at the prospects of what we can offer with a whole neighbourhood as our backyard."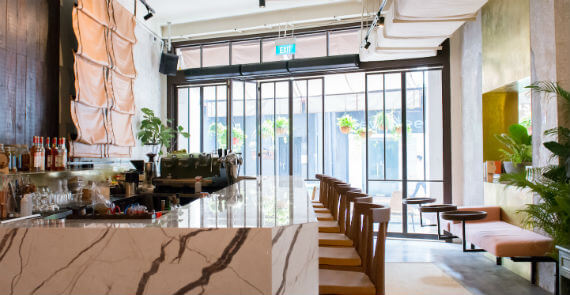 Dining at Kilo Kitchen will continue to give guests the sense that they are being welcomed home, time and again. This is achieved through the same thoughtful approach that the team has stayed true to in designing every new Kilo concept – from putting the story they wish to tell on the plate, to designing how each guest experiences it, every step of the way. 
Kilo Kitchen's menu takes inspiration from different cuisines around the world and draws on the heritage of co-founders Joshua Adjodha, Javier Perez and Sharon Lee, as well as returning executive chef Manel Valero. Since departing Kilo in May 2016, Manel went on a culinary sabbatical across Europe and staged at some of the region's top Michelin-starred restaurants including Relæ, Maaemo and Geranium.
He returns to helm the new Kilo Kitchen, where he brings with him a renewed perspective on Kilo's brand of modern comfort food. Big, bold flavours can be found on nearly every plate, with dishes favouring the tastes and cooking techniques of Latin America and Asia.  
A highlight of the new Kilo Kitchen is its open-format natural flame kitchen with a wood-fired grill – a style of cooking that chef Manel has honed throughout his culinary career. The kitchen is the centre of the action, and allows guests to observe the kitchen team at work.
The majority of cooked dishes are prepared on the wood-fired grill, and this technique also adds depth of flavour and a touch of char to Kilo's classics. Three types of wood are used to achieve the optimal fire – apple, cherry and jarrah. Apple and cherry woods impart a delicious aroma and burn slowly, while bush jarrah is an old Western Australian favourite hard wood for barbecues and wood-fired ovens that burns clean to leave very little ash behind.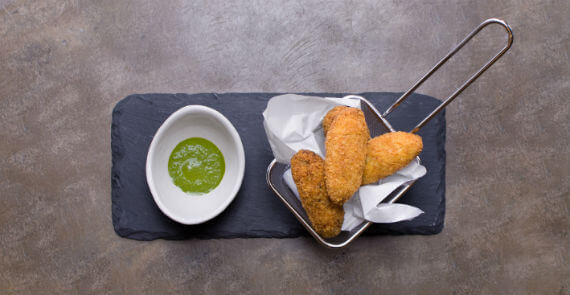 Kilo Kitchen's eclectic menu ranges from snacks and small plates to large plates and sweets – each dish suited to tasting and sharing. Kilo's signature snacks include creamy Crab Croquettes (two for S$8) with basil vinaigrette; (pictured above) Grilled Baby Corn (S$12) with chipotle and furikake – an Asian twist on the classic Mexican street corn elotes ; moreish Crispy Chicken Skin (S$12) with addictive salted egg yolk mousse; (pictured below) and ponzu-seasoned Grilled Avocado (S$10) with crispy buckwheat puffs and yuba , a Japanese soy milk skin.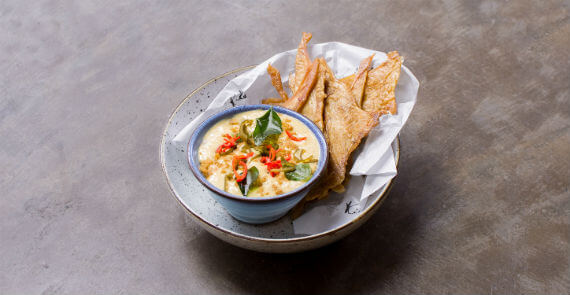 Small plates shine through bright raw and cured seafood dishes such as the complex and creamy Wasabi Tuna Tartare (S$22) with baby greens and a nori dusted crisp and Kilo's Seafood Ceviche (S$23) of tuna, octopus and snapper in a refreshing dressing. (pictured below)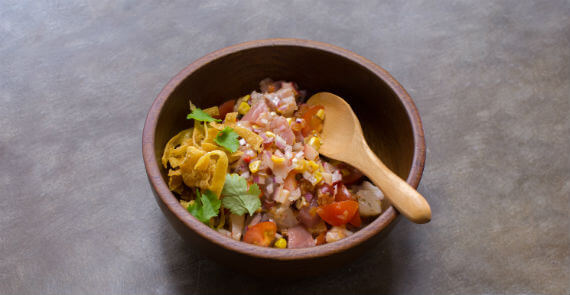 Warm small plates include fork-tender Beef Tongue Tacos (two for S$18) with apple miso slaw, jalapeño pesto and garlic tallow; jet black Squid Ink Rice (S$29) with crispy baby squid, ikura and torched aioli and a miso-kissed Ricotta Gnocchi (S$26) with roasted mushrooms. 
Large plates all come from the wood-fired grill and range from Grilled Fish of the Day (MP) and BBQ Pork Ribs (S$36) with charred scallions, to fall-off-the-bone Grilled Lamb Shank (S$35) with roasted peppers, fresh herbs and za 'atar bread. Globetrotting, healthy sides include Burnt Carrots (S$12) with curried ghee; Grilled Beets (S$12) with herb vinaigrette and feta; and Charred Kale Salad (S$14) with grilled plums and ricotta. 
With the opening menu, chef Manel focuses on elevating existing Kilo classics—many of which his own creations during his former stint as Kilo's culinary director—while experimenting with new flamelicked flavours imparted from the wood-fired grill. Come January 2019, Manel will work closely with co-founder Joshua Adjodha to put forward a fuller menu that will see the Spaniard chef come into his own with new wood-fired creations, seasonal specials and weekend brunch offerings. 
Adjacent to the open kitchen is an impressive Turkish marble and brass bar that extends across the width of the space. Here, a high energy bar team led by general manager Luca Colonna delivers a well-rounded beverage programme of signature cocktails, artisanal sakes, craft spirits, and over 30 wines sourced from South Africa to Argentina and beyond – perfect for any time of the evening. 
Within Kilo's signature cocktails are an intercontinental selection inspired by drinking cultures found halfway around the world and back. Drift away on a Moroccan holiday with Nuita Marrakech (S$19), an intoxicating concoction of vanilla infused vodka, homemade banana cinnamon liqueur, jasmine tea, lemon, egg white and oriental bitters.
Flirt with the deceptively potent Makgeolli Passion (S$20) made with vodka, makgeolli syrup, citrus, passion fruit and egg white. Brace your taste buds for the Spicy Margarita (S$19), a tongue-tingling, salt-rimmed slushie of jalapeño infused tequila, citrus, sour mix and lime. 
House infusions and barrel-aging come to play with newfangled inventions such as the New Fashion (S$20), an update to the timeless crowd-pleaser that's stirred with vanilla infused bourbon, bitters, orange peel and a smoked cinnamon stick; A Night to Remem ber (S$18), a sweet treat shaken with caramel infused rum, homemade orange liqueur, orgeat syrup and egg white; and the Continental Sour (S$21), a bourbon and port classic that's elevated with Bulleit bourbon aged for two weeks in a syrah barrel. 
The 3,000 square feet eating and drinking destination sits on a prime spot on the intersection of Duxton Hill and Duxton Road – the latest addition to the burgeoning Duxton community of cultural, creative, lifestyle and dining offerings.
Responsible for the design of the new Kilo Kitchen is Singapore and Jakarta-based Studio Dinding, whose designers have worked on projects for noted firms Jaya and Distillery.  
While the interior stays true to the exposed, industrial aesthetic of Kilo's original Kallang location, the space is anchored in a rejuvenated rawness that is tempered with utilitarian, domestic elements.
Hand-sanded concrete walls, natural stone, brass finishings and recycled timber exude the confident Kilo charm; while polished marble, Italian ceramic tiles, vintage rugs and bold, bright fabrics inject warmth in tones of gray, gold, mustard and pink. Located in a sunny corner of Duxton Road, floor-toceiling windows open the space into the street, with ample alfresco seating for watching the world go by.  
Kilo Kitchen is located 97 Duxton Road, Singapore 089541. Kilo is open for dinner Tuesdays to Fridays from 5.30pm – 12 .00 am, and Saturdays 6 .00 pm – 12 .00 am. Kilo Kitchen is closed Sundays and Mondays. All prices listed are subject to service charge and GST. For more information please visit www.kilokitchen.com
Comments
As soon as I walked in to this roomy, relaxed restaurant I loved the seating options available. The bar, table seating - main dining and al fresco outdoors plus lounge, creates a fantastic chill atmosphere immediately. The spicy margarita infused with slices of jalapeno warmed my tummy making way for the Pan which could have been mistaken for bread. Fermented potato focaccia with an adobo dip, this was a yummy start to the array of snacks to come. Grilled avocado was a new experience with crunchy buckwheat puffs. I preferred the crab croquettes though, the stunner being the basil vinaigrette accompaniment. Looking forward to the beef tongue tacos which are one of Kilo's signature dishes, I was more enthused by the light, refreshing tones of the wasabi tuna tartare with nori dusted crisps. My absolute favourite was the Atas lentils. How could it not be when cooked with 4 major flavours of manchego, bacon, truffle and iberico? Another small plate I would highly recommend is the squid ink rice. Served in a clay pot with crispy baby squid and ikura this was filled with flavour. I also loved the light lemon tones of Kilo's seafood ceviche which served as a cleanser to the other snacks. By the time I finished tasting snacks I found the large plate of sea urchin rigatoni pasta a bit heavy. For lovers of sea urchin, I would recommend having this dish on its own with perhaps one snack. To complete my night my pick of the two desserts served was definitely the coconut tembleque. The light pineapple tones came through like sorbet to the palette. Kilo hit the mark on food quality, ambience and great service. Make a reservation before you head there as it was full house and it wasn't the weekend yet......
Executive chef Manel Valero, returns to his old post in the new location – after a culinary sabbatical across some of Europe's top Michelin-starred restaurants – bringing with him a renewed perspective on Kilo's brand of modern comfort food with Latin and Asian influences. An exciting highlight of the new Kilo Kitchen is its open-format natural flame kitchen with a wood-fired grill that uses apple, cherry and jarrah woods to achieve optimal fire. Small plates shine through bright raw and cured seafood dishes such as Kilo's Seafood Ceviche of tuna, octopus and snapper in a refreshing dressing, while large plates all come from the wood-fired grill and range from Grilled Fish of the Day to Grilled Lamb Shank with roasted peppers and za'atar bread. Best enjoyed with new snacks and sides from chef Manel's repertoire which have been given the grill's flame-licked treatment.