Image Credit: New Ubin Facebook Page
We're all doing our bit to stop the spread of COVID-19 by staying home and practicing social distancing. Unfortunately, all the self-isolating has led to the restaurant industry taking a massive hit, with many restaurants having to shut shop completely. But some have managed to keep the stove top burning to deliver to your door.
Luckily, thanks to home delivery, there is a way for you to do your bit to both flatten the curve, and support your local restaurants! We've gotten recommendations from our resident expat foodies on the best restaurants offering delivery to your doorstep – from Peranakan, to vegan burgers, to a lobster fix – there's something for everyone.
Singapore's popular Restaurant JAG is making their take-away and delivery service available to guests 7 days a week, that's right - even on a Sunday so you can enjoy awesome culinary delights in your home with a menu that changes from week to week to ensure variety. Why not make one night a week a gourmet celebration of tastes with restaurant JAG. $120++ for two guest, choose your protein, choose your vegetable, add an appetizer or dessert ($30++). Chef Jeremy will serve each combination in the most ideal way they should be enjoyed. Requests for take-away must be placed 24-hours before pick-up or delivery. View take-away menu here
E. [email protected] ( email orders or enquiry )
S. www.facebook.com/pg/restaurantjagsg/
Order the taste of top quality olive oil and herbs which are carefully selected and imported directly from the Middle East. Enjoy combination of falafel, cheese and spinach boreks, sambousek and kibbeh accompanied with a yoghurt dip delivered to your door. The mixed grill platter is prepared with five different varieties of meat. Labelled the "ultimate meat platter" The taste of spices and succulent lamb chops are out of this world. Served with harissa, a spicy dark red condiment. Tender to the bite and full of flavor - the lamb meat is marinated for at least 24 hours.
A. Capital Square 3, 25 Church St, Singapore 049482, #01-03
S. www.facebook.com/kazbarsingapore/
Club Street's Mazzo Bar & Restaurant is a taste of home, now available delivered to your door -Enjoy the tradition and warmth of authentic Italian food from cherished family recipes and the flavors from Italy. Order the bruschetta with mushroom and tomatoes. The mushrooms are sautéed abd served on grilled focaccia. You will be intrigued by the salad with a sous vide egg. This is a popular take-out or something more substancial, the grilled chicken leg with roast potatoes and mushroom... 
A. 54 Club Street, Singapore 069431
S. www.facebook.com/Mazzo-10215971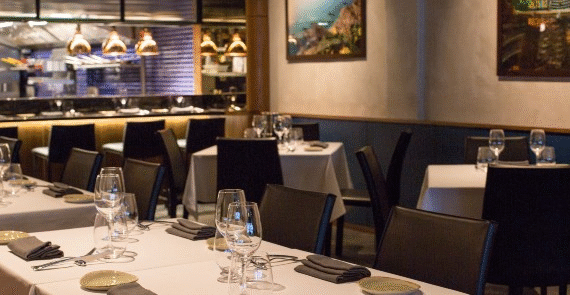 Authentic Italian food delivered to your door. New take away option available. Chef Marco of Guccio Ristorante welcomes you to his restaurant ( in your home ) during "The Age of Corona" - At Guccio, we are here for you...
S. www.facebook.com/pg/guccioristoran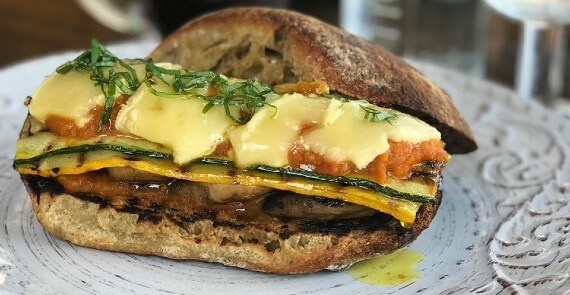 Image Credit: Firebake - Woodfired Bakehouse & Restaurant Facebook Page
Featuring Singapore's first ever full-scale woodfire bread oven, the sourdough bread here sure is a winner. If you've been craving their Chicken Liver Pate, Grilled Pork Belly, Bread & Butter Pudding, or even a just a loaf of their crusty sourdough bread, Firebake now delivers through Deliveroo and GrabFood – so order away.
A. 237 East Coast Road Level 1 428930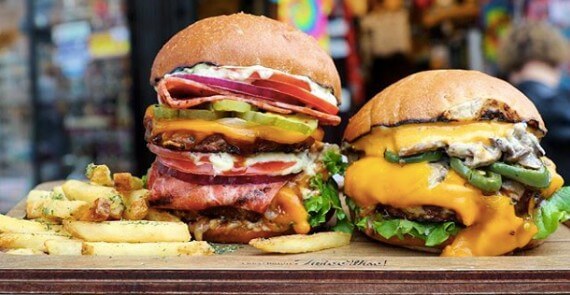 Image Credit: VeganBurg Facebook Page
Sticking to a vegan diet can be tough during a pandemic, but, thankfully VeganBurg has got your back. The world's first 100% plant-based burger joint, features some mouthwatering burgers like the Smoky BBQ Burger, Chili Krab Burg, and even guilt free desserts to satisfy all your cravings! You can order directly from their website, or go through Deliveroo and GrabFood.
W. www.veganburg.com/aboutus-sg
S. www.facebook.com/pg/veganburg/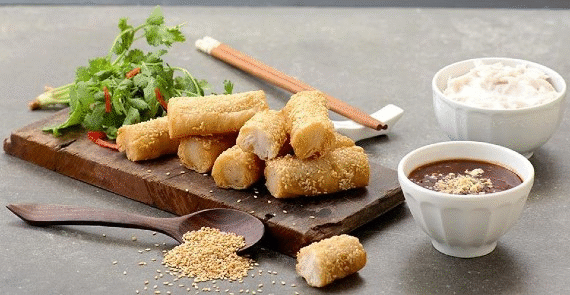 Image Credit: JUMBO Seafood Singapore Facebook Page
The OG when it comes to fresh seafood in Singapore, JUMBO Seafood is making your life easier with six new bento boxes for delivery. Starting at $10.80, you can choose from Salmon with Nonya Sauce, Sweet and Sour Chicken, Prawns stirred with Crab Chilli Sauce, and more! You can order through Deliveroo, Foodpanda, and GrabFood, or get an additional 10% off if you opt to self-collect from 12 pm to 2:15 pm. Plan ahead if you don't want to miss dinner, because the bento box is only available until 6:30 pm.
A. Riverside Point, 30 Merchant Road, #01-01/02 058282
W. www.jumboseafood.com.sg/en/home
S. www.facebook.com/JUMBOSeafood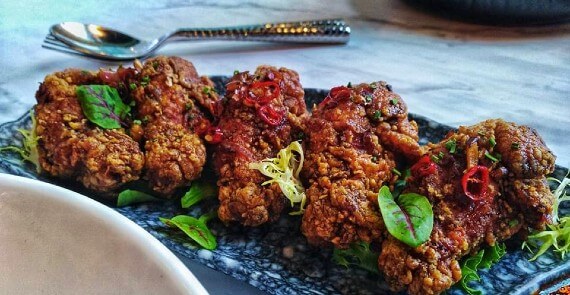 Image Credit: Route 65 Singapore Facebook Page
The place to hit up for Asian fusion cuisine, at Route 65 you'll find a host of Singapore staples with a unique twist. Think Beef Rendang made with a 24-hour braised short rib, Har Cheong Gai, or Wan Tou Sliders. We'd suggest ordering up one of their sharing platters for a family feast like their signature meat platter, or the feast platter for pizza lovers on Deliveroo or GrabFood.
A. 3 Temasek Boulevard #01-434 North Wing, Singapore 038983
S. www.facebook.com/route65sg/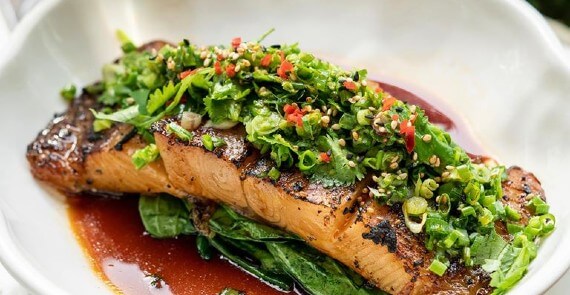 Image Credit: PS.Cafe Facebook Page
Serving up an assortment of Chinese classics with an Anglo interpretation, Chopsuey Café offers up the perfect mix of East meets West to the table. Chow down their Sticky Crunchy Baby Squid, Sweet & Sour Pork Collar, or their Wok Breath Broccoli. You can even add on a beer, or a bottle of wine to take the edge off, while ordering on Deliveroo or FoodPanda.
A. 10 Dempsey Road, #01-23 247700
W. www.pscafe.com/chopsuey-cafe-at-dempsey-hill/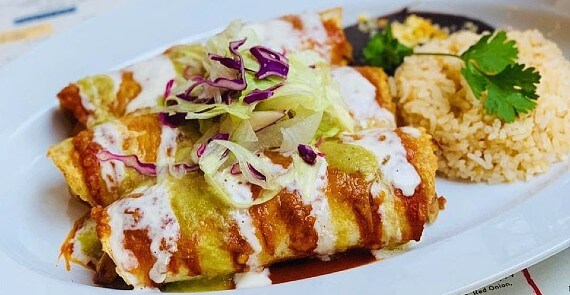 Image Credit: Papi's Tacos Facebook Page
The one stop shop to satisfy your Mexican food cravings in Singapore, Papi's Tacos now has island wide delivery! You can't go wrong with the Burrito De Suadero with the slow cooked beef brisket, or Papi's Platter complete with all your favorite tacos. Don't skip dessert, and end your meal on a sweet note with the Tres Leches cake. Papi's also has some great vegan options on their menu, making it a perfect option if you have varied diets in your household.
S. www.facebook.com/papistacossg/
Image Credit: Violet Oon Singapore Facebook Page
Craving some classic Peranakan cuisine? Violet Oon has got you covered! Since the end of February Violet Oon Singapore has been offering up island-wide delivery for their 'Petit Feasts'. Starting at $125 (inclusive of delivery) you can choose from three different menus with dishes like Rebung Masak Lemak, Beef Rendang, Chap Chye, Gado Gado, Dry Laksa, and more. Call +65 9834 9935, post 10 am or email [email protected] to place your orders! Make sure you order before 10:30 am for lunch and before 4:00 pm for dinner.
A. 881 Bukit Timah Road 279893
S. www.facebook.com/VioletOonSingapo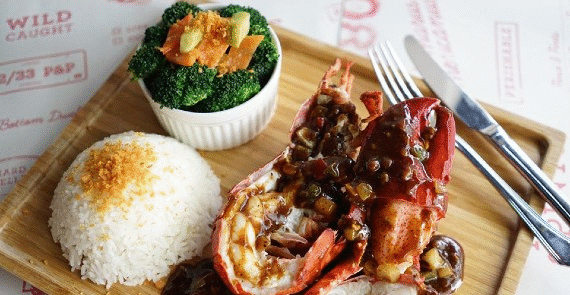 Image Credit: Pince & Pints Facebook Page
Don't keep your lobster cravings at bay, because Pince and Pints have a delivery menu that's sure to keep you satisfied. They source their lobsters from sustainable fisheries along the Atlantic Coast, and their crabs from Sri Lanka. Treat yourself with the Truffle Lobster Roll, keep it classic with the Surf and Turf, or make it a family affair with a feast for four at $290. Delivery is free with a basket of $80 or $100 depending on where you live.
S. www.facebook.com/pinceandpints/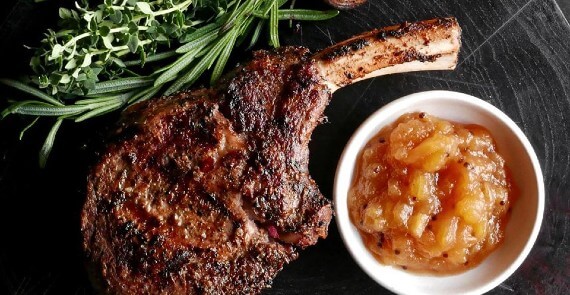 Image Credit: Butcher Boy Facebook Page
The go-to spot for meat lovers, Butcher Boy is now delivering their meaty treats with an Asian twist! Go ham with the Peking Pork Bao, US Beef Short Rib Pastrami, or order from one of their set menus for two or four – depending on the number of people you've got at home. You can also enjoy a hearty Sunday Roast – beef, or chicken – with all the trimmings, during weekends. A $150 spend qualifies for free delivery, and, as a plus, they've also got a great offer on Trouble Brewing, if you'd like to enjoy a pint with your meal.
S. www.facebook.com/butcherboysg/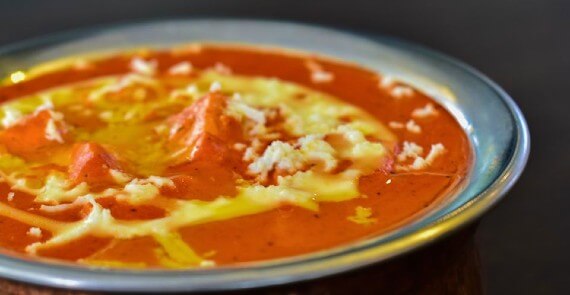 Image Credit: The Curry Culture - Farrer Park Facebook Page
Curry some flavor at The Curry Culture, a fine dining Indian restaurant that offers up cuisine from the subcontinent. Munch on some Punjabi Samosas, Onion Bhajji, or test your spice limits with a Vindaloo Curry, or the classic Chicken Tikka. Vegetarians can try the Palak Paneer, or the Vegetarian Tandoori Platter. Everything can be ordered online, with just a few clicks your Indian will be on the way. Note: The Curry Culture only accepts orders for lunch from 12:00 pm to 2:15 pm and dinner from 5:30 pm to 10:15 – so keep those timings in mind.
A. 12 Farrer Park Station Road 217565
W. www.thecurryculture.com.sg/farrer_park/
S. www.facebook.com/pg/TheCurryCultu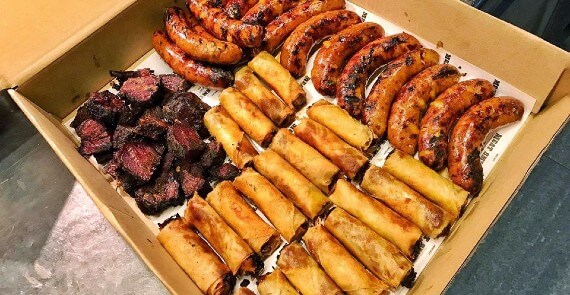 Image Credit: Meatsmith_SG Facebook Page
Relish some quality American BBQ, southern style, or BBQ with an Indian twist because you can order in from both of MeatSmith's outlets in Telok Ayer and Little India, respectively. Opt for their family pack for four – complete with Beef Brisket, Pork Ribs, Cheeseburgers, and more, or try the Suckling Pig Biryani.
S. www.facebook.com/Meatsmith_SG-423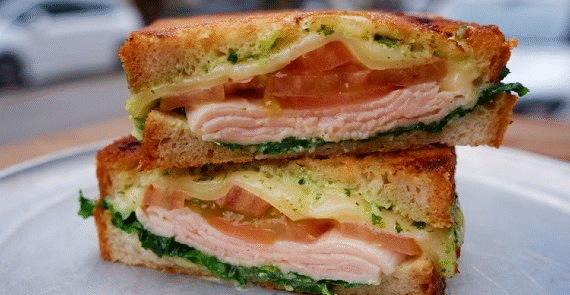 Image Credit: Park Bench Deli Facebook Page
Sandwiches done right, is the main motto behind Park Bench Deli in Telok Ayer. Apart from their signature hoagies, like the Italian Godfather, Impossible Patty Melt, and the Crispy Hot Chicken, you can also order up DIY sandwich kits for the Pastrami Rueben, Turkey Classic, and Roast Chicken that serve up to four. Don't worry about scuffing it, because the DIY kits come with detailed instructions.
S. www.facebook.com/parkbenchdeli/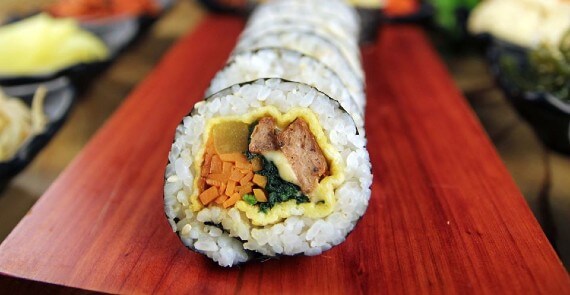 Image Credit: The Boneless Kitchen 无骨厨房 Facebook Page
Feast on plant-based Korean inspired cuisine at The Boneless Kitchen – all their ingredients are sourced and imported from Korea for an authentic experience. Order their Korean Rice Curry, Kimbap, or their signature Soondubu Jjigae! The Boneless Kitchen offers up island-wide delivery and they're open from Tuesday to Sunday – you can also order ahead for a later date even if they're currently closed.
A. [email protected], 1 Irving Place, #01-31 369546
S. www.facebook.com/thebonelesskitche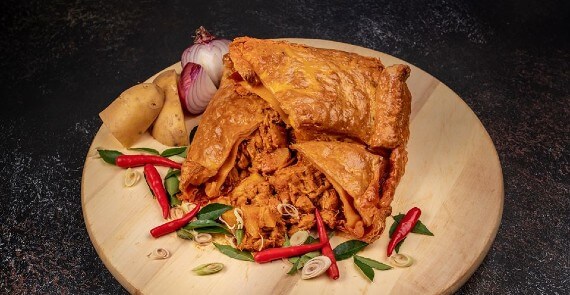 Image Credit: New Ubin Facebook Page
Across the Lion City, New Ubin Seafood is known for their Angus beef, and the freshest seafood prepared with traditional Singaporean flavors. Take advantage of their island wide delivery, and try some classic dishes like the Hei Chor, Chilli Crab, Boss Bee Hoon, and, of course, the Black Angus Ribeye.
A. Sin Ming Industrial Estate Sector A, Block 27, Sin Ming Road, , #01-174 575680
Comments
Kazbar has been around for more than 15 years and has two owners - a Lebanese and a Mexican, both of whom know their food well. Creating an ambience of the Middle East with boudoir-type lounge chairs on the inside I decided to have the hot mezzah platter here. A combination of falafel, cheese and spinach boreks, sambousek and kibbeh this was accompanied with a yoghurt dip. Typically I would have been full from these fried delicacies but interestingly I was not. Read Sylvia's Full Review in the Link below https://www.expatchoice.asia/eat-drink/restaurants-casual/kazbar
While using top ingredients is not unique per se, Marco's signature cooking style is: in his cuisine, the core ingredient becomes the main actor in the opera. Each dish has one ingredient at the center of the flavor experience. While the presentations are at times a contrast of colorful and complex textures, Marco's dishes create a balance of supporting flavors, similar to how supporting artists dance in harmony, in the background of the leading act. This philosophy is pushed to its boundaries at Guccio, with critics sometimes claiming that a blindfolded customer would always be able to recognize the chief ingredients in the dish she is eating. This style won chef Marco a Bib Gourmand from the prestigious Michelin Star Guide for two years in a row, in 2016 and 2017. Chef Marco welcomes you to his restaurant. Its décor is, once again, balanced and aims to be comfortable, while remaining in the background. At Guccio, customers will be at the center of the experience, with the colors and design elements to balance the surroundings.