Hero Image: Bao Boy Facebook Page
Restaurant numbers are on the rise in Singapore.  Mod-Asian eateries continuing to flourish, with Bao Boy mixing up the menu with baos and the Riverhouse at Clarke Quay offering an authentic yet fusionesque Chinese-style tapas.
And then we have the 70s - 80s influences like Capitol Milk Bar and Blue Label Pizza's new outlet at Mandarin Gallery "rockin' around the clock"...Our pick. Watch out of the infamous Fat Prince re-vamp, with an extended dining room to cater for the throngs of guests getting turned away night after night - times are a changing!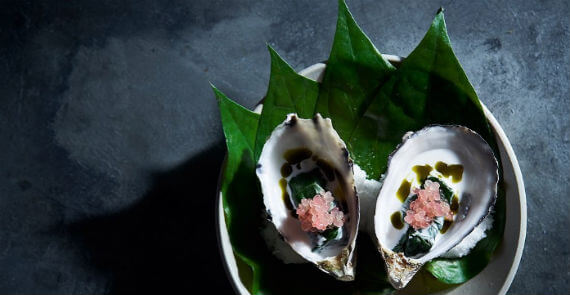 At Cloudstreet brought to you by Chef Rishi of Michelin-starred Cheek by Jowl fame, guests can expect a progressive yet sophisticated approach to gastronomy – marrying disparate cultures and influences in an exuberant expression, it champions ingredient-driven cuisine and seasonality. The food is enhanced by a wine list featuring around 350 natural and classic style wines which pay homage to some greats alongside small, independent winemakers from around the world. The restaurant has a strong focus on beverage pairings, catering to both imbibers of alcohol and those who practice temperance. Choose from five or seven courses at dinner, with a few bits and pieces to bookmark the menu, and three or five courses during lunch. Find out more about Cloudstreet here
A. 84 Amoy Street 069903 E. [email protected]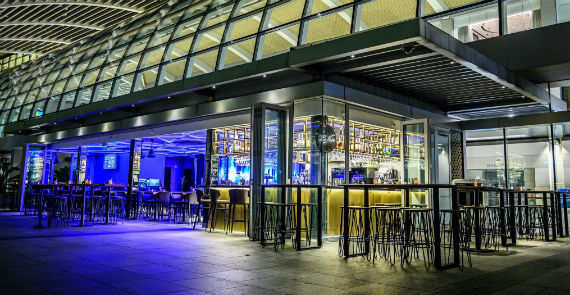 Located along the promenade of the iconic Marina Bay Sands, Le Noir offers a full food, drinks & live entertainment experience while enjoying spectacular views of the Singapore River. Graze on a delectable variety of western fare including the must-try lava cheese wagyu burger and savoury crab cakes; delicious signature cocktails, and a line-up of live performances from talented local and international artists.  Live Band performances will take place daily at 6.15pm, 7.15pm, 8.15pm, 9.15pm,10.15pm and 11.15pm (performance timings subject to changes). Find out more about Le Noir here
A. The Shoppes at Marina Bay Sands, 10 Bayfront Ave, L1-84, Bay Level 018956 T. +65 6688 7308 FB. www.facebook.com/lenoirsg/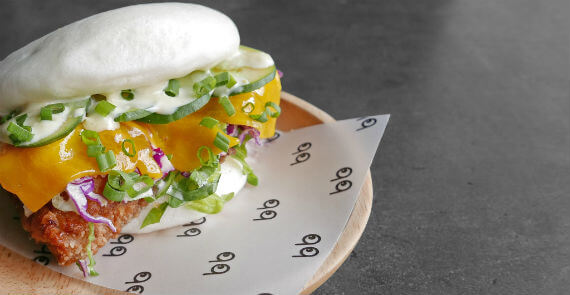 Furnished with textured concrete walls, walnut and brass tones emanating cosy, laidback vibes, Bao Boy sits right at home along the underground hotspot Hong Kong Street. Bao Boy is a stylish restaurant-bar that focuses on elevated steamed bao sandwiches with a twist on Asian flavours and is an edgy oasis for hip urbanites looking for a low-key spot for small plates and great drinks. With American rock n roll and eighties hits humming on the speakers, expect a low-fuss party ambience at this edgy oasis for bao and beer. Dress code: Swag. Find out more about Bao Boy here
A. 31 Hongkong Street 059670 T. +65 6226 1395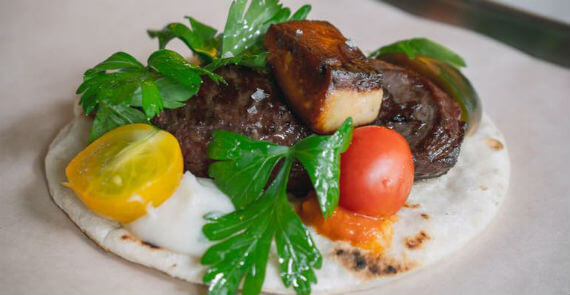 Modern kebab joint, Fat Prince, located in a shophouse on Peck Seah Street has received glowing reviews and a phenomenal response from guests since opening its doors in September 2016. So, the founders decided to expand the concept into the space that is now The Ottomani – at the rear of the venue. There is now a wider menu selection showcasing a more robust offering of seasonal, ingredient-driven dishes. Fat Prince has now expanded to occupy the entire venue, which seats more than 70 guests. The Fat Prince menu has grow by three times and showcases an expanded mezze, house-made bread and pit-roasted section, along with a broader selection of desserts. Find out more about Fat Prince Here
A. 48 Peck Seah Street 079317 T. +65 6221 3683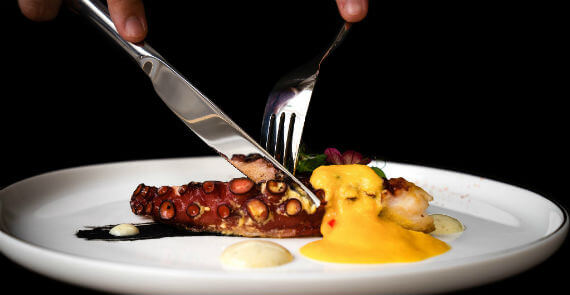 Pictured: Octopus Leg; Salted Egg with squid ink hummus and edamame. Butter gets time beyond the bread plate at this fabulous new restaurant. The kitchen at Restaurant Beurre is a huge proponent of using the flavourful dairy spread lavishly in dishes. Take for instance an Angus rib-eye aged in butter or soya sauce chicken left to poach in butter and juices. Expect an indulgent yet affordable dining experience here. Find out more about Restaurant Beurre here
A. 23 Bukit Pasoh Rd 089837 T. +65 9660 0597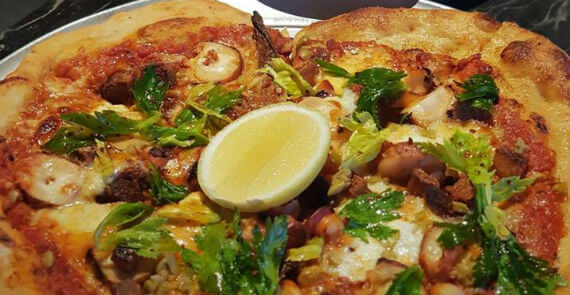 Pictured: Summer in Saint Sebastian with chorizo ragu, Hokkaido octopus, espellete chili and aioli.  With two locations, Blue Label Pizza & Wine offers a modern take on the neighborhood pizzeria. Enjoy a concise menu of premium salads and snacks along with their acclaimed stone-fired pizza at both Ann-Siang Hill and Mandarin Gallery. Blue Label Pizza offers stone-fired pies with gourmet toppings such as clams with bacon bits or Hokkaido octopus with chorizo ragu (pictured). Takeaways are available, but lap up the atmosphere and plan to eat in. The 70s and 80s rock playlist has become a hallmark of the Blue Label experience. Find out more about Blue Label Pizza & Wine here
A. Mandarin Gallery, 333A Orchard Road, #03-02 238897 T. +65 6314 2247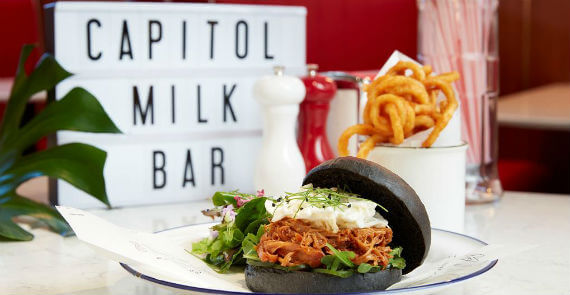 Capitol Milk Bar brings retro fun dining to Arcade @ The Capitol Kempinski. The word from the bird is that this new 'rock around the clock' diner is where to be for burgers, hot dogs, sandwiches, milkshakes, floats, sundaes, and ice cream, and finger-snapping fun for the whole family. Capitol Milk Bar is Capitol Kempinski's homage to the popular Magnolia Snack Bar of the 1960s, an old-school cafe offering pre-movie snacks. Find out more about Capitol Milk Bar here
A. 13 Stamford Rd 178905 T. +65 6715 6874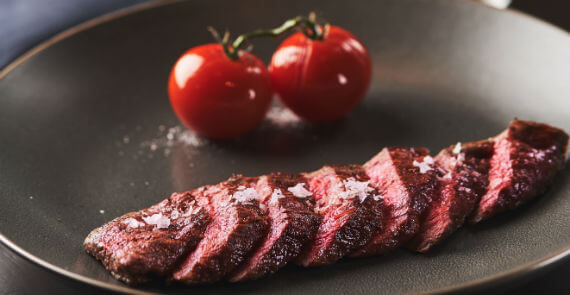 Picture Credit: Fat Belly Onglet
Fat Belly is serving alternative steak cuts at great prices and has been doing so now for two years. But, have you spotted the now expanded 52-seater steakhouse at Serene Center? The restaurant serves high quality and lesser-known cuts of beef such as the Mayura Signature Wagyu tri-tip.  With minimal preparation, they preserve the original and unadulterated flavours to mouthwatering effect. Only open for dinner, during the day the space becomes a boutique coffee roastery. Find out more about Fat Belly here
A. Serene Centre, 10 Jalan Serene, #01-04 258748 T. +65 6314 2247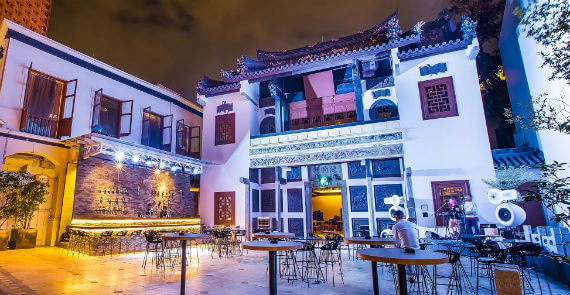 The 1-Group recently took over this majestic heritage mansion and launched it as a multi-concept venue. It is now open for business as The Riverhouse - a two-storey multi-concept space housing a modern Chinese restaurant, alfresco bar and world-class nightclub – namely Mimi, Yin and Yang. With its distinctively seductive Chinese architecture, MIMI located on the second floor pays homage to Eastern influences with top notch Chinese-fusion cuisine. Find out more about The Riverhouse here.
A. Clarke Quay, 3A River Valley Road, #01-02 179020 T. +65 6261 1189
NEW BARS IN SINGAPORE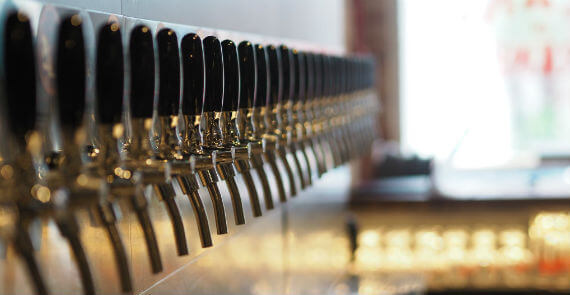 Leading Southeast Asia brewery Heart Of Darkness has launched an outlet here in Singapore, one of the first outside Vietnam. Craft Beer lovers can select from 30 taps on site. That's on top of guest taps, local collaboration brews and limited releases. Try Sacred Fire Golden Ale for an Asian Twist, Conquistador's Mexican Pilsner for a Mexican-inspired easy drink, or the Kurt's Insane IPA for something a little hoppy. Find out more about Heart of Darkness here.
Comments
Brought my wife here for a birthday dinner. Daniel was very hospitable and made sure every request was perfectly met. The staff are well-trained and impeccably polite. Food is great; the appetizers and the beef short rib main were simply awesome. Do try the sea rize cocktail; couldn't get enough of the stuff. Thanks for the wonderful experience!Alex reviewed Fat Prince on Facebook. Great food, chillax atmosphere and the peanut butter jelly fried Bao is to die for! Bao Boy - Fiona Bartholomeusz recommends Bao Boy on Facebook