Hero Video: Hyatt
Making pizza - or "pie" as they are also know - might be regarded by some as a quick and easy meal to prepare, but quite the contrary! 
Pizza is the second most loved pie in America. ... As for why it is considered a "pie," there is a simple explanation. Pizza is the literal Italian translation for pie. More specifically, it is derived from an old Italian word meaning "a point."
In Italy, pizza making is an art and has become a treasured culinary craft passed down from gerneration to generation. A wood-fired oven is crucial in producing the perfect "pie". And now in Singapore the craft of wood-fired oven pizza making is exploding. Check out these gems for starters and then please let us know your favourite wood-fired oven finds so we can add them to our ever-growing list.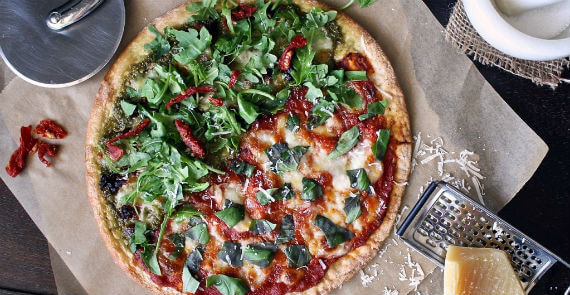 Sideways is an eclectic, wood-fired oven focused restaurant nestled in a 100-year old shophouse in the Jalan Besar area. The Sideways founders have introduced a "last wednesday night of the month" event where they focus just on wood-fired pizza making and feasting - so keep a look out on their Facebook Page and be sure to book - the restaurant only seats about 30 so you gotta get in quick. With a focus on pizza, bread and fresh flavours, the small and big plates are sure to please both meat-lovers and vegetarians. Popular for date nights as well as brunch with friends, Sideways has quickly gained popularity as one of the few wood-fired oven restaurants of Singapore who use a firebrick oven to bake bread, awesome pizza and roast most of their menu. more information here
A. 109 Rowell Road 208033 T. +65 6291 3441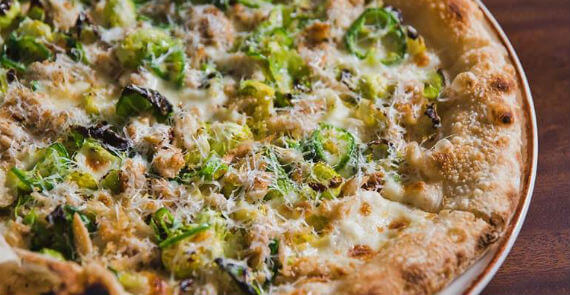 Casual Italian eatery Lino offers great pizza in the Binjai Park (Bukit Timah) neighbourhood. The name Lino comes from the word linen, which is used to cover pizza dough as it leavens – a traditional method that helps the dough naturally ferment without interference.The restaurant is led by chef Shaufi Yusof who has become quite the expert with pizza dough after heading up Pizzeria Mozza and Publico Ristorante. We learn from chef that the dough is left to rise naturally under linen wraps for 48 hours before it's rolled out and cooked in the wood-fired oven. There are also gluten-free options available here but our favourite was the Brussels Sprouts, Crab, Jalapeno, Fior di Latte, and Lemon Zest selection (pictured). more information here
At Pete's Place you will experience dining in a rustic and warm Italian trattoria, which has aged well over time. Choose from over forty-five authentic dishes including 100 percent plant-based options, authentic wood-fired oven pizzas with chewy, thin crusts, heart-warming pastas, home-baked breads, and delectable desserts. Try the Pizza Diavola, Italian pepperoni sausage, plum tomato sauce and loads of mozzarella cheese or the classic Margherita, a hearty combo of plum tomato sauce, mozzarella and basil. more information here
A. Grand Hyatt Singapore, 10 Scotts Rd 228211 T. +65 6738 1234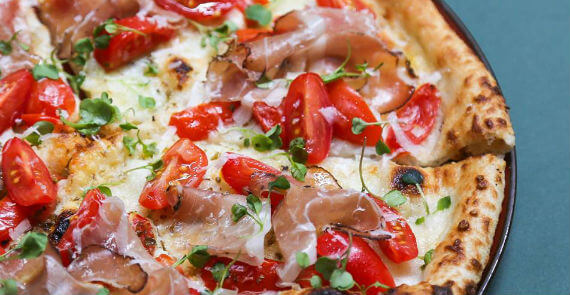 The restaurant's two chefs spent two years in Puglia, Italy learning the traditional pizza-making craft. Letting you in on a secret, Amò adds a little sourdough starter to get an airy and crispy crust and almond wood is used in the oven to add a nutty smokiness to the pizzas. One of Amò's recent specials offered generous toppings of house-cured Iberico speck and San Marzano Tomatoes (pictured). The menu has the usual classic toppings like the Napoletana with anchovies and capers. But be adventurous and try the more innovative ones, such as bone marrow with wild garlic pesto or grilled eggplants with chilli salmoriglio. more information here
A. 33 Hong Kong Street 059672  T. +65 6723 7733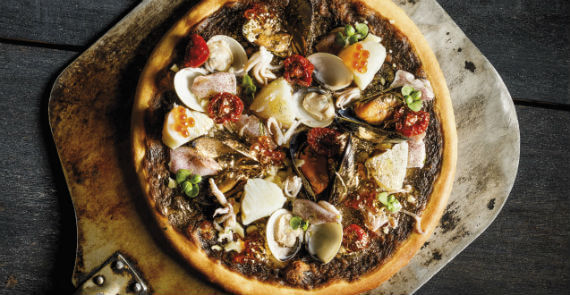 Here's what pizzas from three-Michelin-starred chefs look like: Fratelli, meaning "brothers" in Italian, brings you two dining experiences in one location – the all-day-dining Pizzeria and the dinner-service-only Trattoria. There are lots of pizza variations to consider, including the stunning Oro Nero with a base of black squid ink tomato sauce, topped with scamorza cheese, baby squid, cured cod fish baccala, white clams, Sicilian mussels, trout roe plus a dusting of decadent gold powder. Or try the Gricia, a classic cheese and ham pizza elevated with artisanal Guanciale Ham and Parmigiano Reggiano cheese espuma and Sarawak black peppercorn more information here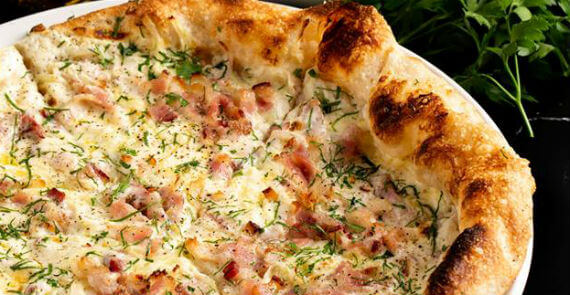 Nostra Cucina, meaning 'our kitchen' in Italian, it's a salute to the heart of every Italian home where bonds deepen over simmering pots and kneaded dough. Choose from a selection of handcrafted artisanal pizzas, freshly prepared and served straight from two wood-fired ovens. Try the locally-inspired Crab pizza with chilli padi, garlic and oregano. It's a winner in our books. more information here
A. The Shoppes at Marina Bay Sands, 2 Bayfront Avenue, B1-42-46, Galleria Level 018956 T. +65 6688 8522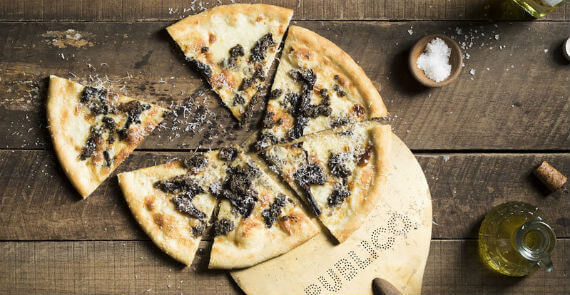 Publico Ristorante is the InterContinental Robertson Quay's answer to casual Italian dining. There's a mix of contemporary and traditional Italian dishes to feast on both indoor and outdoor's. The wood-fired oven churns out excellent pizza for dining-in. It's good to know you can call ahead to pick-up and takeaway. We ordered the Skura Dough on our visit, a wood-fired pizza made with lightly smoked flour base, then topped with beetroot cream, sun-dried tomatoes, fresh burrata, smoked vegetables and oregano. more information here
Comments
Fabulous list Krystal. I have been to Sideways on a number of occasions and love what they are offering Singapore. Pav - on of the founders is from Melbourne Australia and has the gift of expression. Everybody loves a laugh with Pav, and he is a passionate chef. He has handed down his wood-fired oven skills to an awesome team of wood-fired oven baking specialists. They even built the Wood Fired Oven themselves from the ground up... now that's what I call apssion