Image Credit: Original Grill Facebook Page
Plant-based diets have been a growing trend amongst those who idolise health, fitness and sustainability. If readers are currently unaware of this movement, you may fancy watching the popular Netflix documentary 'The Game Changers' (2018), embedded for your convenience in the footer of this article - which is one of many varying views, that articulately explores and shares the astonishing advantages behind a stronger reliance on plant-based diets!
Due to the rise of health-conscious diners, many chefs across the region have been inspired to change-up their plant-based menus to offer new inclusions of nutritious dishes. You may find it a pleasing surprise that these culinary creations do not compromise in the taste department, and truth be told, they taste as good as a delicious meat dish! 
Video Credit: Doctor Mike Real Doctor Reacts to The Game Changers "VEGAN" Documentary
Expat Choice recommends to take a look into the enticing spots catching our plant-palate's attention!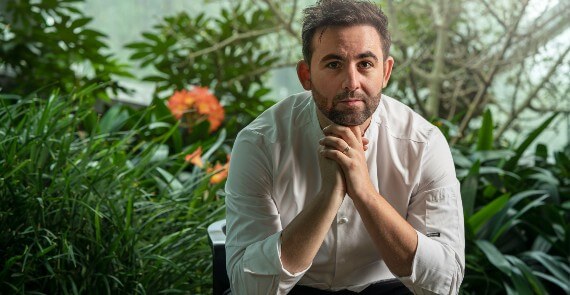 Image Credit: POLLEN Chef Michael Wilson
Situated within the Flower Dom at Gardens by the Bay — the largest glass greenhouse in the world — Pollen is helmed by Michelin-starred, Chef Michael Wilson. His modernised cuisine speaks a story of its own, and is inspired by the bounty of nature. 
For Chef Wilson, his cuisine is artful yet approachable (in extracting curiosity from his diners from the food served up to them) and is more than just succulent creations dished up. To the executive chef, the makings of a great vegetarian dish is all about delivering the right balance of flavours and textures on a plate. 
For instance, one of his latest creations on the restaurant's vegetarian tasting menu — the Lettuce Gazpacho — was born out of his desire to serve up something refreshing that would combat Singapore's hot and humid weather. His skilful moderation behind the plant combination usage of fresh greens is showcased in the result of a masterfully blended fine puree, that draws out natural sweetness from the elements. Romaine lettuce, spinach, mint, fennel and avocado are included in this mysterious mix! The puree goes well with the creaminess of burrata, the acerbic notes of pickled cucumber, and the slightly spicy kick of Espelette pepper! 
INFORMATION
a. 18 Marina Gardens Dr, #01-09 Flower Dome, Singapore 018953
s. www.facebook.com/PollenSingapore/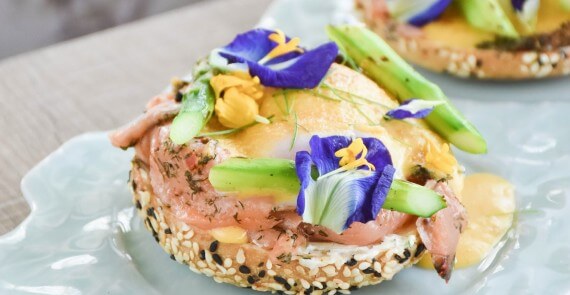 Image Credit: The Summerhouse Facebook Page
Just as it sounds, The Summerhouse is an unique dining destination tucked away in the idyllic selector countryside. It's comprised of: 'The SummerHouse French Dining Room,' a farm-to-table restaurant (on the upper story); 'The Summerhouse Garden Domes,' an immersive dining experience (admist lush, edible garden); and Wildseed, a cafe, patisserie and bistro-bar (on the ground level). 
Standing as a nature-inspired French restaurant, it's only natural for The Summerhouse to serve a vegetarian menu. Wendy Kuek, the Head Chef explains that vegetarian dishes "gel well with our concept." 
In point of fact, the restaurant has its own garden where it harvests fresh herbs and garnishes used in signature dishes such as the Taste Au Champignon Portobello Et Burrata. Fresh tomatoes from Cameron Highlands in Malaysia are added into the ensemble of burrata cheese and lightly sautéed mushrooms to culminate in a perfect blend of creamy, sour, and savoury taste. The palate-pleasing starter is presented on a crisp tart, and garnished with butterfly pea flowers — right from the restaurant's garden, of course! 
INFORMATION
s. www.facebook.com/thesummerhouse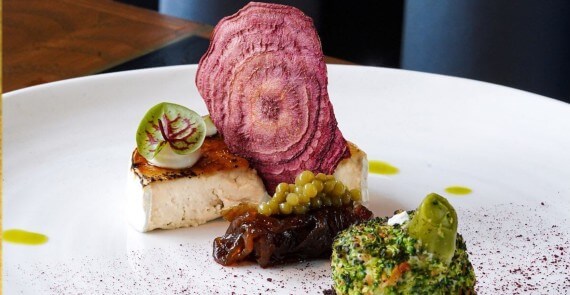 Image Credit: Origin Grill & Bar Facebook Page
Housed within the Shangri-La Hotel, Singapore, the Origin Grill boasts several esteemed accolades, including 'Singapore's Best Restaurant Awards' and 'Top 20 Best Restaurants 2018/ 2019 T Dining Award,' by Singapore Tatler. 
Chef Damian Piedrahita, has been concentrating on vegan cooking for the last seven years and heads up the plant-based culinary team at the Shangri-La Hotel Singapore. His interest and reasoning; "Dining trends are changing and guests are always looking for healthier food that doesn't compromise on taste." Chef Piedrahita and his team have churned out some pretty sensational plates of healthy goodness across its restaurants!
At Origin Grill, you will the novel item 'This is Nuts,' an intriguing dairy-free starter that likens in taste and look to camembert cheese, but in actuality, is made from cashew nuts! "Traditionally, camembert is eaten with sweet notes," explains Piedrahit, who has topped the dish with a thin layer of crunchy caramel and caramelised onions. The dollop of caviar capers that accompanies the cashew concoction on the plate, offers a tinge of acidity, while the toasted beetroot chip adds a textural crunch element to give it the right touch of completion!
INFORMATION
a. Shangri-La Hotel Singapore, 22 Orange Grove Rd, Singapore 258350
w. www.shangri-la.com/singapore/shangr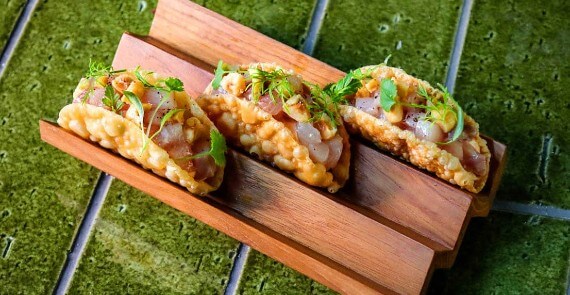 Image Credit: Catfish Restaurant Facebook Page
A contemporary fish grill and raw bar, Catfish serves an Asian fusion menu. The best of ingredients from the waters and the wilds are thoughtfully curated into the variety of dishes one can opt for selection from! 
Cure Concepts Chef-Owner, Andrew Walsh, admits that his own dining habits have altered and he  admits to eating "more seafood and vegetable dishes on weekdays now." This clean eating habit has inspired both him and Head Chef  Erik Gustafsson of Catfish — the F&B group's new seafood restaurant — to include vegetarian dishes like health-infused salads on the the menu. Walsh enthusiastically states; "We created these options to complement most of our seafood creations."
One of his personal favourites is the Whole-roasted Cauliflower, which has been cooked sous vide to offer a softer bite, before it is sprinkled in spices and gently roasted for a slightly charred finish. A generous topping of pomegranate seeds adds a fruity contrast to the overall outcome of the dish! 
INFORMATION
a. 5 Gemmill Ln, #01-01, Singapore 069261
w. catfish.sg/
s. www.facebook.com/Catfish.SG/
Image Credit: PizzaExpress Singapore Facebook Page
What's not to love about a wicked good pizza? The PizzaExpress, Singapore has its 'Famous Five' Pizzerias spread throughout the country: Marina One, Jewel Changi Airport, Holland Village, Duo Galleria, and Scotts Square. Their efficient delivery service is now available island-wide, with a flat delivery fee of &6 dollars, no matter where you are! 
Chef Louie Moong has gone to great lengths to back up his following remark; "At PizzaExpress, we bring a plant-based twist to our pizza, whilst retaining taste and texture.. so consumers don't need to settle for less than they expect, when choosing sustainable options." 
The team's Heura Pollo Forza is and evident example of this! The HPF pizza, is an updated version of the pizzeria's signature hot chill chicken classic. This tomato-based pizza is topped with a medley of roasted peppers and sliced jalapenos, as well as delectable chunks of Heura — a 100 percent plant-based substitute for chicken! With a drizzle of chilli oil at the finish, the well-planned flavour and ingredient combinations will have you fighting hard to believe that this isn't a non-vegetarian pizza. Kudos to the kitchen team for this one! 
INFORMATION
a. 7 Fraser St, Singapore 189356
s. www.facebook.com/PizzaExpressSG/
Watch the popular documentary 'The Game Changers' (2018) and make your own decision in Vegan.
Video Credit: Rob Flynn The Game Changers 2018 - German Deutsch Subbed - Full Documentary