What do you think about What's On In Singapore?
Main Image: #INYAFACE Hosted by Addicted Art Gallery Thursday 30 May to Saturday 1 June 2019 (Various Times)
Video Credit: Salt Grill & Sky Bar Exclusive One-Night-Only Wine Dinner Thur 23 May 2019
In true "Choice Style" we keep you in touch with Things To Do that are ideally - a little left of centre...
Festivals, music, fairs, street carnivals, art, all sorts of entertainment lay ahead in this daily updated list.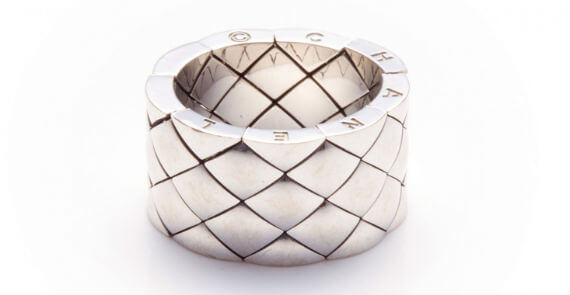 HotLotz is Singapore's premier destination to buy new, vintage, antique and one-of-a-kind furniture, Jewellery, Lux clothing & accessories + collectibles for your home. Located in Tiong Bahru, HotLotz hosts weekly timed Online auctions, and often host Live auctions which are all fun and inviting. 
HotLotz curates an eclectic and hand-picked selection of treasures that have been sourced from Europe and consigned by local clients. Each week prior to the timed online auction, customers can view the catalogue online or in store and bid absentee with ease on the HotLotz website. The HotLotz showroom welcomes visitors during the week to view pieces up close.  
HotLotz READ HERE How Does It Work? contact and location Address:Cendex Centre, 120 Lower Delta Road, #01-15 169208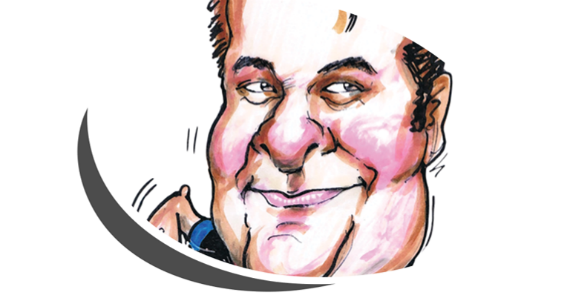 (information subject to change)  Five fun quiz nights this week, all starts tonight at Molly Malone's Irish Pub Singapore, Tuesday join us at The Penny Black, Wednesday join me at The Drunken Poet or Jonty at Harry's Bar Singapore (Boat Quay) all finishing Thursday at Muddy Murphy's....
Check FaceBook Page Here for daily updates. Find out all the latest news, events and adventures of the "Quizmaster". For any enquires, bookings or reservations email [email protected] and he will get back to you pronto! "The Singapore Quizmaster Trivia Night, the closest modern equivalent to Lions versus Christians."...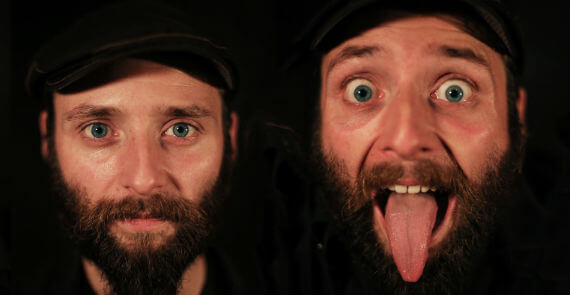 The Merry Lion is the only full-time comedy venue in Singapore. CLICK HERE TO VIEW SHOWS Amazing acts from all over the world, plus regional and local talent, come together to offer you a great show full of fun and laughs.
The Merry Lion also has a full bar and food menu. BOOK NOW and roar with laughter.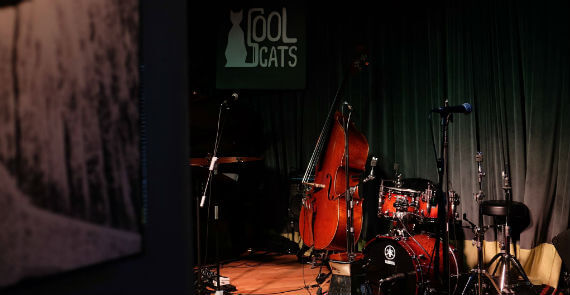 A swanky international music lounge, Cool Cats endeavours to refresh Singapore's cocktail scene with inventive creations paired with dazzling, refined entertainment. Live performances at Cool Cats are always an inclusive and captivating affair.
Featuring acts from the international circuit, a stalwart assembly of musicians at the forefront of genres like blues, jazz and R&B, guests are treated to soulful performances week in and week out. contact and location details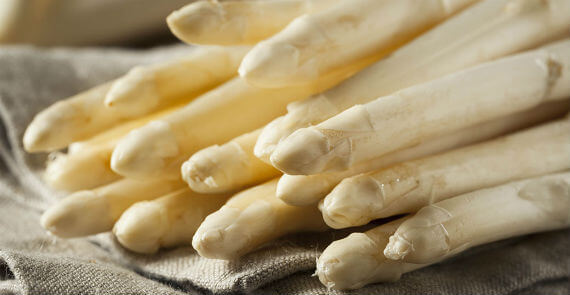 Spargelzeit is here! The Asparagus season is much celebrated in Germany that it has gotten its own name; Spargelzeit! And it's with no surprise since the best asparagus, especially the white ones, comes from Germany. T
The RANCH Steakhouse by ASTONS specially imported limited quantities of white asparagus from Germany and our Chef de Cuisine created a range of dishes from appetisers to soup to main courses.
Now, you don't need to board a plane just to savour this delicacy; we have them right at The RANCH Steakhouse by ASTONS! Promotion starts from 6 May 2019, while stocks last! Please call +65 6256 0334 or email [email protected] for enquiries and reservations.
At Wooloomooloo, no man is left behind. The humpday special has been extended to include both ladies and gents.
Every Wednesday from 7pm to 9pm, all guests will enjoy free flow Laurent Perrier La Cuvee Champagne, red & white wines, as well as selected martinis, at S$58++. This offer is exclusive to the Wooloomooloo Bar.  Salud!  contact and location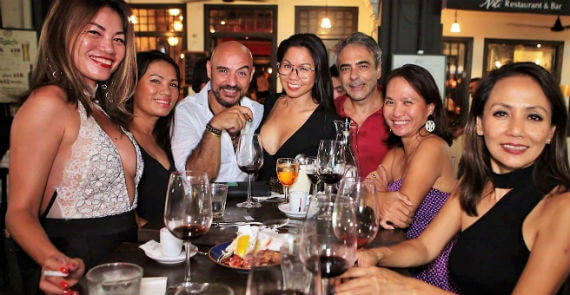 Drink, Dine and Unwind with Toni at Noti Restaurant & bar Aperitivo Italiano. Enjoy Aperitivo Drinks & Cocktails with complimentary finger food and Aperitivo style snacks. 
Brought up in a family of successful restaurateurs in his hometown in the south of Italy, owner and chef Toni Rossetti brings to his very own Club Street restaurant – Noti Restaurant & Bar, a taste of home, tradition and warmth of authentic Italian food from cherished family recipes and the flavors from this bountiful region. contact and location
Don't Miss this extraordinary Talent. Live Sessions Every Wednesday Night at McGettigan's Clarke Quay featuring a different artist every week with house band Phinneas Brown on Piano and Keys and the awesome Pablo Calzado on Drums. 
A great night offering $10 beers and more. It's also Ladies Night where the ladies get 4 FREE DRINKS and 25 percent off food.
There is no cover charge and it's a great space to get up and have a dance if that helps you chill midweek. Featured singers each and every week. So get on down to Clarke Quay and take a load off. Write A Review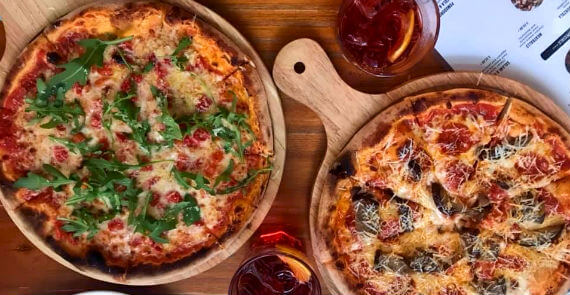 Special Promotions you can't resist!
Monday, Tuesday and Saturday
S$25 All you can eat choose any pizza - no limit until when you will be full . 
S$44 Beer buckets for Italian Beer Peroni or Menabrea . 
$$12 negroni or aperol spritz 
Every Day Deals: S$49 Bottom of Italian Wine (red or white) + any pizza from the menu 
SBAGLIATO Kitchen & Bar is an authentic and affordable Italian culinary journey in Singapore. It is a concept that combines the best Italian recipes with a Fun Dining and Fine Drinking experience. contact details Address: 23 Pekin Street 049946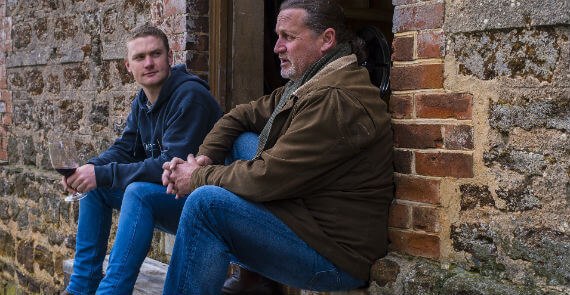 For an exclusive one-night-only affair happening on 23 May 2019, Salt grill & Sky bar and Indigo Wine Co will present a wine dinner featuring winemaker Dave Powell, half of the father-and-son team behind the highly acclaimed winery, Powell & Son (Australia). 
Experience the best of Australian produce as Dave Powell joins Australian born and bred Head Chef Jake Kowalewski of Salt grill & Sky bar to bring diners a hand-picked five-course menu of food and wine paired to perfection. 
The Powell & Son wine dinner presented by Salt grill & Sky bar and Indigo Wine Co is priced at $180 nett per person for the five-course wine dinner. Please contact Rem Magante at [email protected] or call +65 6592 5110 contact and location details Address: ION Orchard, 2 Orchard Turn, #55-01 238801
Video Credit: Danny O' Brien Catch Danny O'Brien (Ireland) in his highly acclaimed Edinburgh Fringe solo show for two nights only on Friday 24th and Saturday 25th May 2019! "genuinely, uproariously funny with a huge stage presence and wicked timing" The Sunday Independent.
Following in the footsteps of Simon Pegg, Dylan Moran and Dara Ó Briain – Danny was handpicked in 2016 to perform as part of the iconic "Best of The Edinburgh Fest" Show across Australia touring Perth World Fringe, Adelaide Fringe Festival and The Melbourne International Comedy Festival and returned again in 2018. contact and location BOOK HERE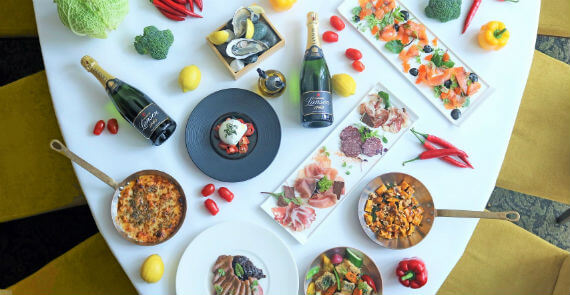 This popular brunch 'The Italian Table' offers a magnificent indulgence of classic Italian favourites.
Just as food has been enjoyed together by Italian families for generations, tuck into four incredibly generous courses served sharing-style – antipasti, pasta & delish mains and a dessert bar – each course comprising a myriad dishes.
Check out the menu below with options of bubblies to complete your dining experience. Reservation is required, book your table now to avoid disappointment.
$98 ++ free flow spumante, beer, house wine, soft drinks, juices and coffee/tea $128++ free flow Champagne,spumante, beer, house wine, soft drinks, juices and coffee/tea more details and location.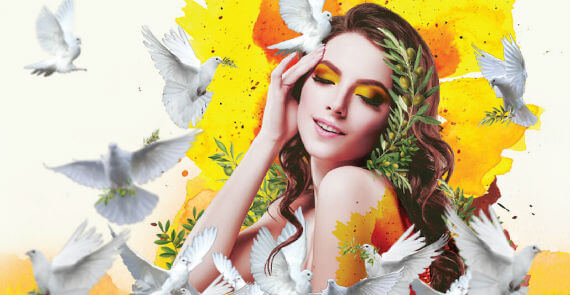 Following its successful transition into a global brand since its last fair in Sweden (2018),  the Tatinis Art Show returns.
This year under the theme Hope; Peace; Love at the F1 Pit Building's Paddock Club 6 from Thursday 23rd to Sunday 26th of May 2019. 
Priced between SGD$100 and SGD$6000, the exhibition allows for equitable opportunities towards the purchase of artworks by art novices, seasoned collectors, and the general public to experience art at an approachable level. more details contact and location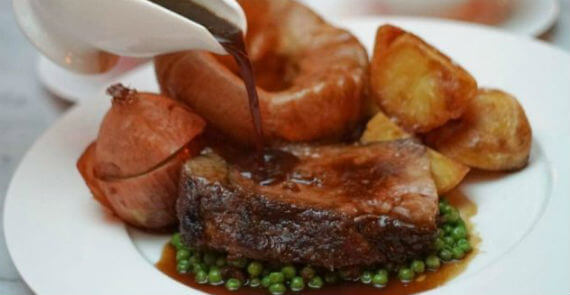 Yes, you are not seeing things - available for advanced bookings at The English House one free children's main course with every paying adult from the set Sunday Roast (excluded A la Carte or any other promotions).
We are talking delicious English fare for your kiddo's. Think Marco's baked Mac 'n' cheese or something a little more robust - the Roast free ranged Chicken or Honey roast Pork belly with all the trimmings Roast potatoes, buttered peas, Yorkshire pudding, rich gravy.
Fussy eaters will delight in the Spaghetti with cherry tomatoes and fresh basil or go the whole hog with the Grilled Cumberland sausages with French fries and Buttered peas ( well...maybe leave the peas....if you think your little princess will turn her nose up to them,) Booking Details Here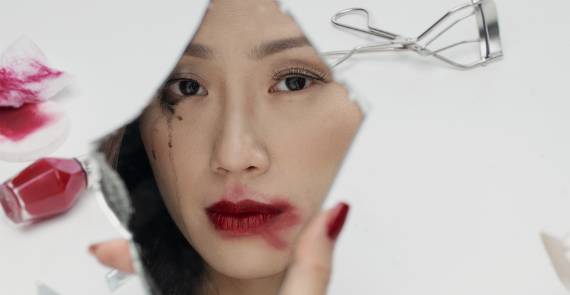 An undergrad and a lecturer begin a precarious flirtation. Two workmates go on a date that each remembers very differently.
A long lost bogeyman returns to draw new blood from old scars. Eight bodies collide. Eight souls crisscross. Eight lives get entangled in a web of pain, shame and heartbreak. And the world as they each know it will never be the same again. TICKETS HERE 
Pangdemonium is a proudly Singaporean theatre company . With a mission to tell stories on the stage which are challenging, inspiring, relevant, accessible, and above all, of the highest artistic, entertainment and productions values, in a league with the very best of theatre internationally. TICKETS HERE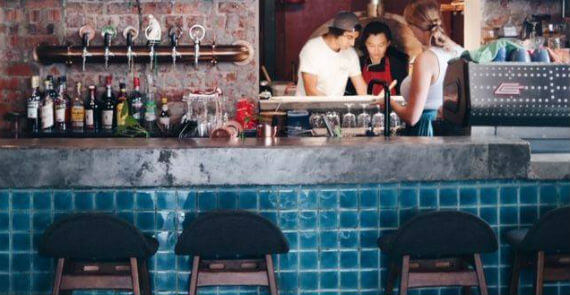 After the success of Sideways' inaugural pizza night, the owners of Sideways decided to replicate the occasion every last Wednesday of the month.
Who knows, they might even just start another restaurant that makes those deliciously crusty pizzas all day, every day.... but that's for another announcement. 
The Team be serving a capsule menu of sourdough pizzas accompanied by our small plates and desserts.  Reserve your table at www.sideways.com.sg or if you need more reasons to come, check out Sideways' event on Facebook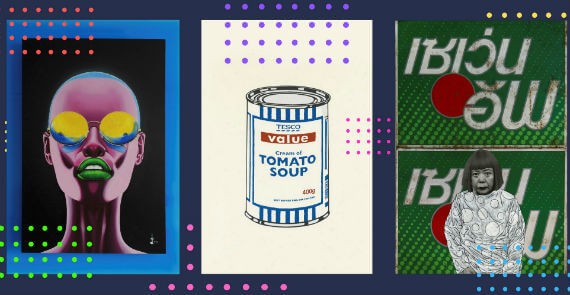 Proudly presented by Addicted Art Gallery. #INYAFACE (in your face): Blatantly aggressive or provocative; impossible to ignore or avoid. Have you ever wondered why the Mona Lisa is smiling? Does Mickey Mouse shoot blanks? Was Queen Victoria thinking of England? Do you fancy a "gitchy gitchy yaya yaya mocha choca latte yaya"?
All these questions and more will be answered when you come and hang out with us at #INYAFACE – an exhibition featuring works by emerging and established pop and street artists including:  Anthea Missy - Banksy - Booda Brand - Bäst - Celia Philo - D*Face – Dolk – FAILE – Hush - K-Guy - Lakshmi Mohanbabu – Mojoko - Mr. Brainwash - Nick Walker - Pakpoom Silaphan - Pure Evil - Sara Pope - Shepard Fairey – STATIC - Tinker Brothers - THIRSTY BSTRD - Whatshisname
Dates & Times:  Thursday 30 May 12:00pm - 5:00pm, Friday 31 May 12:00pm - 7:00pm, Saturday 1 June   12:00pm - 7:00pm. Come on down and get in our face! contact Address: 19 Tanglin Road , #02-41 247909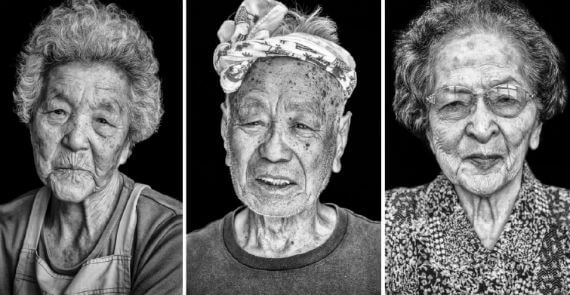 Singapore-based French photographer, Jose Jeuland, will be holding his second photography exhibition this year at The Fullerton Hotel Singapore - East Garden Gallery from Friday 19 April through to 30 May 2019 Admission is Free.
Titled "LONGEVITY OKINAWA", the exhibition features the locals living in Okinawa aged between 89 to 106 years old and their secrets to longevity. At the exhibition, visitors can enjoy a short documentary film on a BenQ interactive flat panel. contact and location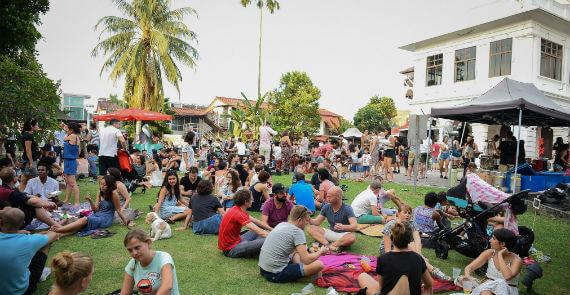 Free-entry and family-friendly (dogs welcome too!). Frank Food Market and Kult Kafe join forces for a special market edition of Sunday on the Hill. Frank Food have been running a Monthly Market at Loewen gardens, that's been operating for 8 years.
With various vendors selling range of items such as Honey, Olive oils, Kids clothes, Chocolates, Wines, Pickles, Candles, Essential oils, Cupcakes, Baskets, and much more.
Come join in the community supporting local producers and brands with sustainable and health conscious vendors.
Food and drinks by kult kafé, Sidecar Sausages and Frank Food Company. Chilled-out daytime grooves by The Gonzo and friends.
Plus! A special side-market of vintage streetwear vendors organised by Heresy. The event runs from 3pm to 10pm (the Frank Food Market will wrap up at 7:30pm). Kult Kafe stays open for drinks until midnight. contact and location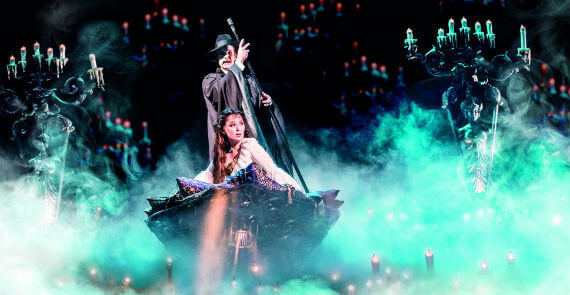 The world's most popular musical, THE PHANTOM OF THE OPERA makes a long-awaited return to the Sands Theatre at Marina Bay Sands for a limited season from April 24 2019. 
With 130 cast, crew and orchestra members, jaw-dropping scenery, breathtaking special effects and more than 230 costumes by the late international designer late Maria Björnson, THE PHANTOM OF THE OPERA contains some of Andrew Lloyd Webber's most famous and stirring music, including The Phantom of the Opera, Think of Me and Music of the Night.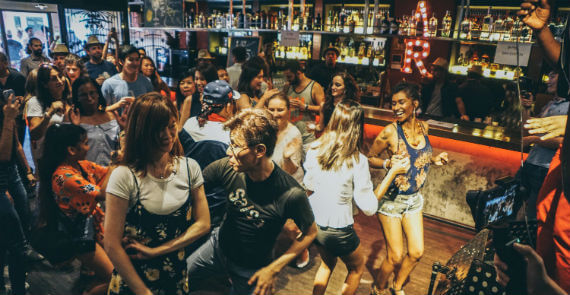 You know it's going to be another HOT party, as El Tardeo cook up THE BIGGEST PAELLA IN SINGAPORE. Party the Spanish way with amazing food, drinks, music and company. Food & Drinks from $5 - Live Latin music by Martin Reyes and band.
This is a monthly event and it just keeps on getting bigger. The concept is you turn up with some cash and convert the cash into $5 tickets.
Each $5 ticket entitles you to a drink or a food items. Some of the items you have to use to tickets so it ends up being a $10 serve of food or a $10 drink, either way it is an incredible bargain.
The people are from all over the world with a large percentage being international expatriates.
The last incarnation hit about 800 people in the restaurant and reaching right out onto Craig Road. It is an awesome event and one that I highly recommend gathering a few friends and getting down for a dance with the live band...contact and location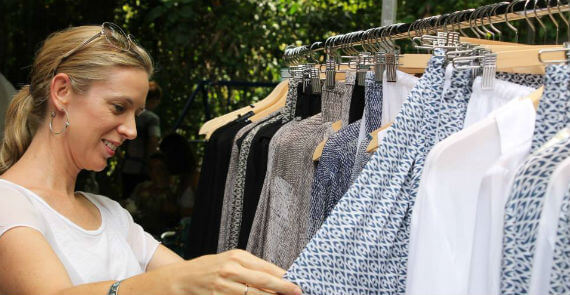 Loewen Gardens Market is a wonderful mix of organic vegetables, cheeses, breads, olive oils and jams and chutneys are available to buy.
Come enjoy vendors offering gorgeous treats and while you are there, enjoy a delicious breakfast menu from the cafe or a freshly brewed cup of coffee at CarrotSticks and Cravings. contact and information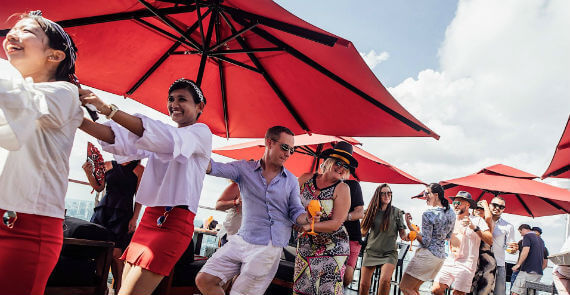 Set against the backdrop of the stunning Singapore skyline, CÉ LA VI presents the ultimate weekend party with a four-hour free flow of Veuve Cliquot Champagne. 
Sip on a selection of premium pours and refreshing cocktails such as Pimm's Summer Cup, Aperol Spritz, Belvedere Caipiroska and Berry Bellini while swaying to the distinctive beats and rhythms spun by resident DJs.
The rooftop party isn't complete without an extensive array of contemporary Asian creations from seven dedicated stations, created by Executive Chef Joey Sergentakis. 
SGD 178, Pre-sales SGD 188 Door Sales (subject to availability), Pre-sale tickets are encouraged for guaranteed event entry. Inclusive of: Free Flow of Veuve Clicquot Yellow NV, cocktails, premium pour, beer, nonalcholic beverages and a lavish spread of Modern and Pan Asian delecacies.  Minimum Age: 21 years. contact and location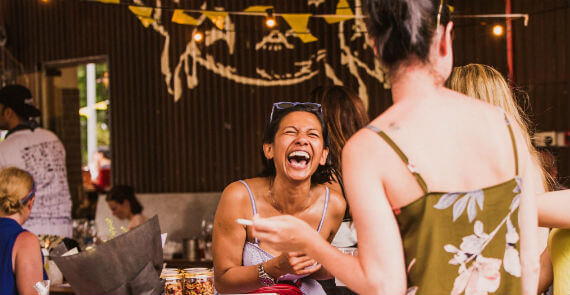 Sunday Social returns to Camp Kilo Charcoal Club for another wholesome day of music, food and shopping! 
The Sunday Social Market is a passion project of DJ Zig Zach and Jade Amar, with two very different backgrounds: Music and Fashion.
The idea was to create a space where people can hang out with their friends, listen to good music, eat delicious food and discover local brands and talented crafters.
All the things they love in one place! Expect some good ol' House music, artisanal bakers and crafters, interior decor, fashion accessories and of course the hearty roasts from Camp Kilo Charcoal Club.
contact and location Address: 66 Kampong Bugis, #01-01 338987
Aquaholic Pool Party Saturday 6 July 2019 4pm til late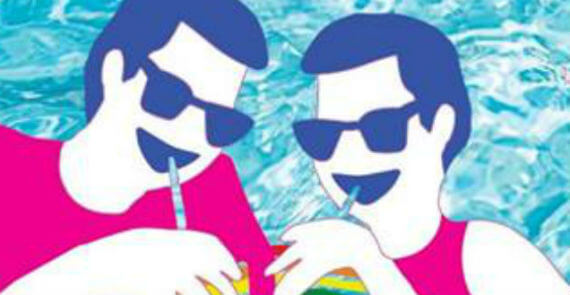 Aquaholics! Pool Party is coming with a whole lots of new sensations! Come splash with an international crowd and enjoy the good beach vibes only at the Aquaholic Pool Parties of 2019BEST TUNES by Aquaholic DJs: DJ Akito, Dj Shigeki, our official residents, and as always: one special guest bringing you new exciting tunes: ENRICO MELONI DJ BEST LIVE MUSIC PERFORMANCE #Aquadivas: stay tuned for the whole line-up.
BEST PREMIUM TIPPLES BY BOTTLE: As good as usual: Beer, Spirits, Bubbly, White & Red Wine, and of course cocktails! FREE ENTRY:
Always free entry, although it is better to reserve your HOT SPOT to make sure you have a place to catch your breath and your best table service: +65 6100 1102. [email protected]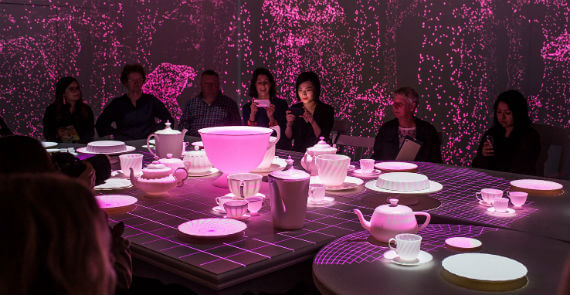 Alice in Wonderland exhibition opens at ArtScience Museum Sat 13 April and will run through until 22 September 2019.
Fall down the rabbit hole into Wonderland, an immersive, playful and interactive exhibition for all ages, celebrating Lewis Carroll's timeless tale of Alice's adventures.
Every visitor receives their own Lost Map of Wonderland, a physical interactive tool that aids in navigating and uncovering the exhibition as a whole.
Tickets are available from 1 April 2019 at Marina Bay Sands box offices and on the website HERE.
DRINKS AT $5 ALL NIGHT. You know what's better than booze? A sweet deal. No gimmicks, no happy hours.
Beer, house spirits, house red and white going at $5+ all night.  One degree and fifteen minutes north of the equator lies ONE°15 Marina Sentosa Cove, Singapore – your gateway to a wondrous world of unrivalled luxury.
Rain or shine, come on down to Boaters' Bar for an evening of good company and fun! Located within the heart of the marina is ONE°15 Marina Sentosa Cove, Singapore 's floating bar, a breathtaking setting for small gatherings at the dockside.
A favourite hangout for boaters who just want to kick back after a day on board, Boaters' Bar is the ideal setting for alfresco parties where you can soak in the action and nautical flair surrounding the marina.  Catch live music Saturday 6-9pm. Write A Review
The Gin Journey Every Saturday 2pm-7pm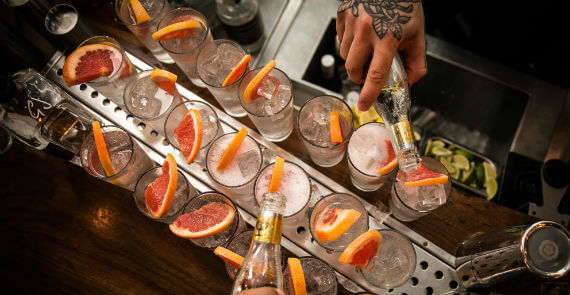 The Gin Journey was founded in London in 2013 and has made it's way to Singapore. Embark on an exploration into the juniper inspired elixir, sipping delicious cocktails and refined gins along the way. Learn about the history of gin and it's connection with Singapore from one of the Gin Journey's expert Gin Guardians.
You'll be whisked around to 5 of the cities finest gin drinking establishments by a posh mini bus and most of all have a super lovely time while they take care of everything. Everyone on this soiree will quaff 5 gin cocktails, sip on 5 gins, visit 5 incredible venues, travel on one 'Gini'-bus (if you will), learn loads about gin, spirits, the drinking history of Singapore and of course have an infinate amount of fun.
The hottest gin event on the planet has arrived in Singapore and they're ready to show you guys a great time. Write A Review
One-For-One Deals Town Restaurant Mon-Sat 3pm-6pm The Fullerton Singapore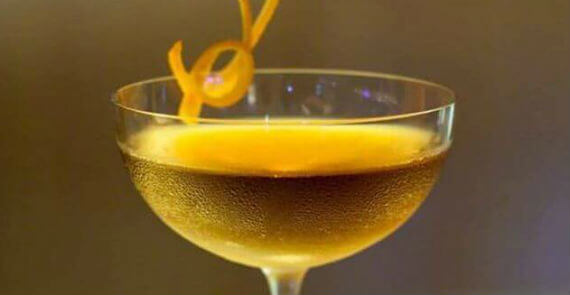 Drink while drinking in the views. Expat Choice is lifting the lid on a well-kept secret: There's a tempting range of drink deals at The Fullerton Hotels Singapore. 
If you have an afternoon to while away, grab a seat on the al fresco deck of Town Restaurant and enjoy the balmy breeze while you enjoy one-for-one deals on beers, spirits and wines from 3.00 p.m. to 6.00 p.m.
From its cool interior designed along clean lines, with seats finished in leather. T
own Restaurant is perfect for a power breakfast, casual business lunch, One-for-one deals or pre-theatre dinner. *Prices are subject to 10% service charge and prevailing government taxes. The hotel reserves the right to terminate or amend promotional details without prior notice. Write A Review
1-for-1 Tiger Beer Draught: Half Pint $15* and Full Pint $18*
1-for-1 House Pour Spirits: $17* per glass
1-for-1 House Pour Wine: $19* per glass
Post Cocktails: $15* per glass
The Ranch Steakhouse "Great Steaks, Humbly Priced!" at Clarke Quay
Are you ready for a totally new experience in dining?  How about something fresh, exciting and out of the ordinary to tempt your taste buds? 
If you are a meat lover and beef connoisseur get ready for an unforgettable experience. The well-known and loved Aston's chain has opened a classic steakhouse at Clarke Quay in Downtown Singapore.
It includes an exceptional dining area with an outdoor bar and seating to take advantage of the vibrant parade of passer-by's, The RANCH Steakhouse & Bar is located at The Foundry, Clarke Quay #01-15. Call in, you may just snag a table! Write A Review
Wine Club by ESQUINA Friday and Saturday Nights 10pm-Late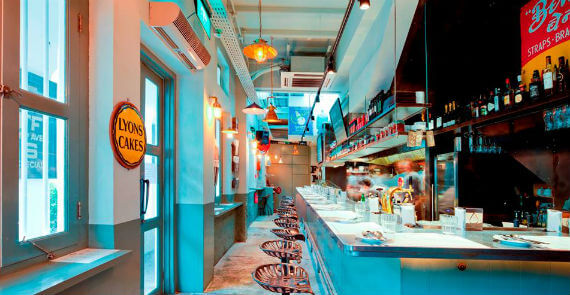 Featuring one of Singapore's most extensive wine-by-the-glass programmes from boutique producers from Spain and beyond. 
Held on the second floor of ESQUINA on Friday and Saturday nights, this vino soirée is the perfect way to kickstart the weekend.  Expect a rotating weekly feature of at least 12 wines by the glass all priced at $14++ All wines are hand-selected from the best wine regions in Spain including well-loved Rioja to lesser-known but equally exciting Penedes and Rias Baixas.
Head Chef Carlos Montobbio's personal favourites will also be listed under the weekly 'Chef's Choice', revealing his own recommendation for the week.  A surprise 'Wine of The Week' priced at $78++ a bottle will also be showcased, encapsulating the essence of these artisanal wines and their makers.
On top of the myriad of delicious quality wines by the glass, Chef Carlos' modern Spanish bar bites menu have also been thoughtfully curated to kick off the weekend fun at ESQUINA. Write A Review
Ginett Restaurant & Wine Bar With Chef Hervé Frerard
Ginett Restaurant & Wine Bar plays host to one of Thailand's most revered chefs, French native, Hervé Frerard. Hervé is bringing his inexhaustible joie de vivre for French cooking to Singapore for the first time, and will be treating the patrons of Ginett to an exclusive menu featuring some of his most-loved signature dishes.
Ginett is a contemporary restaurant and wine bar in Singapore's historic Arts District. Situated at 200 Middle Road, Ginett is a go-to destination for guests looking for a relaxing yet buzzy escape.
Hearty European favourites, superb French wines from $6 a glass all day long, quick and easy set lunches and late weekend brunches, are all part of Ginett's wide-ranging offering, making it a memorable and accessible experience for everyone. Write A Review