Enjoy some of Sapporo, Hakodate and Asahikawa's most well-loved food stores in Orchard Central at the Hokkaido Marche. 
At this marketplace-style food hall, you can enjoy a variety of authentic Hokkaido fare without burning a hole in your pockets. The seven shops offer yummy donburi - "a rice bowl dish" consisting of fish, meat, vegetables or other ingredients - topped with fresh seafood and pork, curry rice, soba, udon and not forgetting to mention a delicious slurp-worthy ramen. Let's focus on one of the outlets you'll discover at Hokkaido Marche.
Yakitori Tsuyoshi
(Yakitori/Buta-don)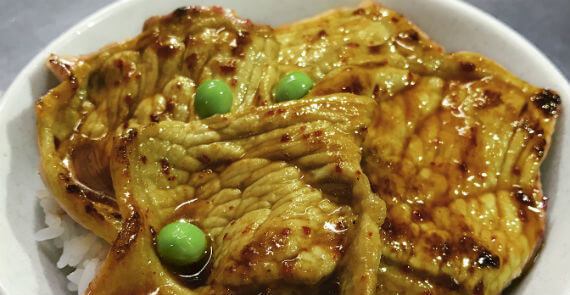 Image: Yakitori Tsuyoshi's Buta-Don Soy
Yakitori is a word with a lot of sentiment attached and is often associated with most child-hood or long-ago memories in every Japanese kid. Yakitori Tsuyoshi is the place in Singapore to experience Yakitori the "local way".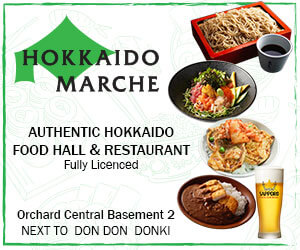 The first Yakitori Tsuyoshi outlet opened at Hokkaido Asahikawa in November 2000. Yakitori Tsuyoshi specialises in grilled skewered chicken, using only the best locally-selected ingredients from Hokkaido.
Another favourite food item not to miss is the "Buta-Don", a pork rice bowl, topped with a Yakitori Tsuyoshi secret sauce (pictured above) which is enough to bring back fond memories of that distinctive taste of Hokkaido.
You can visit their website at www.yakitsuyo.com
Visit Hokkaido Marche
Comments
So to all of you Japanese food lovers head on down to Hokkaido Marche for some delicious and affordable meals. I know you will be pleasantly surprised.
As I walked out of Somerset Station Exit C, I stepped off the escalator at Basement 2 and turned right towards Orchard Central. I had not acquainted myself with the underworld of restaurants operating here. In barely two minutes I reached Hokkaido Marche, the only Japanese marketplace-style food hall in Singapore. The seven shops under this umbrella gives diners an opportunity to revel in heart-warming cuisine from bountiful Hokkaido! Authentic with most chefs from Hokkaido, a major portion of ingredients are also sourced from this part of Japan. If you are ever in Hokkaido and would like to try these outlets, you'd have to queue for two hours or more. So super convenient to access here in Singapore, I was pleased to find that it was full and I didn't have to queue either. While Hokkaido Marche is a Japanese food court it also has a restaurant Hanamaru (Sushi) tucked away on the opposite end (for people who might want this option). In an instant I felt like I had been transported to Japan. An avid fan of anything Japanese, I walked around to take in the myriad of stalls that were serving their specialty food. From ramen to soba, tempura to donburi. I decided to focus on two outlets today – the restaurant Hanamaru and Dot Café & Bar. Very snugly set in a corner at the entrance of Hokkaido Marche, this little liquor corner serves the cheapest Sapporo beer. I had to start with one to whet my appetite! I hadn't realised that this is the only food court in Singapore that sells hard liquor. Japanese whiskeys amongst a range of sake bottles stared me in the face as I sat at the bar. Not knowing how to pick a sake I was inducted into the technicalities of it. If you are like me, unsure of how to pick your sake look out for the acronym SMV which stands for Sake Meter Value. A dry sake will have a positive value while a sweet sake a negative value. Zero denotes a smooth sake. Pretty straightforward I'd say…..at least for us beginners. I personally prefer dry sake so I had a cold mini carafe as lunch today was going to be cold food - sushi and sashimi. Prices on the menu are all inclusive of GST so it's easy to plan your budget if you are on a tight one. As I sat at the bar and people watched, I noticed Don Don Donki, the Japanese supermarket (which is open 24 hours) on the other side. Completely convenient for the shopper who comes down to pick up groceries, one could pop in to your favourite food stall at Hokkaido Marche. That would be a "no cook" day for the lady of the house! I was really surprised that there was so much happening in this part of basement 2 at Orchard Central. Unbeknownst to me, I had walked above this level on the ground floor so many times. If only I'd known…..I'd have been down to taste the fare offered - so reasonable and in a totally Japanese setting. It was time to head over to the other side of Hokkaido Marche. My tummy was growling with hunger and anticipation at the delectable treats awaiting me at Hanamaru Restaurant. Greeted in the usual Japanese fashion as we entered the restaurant, I have always marvelled at how Japanese chefs are so alert to the entry and exit of their patrons. This restaurant at Hokkaido Marche seats a maximum of 80 pax. It is separated in two, where patrons wanting a quiet and uninterrupted dining experience could choose to sit away from the activity of the sushi bar. This little enclave is great for private events of 20 pax or so if you ever wanted to have a few friends get together. Others may choose to sit at the bar and enjoy the artistry of Japanese chefs at work. There are also booths for smaller groups of people, all up, many options for dining. Looking at the menu there was an extensive array of food to choose from. For those who dislike the raw part of the menu there is safety yet, in the cooked stuff - tempura, grilled fish, fried chicken are available. I decided to try the Hanamori platter which has two pieces each of ten varieties of sushi. Priced at $96++ it seemed like a reasonable value as I had choice fish like flounder, uni, unagi, toro teka maki, ikura, scallops, clam, yellowtail, otoro and salmon. Taking centre stage on this large platter was the anago - salt water eel. Larger than unagi (fresh water eel) it was served whole. I love eel so it was a chance to tuck away and enjoy the delightful and unique taste that sings to my palette! I was advised to have the "Pacific salmon roe in a sack" sushi. The only place you can find this in the whole of Singapore, it would be a must-do for salmon roe lovers. The texture of roe bursting in my mouth all coming together in a rich but fresh combination, I could almost taste the saltiness of the Pacific Ocean. While I decided to save the dragon roll for next time, I noticed a fried chicken and torched salmon choice priced at around $20. I felt like continuing on the raw trail so ordered some sashimi – ika (squid), hotate (scallops) and botan ebi (huge shrimp) which were all extremely fresh and paired well with the sake. Sake prices range from $21.50 to $55 for a 270ml carafe. Of course there are other choices of liquor like whiskey, beer, wine, umeshu and shochu. If you have time to spare for a set lunch, these seem like great value deals. Ranging in price from $18++ for assorted salmon or a sashimi set, to $22++ for a Hanamaru set. This consists of sushi, tempura and udon plus all the trimmings, definitely not for the faint hearted! It was time to leave. As I walked out I thought to myself "how lucky are we living in Singapore to have Hokkaido on our doorstep?" It was surely an afternoon to remember. So to all of you Japanese food lovers head on down to Hokkaido Marche for some delicious and affordable meals. I know you will be hooked once you visit…just like I am!