Hero Image: Shabestan Shah Pasand Chicken
Multi-Award Winning Persian Restaurant in Singapore, Shabestan, celebrates it's 7th Anniversary with a 7-course menu for $77++ from Wednesday 7 October to Saturday 31 October 2020.
Guests are welcomed with a glass of Prosecco, Wine or Mocktail as they embark on a gastronomic journey to Persia. Starting the gastronomic journey with appetisers, guests can choose between 7 most popular vegetarian and non-vegetarian appetisers which includes Hummus, Muhamara and Kash-e-Bademjan.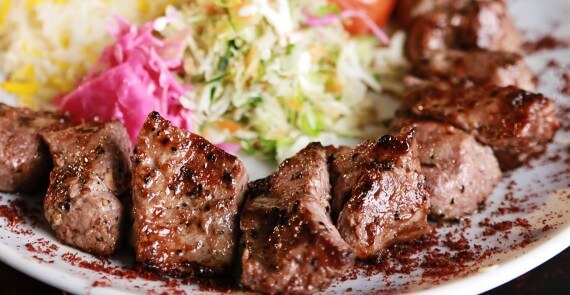 Shabestan Tekeh Masti
Meat lovers can indulge in the true taste of Persia with kebabs, and meat cooked using traditional Persian recipes and techniques. Shabestan's award-winning Shah Pasand Chicken is a special recipe from the Gulf where tender boneless chicken breasts are marinated in saffron and herbs that's a must-try.
Another favourite dish is the Tekeh Masti, which is made with premium beef fillet cubes marinated in yoghurt and Persian spices. Shabestan is introducing Impossible™ Kebab, a new signature dish, on it's menu along with Sabzi Kebab which is a favourite amongst vegetarians.
No meal is complete without desserts and it's tough to choose between these popular Middle Eastern sweets - Bakhlava, Kunafe and housemade Persian Ice Cream.
A. 80 Mohamed Sultan Road, #01-13 Robertson Quay 239013
W. www.shabestan.sg/ or book online via https://www.shabestan.sg/reservation
Comments
I was excited to see what selection would be rolled out in this long stead institution. Shabestan did not fail it's reputation as the best authentic Persian food experience in Singapore and every dish came with the love of this cuisine. If not only missing the rose petals. Appetizers are definitely a crowd pleaser here with the inclusion of some unexpected avocado, served alongside the walnut lovers Muhamara - and it goes without saying...a creamy hummus But I loved the spinach, as a disciplined healthier eater who does not wanna compromise on taste, I'm always looking for my dose of healthy green vegetables. The spinach was combined with fried onions, sun dried yoghurt and saffron, so indulgent. Choosing between fish, lamb, chicken and beef for the much talked about kebabs was a hard choice but when I heard the fish was snapper, true to my Jamaican roots I wondered how they could get the flavour packed into this meaty fish. It was perfect! Delicate flavours but strong enough to give the fish the punch it deserves & cooked to perfection. I'm often one to skip my rice but a choice of dill and plain rice cooked so well it was difficult and even the side salad that accompanying it was thoughtfully dressed. I always say dessert is a separate stomach and by this time I needed one to try but the homemade ice cream with pistachio and saffron the worlds most expensive spice was worth the extra push. What a perfect way to feel the truly Persian experience. I would recommend this place for groups too since the menu is truly catering for all without loosing its focus. They even provide a gluten free menu when booking a couple of days in advance. Since I'm gluten free I will definitely try this version next time so I don't have to skip my bread.
Experience the taste of Persia in all its glory at Shabestan, located in Robertson Quay! Here, you'll find the warm hospitality, culture, and authentic, halal dishes, in a fine dining avatar. Sit in the outdoor area by the river, and feast on some refined Persian cuisine, like Char-grilled Kebabs, Lamb Kubideh, Shandiz, Shah Pasand Chicken, Ghormeh Sabzi, Bahala Polo Machicheh and more, served up family-style.