Image Credit: SBCD Korean Tofu House Facebook Page
Chow down Bibimbap, Japchae, Beef Soup, Kimchi and all kinds of delicious Korean comfort meals in Singapore.
We've shortlisted the best restaurants in Singapore serving amazing Korean classics as well as barbecue and finger food.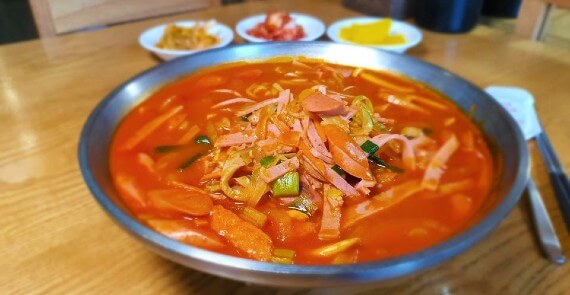 Image Credit: O.BBa Jjajang Facebook Page
The Cheese Kimchi Pancake (S$22.00) at O.BBa is our go-to hangover food, and we absolutely love their new addition to the menu - Spicy Sausage Stew with Noodles (S$15.00). For those who enjoy spicy food, we recommend their Black Soybean Sauce Noodles with Seafood (S$28.00), Deep-fried Chicken in Hot Pepper Sauce S$35.00) and Spicy Beef Soup (S$18.00).
A. 77 Tg Pagar Rd, Singapore 088498
S. www.facebook.com/obbajjajang/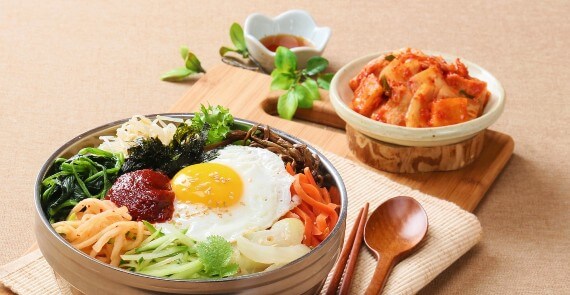 Image Credit: Joomak Facebook Page
It's the perfect weather to devour barbecued meat and Joo Mak is one of the best places to do so. They also make a delicious plate of stir-fried baby octopus (S$35), steamed angler fish (S$40) and a scrumptious spicy big plate of black bean sauce noodle (S$27). Slurp down some of their hearty soups like pork bone soup (S$35), spicy beef soup (S$15) and silken tofu soup (S$10).
A. 144 Upper Bukit Timah Rd, Singapore 588177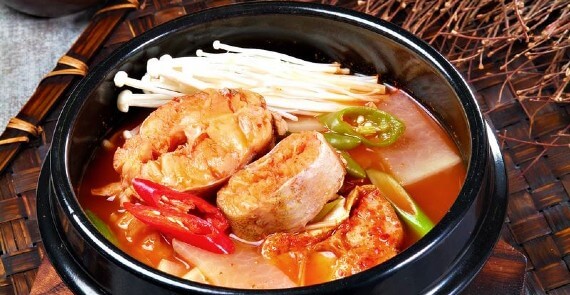 Image Credit: Hanwoori Korean Restaurant Facebook Page
If you can handle your spice, stick to Hanwoori's special menu featuring mouth-watering dishes like Spicy Top Shell with Noodles (S$32), Kimchi Hot Pot (S$38) and Stir Fried Small Octopus or Squid (S$25). Hanwoori also makes amazing Korean classics including Beef Hot Pot (S$38), Jampong or Spicy Noodle Soup with Seafood (S$19), and Glass Noodles with Vegetables (S$19). So tempting.
A. 76 Serangoon Garden Way, Singapore 555972
W. hanwoorikoreanrestaurant.business.site/
S. www.facebook.com/hanwoorisg/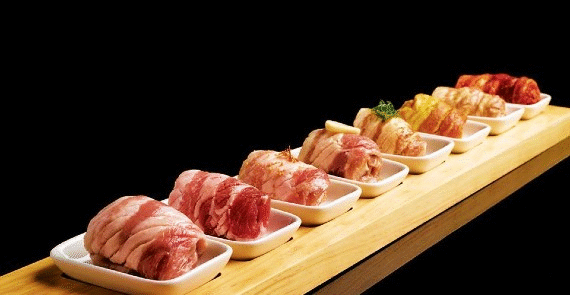 Image Credit: 8 Korean BBQ Facebook Page
8 chunky slices of pork, all in different flavours (wine, original, ginseng, garlic, herb, curry, miso, red pepper) is the speciality of 8 Korean BBQ and is a must-try if you haven't eaten here before. Besides their 8 Colours Set (S$98) their menu also features succulent Japanese Wagyu Ribeye (S$88), Korean Grilled Squid (S$22), Spicy Chicken Thigh (S$22) and a lip-smacking Army Stew (S$24). Wash down all the meat with a glass of Makgeolli (S$28 to S$40) in original, passion fruit, organic honey or honey yakult flavours.
A. 6 Eu Tong Sen St, Singapore 059817
S. www.facebook.com/8KoreanBbq/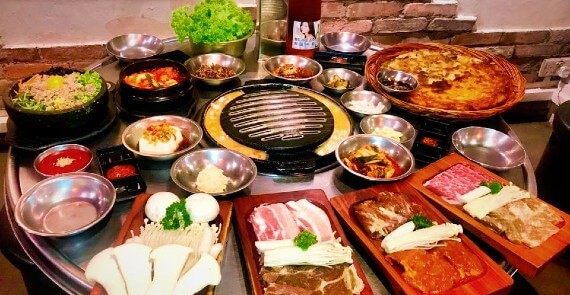 Image Credit: Wang Dae Bak Korean BBQ
Relish authentic Korean barbecue at the comfy, cosy ambience at Wang Dae Bak. We absolutely love their Spicy Pork Belly (S$35), Marinated Pork Shoulder Loin (S$35), Marinated Boneless Prime Rib (S$59) and Spicy Marinated Chicken (S$32). Their beef, pork and chicken hotplate set for S$15 each comes with sides and rice. Not in the mood for barbecue? Order some delicious Korean classics like Spicy Rice Cake (S$15), Japchae (S$10), Bibimbap (S$17) and Bulgogi Rice (S$16).
A. 22 Cross St, #01-64 Singapore 048421
S. www.facebook.com/wangdaebakbbq/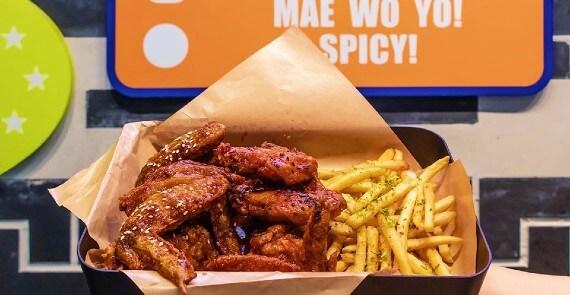 Image Credit: Jinjja Chicken Facebook Page
You'll be licking your fingers after a taste of Korean Fried Chicken Wings (S$8.50) coated with Yangnyeom Sauce at Jinjja Chicken. Want a little taste of Korea in a rice roll? Opt for the Bulgogi Beef Kimbap (S$9.50), a seaweed rice roll with beef, cheese, lettuce, Korean pickle and carrots. In short, a burst of flavours in your mouth. The Jjampong (S$11.50) at Jinjja is an absolute delight with the earthy flavours of noodles with a delicious seafood broth. So soothing.
A. 249 Victoria St, Singapore 188034
S. www.facebook.com/jinjjachicken/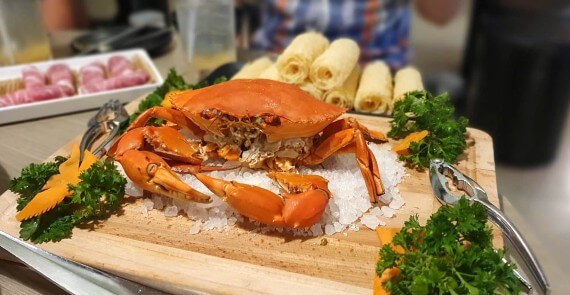 Image Credit: Captain K Seafood Tower Facebook Page
Don't miss out on the seafood tower experience starting at S$79 at Captain K wherein a variety of seafood is cooked in steamers stacked on each other. As the seafood juice trickles down into the hotpot, it creates a delicious broth combined with a delicious soup base. You can also opt for their delicious dumplings, Hokkaido Scallop (S$14), Oysters (S$7.60) or Fried Chicken Cutlet (S$22.20).
A. 112 Middle Rd, Singapore 188970
S. www.facebook.com/captainkseafoodto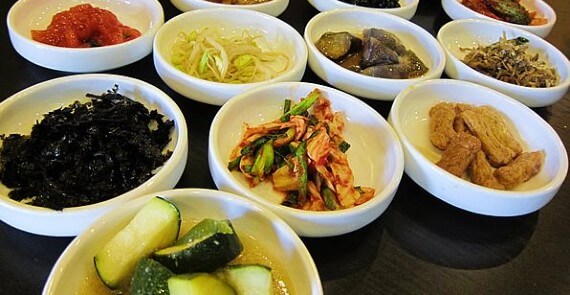 Image Credit: Kim's Family Korean Restaurant Facebook Page
We're always up for plenty of sides on our table and Kim's Family Korean Restaurant serves up 12 of them. We recommend a hearty bowl of Beef Bulgogi with glass noodles (S$19.50) or their Jjambbong Bap (S$20.80) featuring spicy seafood with rice, ideal for rainy weather. You'll find the flavours quite homely just like having a meal in a Korean household.
A. 177 Telok Ayer St, Singapore 068625
S. www.facebook.com/kimsfamilyfood/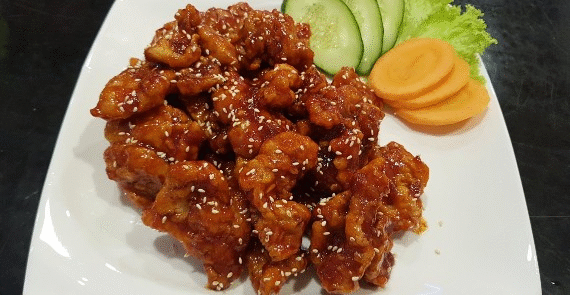 Image Credit: Hoho Korean BBQ Restaurant Facebook Page
Home to one of the most delicious Kimchi Soup (S$15.00) you'll find on the island, HoHo Korean Restaurant hits all the right spots with its flavours. We can't help but order their Spicy Jjampong (S$18.00) and Dolsot Bibimbap (S$15.00) every single time. The meaty delights go beautifully with either a Korean Cinnamon Punch or Sikhye, a sweet Korean rice beverage.
A. 106 Clementi Street 12, Singapore 120106
S. www.facebook.com/hohokoreanbbq/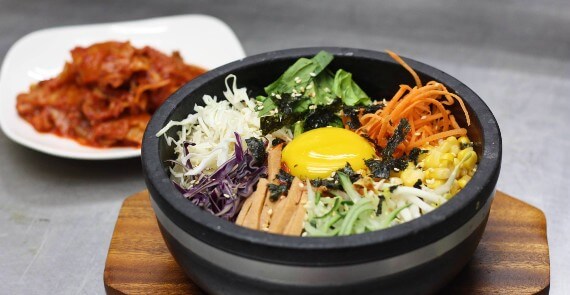 Image Credit: The Boneless Kitchen Facebook Page
Cooking up a storm in a Korean kitchen but only with vegetables is no easy feat and The Boneless Kitchen is getting it just right. We love their Spicy and Sour Kimchi Stew (S$9.90), Kimchi Mandu (S$5.90), Korean Curry Rice (S$12.90 and Kimchi Bulgogi Fries (S$11.90). Ordering from their Ban Chan menu is something we always take time with because every side dish on it is worth ordering right from the pancakes and rice rolls to the fries.
A. [email protected], 1 Irving Place, #01-31 369546
S. www.facebook.com/thebonelesskitche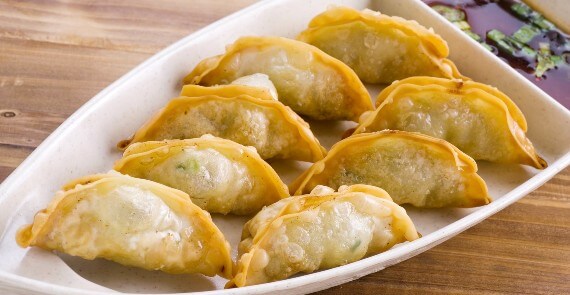 Image Credit:  Kim Dae Mun Facebook Page
Kim Dae Mun is a restaurant passed down from one generation to the next and has been serving exemplary Korean food. We always, always order their dumplings; for they are crispy, meaty, juicy all at the same time. Their Kimchi Soup Set with rice is so heart-warming but if you prefer a little more spice, go for their Hot and Spicy Soup with chicken or beef. Their Tender Sliced Beef is quite popular amongst the regulars and is a must-try.
A. 100 Orchard Rd, Singapore 238840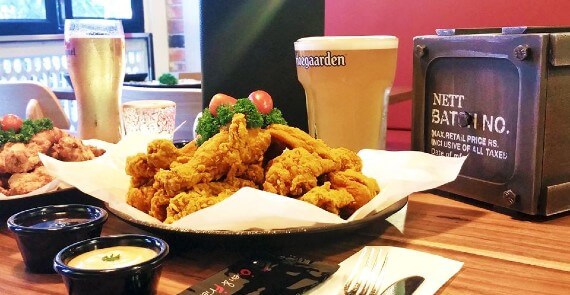 Image Credit: Oven & Fried Chicken Facebook Page
One simply can't go wrong while ordering beer and chicken but being spoilt for choice is a whole other story. Oven & Fried Chicken serves a wide variety of Korean roasted, fried and crunch chicken as well as beer from popular brands. To relish a complete meal, go for any of their YangNyeom Chicken varieties. Our favourites are Roasted Boneless Thighs (S$34), Fried Wings (S$34), Rice Chicken with Jambalaya Sauce (S$38), Assorted Potato Wedge (S$18) and if not beer, we like to go for the Korean wine with our food.
A. 182 Telok Ayer St, Singapore 068630
S. www.facebook.com/OFC.Singapore/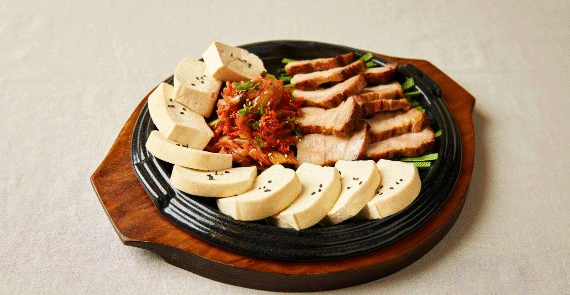 Image Credit: SBCD Korean Tofu House Facebook Page
The silky, melt-in-the-mouth tofu at SBCD Korean Tofu House is something you shouldn't be missing out on. The texture of the tofu is such because it is made by the restaurant using soybeans from Paju in South Korea. Relish this tofu in their signature Soontofu (S$21.90) soup available in choice of meats. You can go for a Combo Meal where you get a Soontofu of your choice along with a dish like BBQ Short Rib (S$39.90), or Bibimbap (S$24.90), or Spicy Baby Octopus (S$29.90).
A. 9 Raffles Blvd, Singapore 039596
W. sbcd.com.sg/
S. www.facebook.com/SBCDSingapore/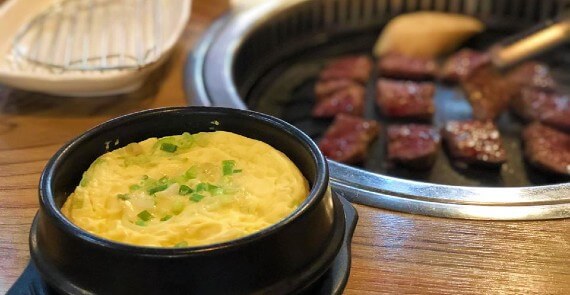 Image Credit: Go KBbq Facebook Photos
Elevating Korean barbecue to the next level, Go K BBQ is always packed with people. The reason is the aged meat they use for their barbecue be it Aged Black Pork Neck (S$24.00), Aged Beef Brisket (S$26.00) or Aged Short Ribs Boneless (S$34.00). We love the brisket as well as their Kimchi Pancake with Beef (S$18.00).
A. 76 Amoy St, Singapore 069895
Comments
The best restaurants in Singapore serving amazing Korean classics as well as barbecue and finger food.
Savour all 8 flavours of the BEST pork in the world! Premium meats, fresh ingredients, full-service dining at this modern Korean eatery 8 Korean BBQ is named after its eponymous 8 Colours Set, which features scrumptious slices of pork belly in an array of flavours. Mouth-watering strips of thick-cut pork belly are flavoured in eight different ways – wine, original, ginseng, garlic, herb, curry, miso, and red pepper paste. Each strip is elegantly rolled up and presented on a custom- made wooden tray before being ceremoniously brought to the table and laid out next to the stove. With a well-trained team at this full-service Korean restaurant, diners simply sit back and enjoy their favourite drink and conversation whilst the food is expertly prepared for them at their table.
Joo Mak is open for dine-in services. We hope to see you soon! RESERVATION Please call us +65 6466 7871 TAKEAWAY Call us at +65 6466 7871 and make an order from our menus below. Menu: http://b.link/joomak-menu Lunch Special: http://b.link/joomak-lunch BBQ Combo: http://b.link/joomak-bbq