Image Credit : Maision Ikkoku : Classic Kueh Pie Tee 
Known for pioneering mixology in Singapore, renowned Maison Ikkoku celebrates Modern Japanese Cuisine
Three stand-out dishes on our visit included...
M.I MAKI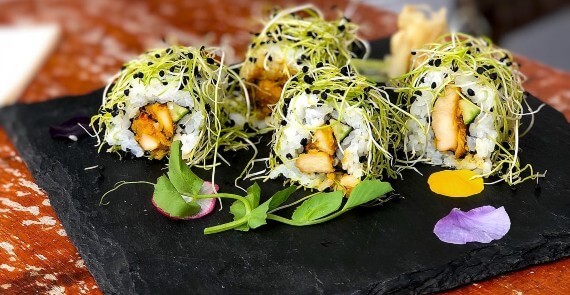 This house signature Maki is blended with a special sauce, cooked with local bird's eye chili giving hints of hotness, yet not too spicy, when mixed with fresh maguro tuna tartare which deliver's a sweet/savoury umami flavour. The cucumber and onion sprouts are added giving a good balance for a refreshing finish. It is unique to find this maki flavour like this in japanese cuisine.
THE LOBSTER KYATAPIRA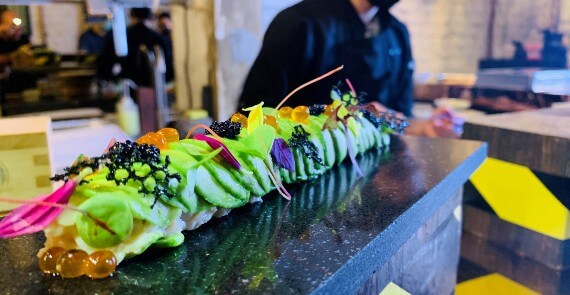 Consists of fresh avocado sliced then rolled in a filling of lobster, crabmeat, caviar, and salmon roe. The sweet crunchiness of lobster and crabmeat, mixed with salmon roe and caviar, then drizzled with a special sauce - makes this dish a memorable one, - you must try this one for yourself.
9 KIND SUSHI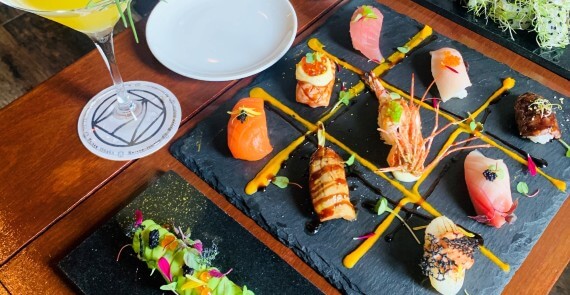 A very Instagramable platting, a Tic-Tac-Toe alignment with daily fresh Nigiri style chef selections - all hand pressed. Every piece has a different taste, you'll experience mind-blowing flavours as the sushi literally explodes in your mouth, so much to discover in one dish.
Set to revive the internationally recognised Singapore Sling for a new generation, SLING a recent concept by Maison Ikkuko located on Level 1 of the three-story Shophouse introduces an all-natural craft cocktail menu that showcases innovative interpretations on this classic tipple alongside a mouth-watering array of artisanal local cuisine.  
Singaporean Founder, mixologist and chef-extraordinaire of Maison Ikkoku - Mr Ethan Leslie Leong, saw a stagnancy with the national cocktail and decided to bring the Singapore Sling back into the limelight.
"As palates get more refined, guests demand more options and styles of cocktails. At SLING, we are dedicated to finding you the perfect Singapore Sling that suits your character, taste preference or mood.
Of course, food is an integral part of the Singaporean identity, and we have refined local dishes to showcase our cocktail offerings'".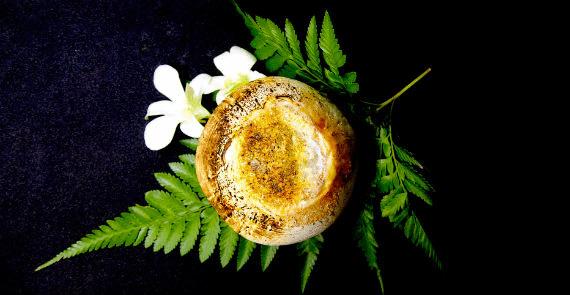 The new level-one space of Maison Ikkoku was converted into SLING just before Circuit Breaker in February 2020 while retaining its art gallery featuring Singaporean-inspired paintings.  
Widely regarded as the national drink; the Singapore Sling was first created in 1915 by Hainanese bartender Ngiam Tong Boon. This national treasure among Singaporeans and discerning travellers has gained both local and international recognition through its historical significance.
Using all-natural craft ingredients from the region, Ethan has curated five distinctive interpretations of this iconic cocktail that are ideal the modern palate.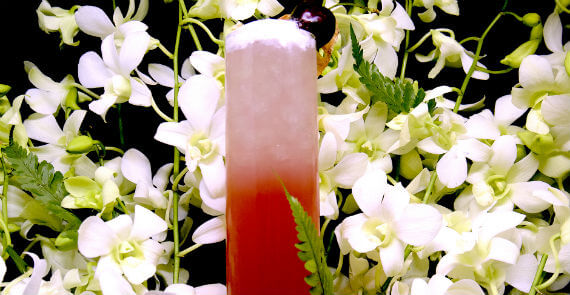 Original Singapore Sling 
 
For a traditional version that pays homage to its heritage, the Original SLING ($26) is crafted with the classic London Dry Gin with juniper-forward notes, Cherry Heering, Bénédictine D.O.M, Cointreau, Angostura Bitters, homemade fresh Grenadine with fresh pineapple and lemon foam for a perfectly balanced concoction.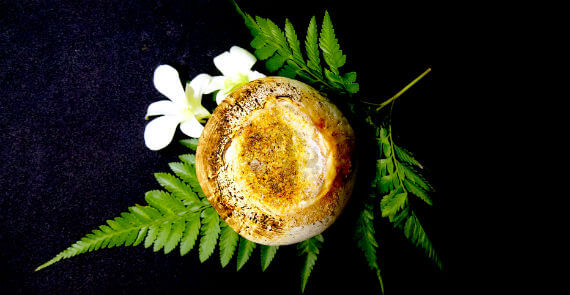 Coco Sling 
Inspired by the kampong days in the early 1900s when coconut plantations covered Singapore's land in the East, Coco SLING ($28) is a playful interpretation on the classic that includes the addition of roasted coconut and young coconut foam.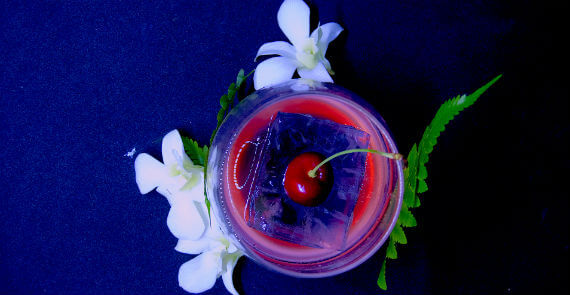 1819 Sling
The spirit-forward interpretation 1819 SLING ($25) pays homage to the British Governor Stamford Raffles. The cocktail is a nod to Raffles, then Lieutenant-Governor of Bencoolen, who developed Singapore as a port for the spice trade and who had an avid interest in botany.
The tipple includes Giffard premium pineapple liqueur which adds sweet, faint vanilla notes that are balanced by delicate cinnamon, peppery spice and light citric acidity.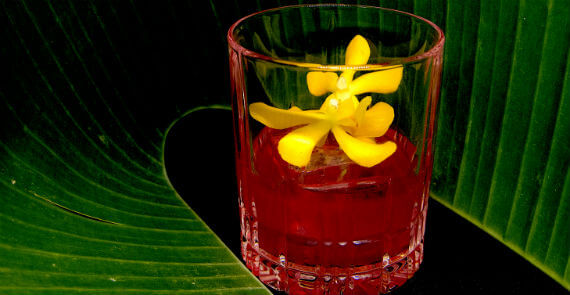 Independent Sling 
 
The Independence SLING ($25) is inspired by Singapore's Independence Year 1965. This bold take on the timeless tipple uses the addition of Campari, resulting in a bitter, dry cocktail with herbaceous notes – a toast to the nation's robust character that overcame tough challenges of its past. 
The SLING-a-pu-ra ($26), emphasises the tropical heritage of Singapore and is an ode to the wildlife and nature reserves. With the addition of passion fruit and fresh pandan, lemongrass, ginger, kaffir and calamansi, this well-rounded tipple is fruity, refreshing and well-balanced.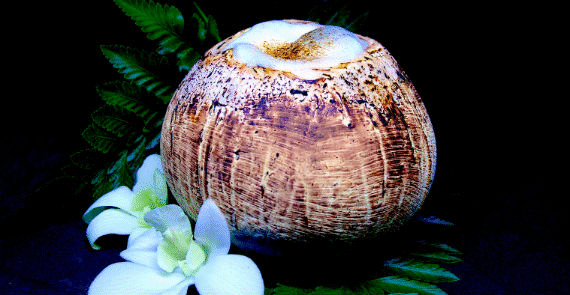 The perfect complement to a locally-inspired cocktail, SLING's food menu presents familiar Singaporean favourites with a decidedly Peranakan flair – a homage to Ethan's grandmother. Ethan says; "My grandmother grew up in a Peranakan village and picked up all her culinary skills from her baba/nonya neighbours.
The menu at SLING is my most personal concept todate and is inspired by nostalgic favourites from my childhood. We are offering refined, cuisine that is flavoursome prepared from scratch, in-house.
The quality of ingredients is paramount, and we pride ourselves on using only natural ingredients and cooking our food in either sunflower or olive oil, which is  free of MSG, preservative, artificial flavours or colouring".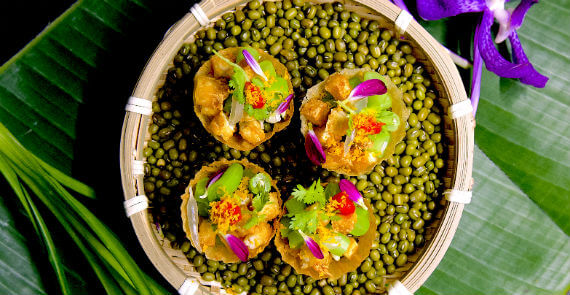 Classic Kueh Pie Tee
The curated menu at SLING features impactful and flavourful starters such as Classic Kueh Pie Tee ($19), homemade canapé cups filled with stewed turnip, long beans, tofu, shredded pomelo, coriander and eggs, and a quintessential local favourite Yu Sheng ($18) with thinly sliced raw fish tossed with Asian coriander, green chillis, ginger and calamansi juice.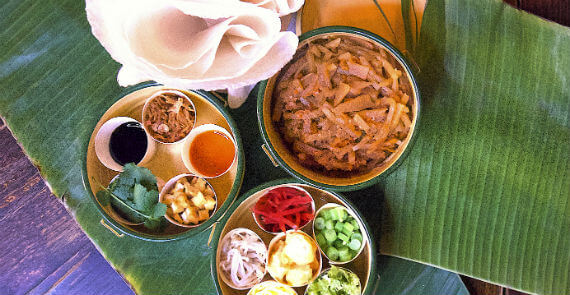 D.I.Y Popiah
Highlights from the sharing plate offerings include a traditional D.I.Y Popiah available in Vegetarian ($36), Sweet Pork ($39), and Crispy Prawn ($49). Presented in a traditional tingkat, each tier opens to reveal four homemade popiah skin, plant-based stewed turnip and carrots, long beans, eggs, coriander, shallots, beansprouts, tofu, roasted sesame seeds and other accoutrements depending on the choice.
Sweet Pork features Chinese waxed sausages as a topping while the Crispy Prawn has deep-fried prawn fritters - both give additional fragrance and texture to this familiar dish. Innovative placards detailing the wrapping method comes with the dish, acting as the perfect conversation starter.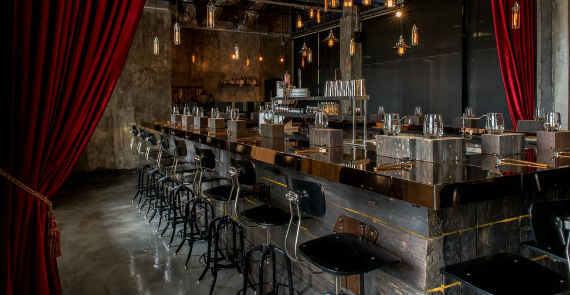 There are plans to introduce local art to the space to keep with Sling's theme. (Photo credit: Maison Ikkoku)
Sharing plates at SLING features heart-warming recipes from Ethan's childhood, updated with modern cooking techniques. "My best memories come from watching my grandmother cook a giant tureen of curry to feed our family of 12. My dishes are a tribute to her while sharing Singaporean cuisine on an elevated level."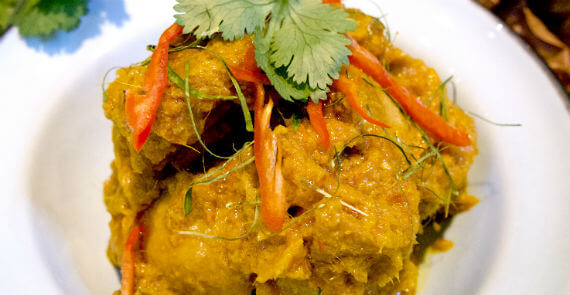 Tumeric Chicken
 
Straight from Ethan's grandmother's cookbook, the Turmeric Chicken ($28) contains juicy pieces of chicken fillet simmered in ginger, lemongrass and turmeric, to form a flavourful curry best paired with Nasi Biru ($3) – Japanese pearl rice with bluepea flower and lemongrass. Other mains include star dishes such as Babi Hitam ($39) and Rendang ($45).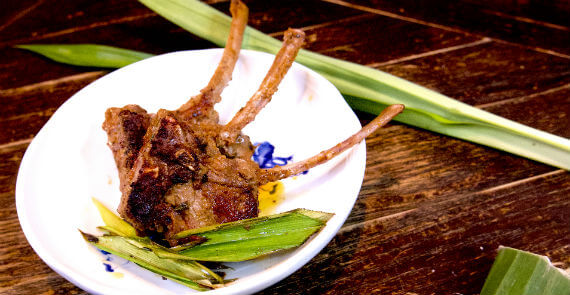 Kambing Bakar
 
The former presents a succulent slab of Hokkaido Kurobuta pork that is sous-vide then braised for 72 hours in a blend of house spices that include galangal and candlenut. The tender meat is roasted for a smoky aroma. The latter showcases slow-cooked wagyu beef loin in a rich coconut curry and mixed spices. Ethan also takes the extra step of squeezing the coconuts by hand to obtain extra-fresh coconut milk to create this dish.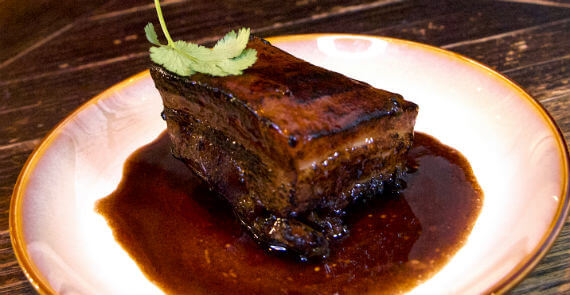 Babi Hitam
 
A not-to-be-missed dish is the Kambing Bakar ($39) – a tender frenched rack of lamb marinated in local herbs and fresh pandan leaves, and Ikan Asam ($32) – a beautifully poached, then grilled salmon fillet in an ambrosial assam, tomato and onion sauce atop a bed of chickpeas. Accoutrements such as Timun Pedas ($12) – cucumber pickles and Kampong Sayur ($19) – seasonal local vegetables stir-fried with anchovies complete the meal.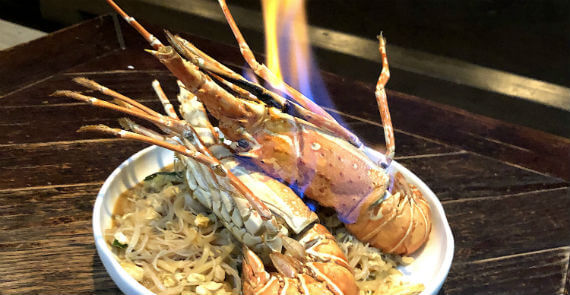 Hey Mee
 
Another highlight includes the Hey Mee ($38 for half, $48 for full), a wok-hei filled Hokkien noodles cooked in Asian rock lobster and lobster broth, stir-fried with homemade pork crackling and crowned with a half or full baked lobster. For extra finesse, the lobster is flambéed tableside for an Insta-worthy shot.  
 
For a sweet finale, Sling's sole dessert of Kueh Dadar ($26) shows off a freshly made Frenchstyle pandan crêpe, homemade young coconut espuma, toasted coconut shavings and a shot glass filled with fragrant gula Malacca syrup.  
 
reservations are essential.  
Comments
SLING – THE CONCEPT In a quiet location set amongst a beautiful row of converted shophouses, renowned Mixologist and Chef-extraordinaire, Mr Ethan Leslie Leong of Maison Ikkoku has established a little oasis called SLING. This concept bar and restaurant aims to revive the iconic Singapore Sling by introducing an all-natural craft cocktail menu that provides innovative interpretations on this classic drink. Mr Leong has combined this with a menu of familiar Peranakan favourites – a homage to Ethan's grandmother – that uses 100% natural locally sourced ingredients, and strictly, no MSG, no preservatives, or artificial flavouring or colouring. SLING - THE COCKTAILS Ethan has created five distinctive "SLINGs" that suit the modern cocktail lover: an Original SLING with enticing pineapple and lemon foam on top of a select batch of perfect ingredients; a Coco SLING served in very hip SLING branded coconut husk; the 1819 SLING that pays homage to Sir Stamford Raffles' interest in botany and so includes pineapple liqueur, cinnamon and a peppery spice; a Majulah SLING which, with the addition of Campari, is almost like a Negroni style SLING; and finally, SLING-a-pu-ra that adds passionfruit, fresh pandan, lemongrass, ginger, kaffir and calamansi which are all devilishly good! Beware – they are all so easy and delightful to drink! SLING - THE DISHES All the dishes on the menu are made from scratch on-the-day with quality. The D.I.Y. Popiah comes with instructions, which makes you appreciate even more one of Singapore's favourite dishes. Available in Vegetarian, Sweet Pork and Crispy Prawn (tempura style). We can vouch for the latter. Most of the other dishes are designed for sharing plates. The Tumeric Chicken is from a recipe from Ethan's grandmother and felt like it was made with love: the fragrant ginger, lemongrass and tumeric added to that feel. The Beef Rendang made from Wagyu beef, slow cooked in a rich coconut curry, simply melts into your mouth; the Babi Hitam is a succulent slab of Korobuta Black Pork braised for 72 hours with local spices and black vinegar and finished with hand-squeezed coconut! Then there is the less glamorous looking but so surprisingly great tasting Ikan Asam: grilled salmon in sour umami asam, tomato, onion and chickpeas – the flavours delightfully balanced. And finally, the Hey Mee, the famous Singapore fried hokkien noodles with Asian rock lobster and lobster broth. This was gorgeous and possibly my favourite. On presentation, it received a lot of "wow" from our group, but then when it is flambéed tableside – wow, wow! Did we say finally? There is also the one dessert: Kueh Dadar. It's Singaporean, it's traditional, and it's delicious. And with a shot glass of Gula Malacca to pour all over it - that is all you need! RECOMMENDATION SLING is fabulous. The location is awesome and the fit out is very cool and having such a passionate, talented and super-enthusiastic Chef and Mixologist at the helm will be sure to put a zing back into the SLING! Ethan's understanding of F&B and the use of local ingredients shine through; we loved it. And after dinner you can pop upstairs to the bar to continue the fun and have a cocktail or two customised just for you. SLING's opening date is 17 February 2020.
How amazing is this menu and the variety of cocktails!
Apart from this wonderful sounding new menu - I do hope they will still have the signature roasted goose which I believe has been on the menu since day one and is just not legal. It can't be. Something this good should only be in a museum. Every single time I am here I have it and it has been consistently good for years. The cocktails at this hideaway front need a compliment nor does the man behind the concept. Mr. Leong thank you from my mouth watering meal and for a wonderful experience overall. We will be in for sure to try this Sling edition. How cool is his ideas...