I was back at Hokkaido Marche, the amazing Japanese marketplace offering seven different cuisines in a relaxed food court setting. I love this place as it is so much more than a food court.
Stepping out of the lift into this amazing buzzy atmosphere I felt I had been air dropped into Japan. Walking around I decided on three stalls, the first being Hokkaido Buta-Don.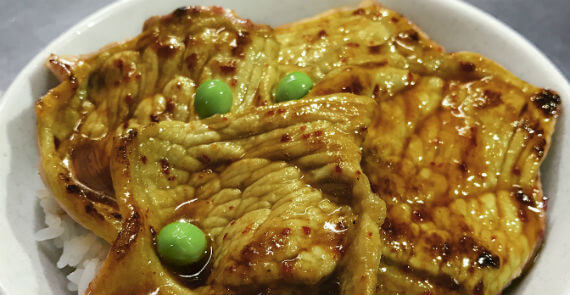 Hokkaido Buta-Don
Don in Japanese food means a "rice bowl dish" consisting of fish, meat, vegetables or other ingredients simmered together and served over rice. I decided to go for the Buta-Don with poached egg.
Marinated pork with a sweet sauce lay on top of the usual soft cooked rice, which is very typical of Japanese style cooking. The egg perfectly poached was served on top of the pork.
The trick is to very gently poke your chopstick into the egg and allow it to ooze over the pork and rice. A very sumptuous meal for $15 with a soy or miso sauce choice.
This is what I like about Hokkaido Marche. It is so well priced that it becomes affordable to many. Also because of its central location, I could see myself popping down to basement two for a quick bite, if ever I was in the area.
The food order came so fast I was amazed at how efficient these stalls were. So affordable, time efficient and delicious – a combo that many of us look for when we are running from pillar to post on weekdays.
I thought a taste of fried chicken skin would be good so I tried it. Crunchy and much like the taste of lard I had a few pieces to complement my rice bowl. There are other variations like Buta-Don with cheese and another with kimchi.
For Unagi lovers there is also grilled Unagi-Don (eel) which is one of my favourites. One thing to note is that this stall has been operating since 1934, for more than 80 years now. So they definitely know what they are doing!
My next choice was the Hakodate Shio Ramen at the Ajisai Noodle Japan stall. Famous for their shio (salt) ramen this is a must try if you are a fan of this type of food.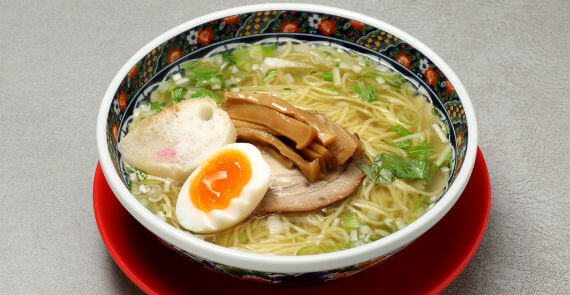 Hakodate Shio Ramen at the Ajisai Noodle Japan stall
Located in Hakodate, the southern part of Hokkaido Ajisai have an 80 year history in making ramen. I decided to have some gyoza as a complement to this very different ramen I had never tried before. This dish was subtle and I loved it.
My decision to have some gyoza was a great idea. A lovely complement I would highly recommend an add-on – char siew, egg, spring onion, bamboo shoots are all available. The different types of ramen range in pricing between $10 and $14 for lunch.
Hokkaido Marche are currently having an offer. For every $25 spent in one receipt you get a $5 voucher on the spot.  
Having started the ramen trail I thought it a good idea to try another ramen stall. Sapporo Ramen Shirakaba Sansou unlike other ramen stalls make a clear Miso soup. The soup is a rich broth, most likely a pork bone-seafood blend but neither flavour overpowers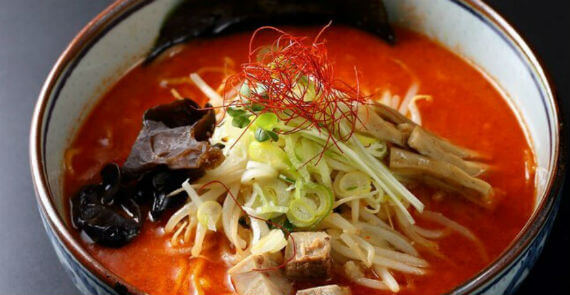 Spicy Karakuchi Ramen
I was recommended the Karakuchi Ramen which is a spicy noodle soup. To cut the spice I ordered as an add-on, the very tempting Butakakuni (braised pork belly). It was gently braised and the meat melted in my mouth.
This was in complete contrast to the subtle shio ramen I had tried earlier. Both have a place in my heart for different moods of the day. This stall is the most popular at the Hokkaido Marche with prices of each bowl at about $10.
As I finished up the three meals in front of me I noticed the banner that screamed Member's Premium Menu. All you need to do as you enter Hokkaido Marche is to scan the QR code on this banner to get monthly offers.
J passport do promotions for Japanese restaurants so download their link and this QR code will give you access to a member's premium menu. Why bother you might ask?  
Well, premium iberico udon/soba and premium black pig katsu curry/don amongst others are only available to members.
So hurry on down to Hokkaido Marche to have your meal in this wonderful marketplace that feels like Japan.
Hokkaido Marche's menu changes with the evolving availability of fresh ingredients and a wide variety of fishes and seafood sourced from Hokkaido, Japan. 
Hokkaido Marche is a market place-style food hall where you can enjoy a variety of authentic Hokkaido fare without burning a hole in your pockets.
Everything from yummy donburi topped with fresh seafood and pork, curry rice, soba, udon as well as slurp-worthy ramen. 
A café and bar complete the exciting line-up, Yes thats correct! Fully licensed at a very reasonable prices such as Premium Sapporo beer - cheapest in town at only S$6.50 per mug.
A. Orchard Central, 181 Orchard Road, B2 Call. +65 6509 9383
Comments
I'm really enjoying the write ups you are submitting Sylvia. They are informative and expressive. You really capture the essence of the visits you experience and by sharing the experiences with the community you generate interest and intrigue. I have visited Hokkaido Marche a few times now and the selection of cuisine is great. The beers are cold and really affordable at $6:50 a mug which is unheard of in Singapore.
As I walked out of Somerset Station Exit C, I stepped off the escalator at Basement 2 and turned right towards Orchard Central. I had not acquainted myself with the underworld of restaurants operating here. In barely two minutes I reached Hokkaido Marche, the only Japanese marketplace-style food hall in Singapore. The seven shops under this umbrella gives diners an opportunity to revel in heart-warming cuisine from bountiful Hokkaido! Authentic with most chefs from Hokkaido, a major portion of ingredients are also sourced from this part of Japan. If you are ever in Hokkaido and would like to try these outlets, you'd have to queue for two hours or more. So super convenient to access here in Singapore, I was pleased to find that it was full and I didn't have to queue either. While Hokkaido Marche is a Japanese food court it also has a restaurant Hanamaru (Sushi) tucked away on the opposite end (for people who might want this option). In an instant I felt like I had been transported to Japan. An avid fan of anything Japanese, I walked around to take in the myriad of stalls that were serving their specialty food. From ramen to soba, tempura to donburi.