Hero Video: Insider TV
Presenting an imaginative, minimal-waste menu in tribute to the growers and farmers who pour their hearts into their produce.
Established in 2013, The Black Swan has cemented its position as an institution favoured by the suit-cladded community and a shining Art Deco antithesis to the skyscraper-dense surroundings.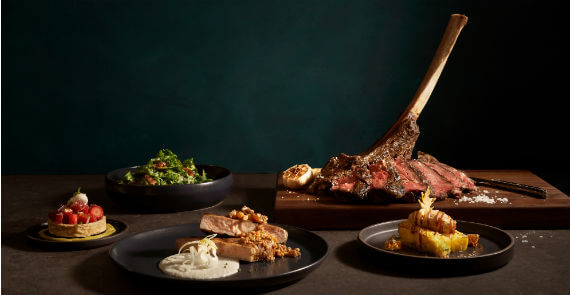 The Black Swan Dining Communal 
Now in its sixth year, The Black Swan gets a new lease of life under new Head Chef Alysia Chan. The new menu is an embodiment of Chan's deep respect for the dedicated growers and farmers who have poured their hearts into produce, and her endeavour to ensure that little goes to waste.
Chan's fervour for minimising food waste shines in her menu; where broccoli florets take the limelight in the Broccoli & Avocado Salad (only available for set lunch), the sweet yet usually discarded stems are blended with carrot leaves, sun-dried tomatoes and toasted pine nuts to make the vegan-friendly Broccoli & Pine Nut Hummus ($14).
The Black Swan Charred Sugarloaf Cabbage
Beef tallow rendered from steak trimmings are whipped into Beef Fat Butter and served with house-made Sourdough ($8); while excess mother dough, affectionately named 'Alice' by the team, is mixed with rosemary and salt, then baked into crackers that provide a subtly tangy juxtaposition to the Steak Tartare ($26) and Cheese Platter ($19/25, selection of 3/5 European cheeses).
The marinarabased Crab & Venus Clam Trofie Pasta ($32) prove's to be a satisfying surprise with its sauce laden with briny shellfish chunks, crisp green asparagus, squid ink pangrattato, all topped with fresh dill for lightness.
The new chophouse selection shies away from the usual suspects to spotlight unorthodox producers and unconventional cuts grilled over Binchō-tan to achieve a perfect crust and smoky flavour.
Highlights include secondary cuts Mishima Reserve Wagyu Ultra Flat Iron MBS 8+ (US, 250g, $60) and Westholme Wagyu Bavette MBS 6-7(AU, 250g, $54). For diners looking to share, the Vintage Beef Porterhouse MBS 3+ (AU, 800g, $152) is a popular cut that uses breeding cattle turned out to pasture for retirement and processed only when they are at least 60 months old - more than twice the age of regular cattle.
The meat then is dry-aged for 30 days, resulting in richer grass-fed flavours with luxurious yellow marbling and superb tenderness.
Chan puts a delightfully fun spin on her desserts to ensure the meal ends on a sugar high. A delicate reimagination of Chan's favourite candy bar, the Twix Tart ($12) boasts a rich dark chocolate ganache and sea salt caramel filling, cookie crumbs and
chantilly cream.
A nostalgic nod to her early school years in England, the classic Strawberry & Rhubarb Tart ($14) balances the bright fruity acidity with sweet custard, all perched on a crisp puff pastry tart shell.
The Black Swan's extensive dining experience also includes a lush alfresco garden patio, on top of an exceptional private dining experience in the bank's former vault. more information here
Comments
Walking into the Black Swan felt regal. Once upon a time this building housed the Kwang Tung Provincial Bank. With high ceilings and low-lit lights my heart raced at the thought of dinner at this very special venue. When the Black Swan first started it was a European style bistro. Having morphed over the years to pace the palettes of patrons, it is more known today as a protein style steakhouse. This is very much the brainchild of Chef Alysia Chan. Her approach to food is very protein based with minimal waste. She believes this comes out of respect for her ingredients. I loved the fact that she sits at the helm of an all-girl team in what I might say is a very masculine art-deco style restaurant. I was promised a tour of the private dining room in the basement which was formerly a bank vault….after dinner. The house-made sourdough with beef fat butter arrived. Chef Aly as she is more fondly referred to, has nurtured the sourdough mother in Singapore for more than six years. She created the starter herself right here in Singapore and very creatively decided she would name her Alice. So Alice is the one and only Singaporean mother that exists. How cool is that! Served warm at the Black Swan, the sourdough was accompanied with beef fat butter. My head was screaming calories!!! But then again Keto diet enthusiasts may just rush down for this. Soon after the broccoli and pine nut hummus arrived with polenta chips. As Chef Aly's philosophy is no wastage, she uses broccoli stems for this dish which she claims are the sweetest part of the head. The chips were crunchy and chewy, a really awesome texture to tuck into and vegan friendly too! I tasted a few delights on the charcuterie platter – house made guanciale (Spanish cured meat which I had never tried before and had a few layers of fat), lardo (pork lard) and 'nduja (a spicy paste made out of chorizo type sausage). This was a serious platter that called in the true fat lovers. Me? I was getting a bit worried that I'd over done my calories for the week and I still had two more starters to get through…. The next starter of Venus clams with bacon and Stella Artois was divine. Dunking my bread into the lightly creamed sauce I could not let this dish go to waste. This was one of my favorite dishes at the Black Swan. Last but not least the San Marzano tomato & Hokkaido corn salad was a great pick up to lighten the heavy fare I had eaten. Tossed with arugula and baby spinach, it was dressed very lightly with white balsamic vinegar. With tomatoes imported from Italy, corn from Hokkaido and onions from Spain there was a distinct freshness to this otherwise plain salad. What a difference good produce makes! I have to say the Black Swan has a good team of people managing every part of it. Heading up the bar was Joanna who curates cocktails and does so passionately. She made me a Cecil Sour cocktail which is gin based with berry shrub, raspberry and egg white. It's what saw me through my five starters comfortably. I chased this with a glass of Portuguese wine which Joanna recommended. Herbaceous and so very different this Anselmo Mendes "Muros Antigos" Escolha 2017 from Portugal was truly something special. I would highly recommend you try it when you are next at the Black Swan. It was time to move to mains. I started with the grilled Maine lobster with black barley & corn risotto, burnt scallion and romesco sauce. This is a play on lobster Thermidore. While the lobster was fresh and tasty what captured my interest was the risotto. Chewy from the barley I found it to be light rather than starchy from Arborio rice. A good option to consider when making risotto next. It was also the first time I had real romesco sauce in Singapore! The crab and venus clam trofie pasta followed. In true Chef Aly style, bits of sourdough bread were added as topping to this dish to give it texture. Nothing to be wasted remember? I found service to be very personal at the Black Swan. With accolades behind this restaurant like winner of Singapore Tatler's Best New Restaurant in 2014 and Weekender's Foodmania Awards in 2017 this was a pleasant surprise. This restaurant housed in a beautifully-restored 1930's landmark is so well located in the business district. It was a Tuesday night and every seat in the house was taken. I prevailed upon Joanna to recommend me a red wine. So she brought me a El Brindis by Franck Massard 2015 from Spain. This went so well with the roasted Hokkaido pork loin served with vanilla cauliflower puree, raisin pine nut agrodolce & fennel and nashi pear salad. What a sterling dish! The accompaniments were as stunning as the taste of the pink roasted pork loin. I have to say when meat is reared well it oozes taste and is so satisfying to the senses. This was definitely another favourite for me at the Black Swan. Last of all I had the vintage beef ribeye MBS 3+ from Australia and the Mishima Reserve Flat Iron MBS 8+ from the U.S. I am glad both were served together as it gave me the opportunity to have a slice of each and compare the difference. As I am a meat lover I devoured them both shamelessly adding the charred sugarloaf cabbage as a side. This reminded me of my growing up days when mum would have cabbage and grilled meat often on a Sunday. Cattle are reared for 5-9 years and are 100% grain fed to get to the quality and texture of the Vintage ribeye. In contrast the flat iron comes from the shoulder primal part of the cow and is highly marbled since there is a lot of activity in the neck area. I couldn't believe I had made it to the tail-end of the menu. It was time for dessert. So unique and clever that Chef Aly is using resources from Singapore the roasted pineapple was a no brainer. Served with rum caramel, honeycomb and brown butter ice cream it was simply devilish and divine. It is often said that the healthiest food we should eat are the ones that come from the land you live in rather than imported from other countries. Eat seasonal produce and so this is one example of how we can take advantage of the delicious fruits grown on our doorstep. Juicy and luscious every bite burst into a mix of flavours that is really hard to describe. You'd have to go there and eat it if you know what I mean. The strawberry and rhubarb tart with custard, lemon curd and crème fraiche was tangy and delicious too. But the icing on the cake to top the night was the TWIX tart – dark chocolate ganache, sea salt caramel, cookie crumb and Chantilly cream. It was like being a little kid again in a candy bar. It was time to take a tour of this beautiful restaurant the Black Swan. I wandered down to the vault feeling like I was going into a dungeon in a Harry Potter movie. As I entered the private dining room it was a burst of charm and elegance. Wow! Corporates have their special lunches here where 12 pax at the maximum, can be accommodated. Walking up to the main dining again I crossed the various styles of seating. High stools with a long bar, an alfresco dining area and a walk up another flight of stairs to the Powder Room. This is a stunning private room fit for a party of 60 people. With a variety of seating from low chairs to stools and its own bar I loved the intimate and personal ambience created here. If you are looking for a spot to entertain, this is worthy of consideration. This night was a very special night, one that I will remember forever. The mild chatter from having a full house of patrons in an illustrious setting was an indescribable feeling. Looking at it from the outside was so contrary to the feeling I experienced on stepping in. If you are like me and have never been to the Black Swan I urge you to try it. Take that first step in and experience the most glamorous spot in town!
I have visited The Black Swan five times now and the overall dining experience never grows old. Superb setting. Order the duck Confit & the streak is awesome withe a few to select from. The Duck Confit was delicious and the steak was cooked to our requirement. Over all extremely delicious and constant. We love coming back here time and time again