Image Credit: The Summerhouse Facebook Page
You're about to leave for work when an adorable furry face looks at you with innocent eyes and your heart breaks a little as you step out.
I mean wasn't your doggo the one who made you feel at home in Singapore? Of course, leaving them behind is the hardest but you don't have to do it all the time. There are awesome restaurants and eateries on the island serving amazing coffee, drinks and delicious bites and also welcome your pets with open arms. Here are the ones we love!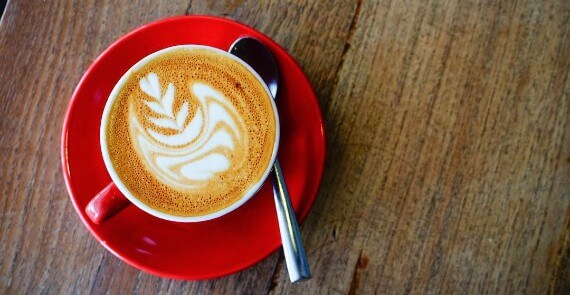 Image Credit: Lola's Cafe Facebook Page
Let your furry pal make some friends or simply laze around at Lola's Cafe. We love going here for brunches and to binge on their Pulled Pork & Avocado Eggs Benedict (S$16), Ultimate Croissant (S$15) featuring a butter croissant with honey-baked ham, honey mayo, cheddar cheese and cajun scrambled egg, and Tomato Swimmer Crab Linguine (S$18). They also have a variety of coffee and tea but you must go for their Bailey's Affogato with chocolate and vanilla bean ice-cream.
A. 5 Simon Rd, Singapore 545893
S. www.facebook.com/lolascafesg/
Video: Expat Choice Asia
Get a drink with your best bud along at Deadfall but do call a human friend too because you'll need someone to drive you both home! While you sip on your regular drink or signature cocktails, your furry buddy can roam about, munch on treats and slurp on the water bowls placed near the outdoors bar. We recommend their Scarlet (Remy Martin Cognac, Wild Turkey Rye, Vermouth, Absinthe, Raspberry), Emerald (Arquitecto Tequila, Cointreau Coriander Salt, Grapefruit, Lime) and Aurum (Mackintosh Malt, Ginger Honey, Nori, Lemon), each for S$20. Pair your drinks with Cubano-style Pork, Jalapeno Poppers or House Nachos.
A. 16 North Canal Rd, Singapore 048828
S. www.facebook.com/barbarycoastsg/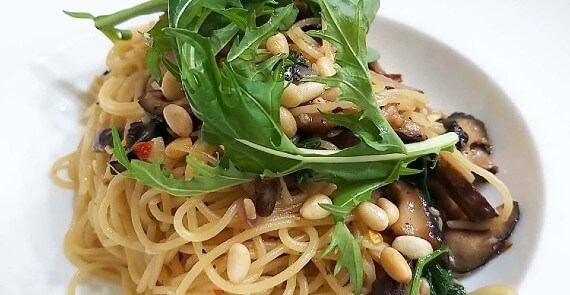 Image Credit: Sun Ray Cafe Facebook Page
Sun Ray Cafe is one of the best places to sip on freshly brewed coffee and enjoy time with your doggo. The menu has pet-friendly dishes like Pet Scrambled Eggs Doggie Muffins, and Home-made Beef Shepherd's Pie in case your buddy gets peckish. Plus, they even make cakes for them if you give them two-days' notice. It is a coffee roastery as well so the coffee is absolutely amazing, but we also love their menu items like Chili Crab Pasta (S$14) and Buffalo Wings (S$8). Don't forget to pick up a loaf of bread, made in-house, on your way out.
A. 79 Brighton Cres, Singapore 559218
S. www.facebook.com/SunRayCafeSG/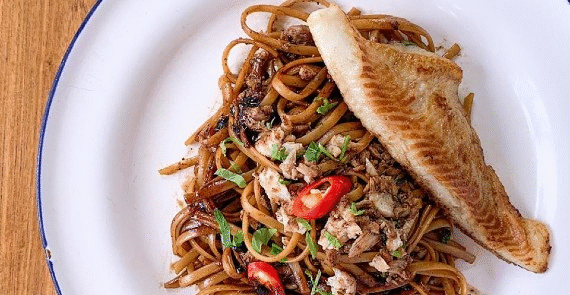 Image Credit: The Coastal Settlement Facebook Page
The alfresco area at The Coastal Settlement is full of greenery, waterfalls and feels like a picnic spot. Perch yourself on one of the tables and let your doggo enjoy the fresh air as you indulge in some high-tea (S$19) consisting of macarons, panna cotta, assorted cakes, mala fish balls, salmon ceviche, mini curry puff, pain au chocolat, ham cheese and tomato croissant with free-flowing tea or coffee. You can also go for their ala carte delights like Spam Fries (straight-cut luncheon meat, sriracha mayonnaise, chilli sauce) for S$14 or Wagyu Beef & Mushroom Pizza (S$25).
A. 200 Netheravon Rd, Singapore 508529
W. www.thecoastalsettlement.com/
S. www.facebook.com/thecoastalsettlem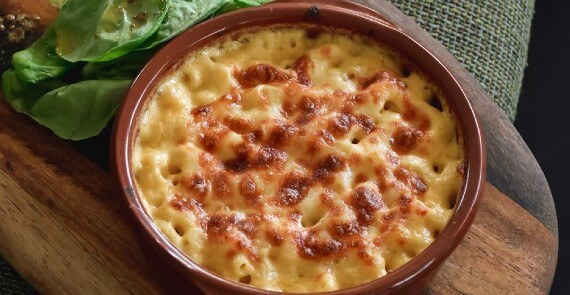 Image Credit: Wildseed at The Summerhouse Facebook Page
Pooches find it easy to relax and play at the lush, scenic outdoors ambience at either branch of Wildseed Cafe. It's a brilliant place to find some quiet time to read or even fire up your laptop and finish pending work as your doggo gets busy in making some new friends or chasing a butterfly. Savour their signatures like Bagel Eggs Benny (S$16) featuring toasted bagel, sous vide eggs, hollandaise served with smoked salmon or crispy bacon or Pure Lemon Tart (S$9.5). They also make amazing coffee and have fancy choices of latte like Wildflower, Chai, and Matcha.
A. Seletar Aerospace Dr, 3 Park Lane Singapore 798387
W. www.thesummerhouse.sg/wildseed-cafe-bar/
S. www.facebook.com/wildseedsg.summe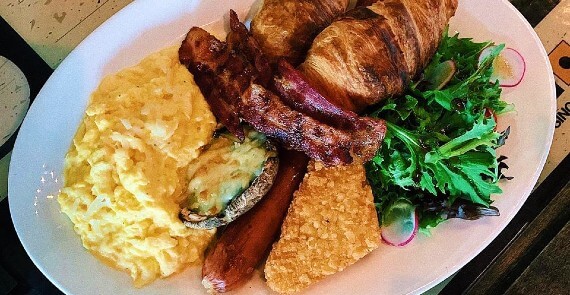 Image Credit: Kontiki Facebook Page
Offering gorgeous views of the pristine Kallang River and Marina Bay skyline, this is a perfect place for you and your pet to unwind. Sit back with a chilled beer and enjoy American treats like a Double Cheeseburger (S$22), Flame-grilled Pork Chop (S$24), or a Kontiki Big Breakfast (S$14) featuring scrambled eggs, croissants, crispy bacon, frankfurter, hash brown and a little salad. Their delivery game has been strong throughout the circuit breaker and is still available, but it's time to experience their nautical setting, sit under a canopy and enjoy the well-deserved outing.
11 Rhu Cross, #01-02, Singapore, 437440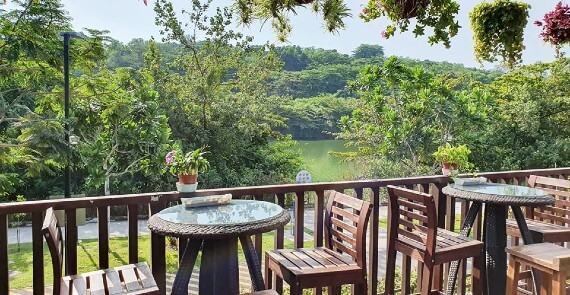 Image Credit: Whisk & Paddle Facebook Page
Sit back and sip on some hot coffee and take a bite of croissant as you take in the scenic views of River Punggol at Whisk and Paddle. The cafe welcomes you and your pet and offers the much-needed peace and quiet you've been craving for after a hectic week at work. Supplement your quiet time with some delicious treats like Fish & Chips (S$25.8), Lamb Shank (S$30.8), Crabmeat Linguine (S$17.8), Italian Carbonara (S$15.8), or Sambal Seafood Pizza (S$22.8). They also serve classic cocktails, bar bites and all-day breakfast.
A. 10 Tebing Lane, #01-01 828836
S. www.facebook.com/whiskandpaddle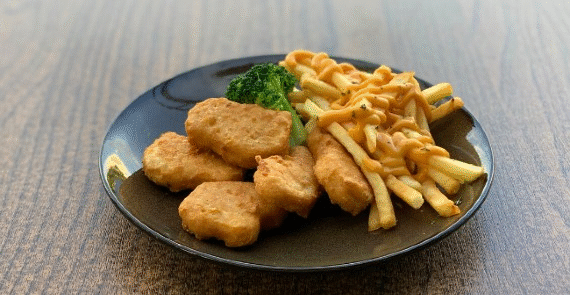 Image Credit: Five &2 Facebook Page
Heading down to the Punggol Park with your pooch? Don't miss out on experiencing Five &2, a bistro offering a beautiful al fresco ambience for both of you amidst the greens. Let your buddy relax on the comfy wooden floor as you tuck into a delicious bowl of Spicy Vongole with Light Cream Broth (S$19.80), Seafood Pasta in Tomato-based Sauce (S$18.80) or Singapore Laksa (S$8.80). They also have awesome treats for your dog like Crispy Salmon Cube with Carrot Puree (S$15.80), Pan-seared Beef Cubes with Carrot Puree (S$15.80) or Feed My Paws Pet Treats.
A. 97 Hougang Ave 8, Punggol Park, Singapore 538792
S. www.facebook.com/fiveand2.co/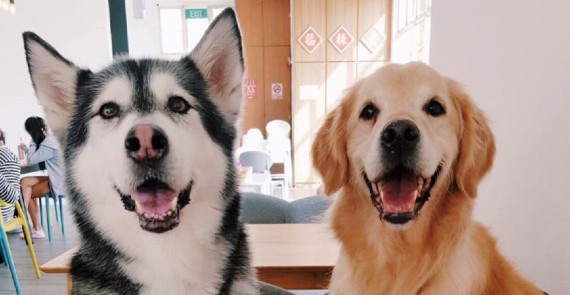 Image Credit: Ménage Café Facebook Page
A pet lovers' paradise, Ménage Cafe is run by owners who themselves have pets and wanted to give people a place to hang out with their furry buddies. You'll fall in love with the adorable chairs with pictures of dressed-up dogs and other pets. Relish their Truffle Crayfish Pasta (S$21.90), a creamy mushroom linguine or Signature Fish & Chips (S$17.90) made in beer batter and served with truffle fries. Your pooch can meanwhile relish sous vide meats like pork loin, chicken breast, salmon or lamb steak and even wagyu beef. They also have meatballs for them.
A. 6 Sin Ming Rd, #01-01/02 Singapore 575585