The latest menu by Restaurant JAG's Executive Chef and owner Jeremy Gillon takes diners on a delectable culinary bliss.
The epitome of contemporary French fine dining, the restaurant reveals layers of unimaginable textures, aromas, temperature and flavours, inviting you to use all your senses as you savour the meal. In the folloiwng we highlight four dishes you can expect to delight in.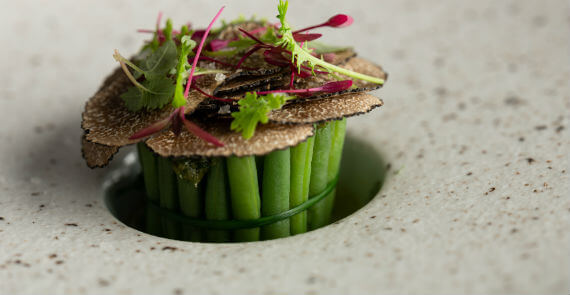 Get inspired with blanched beans from France, elegantly tied in a bundle held together with a dainty chive knot, cooked to crunchy perfection. The crisp of the beans is balanced beautifully with the natural juice of this summer veg.
Sitting like an island on an aromatic parsley garlic butter, the final touches are the black truffles, also from France.  Agastache herb plays a key part in enhancing the flavours of this dish.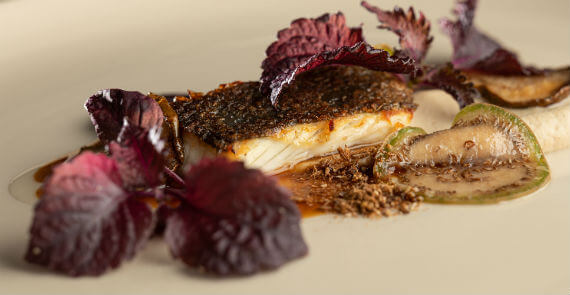 You will love the French aubergine prepared three ways - pureed, olive-oil pickled and grilled.  The fresh Plaice skin is pan-seared and grilled to achieve perfect crisp while the moist flesh remains succulent and tender. The fish jus accentuated with the with the aromatic carvi herb.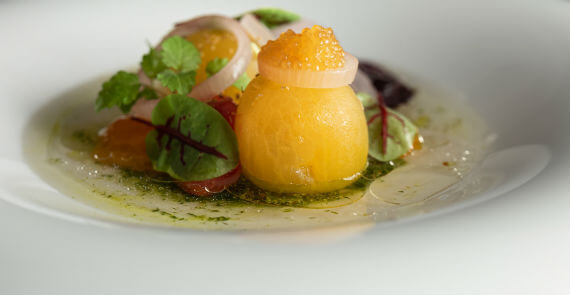 Restaurant JAG Surreau Cherry Tomatoes Pike eggs
The luscious French tomatoes with its naturally vibrant hues of reds, yellows and orange, crowned with golden pike eggs is transformed into confit and pickled savoury delights.
The confit tomatoes prepared with cinnamon bursts with flavours and its naturally oily and sweet flavours. The pickled tomatoes also retain its luscious texture. For an elegantly simple dish, the technical cooking methods including the tomato water dressing is highly complex.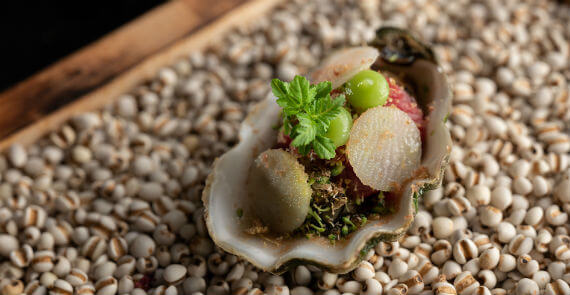 Restaurant JAG Chamomile Wagyu Beef Boudeuse Oyster with Broccoli
Celebrated by chefs for its dainty size but sweet, succulent and very generous meat, the French Bourdeuse oyster is perfectly paired with a strip of prized Australian Westholme Wagyu. The oyster lightly torched and layered with the sliver of sushigrade wagyu. Pickled and jellied broccoli adds the freshness and is finished with a dusted of chamomile powder.
As with the ingredients, an impressive wine menu, signature cocktails and commitment to flawless dining experience for their guests is unrivalled. Inspired by the beauty and nature of the mountainsides in Savoie, France, 40 indigenous herbs are thoughtfully selected from the region then exclusively flown into Singapore.
Every dish at Restautant JAG is intimately created to highlight the distinctive trait of each herb.  At the heart of every chef and restaurateur is the desire to create and inspire – To craft food and experience in such a way as to leave you wanting more.
Pricing starts from $58 for a Three Expressions Lunch and $168 for a Seven Expressions Dinner
A. 76 Duxton Rd 089535 W. www.restaurantjag.com P. +65 3138 8477