Hero Video Credit: Insider TV
Since its establishment in 1963, Gordon Grill has been a prominent curator in orchestrating exquisite fare of Continental cuisine and fine steaks in Singapore.
From 2 August 2019 to 29 September, the elegant restaurant presents a gastronomic journey around Europe with time-honoured dishes specially curated by the culinary team.
Available during lunch as a three-course set menu and dinner with a choice of four-course set menu or an eight-course degustation, the repertoire highlights the gourmet exemplars of European regions such as Greece, France, Hungary, Italy, Spain, Norway, Great Britain, Portugal, Germany and Austria.
For an indulgent experience, the affable team at Gordon Grill recommends the eight-course degustation menu complemented with a selection of wines.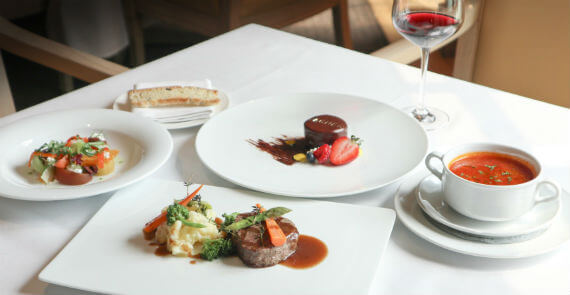 Picture Credit: Gordon Grill Tenderloin Farmer Salad Minestrone & Sacher-Torte
The elaborated voyage begins in Greece with a refreshing Farmer Salad of heirloom tomato, roasted red capsicum, marjoram-onion purée, baby greens, Kalamata olives, feta cheese dressed with lemon-olive oil and topped with herb crouton. The entrée highlights the luscious Pan-fried Foie Gras with balsamic cherries and rocket leaves. Foie gras was a royal delicacy well-loved by the French king Louis XVI, and it is now the perennial love of many gourmands from around the world.
The hearty Goulash Soup – slow-cooked with beef, onion potato, sweet paprika, caraway seeds – is one of the national soups of Hungary. The soup was created during medieval times to warm the hearts of Hungarian herdsmen during winter. On a lighter note, the Italian classic Traditional Minestrone brings to the table a soulful ensemble of stewed vegetables.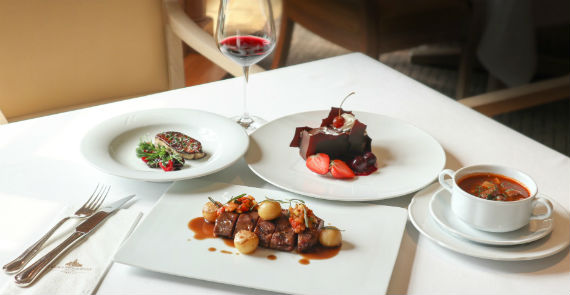 Gordon Grill Iberico Pork Foie Gras Goulash Black Forest Cake
The four courses are paired with a choice of Chablis Louis Jadot, Burgundy, France or Zenato Lugana DOC, San Benedetto, Italy. The main course presents Grilled Angus Tenderloin served with Scottish clapshot, butter vegetables and red wine jus.
This dish showcases the remarkable produce of the Great Britain, which is one of the pioneers in breeding the widely-known cattle – the Aberdeen Angus. Renowned for their sea bounty are the Portuguese with the succulent Grilled Tiger Prawn served with eggplant purée and tomato-sweet paprika rice.
The main courses are paired with a choice of Luis Canas Reserva Rioja, Spain or Chateau Villa Bel Air, Grand Vin De Bordeaux, France.
For a sweet finale, the desserts present Black Forest Cake and Sacher-Torte. The former is believed to have originated in the 16th century in the Black Forest Region and named after the area's renowned cherry brandy. Sacher-Torte, one of the most famous Viennese desserts in Austria, is a rich chocolate cake created by a young Austrian Pastry Chef Franz Sacher in 1832 for Prince Clemens Lothar Wensel Metternich.
The cake received astounding compliments and came to be named after the pastry chef in the later years. Complementing the desserts is the Erdener Herzlei Riesling Spätlese, Goldkapsel, Germany, or Ceretto Moscato d'Asti, Italy.
Tour Around Europe at Gordon Grill (2 August to 29 September 2019)
3-Course Set Lunch at $78++ per person, available from Mondays to Fridays and includes Appetiser or Soup; Main Course; Dessert
4-Course Set Dinner at $98++ per person, available from Mondays to Sundays and includes Appetiser; Soup; Main Course; Dessert
8-Course Dinner Degustation Menu at $168++ for two guests
8-Course Dinner Degustation Menu at $228++ for two guests with three glasses of wine pairing each
Dine-in prices stated are subject to 10% service charge and prevailing government taxes.
A. Goodwood Park Hotel, 22 Scotts Rd 228221 T. +65 6737 7411 W. www.goodwoodparkhotel.com E. [email protected]
Comments
We were enjoying all of our meals, great value for money, casual informal restaurant. We will definitely come back, Good food selections, staffs are friendly and quickly services and ideal for lunch or casual dinner. TripAdvisor Gordon Grill seldom fails to deliver. 4 visits there and quality is always there. Great place to have steaks and having the servers bring their steak cuts out and cutting and weighing them in front of you was a great experience. Other items to order will be their escargots and desserts. You hardly get tired of having them. Nice and quiet place to relax with their extensive wine list and friendly staff and servers. TripAdvisor This is one of the remaining old world charm in Singapore, where we could get a quiet relax lunch. Parking is easy. We have been coming here since the 70s, it has always been charming and consistent. The cooking is solid, without too much fancy presentation. Price of the set lunch 3 courses including gourmet coffee understandable has gone up substantially over the years, but it is still of great value about S$68 per head. I particularly like the concept that one can choose 3 types of appetisers and 2 types of dessert. There are 3 main course for selection. It is still one of the best place to have a clam and relax lunch break. Highly recommended. TripAdvisor