There was a time, not so long ago when Happy Hour deals meant enjoying late afternoon drinks at a bar at cheaper prices, before the evening rush.
In Singapore, Happy Hour specials are happening each and every day and often during peak hour, even on a Friday or Saturday Night. The competition is fierce and bars everywhere are wanting to attract your dollars, so we have taken steps to seek out the city's best deals for beers, wines, sakes and cocktails alike. Time now for us to share the Love!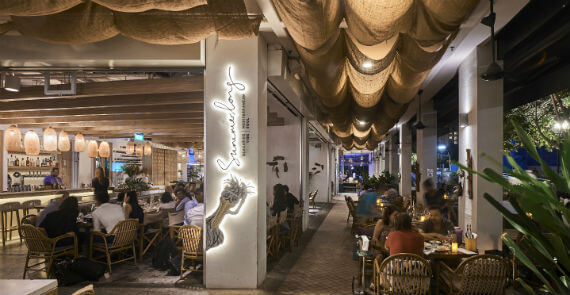 They've got a casual barefoot vibe, with a chilled attitude and fresh bold flavors. The place is exactly like a beachside cafe, but without the beach, perfectly located along the Singapore River. The menu is based on fresh flavors, everything casual and approachable. Summerlong, the eastern Mediterranean riverside restaurant has also launched Happy Hour specials every Tuesday all night long from 5.30 pm onward.
The offerings will feature a selection of Prosecco, House Red, House White, Pimms Lemonade, and House Beer all at $9++ A. 60 Robertson Quay, #01-04 238252 T. +65 6235 1225
Unwind every Wednesday 6pm-10pm with some serious pick-me-up for the ladies which includes complimentary free-flow for all Ladies of free-flow lime margaritas, flavoured martinis, white wine, and red wine - and it's all on The Exchange no purchase necessary. That's right - no charge whatsoever ladies...Now that's a deal and a half, mind you, most go on to drink up big with the great prices of alcohol available all night long.
This is a classy spot and you will be surrounded by the office crowd, so ladies, put on those heels and head on down to the exchange on a wednesday night - you never know what is in the stars. < More Here A. Asia Square Tower 1, 8 Marina View, #01-05 018960 T. +65 6636 1200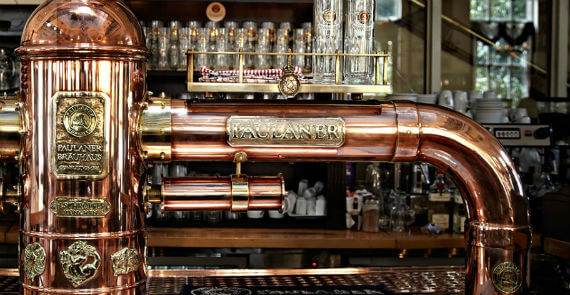 You asked for it, You got it. Paulaner Bräuhaus take it one step further. 1-FOR-1 BEERS* 7 days a week, 11 am until 7pm. This is the most courageous Happy Hour in Singapore proving now for 22 years, German Beer is at its most popular and most refreshing when you drink with friends at Paulaner Bräuhaus.< More Here A. 9 Raffles Boulevard, #01-01 039596 P. +65 6883 2572 E. [email protected]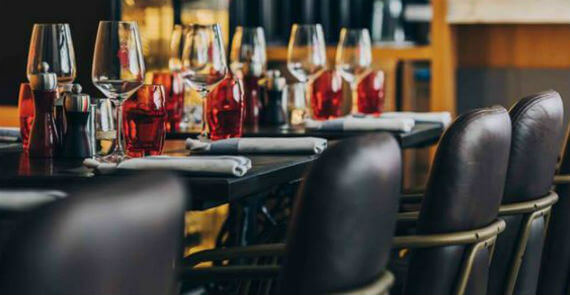 Ginett is a contemporary restaurant and wine bar in Singapore's historic Arts District. Situated at 200 Middle Road, Ginett is a go-to destination for guests looking for a relaxing yet buzzy escape. Hearty European favourites, superb French wines from $6 a glass all day long, quick and easy set lunches and late weekend brunches, are all part of Ginett's wide-ranging offering, making it a memorable and accessible experience for everyone.
Ginett is helmed by General Manager and Chef de Cuisine of R&B Lab, Sylvain Royer and is open daily from 6 am to 12 am. Serving breakfast, brunch, lunch and dinner, it's also a place for you to enjoy a drink with friends before or after your meal. Ginett is located on the first floor of Hotel G Singapore and features high ceilings, an open mezzanine with private working spaces, booths, and communal tables. < More Here A. 200 Middle Road 188980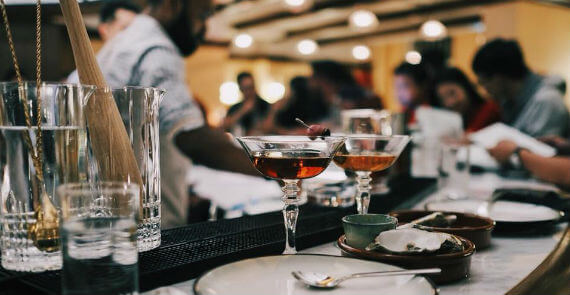 A collaboration between Hong Kong's Young Master Brewery and Chef Vinny Lauria, The Guild is a restaurant and bar focused on thoughtfully handcrafted offerings, from culinary to craft beer, delivered with old fashioned hospitality and warmth. Housed at 55 Keong Saik Road, The Guild serves up comfort food highlighting locally sourced ingredients and an extensive drinks menu that includes 19 different taps of independent craft beer, natural wines and cocktails based on small batch spirits.
Enjoy a range of brews on tap at just $10 from 5-7pm, Tue-Sun. Our pick is the Classic Pale Ale. < More Here A. 55 Keong Saik Road, #01-01 089158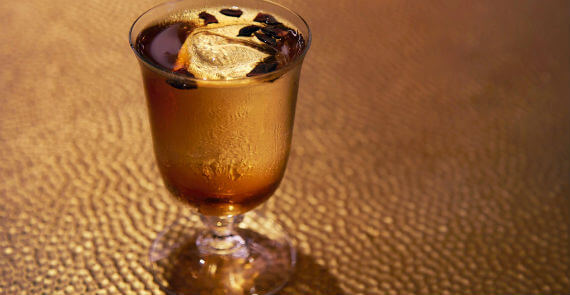 The Vagabond Club is Garcha Hotels' first luxury boutique opening of a collection of hotels in an expanding list of cities from Singapore to Santiago. It is the only hotel of its kind in Singapore to offer a rotational 'artist in residence program. In the evenings, enjoy fine tipples at Bar Vagabond, one of Singapore's best hidden bars, open from 5 pm to midnight daily. Get a nit high as your sip on cocktails at The Vagabond Club hotel's oriental chic bar.
This bar is perfect for the after work crowd, 1-for-1 drinks Monday to Friday 5-8pm, Try something from the hip list of Asian-inspired concoctions. < More Here A. 39 Syed Alwi Road 207630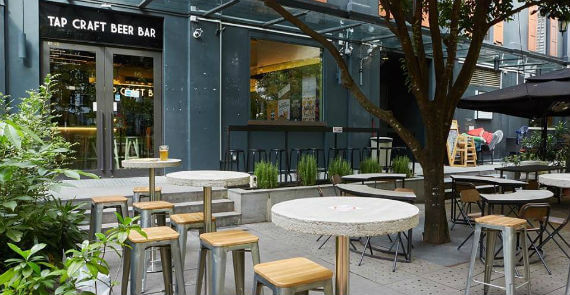 Tap Craft Beer Bar is an open concept bar featuring, rotating international craft beers on draft, different bottled varieties of craft beers, wines, spirits & juices, plus a curated food menu to bring you brand new selections every month. Bt best of all they offer excellent prices at $10 ++ per Pints and Wine. It may not be a true Happy Hour, but you will be Happy for Hours when yu are drinking such quality at these prices. < More Here A. 86 Robertson Quay #01-02, 238245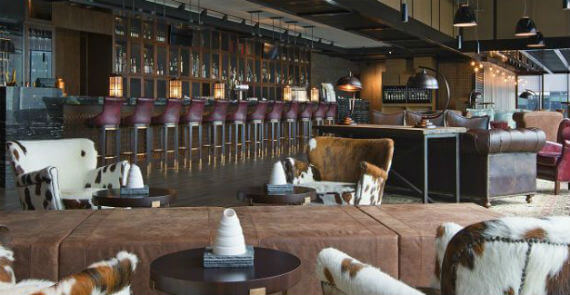 As one of the most distinctive hotel bars in Singapore, Cook & Brew remains the perfect contemporary setting to indulge in classical bar favourites paired with a carefully curated selection of fine wines, cocktails, and 112 different craft brews, against stunning views of Marina Bay. Cook & Brew, The Westin Singapore's specialty gastro-bar at Level 33, offers tantalizing lunch, dinner and bar fare menus, Make every Wednesday and Friday a Cook & Brew night.
This sky-high gastrobar offers $10 nett deals on house wines, beers, spirits and classic cocktails from 5pm until closing on those two days of the week, plus live band performances from 6pm to keep things upbeat. < More Here A. Asia Square Tower 2, 12 Marina View 018961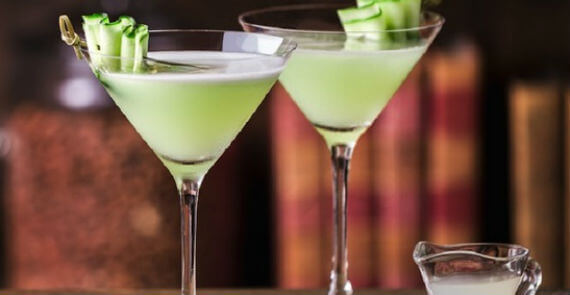 Martini bar is a haven for real martini lovers. The glass-enclosed bar on the mezzanine level has one of the largest selections of martinis in the city and won numerous awards for being the best bar in Singapore. From 5:00pm to 9:00pm daily, enjoy a special price of SGD 14++ on all signature and classic martinis, handcrafted gin and tonics, sustainable wines by the glass along with other selected house pours.
If you are in the mood for a beer, enjoy a few at $9 a pint or a sweet $16 for a glass of Sparkles. $56 will get you house pour wines by the bottle. Share the love! < More Here A. 
Enjoy Happy Hour at Sentosa Cove's Boaters' Bar DRINKS AT $5 ALL NIGHT. A sweet deal. No gimmicks, no happy hours. Beer, house spirits, house red and white going at $5+ all night.  One degree and fifteen minutes north of the equator lies ONE°15 Marina Sentosa Cove, Singapore – your gateway to a wondrous world of unrivalled luxury. Singapore 's floating bar, a breathtaking setting for small gatherings at the dockside.
Wednesday – Sunday & Public Holiday, 5pm – 11pm, Friday – Saturday and Eve of Public Holiday, 5pm – 12am  Write A Review A. Sentosa Cove, 11 Cove Drive, #01-01 098497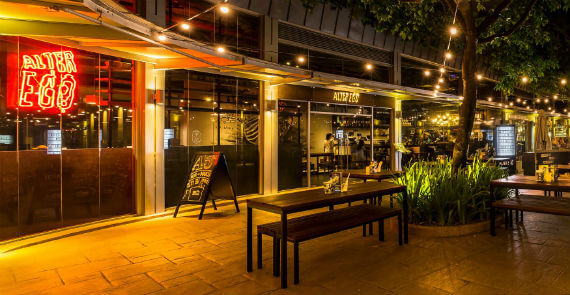 Alter Ego is the second self of A Poke Theory, dishing out healthy Hawaiian poke bowls by day, a selection of over 20 craft beers + the most unapologetically sinful bar grub by night. Happy Hour happen from 6pm rght through until they close.Get Gin & Tonics for just $5, pints of beer at $11, 1-for-1 house white and red wine for $16, and bottled beers at only $5-6. < More Here A. Esplanade Mall, 8 Raffles Avenue, #01-13D 039802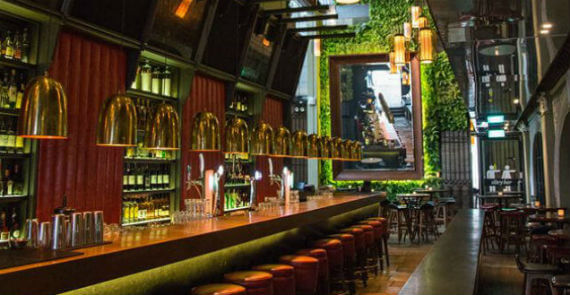 Stumble upon a charming opening into an alleyway…Alley Bar Promo $10 beers, $8 wines and $6 house spirits available from 5-9pm every night. Then on Tuesdays after 9pm, you'll get shots of Blow Jobs and Lemon Drops for a mere $5. 
You'll find yourself swept away by the airy ceiling dotted by its iconic lamps, hung above a handsome 15m-long black terrazzo bar, leading down to a modern gilt-framed mirror – and a bustling scene, chilling to the groove of deep house and lounge beats.< More Here A. 180 Orchard Road, Peranakan Place 238846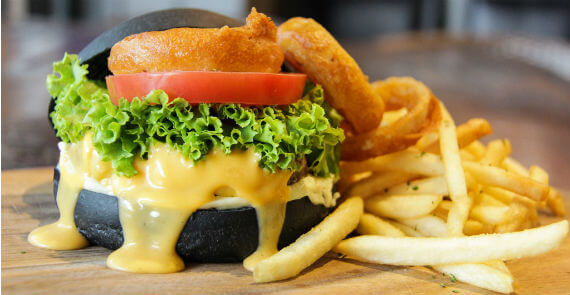 Pictured: 1855 Beef Burger 180g Homemade patty, arugula, momotaro tomato, onion ring, matured cheddar, mayonnaise, charcoal bun, shoestring fries. Bistro 1855 takes happy hour to the next level by offering affordable draught & bottled beers, premium house wines and spirits from as low as $6-$9 per glass - all day long. When night falls, this popular outlets, Bistro 1855 at Suntec City transforms into a watering hole, ideal for a chill-out Happy Hour evening.
Dishing out delectable and affordable bar bites, main courses and sharing platters, paired with their polished selection of house wines, it is sure to win over punters! < More Here A. Suntec City East Wing, 3 Temasek Boulevard, #01-643 Tower 4 038983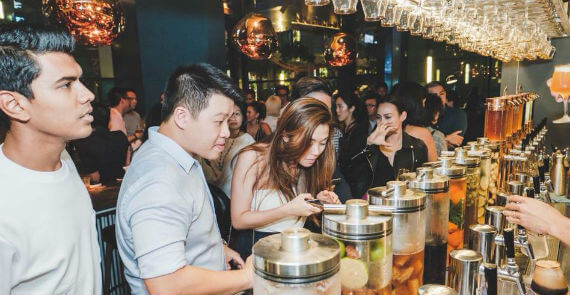 Sister venue to Little Island Brewing Co. Alchemist Beer Lab is the first beer infusion bar in the world to house a grand total of 16 sleek and state-of-the-art towers. Alchemist Beer Lab turns the ordinary into the extraordinary. You can get a great deal here with $12-13 pints or $32-35 jugs of their draft infused brews from 4pm-9pm on Mon-Wed and from 4pm-7pm on Thu-Sat.
The Happy Hour also includes infused cocktails on tap from $12-15.< More Here A. 26 Beach Road, #B1-16 189768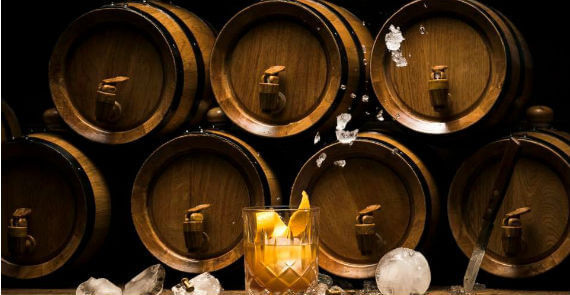 Sofitel Singapore City Centre's fifth floor lobby lounge 1864 is a popular spot for the gorgeous High Tea sets, but from 5pm through to 7pm, Monday to Thursday only, this lush location turns into a happy Hour cocktail bar where a selection of beers, wines and house pours are all yours for a mere $12 a pop! When night falls, the mixologists take over, serving cocktails, wine and Champagne until midnight. < More Here A. 9 Wallich Street 078885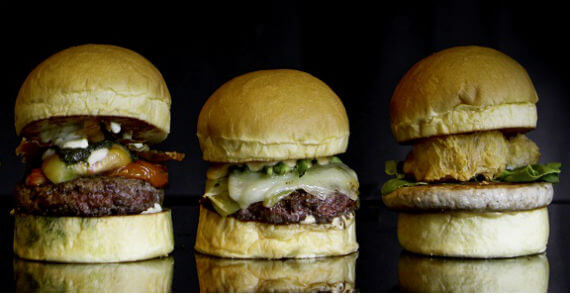 Popular french hangout Ginett, is the place to be for $6 all day glasses of wines but sister act, 25 Degrees, Hotel G's gourmet burger restaurant is perfect for your all-American burger and thirst quenching beer experience. Visit between 3pm-7pm and you'll quench your thirst with 1-for-1 half pint beers and selected bar snacks 7 days a week. < More Here A. 200 Middle Rd 188980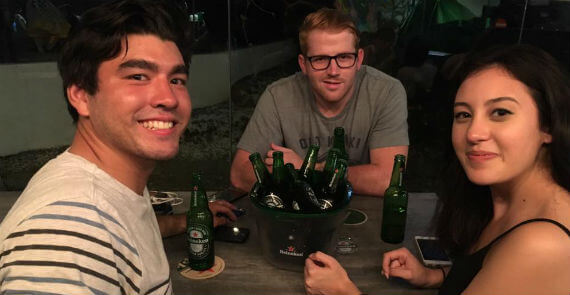 Picture Credit: Al Capone's FaceBook Page
This not a happy hour deal but Al Capone's located at the Scape Bulding on Orchard Link. has merit to make our list. Nothing tops Al Capone's price wise. Cheap booze, good live performaces on Fridays and the weekends. Nice place to chill with friends. Food is nice, cooked as ordered, so your order arrive on your table hot. The taste may not be life changing' but is perfect when drinking heaps of beer and is fantastic for the price.
Get this! 3 bottles of Heineken at just $13 nett for the 3, all day, every day. Pints of Guinness are served at $8.80 nett while Monkey Shoulder comes to you at $85 a bottle and Hendrick's Gin bottles are a mere $95 each. Quite light weight in comparison to other venues in the same area < More Here A. Scape Building, 2 Orchard Link 237978
Bars Added Daily