Image Credit: The Blue Ginger Facebook Page + 123RF Peranakan Style Laksa
The true wealth of families are the recipes passed down from generation to generation.
For Singaporeans, it is their Peranakan cuisine (also known as Nyonya cuisine) which came from descendants of the early Chinese migrants who settled in Singapore and married the local Malays. These dishes are now part of Singapore's rich history, and are known for their earthy flavours and intoxicating scents. Unfortunately, getting the right consistencies and flavours is incredibly challenging to master. But not to fear...our loyal readers suggest these Peranakan restaurants have you covered.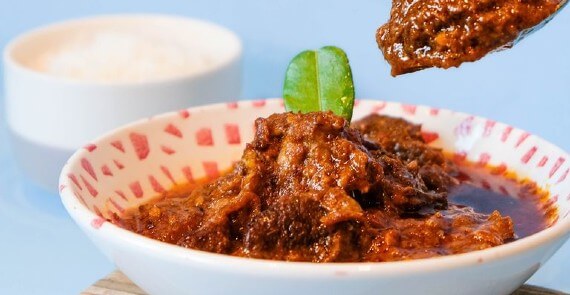 Image Credit: The Blue Ginger Facebook Page
The Blue Ginger was formed with the intention of recreating the atmosphere of a family matriarch gathering her loved ones together to feed them. So, when you go to the restaurant, expect hearty, inviting meals that will be enjoyed by the entire family. So grab a glass of wine and check out The Blue Ginger's array of options - Pork Babi Satay, Kueh Pie Tee or their Ayam Panggang are some of their must-trys. They even have Vegan options for the health-conscious.
INFORMATION
A. 97 Tanjong Pagar Road 088518
S. www.facebook.com/pages/The-Blue-Gi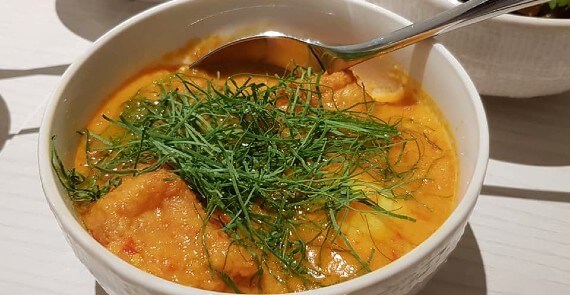 Image Credit: Indigo Blue Kitchen Facebook Page
Travel through history with only your tastebuds at Indigo Blue Kitchen! Each dish promises authentic Peranakan flavours straight from the kitchen of the chef's grandmother, but with a modern twist. The restaurant offers slightly tweaked versions of all the Peranakan classics and even include set lunches and dinners if you can't choose.
INFORMATION
A. Shaw Centre, 1 Scotts Rd, #03-09 228208
W. www.indigobluekitchen.com.sg/
S. www.facebook.com/pg/indigobluekitch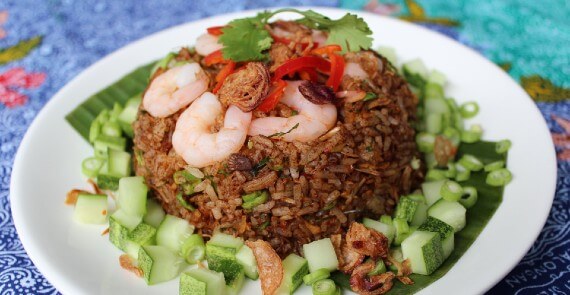 Image Credit: PeraMakan Facebook Page
Peramakan is known for its absolutely delicious spice pastes (rempah). With a variety of meat and seafood options, you will absolutely be spoilt for options here. With their memorable desserts and incredible ambience, Permakan is a great choice for your next gathering with family and friends.
INFORMATION
A. 460 Alexandra Rd, Singapore 119963
S. www.facebook.com/PeraMakan/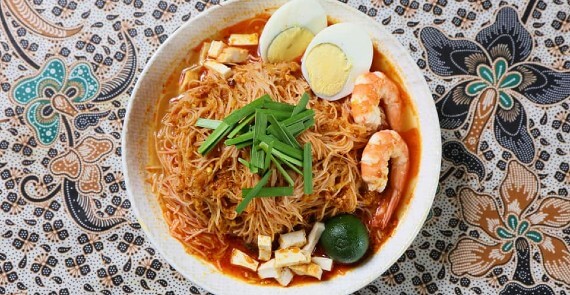 Image Credit: IVINS Peranakan Restaurant, Binjai Park Facebook Page
For more affordable Peranakan food, hit up Ivins. Authentic Peranakan fare served in small portions so you can enjoy a wide range of dishes in one visit. Try their Assam Pork Ribs or their Nyonya Curry Fishhead, or else grab something else from their long list of tempting, delectable options.
INFORMATION
A. 21 Binjai Park, Singapore 589827
S. www.facebook.com/IvinsPteLtd/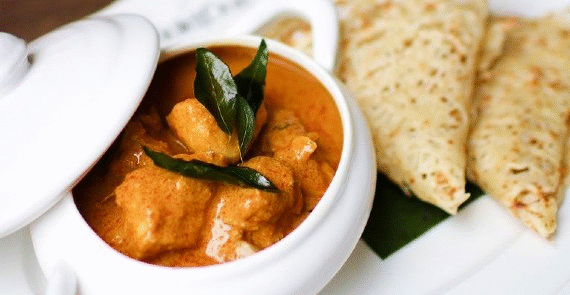 Image Credit: National Kitchen by Violet Oon Singapore Facebook Page
Residing in the iconic historical City Hall building, now home to the National Gallery, is National Kitchen by Violet Oon. Serving a range of Peranakan dishes, as well as Eurasian and Singaporean dishes, you will be spoilt for choices here! Meat-lovers can check out the Daging Chabek Beef Cheek or the Ayam Pong Tay, while the vegetarians can gorge themselves on Meatless Meatballs Rendang or Ladies Fingers Lemak. There's something here for everyone.
INFORMATION
A. 1 Saint Andrew's Road, 02-01 178957
S. www.facebook.com/nationalkitchenbyv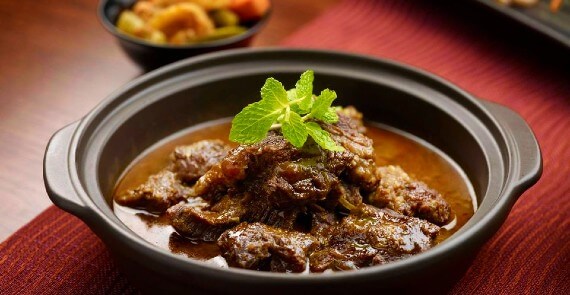 Image Credit: INDOCAFÉ - the white house Facebook Page
If you've passed a colonial black-and-white bungalow on Scotts Road, then you have already spotted the home of Indocafe. With Malacca-style Peranakan cuisine - a version that's closer to Indonesian cooking - Indocafe serves authentic Peranakan food in a homely atmosphere. They have all the Peranakan classics like Babi Pongteh, Kueh Pie Tee and Wagyu Beef Rendang.
INFORMATION
S. www.facebook.com/whitehouse.indoca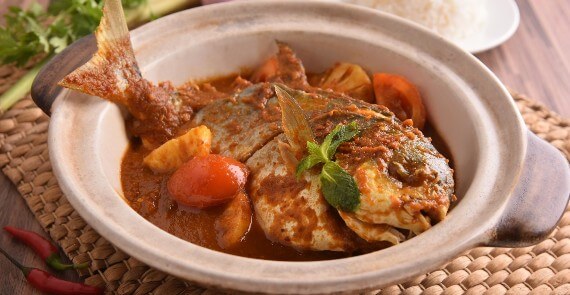 Image Credit: Straits Chinese Nonya Restaurant Facebook Page
Straits Chinese Restaurant by Guan Hoe Soon is actually the oldest Nyonya Restaurant in Singapore! They pride themselves on serving absolute authentic Peranakan cuisine made of the freshest ingredients and spices. They have even been featured in the Michelin Guide (Singapore Edition) for four straight years.
INFORMATION
A. 133 Cecil St, Singapore 069535, #B1-01
S. www.facebook.com/straitschinese/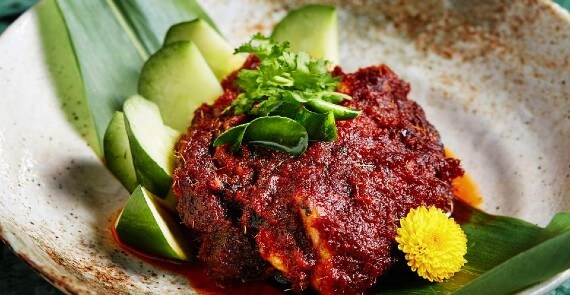 Image Credit: Candlenut Facebook Page
Influenced by his mother and grandma, the chef of Candlenut serves up traditional Peranakan fare with a creative twist and an Indonesian touch. Candlenut is the world's first Michelin-starred Peranakan restaurant, that preserves the fundamentals of the traditional food, but adds its own unique, intricate twists. Whether it's the Wing Bean Salad that grabs your fancy or the Blue Swimmer Crab Curry, or the Sambal Udang inspired by the chef's own mother's recipe, Candlenut is the place to go to treat yourself to some high-quality Peranakan fare.
INFORMATION
A. 17A Dempsey Road, Singapore 249676
S. www.facebook.com/candlenut.sg/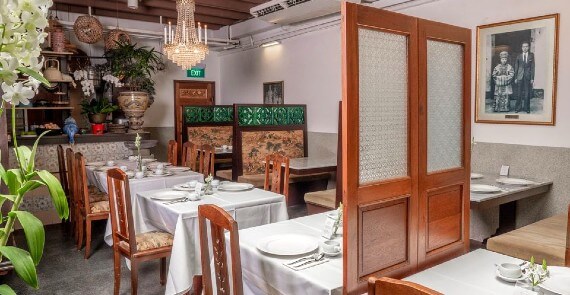 Image Credit: True Blue Cuisine Facebook Page
Next to the Peranakan Museum comes a 'living heritage' experience like no other. True Blue Cuisine allows you to immerse yourself fully in Peranakan culture, not only with their authentic and scrumptious dishes, but also with the beautiful atmosphere of the restaurant. Look at pictures and antiques and shop for books as you gorge yourself on Sakura Chicken and Popiah. The Restaurant also offers three private dining rooms to get an intimate and fully immersive experience.
INFORMATION
A. 47/49 Armenian St, Singapore 179937
S. www.facebook.com/truebluecuisine/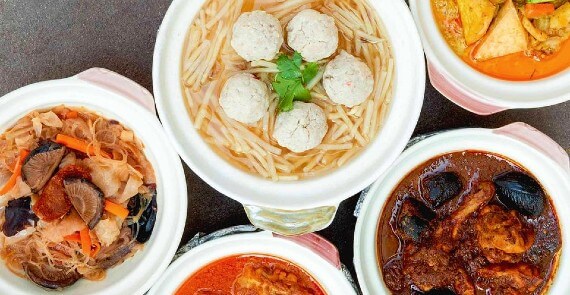 Image Credit: Chilli Padi Nonya Restaurant Facebook Page
Chilli Padi calls itself Singapore's foremost Peranakan cuisine food services company. They do catering but also have dine-in restaurants that you can check out. Some of their most delicious dishes include their Ayam Rendang, Ikan Assam and Kueh Pie Tee. In 2018, they were even awarded the distinction of "The Plate" by the Michelin Guide.
INFORMATION
A. 11 Joo Chiat Pl, Singapore 427744, #01-03
Comments
The true wealth of families are the recipes passed down from generation to generation.
The traditions of a Peranakan Cuisine has been known for its burst of flavour. At Chilli Padi Nonya Restaurant, we strive to maintain the authenticity of the delicacy to ensure that the cuisine is make known to the generation after us. Flavourful dishes incorporating elements like the Bua Keluak Nut makes dining at Chilli Padi Nonya Restaurant a fulfilling experience.
Make Delicious Memories Do you yearn for precious family dining moments when Nyonya flavours spark a flood of memories? Want to create memorable encounters with friends and family members over authentic Peranakan cuisine? If you're into casual dining in small groups, head to any of our Tingkat PeraMakan branches!