Hero Image: Avenue 87 AHK Seabass
The history of creativity is studded with dynamic twosomes. Think Jay-Z and Beyoncé; Page and Brin; the Coen brothers; Redzepi and Meyer. How each partner challenges, critiques, inspires, and pushes the other to become more than he or she could ever be alone.
And how in the process sparks fly and magic is born. In the duo of Singaporean chefs, Glen Tay and Alex Phan, we find similar building blocks of potential – the shared passions; the temperaments so in-sync it allows communication to take place almost wordlessly in the kitchen. We find the similar childhood milieus and the common alma mater; and the years of wandering apart in their careers to finally meet again…at Avenue 87.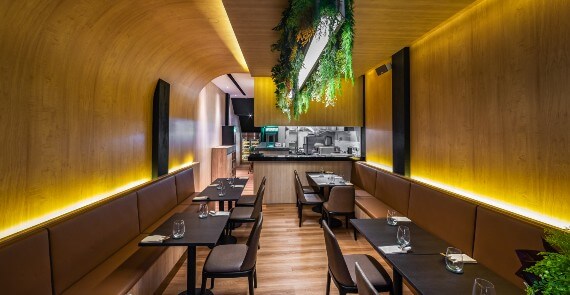 Avenue 87 Dining Room
Located in the heart of vibrant Amoy Street, Avenue 87 is a Modern Asian restaurant that embodies and celebrates the two personal journeys – beginning with its name. Born in the same year, 1987, Glen and Alex both spent childhoods in Hougang: Glen at Avenue 8; Alex – you guessed it – at Avenue 7.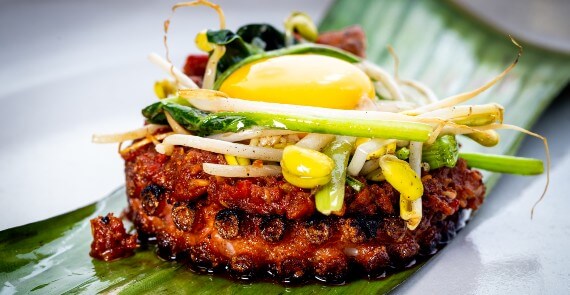 Avenue 87 Octopus
At Avenue 87, you dine in the warm, sophisticated ambience of a 2-storey conservation shophouse in the heritage precinct of Amoy Street. Chefs Glen and Alex bring to the table well-loved Asian favourites, given a creative twist using traditional and contemporary techniques. The familiar flavours of childhood, and the dishes they love to eat today, are the starting points of their innovation, the end results bringing a sense of nostalgia and comfort to the diner.
Avenue 87 serves a Modern Asian cuisine of well-known dishes transformed by the memories, travels, and professional discourse of the two chefs. Many components are prepared from scratch. The local and the artisanal are celebrated, and old and new methods explored and often combined. The results are nostalgic yet contemporary; and always comforting.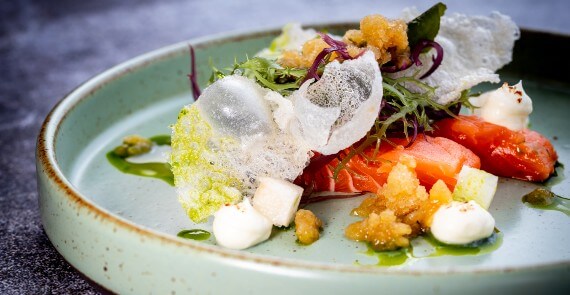 A taste of Avenue 87. The fresh salmon sashimi (pictured above) intrigues with texture and flavour bursts born in two churning minds – from Glen the idea of ponzu pickled wakame, dill oil, and sour cream to complement the salmon slices; and from Alex the use of soy wasabi granita, fresh pear cubes, and Vietnamese rice chips.
The dinner tasting menu, inspired by foods that Glen and Alex loved growing up, comprises either four or six courses, with a wine pairing option specially curated by Si Hao. Glen and Alex recommend the 6-course tasting menu for an immersive gastronomic experience. The 6-course tasting menu is available for dinner at $98++ per person. The 4-course tasting menu is available for dinner at $76++ per person. Wine pairing is available at $50++ for 3 glasses, and $80++ for 5 glasses.
With our spotlight on the main course. Avenue 87 presents an aromatic, succulent baby lamb rack served with charred eggplant. This dish is inspired by Alex's memories of street food during his travels to Vietnam, where he enjoyed the flavourful marination of the local meat skewers. Here, New Zealand lamb is marinated with a Vietnamese-style blend of herbs and spices including lemongrass, shallot, garlic, galangal, and Chinese parsley, then cooked till medium-rare and served with sweet tangy sauce made from locally-sourced stingless bee honey.
INFORMATION
A. 47 Amoy Street Singapore 069873
Comments
Are you looking to be inspired by local flavours? Whether you are familiar with local cuisine or looking for a safe and satisfying way to enjoy all the many flavours that Singapore has to offer, Avenue 87 is easily a crowd-pleaser. The 6-course Avenue 87 menu was both impressive in creativity and fulfilling in taste. You are taken through a journey that clearly represents the chef's passion for representing the unique local flavours to a dose of their travels in this inspired fusion meal. The Kueh Pie Tee was done so well incorporating fish head curry flavours that meant if you are familiar with this Nonya Dish, you're still excited to try this new version in a restaurant. When the fish soup came my belly was happy to be warmed by this comforting broth where every component of what makes an intricate soup had been looked after. My skin was also very happy to get the collagen hit! Definitely, my favourite dish was the twist on Sambal Stingray. Having spent a lot of time working with chefs trying to perfect our own Sambal it's not to be overlooked how good sambal can reignite a dish. This version brings me back to my childhood memories of Spanish octopus which they served with a truly Peranakan delightful Sambal. So happy to see chefs roots brought into this creation. I tried my best not to lick the delightful tender meat off the bone for the New Zealand lamb chops which was a good idea, since the 'Pisang No Goreng' contained some of the best flavours in a local dessert; fried custard, gula melaka, and banana ice cream. The chefs here are really representing what's exciting about local cuisine getting confident in its own flavours and history. This is defiantly a lovely evening experience.
Lunch at Avenue 87 With a choice of two or three courses, lunch is simple and fulfilling at Avenue 8 where a variety of favourites promises to satiate that midday craving. The appetiser highlights a choice of soup of the day, salmon tartare, and tempeh salad. Main courses offer a sumptuous selection of fried chicken with spiced polenta and baby spinach, Ah Hua Kelong seabass with potatoes, and confit duck with yam rice and salted vegetable. For dessert, take a pick from 'Not Your Usual Lemon Tart', pandan panna cotta, and Black Forest. Lunch is available at $29++ per person for 2 courses and $38++ per person for 3 courses.