When the Soviet Union collapsed in 1991, your journalist decided that it would a great idea to go and have a look around Russia and see what all the fuss was about.
Arriving in late September of 1992, he quickly realised that Moscow was wondrous and very different to any other European city - however there were several drawbacks including the fact that one had to import tabasco and marmite as it wasn't available in the shops. 
Fortunately, there was an abundance of pelmeni shops. Pelmeni are Russian dumplings that consist of a filling wrapped in thin, unleavened dough. While the place of origin is hotly debated - both the Urals and Siberia have strong claims - the similarity to Chinese jiaozi and Japanese gyoza is palpable.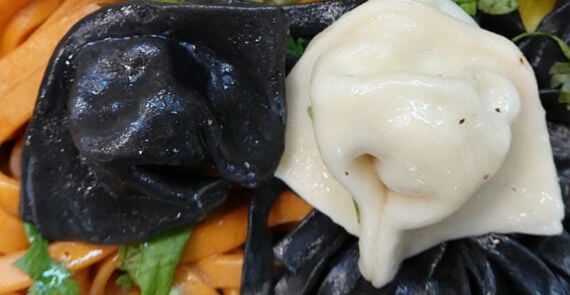 Although dumplings are popular all over the world - the USA has potstickers and Italians ravioli, the excellent new dumpling house - Ang Moh Dumplings - is comfort food at its best. 
Ideally located at Tanjong Pagar MRT, it is owned by effusive Ukrainian power couple Vadim Zoubovski and Alena Zubovska who have lived in Singapore for 15 years. They recently decided that Singapore lacked a 'western' dumpling shop in the CBD so decided to open one.
Alena has cooked modern dumplings - with innovating fillings of pork, beef, lamb, chicken and veggies (cottage cheese with coriander) - for a loyal following in Singapore for years.
In the shop, each plate come with eight pieces. The choice is excellent - you can get Black Bull - beef ($8.50); Minty Ram - lamb ($8.50); Wild Hog -pork ($7.50); Golden Hen - chicken ($7.50); Potato with Bacon $7.50); Cottage Cheese ($8.50); and Potato with mushroom ($7.50). 
They also serve up other favourites as the famous beetroot soup borscht and okroshka - a cold soup that is a mix of mostly raw vegetables, boiled potatoes, eggs, and meat.
I suggest the beef and lamb dumplings which are splendid. Alena also makes pancakes with condensed milk that the kids loved. 
Ang Moh Dumplings is open from Monday to Friday.
A. 120 Maxwell Road, #B1-39 069119 W. www.angmohdumplings.com/