Video Credit: Institut Paul Bocuse
Image  Credit: Facebook Page
Denise McCann is a global winepreneur having travelled to over 30 countries in as many years.  Currently living in Tokyo after a 4-year stint in Singapore, purveying the culture, sights, sounds and tastes (and tipples) of the internationally inspired orient with her husband, Patrick. They describe themselves as wine connoisseurs, restaurant gourmands, art lovers and gallivanters!  
They own and manage a luxury holiday retreat in wine country In Victoria, Australia called TS Valley Villa Luxury Retreat. Denise seeks out local luxe dining experiences with each culinary experience documented in her exquisite journalistic voice, although this Australian couple are more than inquisitive to get out from the high street and experience hawker dishes, and any concoction of street food available across South East Asia and beyond. In Denise's words, "It's all about people, place and produce."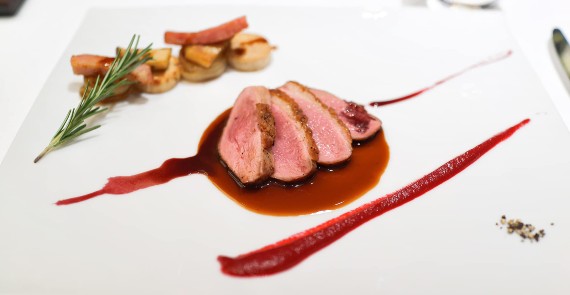 The Grand Maison ""Paul Bocuse"" from Lyon, France is a legendary restaurant that had already acquired award from world gourmet guide by 1965. This is Maison Paul Bocuse - located at Daikanyama Station in Tokyo - offering the Orthodox-school French cooking that has fascinated gourmands the world over, here in Japan. Hiramatsu Group - a heavyweight in Japan's restaurant scene - took over management in Japan with a 2007 open. It currently has world gourmet guide award.
This restaurant is split into a dining area, salon area, and bar, along with private rooms for small groups. Space is full of Venetian glass chandeliers and Tiffany stained glass, with an art nouveau aesthetic that complements the gourmet food wonderfully. Rediscover the soul of French cuisine at the Grand Maison. So, what did our Women of Wine experience on her visit to Maison Paul Bocuse Daikanyama,Tokyo?
ROCK STAR TREATMENT: Awesome.
We were greeted by waiters in black tails and white gloves - the ultimate. Even though they had masks on due to COVID-19, you could tell they were delighted to see us. Strange times indeed, but with social distancing we felt like we were in the Casino Royale film where James Bond had the restaurant opened just for him and Vesper Lynd!
F&B PRESENTATION: Simply superb.
As a French restaurant that has rarely been without 3 Michelin stars, expectation was high and they delivered. When our entrees of foie gras variation ( fondant, pan-fried and terrine) with Sauternes jelly and a port wine reduction and a Lobster a la nage with Pouilly-Fuisse jelly, Ossetra caviar and cauliflower cream arrived, it certainly made a statement: it was so simple and elegant and delicious! Every dish was precise and nothing was out of sync. The wine pairings were excellent. From a beautiful Alsace Gewurtztraminer from Trimbach Estate and ended with a new appreciation for Sancerre Pinot Noir through Domaine La Moussiere, which has officially been classified as a unique category amongst Sancerre wines.
WOW FACTOR: I love a trolley.
When our whole sea bass arrived on said trolley, encased in the most beautifully prepared fish shaped golden pastry, complete with scales, I found it gleefully giggle-worthy. It turned my non-fish-loving husband into a convert. The fish was carved and served at our table, complemented with a Choron sauce and crowned with some of the scale-shaped pastry. It was spectacular. We loved it with our eyes, then with our mouths and we have not stopped talking about it.
INFORMATION
A. Daikanyama Forum B1F, 17-16 Sarugakucho, Shibuya-ku, Tokyo
W. www.hiramatsurestaurant.jp/smp/paulbocuse-maison/
S. www.facebook.com/pages/Maison-Paul-Bocuse/1054269618073924
6 minutes walk from Daikanyama Station of Tokyu Toyoko Line
ABOUT FOUNDER WOMEN OF WINE
Denise's passion is wine and hospitality!  She has over 25 years of corporate hospitality experience. She is a qualified WSET UK Sommelier, wine educator, events management specialist, bespoke luxury wine tour operator, international wine tourism specialist, writer and public speaker.   Denise is passionate about the wine industry and has travelled extensively to wine regions around the world to hone her craft and share her skills and experience.
She has run her own wine events company Women Of Wine since 2007. Since embarking on the expat life back in 2016, Denise has thoroughly enjoyed the consumer side of discovering, experiencing and writing about the food and wine scenes in Asia.
Comments
Wow fantastic article Denise! Thanks for sharing. Sure would love to visit this place when next in Tokyo.
Women Of Wine offers a better way to experience and enjoy wine through our wide range of hosted events and events we customise for our clients. We specialise in connecting you, our clients, to women winemaking professionals. We just love bringing together the people, the stories and the destinations that celebrate the amazing journey that is learning about wine.