Positioned along the prestigious row of restaurants in the Marina Bay Sands Hotel is the stylish and elegant Blossom Restaurant. What might seem as a thoroughfare initially, I felt quite the opposite as I stepped in to the restaurant.
Feeling the privacy immediately I found this little enclave to be stunning. The bright light that streamed through very high ceilings gave me a feeling of space, an invisible commodity that is very important to me when I dine.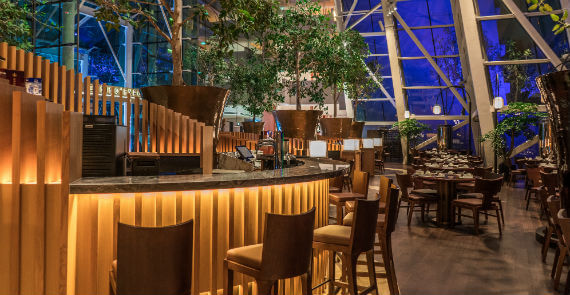 I was at Blossom Restaurant for the fourth time only this visit was to savour the dim sum menu. I had the privilege of dining with owner and professional-turned entrepreneur Christina Tay.
It is indeed a special privilege when owners join me on my tasting trails especially so as I am able to derive behind the scenes information which is of great interest to me.
Blossom Restaurant has been architecturally designed in a modern setting with open tables, booths and private rooms created in a dome like shape. Magnificent visually I felt the comfort of home envelope me especially in the private room that exuded a cave-like atmosphere.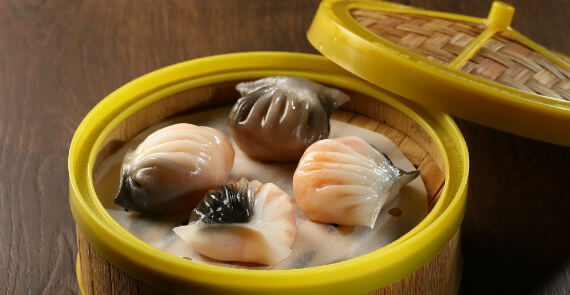 The dim sum arrived. I went straight for the prawn dumpling which is my all-time favourite. I could polish a few of these morsels quite easily in my dim sum adventures over the years!
These Blossom signature steamed prawn dumplings were very different to what I had had in every other restaurant I had frequented in the past. There was a black colour in the dumplings hmmm….
The clever creation of Blossom's Chef Lau who hails from Hong Kong! He uses squid ink in the dumpling! This touch lent a deeper seafood flavour to the dumpling and oh my god the juiciness was out of this world.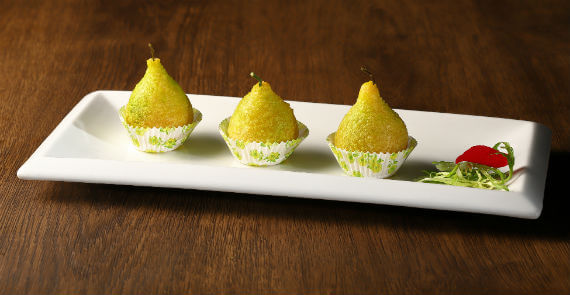 As I bit into the dumpling the delicious squid ink oozed out coupled with the freshness of the prawn, I'd say a dish to die for! This is a must try when you are at Blossom Restaurant next.
I then tried a golden pear stuffed with minced pork and dried shrimp. To Asian food connoisseurs you'll know that the combination of meat and dried shrimp is a beautiful blend of flavours that work.
Designed in the shape of a pear I remarked that Blossom's Chef Lau had to be an artist. His creations looked like art, the distinction of a great chef. I almost felt guilty to bite into this perfectly shaped pear.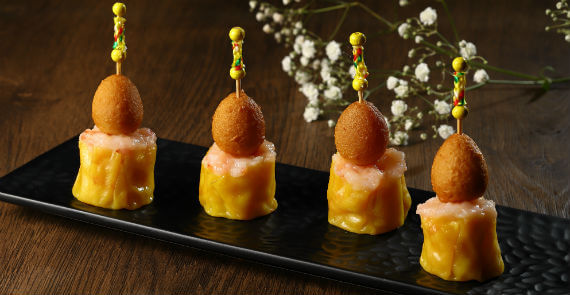 Blossom is truly a Chinese restaurant with a difference. For a dim sum connoisseur like me, who lived in Sydney and frequented many a Chinese restaurant it was hard to be surprised by anything. But surprised I was....at the treats that were unusual and unique that were coming my way.
The crispy swan puff with cod fish in cream sauce was so elegant. It's long neck and beak were made out of a biscuit-type dough. One bite into the swan and I could feel and taste the fine texture of cod.
I asked Christina how she came up with the name Blossom and laughingly she quipped that it popped up in her dream. When translated into Chinese it goes along the lines of "joyous feeling of happiness" which is exactly what I felt in this space.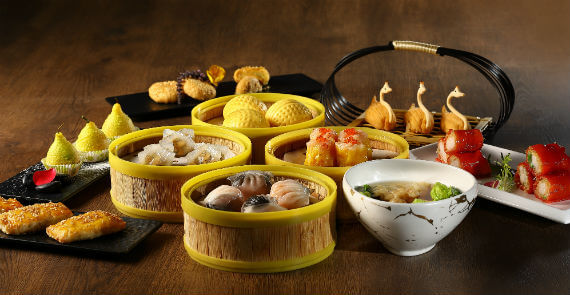 Dining at Blossom is about experiencing a delectable meal rather than an "eat and run" event which is often how dim sun can be. Looking up to the high ceilings I felt gratified to say the least, that I was dining in a hotel not a mall.
The steamed vegetarian dumpling with truffle oil was exquisite. Not overpowering in truffle flavour, this delicate morsel was so fine on my palette. I felt so satiated with that one dim sum and did not want the experience to end.
In my mind this is how truffle should be used. Just enough to give a hint of the flavour while reaping the full tone of this fungus. I was glad that this was a vegetarian dish so every patron would have a chance to try it.
My last dim sum morsel for the day was deep-fried golden pumpkin cake stuffed with cheese. Another one for vegetarians – so unique and yummy!
This was the end of my dim sum feast at Blossom Restaurant. As in most times when I have enjoyed dim sum with family and friends, we have almost always ended our meal with a few other non-dim sum dishes.
The next time you set on your mind on a dim sum lunch I'd say "where else but at Blossom!"
A. 2 Bayfront Avenue, Singapore 018972 Call to make a reservation: +65 6688 7799
Comments
I decided to try the double-boiled chicken soup with red date and ginger. This pulled everything together. Heartwarming and wholesome it was a soup that would heal any wound. I loved it! Boiled for a minimum of four hours and sometimes up to twelve hours the soup at Blossom Restaurant is changed daily. Starting the process on a big flame then reducing to a simmer, you would know what a great soup should taste like after having this. Totally recommended! In true Chinese style I had a noodle to end my sojourn at Blossom Restaurant – braised Japanese ramen with scallops and prawn. In line with the style of cooking which is so fine and elegant with simple notes of underscored goodness, Chef Lau did it again. No condiments required for this subtle and totally tasty dish. I devoured every mouthful from the ever-so-fresh prawn that sat on top of the noodle to the scallop which oozed flavour. You have to try it to believe it. Christina by this time informed us that Blossom Restaurant opened for business in October 2018 and had celebrities like Formula 1 drivers and K Pop singers dine there. She did say that they had also increased their repertoire of food style choices to include Szechuan varieties. The soft shell crab Szechuan style was lightly battered and moist on the inside. Not overpowering in spice this was a dish that would be liked by many as the slightly spicy crab gave it a kick that many people look for. Doubling up as a great appetiser with a pint of beer in hand, this would make for a grand combination. Almost sad to end this most enjoyable meal I had an almond cream with snow swallow warm dessert. Served in a bowl due to it's soup-like consistency this had transparent jelly-type textured birds nest in it. For those of you who don't know what birds nest is, it is the spittle of birds that is harvested from the nest when birds fly away. Not very appetising when you think of it so don't! Just eat it and experience the delicious taste of this delicacy. I loved it and finished every spoonful even though I was full to the brim. It is valuable to know that people eat it for its great health benefits too hence the premium that is attached to this dish. Blossom Restaurant opens for breakfast from 8am to 10.30am daily. So if you are wondering where to go for an elegant breakfast, you could have dim sum delights, a salad and juice with coffee or tea for a mere $19.80++. Not keen on a Chinese breakfast? Well, there's something for everyone! A classic selection of eggs and sausages/bacon with a salad, juice and coffee or tea….for the same price. If this still does not hit the spot then a signature breakfast set might appeal. With noodles, porridge, salad, juice and coffee or tea this will certainly be a hearty breakfast. If lunch suits you more, a full selection of dim sum which includes 28 varieties is served from 11.30am to 4.30pm daily. Be sure to make a reservation as this elegant restaurant gets its fair share of patrons.