Image Credit: Boon Tong Kee Facebook Page
Satiate your street food cravings without having to compromise on your binge-watching session.
Get a piping hot bowl of ramen, a delicious biryani or a variety of seafood as the best hawker stalls in Singapore are offering a home delivery.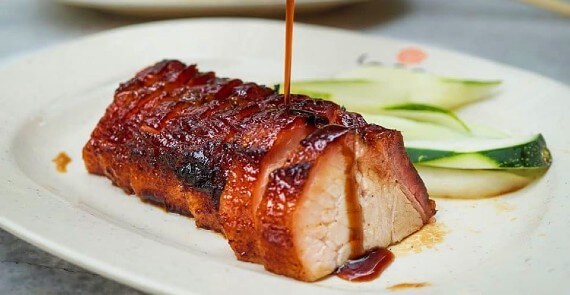 Image Credit: Roast Paradise Facebook Page
Juicy on the inside, charred and glazed on the outside, pork strips at Roast Paradise are served just as you like it. Get this delicious meaty treat at home by ordering online. You can also pair the pork with some rice or noodles to make it a complete meal.
A. 51 Old Airport Rd, Singapore 390051
W. www.facebook.com/Roastparadisesg/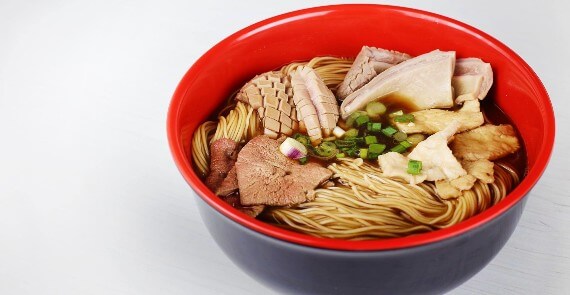 Image Credit: Seng Kee Black Chicken Herbal Soup Pte Ltd - Facebook Page
There's nothing quite as comforting as a bowl of soup in the monsoons. Seng Kee makes delicious White Bee Hoon, a soup with clams, prawns and sotong apart from its signature black chicken soup. We also recommend their clams with fermented bean sauce and seafood mee goreng with vegetables.
A. 475 Changi Rd, Singapore 419892
W. sengkeeherbalsoup.wixsite.com/sengkeeherbalsoup/our-food
S. www.facebook.com/sengkeeblackchick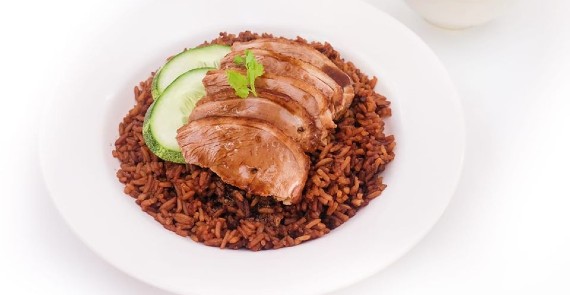 Image Credit: Jin Ji Teochew Braised Duck & Kway Chap , 金记潮州卤鸭 - Facebook Page
Enjoy a hearty meal of braised duck along with rice or noodles for just S$4.50 by Jin Ji. Delivering their delicious food island-wide, this place is great for tucking into a delicious kway chap or a mind-blowing ramen too. They do a super tasty one called The Quack Ramen for S$8.50 and it is our go-to comfort food.
A. 335 Smith St, Singapore 050335
S. www.facebook.com/jinjiteochewbraise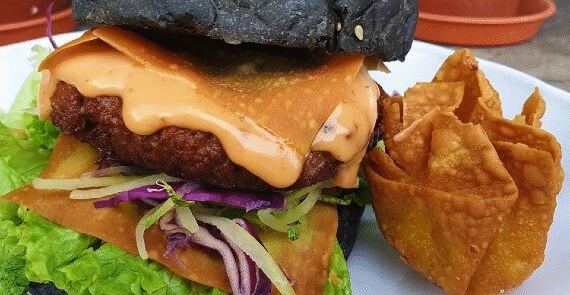 Image Credit: KEK Seafood Alexandra Facebook Page
Don't resist the temptation to order the Coffee Pork Ribs by Keng Eng Kee Seafood for you'll be licking your fingers after you're done devouring them. We also love their spicy Sambal Fish Burger for S$10.80 and their Salted Egg Soft Shell Crab Burger for S$16.80. For major hunger pangs you can rely on their reasonably priced bento ranging from S$10.80 to S$13.80 and family sets between S$39 to S$226.
A. 124 Bukit Merah Lane 1, Singapore 150124
S. www.facebook.com/kekseafood/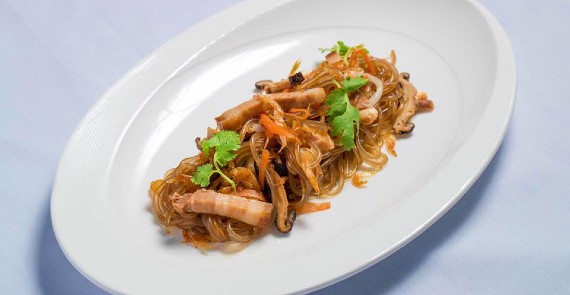 Image Credit: A Noodle Story Facebook Page
A Noodle Story begins with a mouth-watering Singapore-style Ramen and ends with it; this story also makes our taste buds sing. The springy noodles are boiled and doused in a special aromatic dressing. The ramen bowl is topped with Hong Kong-style wontons, hot spring egg in a soy flavour, cha-su and a crispy, crunchy potato-wrapped prawn. Order a small ramen bowl for S$9.20 or a medium-sized bowl for S$12.20.
A. 7 Maxwell Road Stall, Singapore 069111
W. anoodlestorydotcom.wordpress.com/
S. www.facebook.com/ANoodleStory/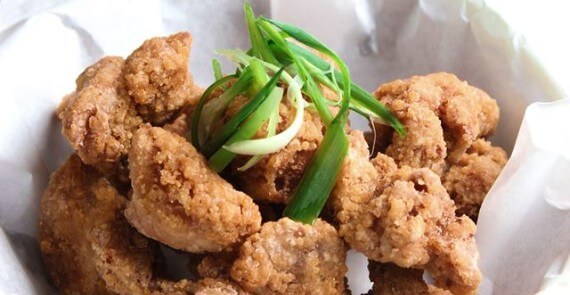 Image Credit: Tang Kay Kee Fishhead Beehoon Facebook Page
Tang Kay serves up food so delicious, it'll warm you up on the inside. Right from their signature fish head soup, hor fun with onsen egg & battered enoki to their spicy pork belly which is slow cooked in home-made rempah; their food keeps you coming back for more. They are delivering all through the island, and we highly recommend the soup for those trying Tang Kay Kee for the first time.
A. 531A Upper Cross St, #01-70 Singapore 051531
W. www.facebook.com/tangkaykee/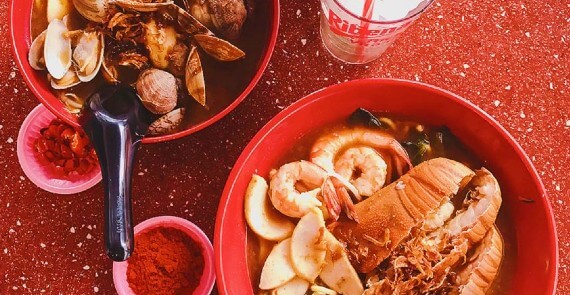 Image Credit: Deanna's Kitchen Facebook Page
Delivering in Toa Payoh and Jurong, Deanna's Kitchen is home to the heart-warming halal prawn mee soup. Order the Big Prawn Mee for S$7.30 also available with clams for the same price. You can also order a Seafood Bonanza or a Seafood Platter if you're planning to share it with your folks. 
A. Jurong East Street 21, Block 214 Singapore 600214
S. www.facebook.com/deannaskitchen/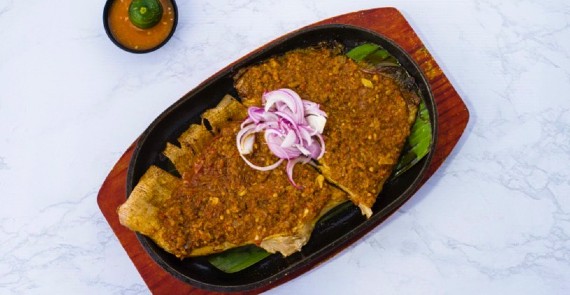 Image Credit: JIAO CAI Seafood Facebook Page
A stingray may not be your best friend while taking a dip in the ocean but it sure tastes delicious when tossed in fiery sambal by the cooks at Jiao Cai Hotplate BBQ. Order this treat for S$12 or dig into their crayfish or their succulent Pork Rib King. They have a wide variety of meats and vegetables to go with rice or noodles.
A. 51 Yishun Ave 11, #01-39 Singapore 768867
S. www.facebook.com/JIAOCAIBBQ/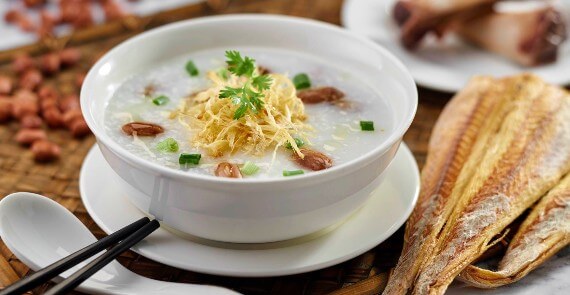 Image Credit: Boon Tong Kee Facebook Page
Boon Tong Kee is quite the legend in Singapore, and we've been thriving on their Signature Boiled Chicken for several years. Other dishes to get excited about are Braised Beancurd and Barbecued Pork Chops In Claypot for S$12 and Thick Soup with Crab Meat, Fish Maw and Beancurd for S$20. Do check their delivery timings before placing an order for your location.
A. 425 River Valley Rd, Singapore 248324
S. www.facebook.com/boontongkeesg/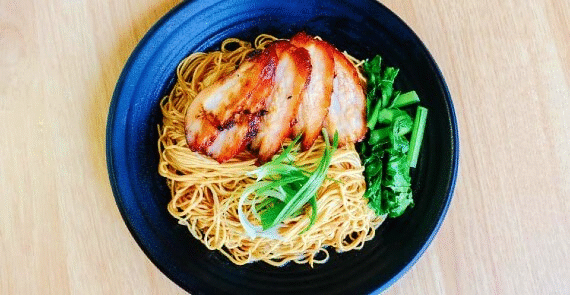 Image Credit: One Mouth noodle Facebook Page
One Mouth Noodle does have an expertise in making ah-mazing noodles but how do they make it so heart-warming stumps us. We highly recommend their Shrimp Wonton Soup (S$3.80), Signature Char Siew Wanton Noodles (S$4.80) and HK style Beef Brisket Noodles (S$5.80). They also make a tasty BBQ Pork Char Siew and it is priced by weight, so 300 grams of pork will cost you S$12.00.
A. 51 Yishun Ave 11, #01-12 Singapore 768867
S. www.facebook.com/onemouth.noodle/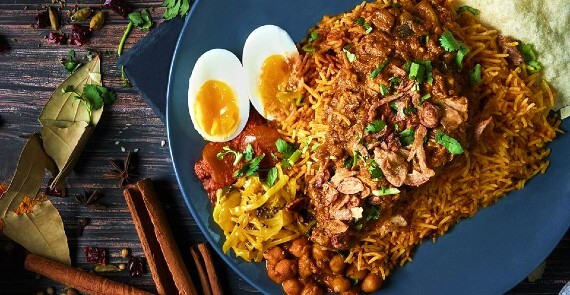 Image Credit: Chop Chop Biryani & Meats Facebook Page
We simply couldn't decide which biryani to order from Chop Chop Biryani & Meats, So we ended up devouring their 2 Meats Biryani Set. This set features a biryani with a choice of two meats, masala cauliflower, spiced chickpea and molten egg for S$8.10. Before you hit the order button, do add their mouth-watering Curry Pork OmuRice priced at S$7.60.
7 Maxwell Rd, #02-101 Singapore 069111
www.facebook.com/chopchopbiryanian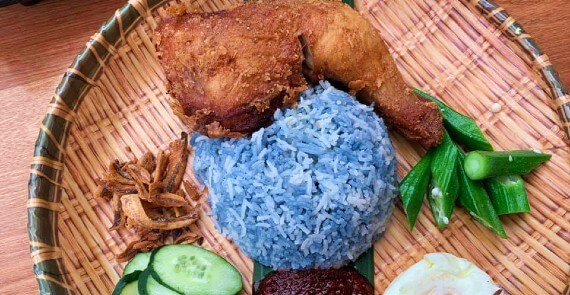 Image Credit:  Power Nasi Lemak Facebook Page
Chow down on sumptuous Beef Rendang by Boon Lay Power Nasi Lemak for S$6.60. One of their crowd favourites is the Sambal Sotong and for those who love their sambal can order a sachet or two while placing an order. We simply love their Nasi Lemak Chicken Wing and Combo Sets, absolutely delicious.
S. www.facebook.com/Power-Nasi-Lema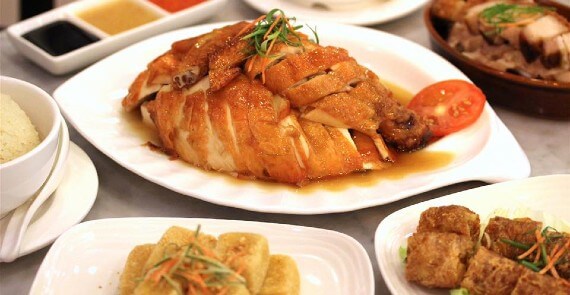 Image Credit: Loy Kee Best Chicken Rice Singapore Facebook Page
There's a reason Loy Kee has 'best chicken rice' right there in the name, it's because their chicken rice is the best. Being around for decades, Loy Kee serves up a choice of Hainanese, Roasted or Soy Chicken Rice served with vegetables. We also enjoy eating their Chee Cheong Fun and Signature Porridge once in a while and simply love their Signature Hainanese Beef Stew.
A. 342 Balestier Rd, Singapore 329774
S. www.facebook.com/LoyKeeBestChicke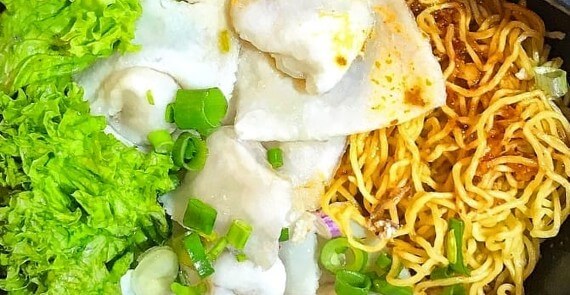 Image Credit: Ming Fa Facebook Page
Yet another legacy of street food in Singapore, Ming Fa Fishball Noodles serves up a comforting bowl of laksa. They douse the noodles in a spicy seafood and coconut soup, shrimp and sambal. The bowl of noodles is topped with fish cake, prawns, cockles, and tau pok. For deliveries, Ming Fa offers bundle sets starting from $S24 with at least 3 kinds of noodles and a special platter.
A. 246B Upper Thomson Rd, Singapore 574370
S. www.facebook.com/mingfafishball/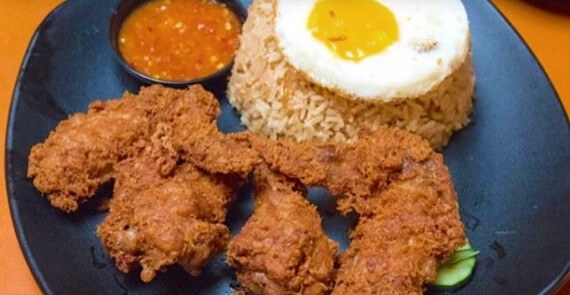 Image Credit: Ah Tan Wings Facebook Page
Shrimp Paste Fried Chicken is the hero of Ah Tan Wings and is irresistible in this weather. A combo of 2 wings and 2 drumlets of the chicken will cost you S$5.50 and if you're looking for a full meal, order one of their set meals with the fried chicken, fragrant rice, sunny side up and tangy chilli. We usually go for their Almighty Cutlet Meal featuring a big fried chicken cutlet.
A. 51 Yishun Ave 11, Singapore 768867
T. +65 91734250
S. www.facebook.com/ahtanwings/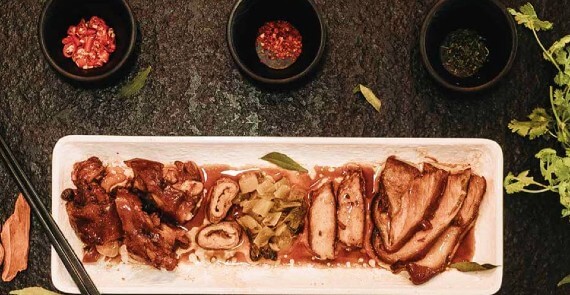 Image Credit: Bai Nian Niang Dou Fu Facebook Page
Bai Nian Niang Dou Fu is a street food stall which should be on your bucket list if you've haven't eaten there already. Enjoy a hearty bowl of Clams Spaghetti for S$7.90 or a comfort bowl of Tuckshop Rice for S$1.90 featuring aromatic rice with fried pork and a sunny side up. Also, do try out their signature Big Scallop Cheese Beehoon for S$13.90.
A. 750 Chai Chee Rd, Singapore 469000
W. www.facebook.com/%E7%99%BE%E5%B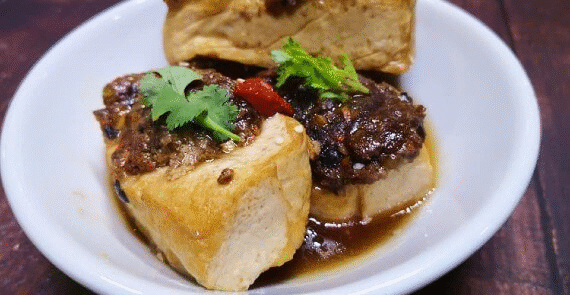 Image Credit: Thunder Tree Facebook Page
Delivering happiness in the form of food is Thunder Tree Lei Cha with their variety of specials and a surprise special. One of their bestselling dishes is Wanton Kolomee for S$6 and we love the crispy, crunchy wonton with mushroom fillings along with some oyster mushroom and vegetables. For those who love truffles can go for their Truffle Kolomee for S$12.
A. 101 Upper Cross St, #B1-06 Singapore 058357
S. www.facebook.com/thundertreeleicha/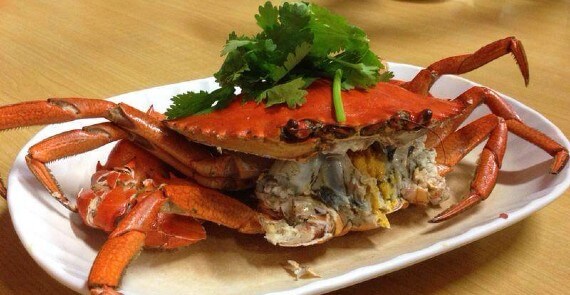 Image Credit: Ji Xiang Seafood Facebook Page
Satiate your craving for pork ribs by ordering them from Ji Xiang Seafood. Their Signature Bee Hoon Soup, Black Pepper Beef Hor Fun, Sambal Sliced Fish and Salted Fish Fried Rice are some of their best dishes. They also have a set menu, seafood and dinner set, proving to be good options when ordering for more than 3 diners.
A. 21 Old Airport Rd, Singapore 390021
S. www.facebook.com/Jixiangseafood/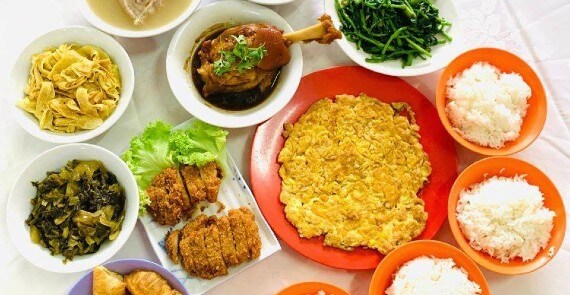 Image Credit: Old Tiong Bahru Bak Kut Teh Facebook Page
One of Singapore's favourite places for a Bak Kut Teh fix is Old Tiong Bahru. The nourishing broth itself warms your senses and the tender pork ribs simply fall off the bone as you attempt to eat them, so delicious. For spice lovers, Sambal Kang Kong would be a good choice.
A. 58 Seng Poh Rd, Singapore 160058
W. old-tiong-bahru-bak-kut-teh.business.site/
S. www.facebook.com/OldtiongbahruBakK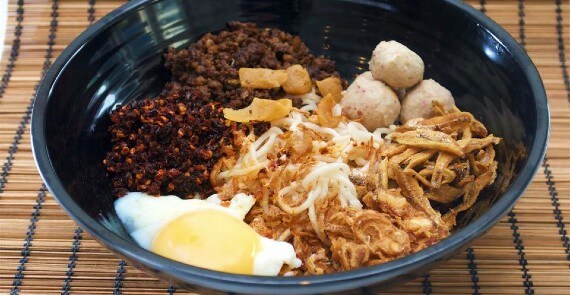 Image Credit: KL Traditional Chilli Ban Mee - MacPherson Road Facebook Page
The Lobster Abalone Combo Chilli Ban Mee (S$24.00) and Signature Chili Ban Mee (S$7.00) are our go-to orders at KL Traditional Chili Ban Mee. Order one of their set meals to get a choice of drink and do order their crispy fried wontons to devour before the mains.
A. 476 MacPherson Rd, Singapore 368191