Inspired by the rich history of the Silk Road, a vast melting pot of great cultures which helped develop an array of cuisines, The Nomads seeks to expand Singapore's culinary horizons with the exotic intrigue surrounding a Central Asian dining experience.
Promising a multi-sensory culinary journey, their eclectic dishes draw inspiration from China, India, Southern Europe, and Central and Southeast Asia.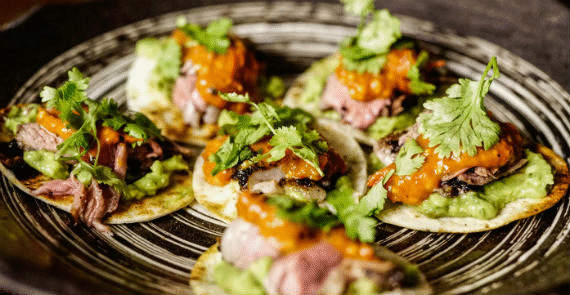 The custom-built grill is where the magic happens, dishing out specials like The Nomads 'Plov', a take on the Central Asian rice dish.
Here, their 'rice' is replaced with a carnaroli risotto, while the meat is a mouth-watering combination of A4 Wagyu striplion and bone marrow.
Every trimming of a great plov has been upgraded: Pickled heirloom carrots, tea quail eggs and branded raisins are found in each mouthful.
You can try this dish in both their omakase-style Long Menu and Short Menu, aptly named The Nomad's Journey and The Nomad's Introductory respectively.
A. 70 Telok Ayer Street, Singapore 048462, #01-01
Comments
Located on buzzy Telok Ayer Street is this Central Asian omakase-style restaurant, The Nomads. Looking very unassuming from the outside the L-shaped bar lends a light tone to the busy street it sits on. But all is not seen until a door which looks like part of the wall slides open and The Nomads restaurant is revealed. With low ceilings and a bar-style dining concept, it is obvious the creators of this amazing space knew what they were doing. With such a warm and personal touch, The Nomads philosophy is just that! Enter as a guest and depart as kin. The pre-dominantly omakase menu offers three varieties with 11, 17 and 22 courses with wine pairing if desired. Who would be able to eat 22 courses I asked? Apparently some do. For the faint hearted do not fret. There is also an a la carte menu at The Nomads! Having 17 courses ahead of me I was raring to go. This culinary journey was something to look forward to as I was about to taste food influenced by countries all along the Silk Road, from Southern Italy to Western China. The smoked herring with horseradish mash was served in a filo tart, much to the style of a Peranakan Pie Tee. Served with Vodka and lavender shots it was a potent combo! Lamb samsa cones much like the Indian samosa were served as a tartare, very much street food in Kazakhstan. With a sip of gin and lavender this made for a superb fusion of tastes. I found the two caviars from Latvia and Russia paired with homemade kaya and Argentine red shrimp to be a fresh and delightful mix. In conversation I found out that Latvian caviar is of extremely high quality – organic and deeper texture. Every course at The Nomad was explained by the Chef and presented with finesse. A mixologist was on hand to answer questions and keep these unique beverages flowing. Unlike most restaurants where butter is served in a normal dish, the spiced foie gras and seaweed butter were presented in a half marrow bone. I panicked as the bone was served, thinking it was marrow and I had to eat that high cholesterol filling. Utter genius! Named the Hunter-Gatherers butter it certainly looked like it. Much to my delight this was accompanied by Nomads Nan which was steaming hot, the way I like to eat bread…..yum! Partial to Japanese flavours I totally loved the Maitake mushrooms which had a tahini glaze, Sumeli (a Jordan spice) and sesame seeds. The perfect drink, ginger and dill-infused vodka, made for such a refreshing burst to the senses. This is a must-have if ordering a la carte! Moving through a few more dishes of salat, scallops, heirloom carrots and squid all of which were fantastic, I felt the sturgeon which again hails from the Caspian Sea was full of texture and flavour. Cooked with a soy butter emulsion, crunchy grains and dill I could taste the freshness of this dish. Looks like a lot of treats await, in the countries that surround the Caspian Sea! Beshbarmak, a Wagyu cheek cooked in sous vide style for 48 hours in a bak-ku-teh type broth was the next course. So tender it melted in my mouth. Served with pickled garlic and shallots, this lightened what could have been a very rich dish. A slice of beef tongue and I was glad for the palette cleanser that appeared. Pomegranate a popular fruit in the Region was paired with watermelon in a sorbet. A play on how Nomads used to cook (salt and bury food) the foie was served under charred breadcrumbs that represented soil. Not expected to eat all the breadcrumbs, the foie in ash was an incredibly creative invention. To mark the end of mains, countries that span the Central Asian Region most often serve a rice dish. Akin to a Briyani in India, the Hunter's Plov was created. Pulled together with risotto instead of rice, this was topped like a Japanese Don with A4 Wagyu Striploin, a blob of bone marrow, carrots, quail eggs and brandied raisins. All very new combinations of food for me and totally exceptional in creativity, presentation and taste. Truly a hit to the senses as promised by The Nomads! Curious about what The Nomads would deliver for dessert, the Almaty (a city where edible apples came from) was served. Smoked apple puree, celery sorbet with gorgonzola and cinnamon yoghurt, this was an upmarket twist on the apple pie we all know. My favoured dessert was the Medovik honey cake served with blood orange and condiments. Unlike the heavy Middle Eastern style of cake soaked in honey, this was in contrast so light with citrus flavours. Paired with Melon, a drink concocted with Prosecco, Tequila, melon and mint this was a wonderful drink that transported me to the finish line. My take on The Nomads? A place to have conversations, laugh and bond while sharing a drink over outstanding food. Created by professionals, this type of expertise is hard to come by. Priced at $148 The Odyssey of Fire menu which I tasted above was so well worth it. For the amount of effort, style and elegance put into every dish coupled with quality of produce used, I feel it is a humongous treat to have such expertise land on our doorstep in Singapore. The attention paid to detail - crockery, cutlery and glassware only reinforces to me that the co-owners behind the scenes are fuelled by their passion. For when you are inspired by purpose, all thoughts break their bounds. And this is The Nomads!
Inspired by the rich history of the Silk Road, a vast melting pot of great cultures which helped develop an array of cuisines. Every trimming of a great plov has been upgraded: Pickled heirloom carrots, tea quail eggs and branded raisins are found in each mouthful.