Hero Picture Credit : Imperial Treasure Tasting Room
Singapore is home to thousands of restaurants, cafes and eateries – enough to cater to every whim of our taste buds, and beyond.
Over time, many restaurants have closed their doors only to open – revamped and ready – boasting contemporary takes on classic dishes, stunning interiors, and overall enhanced dining experiences that will keep you busy for a long time to come. Here's a list of 8 of the best new restaurants to try.
An authentic Chinese fine dining experience, Imperial Treasure Tasting Room, located at Great World City is both contemporary and elegant, offering private dining and fixed menu meals that you can watch being cooked in front of you (apart from their regular restaurant services). Appetisers here begin at SGD $8, and their main course menu features dishes such as the Roasted Suckling Pig, Roasted Duck and a huge selection of dim sum starting at SGD $5 (available only during lunch hours). Try some sake with your meal too.
A.Great World City , 1 Kim Seng Promenade Singapore 237994, #02-111
After 23 years serving satisfied and loyal customers on Circular Road, Mag's Wine Kitchen has moved, revamped and refurbished, to Keong Saik Road. Expect hearty and undeniably delicious French food such as their Scallops (with artichoke velouté, crispy bacon, and the option to add Sturia Caviar for SDG $12 extra), Foie Gras (with terrine, apple compote, port & cognac) Beef Tartare (served with French fries) and Cod (with artichoke, zucchini, tomato & caper sauce). Enjoy pre-fixed lunch & dinner menus at SGD $53 for 2 courses, and $58 for 3 courses, as well as an a-la-carte menu.
A. 55 Keong Saik Rd., #01-06, Singapore 089158 
F. www.facebook.com/magswine.kitchen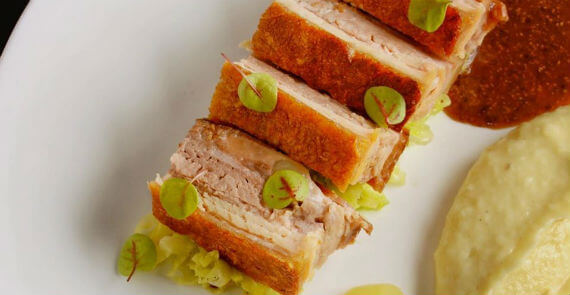 Walk into Antoinette and be charmed by its quintessential French café style interiors, which are almost as eye-catching as their wide selection of culinary delights. Their famous souffle pancakes are a customer favourite – light & airy, and every bite a delight – but they also have a selection of savoury mains that are not to be missed; among them the Crispy Pork Belly Confit, Wagyu Beef Tagliatelle & Crab Pomodoro. Sweet treats such as the Velvet Rouge Petit, La Rose & Superlova are almost too beautiful to eat – but don't let that stop you.
A. 28 Penhas Rd, Singapore 208187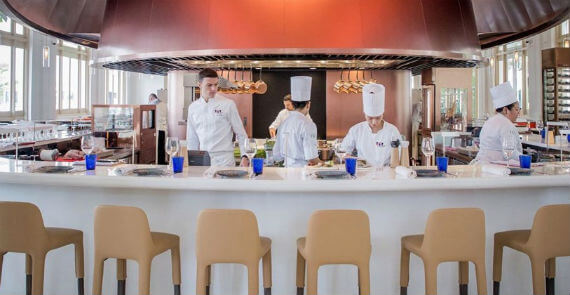 After closing for renovation in 2017, Raffles Hotel Singapore has finally reopened, and with it, new restaurant BBR by Alain Ducasse – now serving delectable Mediterranean dishes, and sporting a new, contemporary ambience, with a central open kitchen. Expect exquisite tapas and unique & signature dishes such as the Pulpo a la Gallega (Galician-style octopus); but a visit to BBR wouldn't be complete without trying their Cataplana de Marisco (a Portuguese seafood stew) which will have all your senses singing in harmony.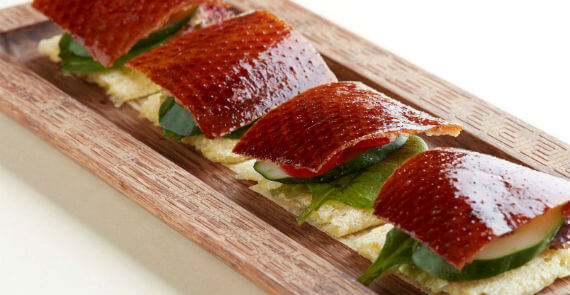 Image : Kai Duck's Sliced Peking Duck with Crackers
Kai Gardens' famous Peking Duck is the central theme at Kai Duck, which aims to provide a more casual dining experience in which the dish doesn't have to be too hard on the wallet. Though you can get a whole Peking Duck for SGD $68, there are multiple other options including their Mini Burger with Peking Duck Salad for SGD $4.80, Chilled Duck Meat Roll for SGD $12.80, and the Salted Duck Tongue for the same price. In addition to their many creative Peking Duck dishes, there are plenty of other options as well, including pork, seafood, beef, chicken, and a range of delicious vegetarian dishes.
A. Ngee Ann City, 391 Orchard Road, #05-10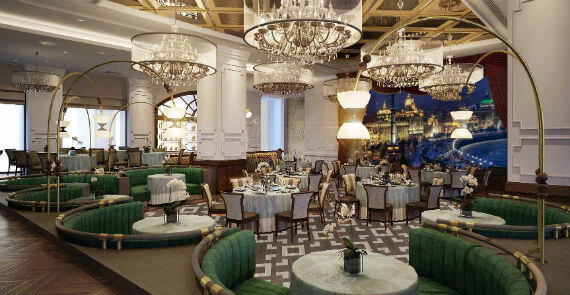 Returning to the Singapore restaurant scene and promising an elevated dining experience is the Grand Shanghai – contemporary luxury at its finest. Their menu includes cold dishes such as their Light and Shadow Crispy Duck & Shanghainese Style Smoked Fish, barbecue dishes such as their Whole Roasted Boneless Suckling Pig, and extends into a myriad of carefully prepared, mouth-watering dishes covering everything from seafood to every kind of meat, and vegetarian delights. If you love authentic Shanghainese cuisine, a visit to Grand Shanghai is not to be missed.
A. King's centre, 390 Havelock Rd, Singapore 169662, Level 1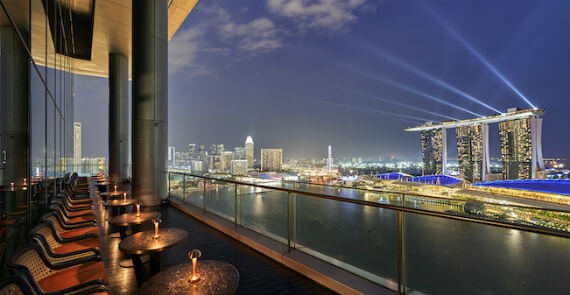 Now occupying the space formerly taken up by [email protected] is classy rooftop bar & grill VUE. Take in some stunning views as you enjoy selections from their tasting menu, or tuck into delicious mains like their famous Prime Black Angus steaks. VUE opens at 5:30, just in time for you to catch a sunset with a spritz or cocktail in hand.
A. 50 Collyer Quay, Singapore 049321, Level 19, OUE Bayfront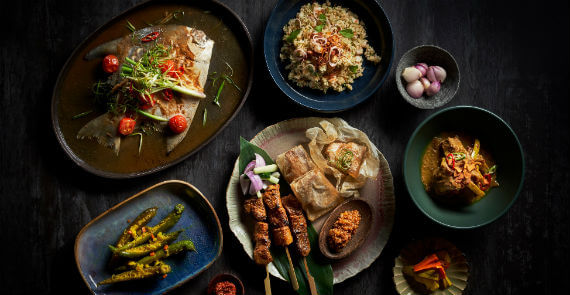 Damian D'Silva, of Folklore (and, more recently, Masterchef Singapore) fame, heads this unique restaurant, focusing on heritage cuisine – traditional recipes and cooking techniques that have largely been lost in today's modern restaurant scene. Food at Kin is served communal style, encouraging a dining experience that is centred around kinship and conversation. Most of the seats here are reserved for Straits Clan members, so make sure to call ahead and reserve a table before visiting. Once you're there, enjoy delicious dishes such as Ngoh Hiang, Sambal Prawn Petai and Babi Masak Assam exactly as they are meant to be enjoyed.
A. 31 Bukit Pasoh Rd Singapore 089845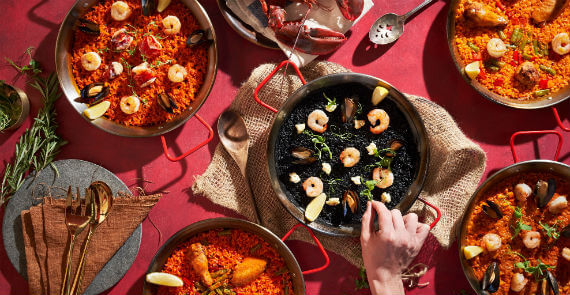 Situated in the Arcade @ The Capitol Kempinski, El Teatro ('the theatre' in Spanish) Tapas lives up to its name and more, with items on the menu such as the Cochinillo Crujiente con Patatas y Pure de Zanahoria (suckling Pig with potatoes and mashed carrot), Ensalata de Queso (goat cheese salad) as well as a selection of other delicious tapas and mains. Their Paella de Bogavante (lobster paella) is a customer favourite, so don't forget to try it while you're there.
A. 13 Stamford Rd Singapore 178905, #01-83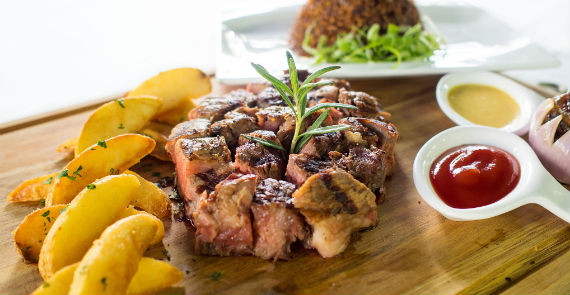 Ubin Seafood now has a new location in (you guessed it) Tampines, after closing down at Hillview Avenue, bringing with it customer favourites such as their Ubin Nasi Lemak and Charcoal Fish Head Steamboat, as well as other delicacies like Scottish "Live" Blue Mussels & Foie Gras Satay. Their selection of meat-based dishes (not just seafood, but pork, beef and more) is truly impressive and well worth a visit.
A. 18 Tampines Industrial Crescent 528605, #01-16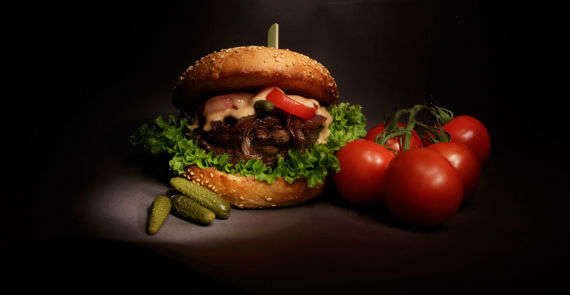 Originating in Amsterdam, Lombardo's in Singapore is the only international franchise of this wildly popular burger joint. Home to the Most Expensive Burger in Singapore (Wagyu beef and gold-leaf covered for S$250; the profits of which go to The Children's Charities Association of Singapore), they also offer many other customers favourites, such as the Double Dutch XXL Burger (much more reasonably priced at S$19.99), El Chapo's Cartel Burger at S$14.99) or the much-needed Hangover Burger for the same price. Their burgers – all original creations – differ in their unique ingredients but unite on truly spectacular taste.
A. 15 Duxton Rd, Singapore 089481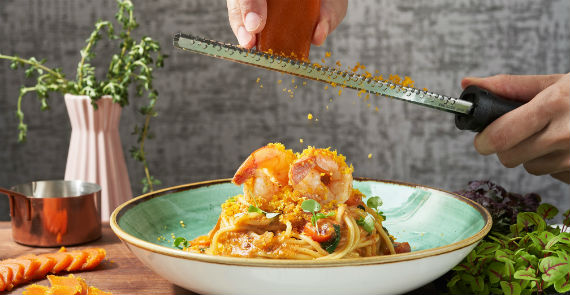 Also located in the Arcade @ The Capitol Kempinski, La Scala Ristorante takes its inspiration as well as its name from the famous La Scala Opera House in Milan. Expect Italian delicacies such as their delicious selection of pastas & pizzas, as well as specialties like the Polipo Terra & Mare (marinated, grilled octopus tentacles with saffron mashed potatoes) and an extensive drinks menu for well-rounded enjoyment.
A. 13 Stamford Rd Singapore 178905, #01-86 
Comments