Nestled within Singapore's city centre and a stone's throw from the scenic Kampong Glam enclave, PARKROYAL on Beach Road, Singapore welcomes Ginger with its new look and feel after an extensive renovation, celebrating the abundance of Singapore's natural beauty in the cosmopolitan city-state.
The spacious restaurant welcomes diners with an irresistible á la carte buffet that showcases the best of Singaporean flavours. Helmed by the hotel's resident culinary master Executive Chef Vincent Aw, Ginger is where one satiates all cravings for local delights – including the Signature Crabs (Chilli, Pepper and Kam Heong) that were a wildly popular free-flow favourite from before, while dining in an inviting space decked out in colours and textures inspired by the versatile plant that is loved for its flavours and health benefits.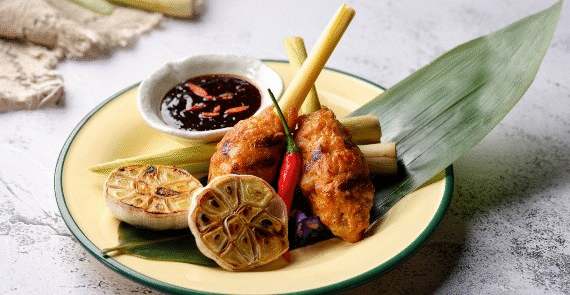 Image Credit: Ginger's River Prawn Laksa and Ginger's Sate Lilit
"The menu is heavily influenced by the rich diversity of Singapore's culinary heritage, along with a sprinkling of South East Asian flavours, marrying the best of traditional tastes and cooking techniques, with a modern and sometimes, unexpected twist.", he shares.
The stunning ambience of Ginger is brought to life by award-winning Singapore-based Australian designer Emma Maxwell. Natural, raw elements such as timber and stone are lightly accented with nickel and brass but softened by a floral narrative through specially commissioned wallpapers and furniture textiles by fabric designer Kerrie Brown.  
Maxwell said: "The space captures, to me, the spirit of 'A City In A Garden'. I wanted to bring the lightness and natural beauty of Singapore to Ginger and PARKROYAL on Beach Road, which deftly showcases contemporary interpretations of classic Singapore dishes."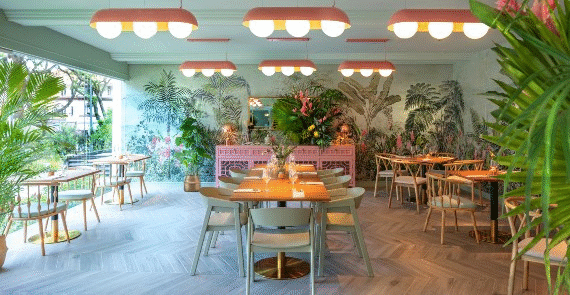 Image Credit: For special occasions of up to 50 guests, a beautiful private dining area that overlooks the scenic Kampong Glam stretch is the ideal choice.
Every effort is made to plate each dish beautifully, ensuring that this á la carte buffet experience is unlike others. Guests can also be assured of top-notch ingredients and meticulous preparation – all sauces, for example, are homemade. Guests may scan a QR code for the digital menu that showcases up to 53 dishes, and thereafter select their preferred dish and portion size. All buffet items are free-flow and served to the table.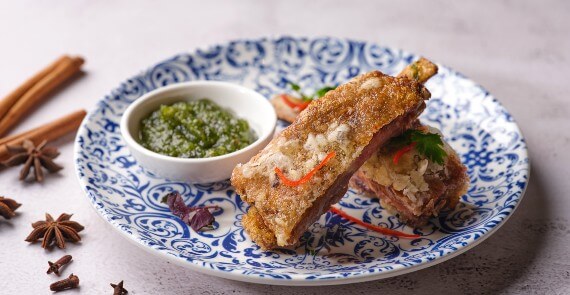 Image Credit: Ginger's Crispy Lamb Ribs with Thai Green Sauce
Starters include: Crisp and Crack with Sambal – a delightful combination of fish and prawn crackers, as well as emping belinjo (Indonesian-style crackers) accompanied by homemade sambal. Dried Shrimp and Garlic Cheese Bun – this version is Chef's local take on the popular cheesy Korean bread using dried shrimp. Cold Appetisers include Salmon Sashimi Platter – sure to please is this generous portion of fresh Chilean salmon served on ice and the Assorted Seafood Platter – a beautiful array of half-shell scallops, fresh prawns and green lipped mussels is elegantly presented on a bed of ice.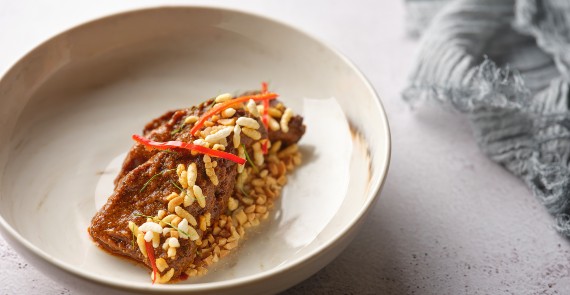 Image Credit: Ginger's Slow-braised Beef Rendang
Local Kitchen favourites include Hainanese Chicken Rice – this dish is a must-have for its authentic flavours, tender chicken, and most of all, the addictive homemade ginger-chilli, and ginger-spring onion sauces. Slow-braised Beef Rendang – this melt-in-your-mouth, flavourful and slightly spicy Australian beef cheek has been slow braised for 24 hours and the Crispy Lamb Ribs with Thai Green Sauce – this lip-smacking creation is at once crisp and tender – a result of first marinated lamb ribs in a secret local spice blend, then coating with flour and deep-frying. The accompanying homemade Thai mint sauce lifts the entire dish to new heights.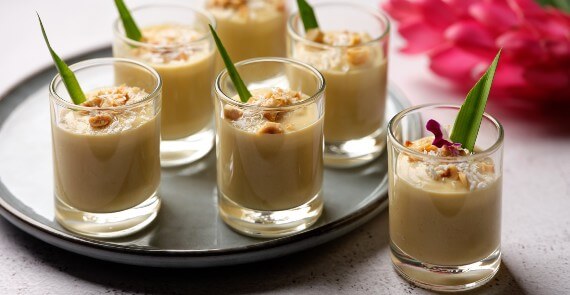 Image Credit: Ginger's Durian Pengat Dessert
Guests will also enjoy BBQ delights, Noodles, Signature Crab dishes including Singapore Chilli Crab with Mantou – Chef's version is a fine balance of sweet and spicy flavours and the Black Pepper Crab – Chef's version made with an intensely-flavoured sauce that possesses the right 'kick' and desserts including the Durian Pengat – the perfect blend of luscious durian purée and gula melaka is then topped with desiccated coconut and toasted crushed hazelnuts.
Other options include BBQ Fish in Banana Leaf, Stir Fried Hokkien Prawn Noodles, Impossible Burger, Salmon with Saffron and Seafood Ragout, 24-Hour Braised Angus Beef Cheek with Asparagus, Chicken Roulade with Mushroom Stuffing and Potato Puree, Pulut Hitam, Tau Suan, Mini Pineapple Pie and Assorted Cakes. Breakfast and all-day a la carte menu options are also available.
For dining reservations or enquiries, please speak with us at +65 6505 5710, email [email protected], or via online reservations at www.panpacific.com/ginger
Comments
Well I wasn't expecting to be taken on such a culinary journey. I always feel its such a tough time for hotel restaurants. I mean the average eater is really expecting the same standard they can receive in smaller independent restaurants from an outlet that is preparing to cater for hundreds. Also not considering that they also manage foods wastage with this volume. I know what it takes to run a commercial kitchen so this place impressed me. They've put so much thought into the new decor bringing in Singapore-based Australian designer Emma Maxwell. She has really kept to a local touch in subtle ways from the traditional satay fans made into lighting shades and also creating a tropical feel inside a hotel space that gives credit to Bugis or Kampong Glam. So Ginger really satisfies your cravings for local delights. Their homemade sauces including an array of sambals were perfect to start with the fish crackers. I skipped this as I wasn't sure if they were gluten free but typically they're made from tapioca so I'll check next time. After some fresh seafood, large prawns & mussels which pair nicely with the sauces they provide a daily special. Here I enjoyed the taste of the Rojak, balanced nicely as expected but here is where the feast starts. With BBQ specials the chicken wings were very nicely marinated & crispy, the otah had a very fresh taste and the added prawns was a nice mix. On to my favourite local dish - Laksa.. Warm, slurping on my rice noodles and a new sambal served to give me my preferred option of extra spicy..yum! If you can't decide between chicken rice, or rendang have both! The portion size was just nice so I didn't feel too greedy having the sample size. This was needed as this place has a reputation for its free flow crabs and with the option of Chilli Crab or Kam Heong I was wondering if I would be defeated. I asked a few questions around the sourcing at this point and I was pleased to hear about how Chef chooses who is providing the best crabs. Ours were meaty and thankfully assisted in the opening. I was happy to drip my sauce all over the juicy meat & skip the mantou buns. Just when you realise you can't fit anything else in, you remember that you are a durian lover! Of course, the Durian Pengat was creamy & flavoursome, a little too sweet for my taste but next up was my Chendol Ice Cream, so I balanced it out with the cooling coconut meat from the shell it was served in. The latter being a must try!!! Ok feeling totally sinful I asked the price and was astounded at the value. You are hard pressed to get 2 good meals for $50 in Singapore so buffet at this quality with a dinner price of $58++ is a winner & even cheaper for lunch. Go now before they realise their mistake!
Re-opening Special Ginger á la carte Lunch Buffet Saturday, Sunday and Public Holidays 12:00 pm to 2:30 pm Adult: SGD48++ per person l Child (6-12 years): SGD24++* Ginger á la carte Dinner Buffet Wednesday to Sunday, Public Holiday Eve and Public Holidays 6:00 pm to 10:00 pm Adult: SGD58++ per person l Child (6-12 years): SGD29++* *Enjoy one dines free with three paying adults when you pay with UOB or HSBC credit/debit card *Re-opening Special Price for a limited time only from 15 October to 30 November 2020 *Re-opening Special Promotion: One Dines for Free with Every Three Paying Adults from 15 October to 30 November 2020 For dining reservations or enquiries, please speak with us at +65 6505 5710, email
[email protected]
, or via online reservations at www.panpacific.com/ginger
Expat Choice would like to highlight the BBQ specials on the menu which include favourites such as BBQ • Sate Lilit – these Indonesian-style lemongrass skewers with minced seafood are served with chilli padi in kicap manis (sweet sauce) • Singapore Satay – the familiar favourite of skewered fire-kissed chicken is served with aromatic peanut sauce • Homemade Otah – generously portioned and fragrant, these grilled fish cakes are a must-order • Classic Chicken Wing – these are akin to the popular hawker-style barbecued chicken wings that are slightly sweet and smoky, served with a piquant lime-chilli sauce • BBQ Chicken Taliwang – another nod to South-East Asia is this Lombok-style chicken marinated with a house-blend kicap manis based sauce. For dining reservations or enquiries, please speak with us at +65 6505 5710, email
[email protected]
, or via online reservations at www.panpacific.com/ginger