Home-grown seafood and crab specialist  JUMBO Seafood has unveiled its newest outlet at ION Orchard.  
JUMBO Seafood ION Orchard marks a milestone in the restaurant brand's history as it is their first outlet along Singapore's premium shopping belt. Established in 1987 at East Coast Seafood Centre, JUMBO Seafood is best known for serving high quality live seafood cooked Singapore-style – most notably its Award-Winning Chilli Crab, complemented with golden Deep Fried Mini Buns. Live seafood tanks are proudly displayed at every outlet, exhibiting the wide selection of live crabs, lobsters, fish and other pristine catch.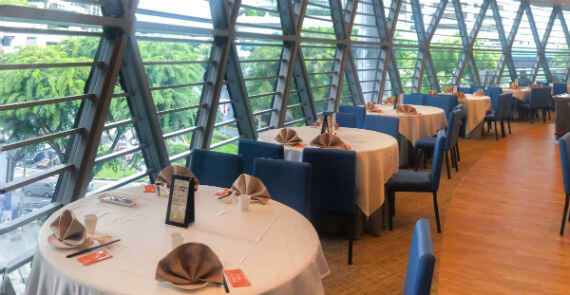 Introducing new and outlet-exclusive dishes that span dim sum and pao fan, to seafood signatures, JUMBO Seafood ION Orchard is set to impress with quality Singapore-style cuisine in an upscale dining hall with a panoramic view of the city.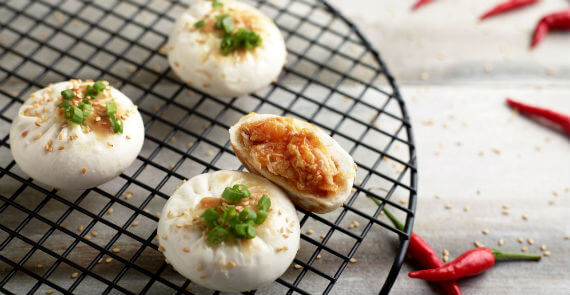 Dim Sum & High Tea Delights
Shoppers can drop by JUMBO Seafood ION Orchard on weekdays from 11:30am to 3:30pm (last order 2:45pm) to enjoy a dim sum lunch, as well as on Saturdays, Sundays, and Public Holidays for high tea, between 2:30pm and 5:30pm (last order 4:45pm).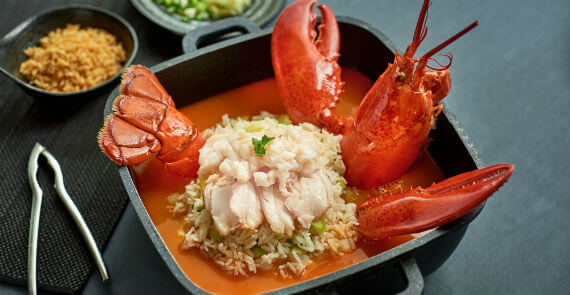 For the first time, JUMBO Seafood's Award-Winning Chilli Crab is presented in bite sized portions as a dim sum – delicate crab meat in a sweet and spicy chilli crab gravy provides the moreish filling for the Baked JUMBO Chilli Crab Puffs ($8.80) and Pan Fried JUMBO Chilli Crab Buns ($8.80). The former features flaky and buttery puff pastry, while the latter presents a delightful medley of flavours and textures with its soft, hand-crimped 'hat' top and crisp edges.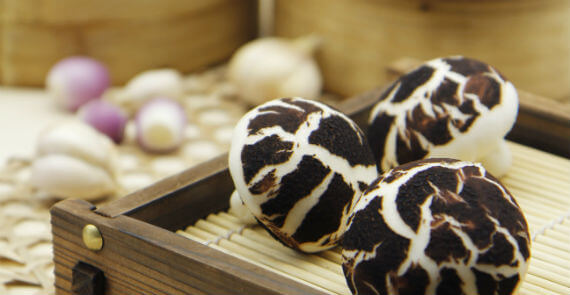 Diners can also look forward to other highly-recommended dim sum and innovative creations such as Steamed Rice Rolls with Prawns and 'Laksa' Sauce ($6.80); cloaked in an aromatic laksa gravy are fresh prawns in silky thin cheong fan rolls; Steamed Prawn Dumplings with Black Truffle ($6.80) and Steamed Shiitake Mushrooms with Black Pepper Buns ($6.80) – each hand-made bun resembles a mushroom; complete with a realistic streaky 'cap', and reveals a robust combination of shiitake mushrooms and black pepper within. 
On weekends from 2:30pm to 5:30pm (last order 4:45pm), customers looking for a relaxing afternoon can enjoy a high tea menu featuring a curated collection of floral teas: Oriental Beauty ($10 per pot) – a fragrant blend of jasmine and chrysanthemum flowers, and Springtime Blossoms 步步高升 ($10 per pot); delicate green tea leaves are infused with the fragrance of chrysanthemum and peony. These teas pair impeccably with small bites such as the Fried Mini Buns with JUMBO Award-Winning Chilli Crab Sauce Dip ($9.80) and Crispy Fried 'Ngoh Hiang' (Five-Spice Meat Rolls) ($14). 
On top of its repertoire of live crab dishes and signatures, JUMBO Seafood ION Orchard also offers two lavish pao fan 泡饭 options. Traditionally a simple and unassuming dish of rice served in soup, the iterations here feature prized crustaceans in piping hot broth topped with crispy rice grains which sizzle when added to the pot. 
 
Diners can savour two renditions: King Prawns and Fragrant Rice in Rich Seafood Broth ($38) – jasmine rice steeped in an umami-rich prawn broth rendered by simmering prawn shells for several hours; and Live Boston Lobster and Fragrant Rice in Rich Seafood ($78) – a meal for those looking to pamper themselves with a truly gastronomic treat. Another Chef-Recommended outlet-exclusive is the Live Boston Lobster on Half Shell Fried with Golden Salted Egg ($68) where a frothy salted egg sauce and curry leaves perfectly complement the sweet flesh of the crustacean.
Amid an upmarket elegant setting affording panoramic views of Orchard Road, regulars of  JUMBO Seafood can now choose from the restaurant's new range of sizing portions for its dishes; from extra small to medium-sized servings, ideal for smaller groups of diners to order and enjoy a wider spread. The 160-seater space caters to gatherings of small, intimate scales, as well as larger groups and get-togethers. Private dining rooms, with the option of adjoining ones for bigger events, celebrations, and corporate functions, are also available with prior reservation.
OUTLET INFORMATION
JUMBO Seafood (East Coast Seafood Centre) (Flagship)
Address Block 1206 East Coast Parkway,  #01-07/08,  East Coast Seafood Centre, Singapore 449883 6442 3435  Mon-Fri: 5 – 11:45pm (last order at 11:15pm) Sat, Sun & PH: 11:30am – 12am (last order at 11:15pm)  
JUMBO Seafood (Riverside Point) 
30 Merchant Road, #01-01/02, Riverside Point, Singapore 058282 6532 3435 Lunch: 12 – 3pm daily (last order at 2:15pm) Dinner: 6 – 12am daily (last order at 11:15pm) 
 
JUMBO Seafood Gallery (The Riverwalk)  
20 Upper Circular Road, #B1-48, The Riverwalk, Singapore 058416 6534 3435 Lunch: 12 – 3pm daily (last order at 2:15pm) Dinner: 6 – 12am daily (last order at 11:15pm) 
 
JUMBO Seafood (Dempsey Hill) 
Block 11 Dempsey Road, #01-16, Dempsey Hill, Singapore 249673 6479 3435  Lunch: 12 – 3pm daily (last order at 2:15pm) Dinner: 5:30 – 11:30pm daily (last order at 10:30pm) 
 
JUMBO Seafood (ION Orchard)
 
 2 Orchard Turn, #04-09/10 6737 3435 Lunch: 11:30am – 3:30pm daily (last order at 2:45pm) High Tea (on weekends and public holidays only): 2:30pm – 5:30pm (last order at 4:45pm) Dinner: 6 – 10:30pm daily (last order at 9:45pm) 
 
JUMBO Seafood (NSRCC's Changi Clubhouse) 
National Service Resort & Country Club, 10 Changi Coast Walk, Singapore 499739 6552 3435 MON-SAT Lunch: 11:30am – 3pm (last order at 2:15pm) Dinner: 6 – 11pm (last order at 10:15pm)  SUN & PH Lunch: 10am – 3pm (last order at 2:15pm) Dinner: 5:30 – 11pm (last order at 10:15pm)