Hero Imager: Beats Bites & Cocktails (BBC) Founders, Douglas Williams, Caroline Tan & Shigeki
Popping up on adventurous tipplers' radar is a new drinking den on buzzy Bukit Pasoh Road, Beats Bites & Cocktails (BBC). The 50-seater Lounge, Kitchen & Music space serves up a highball of neat tricks for an unpretentious night out.
BBC, a Ladies & Gentlemen concept, marks Caroline Tan and Douglas Williams' first foray into Singapore's vibrant and diverse nightlife scene. The pair previously helmed Bottle Boot & Cigar, a cocktail bar and F&B consulting office for L&G in Beijing. Together with Culinary Director, Max Levy of Okra Hong Kong, and Music Director, DJ Shigeki Ito, the dynamic quartet puts their own flava to the BBC experience in Singapore.
The beverage menu at BBC showcases a modern take on spirit-forward classic cocktails, created in collaboration with Dee Atan who has an extensive bartending history in Singapore, most recently at IBHQ.
They have put together an extensive spirits programme with offerings such as an ocean-fused whiskey aged in Japanese pine barrels, to Caribbean Rum from Grenada finished in Portuguese Madeira casks and paired with over 120 types of bitters.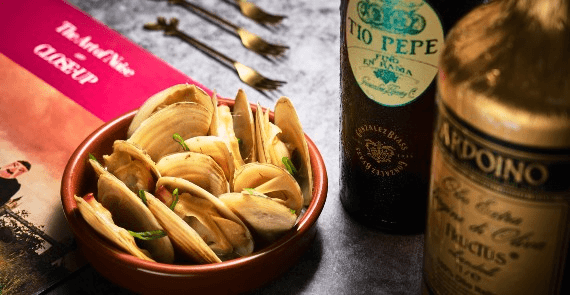 The menu at Beats Bites & Cocktails is easy to navigate; each drink is categorised into their respective cocktail family - Bitter, Martinis, Old Fashioned, Highballs and Sours. The wine, sake, cider and tea offerings have been exceptionally curated with a focus on small production, sustainable and biodynamic practices with offerings from Eric Bordelet sparkling cider, Henri Giraud champagne to Copenhagen Sparkling Tea.
From the Bitter Familia, the Cane & Caffeine features a blend of Plantation dark rum, Old Young's infused with coffee, Mancino Rosso Amaranto, Campari and Select, garnished with a candied grapefruit peel dipped in dark chocolate.
A meticulously crafted drink dedicated to eclectic '80s music icon, Prince, Purple Rain features Widges gin infused with hibiscus and butterfly pea, Sūpāsawā foam, elderflower liqueur and flower foam. As a worthy tribute to the flamboyant rockstar, atop the theatrical cocktail sits a bubble that reveals a burst of berry and citrus flavoured smoke. 
Housing a BERTHA charcoal and wood oven, the only one of its kind in Singapore, Chef Max uses Binchō-Tan Wood (備⾧炭) for high heat grilling, to impart amazing flavour to the dishes. Not to be missed are the Bertha Ash Biscuits, which are made in-house with leftover ash from the oven as a substitute for baking powder, lending it a slight bitterness that cuts through the unctuous flavour of the Longan Honey Miso Marinated Foie Gras that is served alongside.
A signature from the menu at Okra, Nambanzuke, features creamy eggplant fermented using a traditional Japanese technique and topped with a carrot and daikon slaw that packs a serious flavour punch.
An integral part in setting the mood and creating the dynamic vibe at BBC is Music Director, DJ Shigeki Ito, who has a residency at BBC and is also in charge of the ever-evolving music playlists and the vinyl DJ rotation. With a penchant for tailoring the music to the crowd, DJ Shigeki has spent over 18 years entertaining fans at some of the top bars, clubs and major events in Sydney and Singapore.
INFORMATION
a. 8 Bukit Pasoh Rd, Singapore 089822