Expat Choice recently caught up with founder and visionary for Burn, Aussie bloke and all-round good guy Pav Khialani who shares his love for food, people and everything wood-fired.
"We think cooking food in a wood-fired oven is the best thing you can do for the flavour and retaining the nutritional values. We take pride in our bread and natural starters producing a variety of natural loafs and flat-bread that are of a sourdough variety."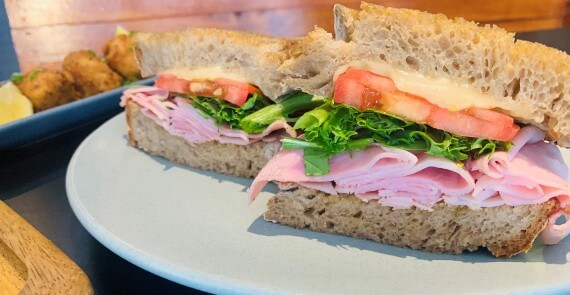 Image: Burns famous Ham, melted Cheese, Lettuce, Tomato on fresh baked wood-fire oven sourdough
Burn specialise in cocktails with micro-distilled spirits and slow-cooked meats from Australia. Discover the delicious breads, smoked meats, roasted veggies and artisanal cocktails and in-house roasted coffee! Burn operates every day from 10:00am to 9:00pm, and closes earlier on Sunday at 4pm. You can also make your orders 24/7 and in advance. The Burn offer ranges for breakfast to wood-fired meats, all day long so dig in!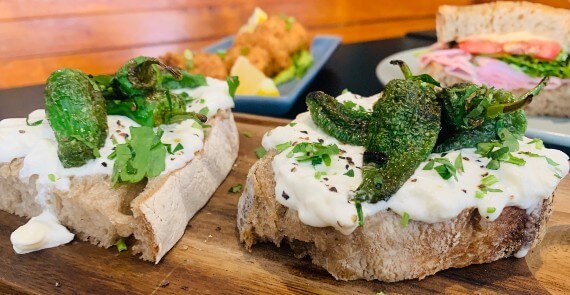 Three favourites for the Expat Choice Team included the Padron Peppers and Burrata. Delicious fresh organic padron peppers grown in western australia and finished in a wood-fire oven right before your eyes at Burn. These have a strong punchy bitterness that is complimented with a savoury/ sweet natural feel. It comes served with Buffalo & goat burrata, rennet free and made from 100% natural milk culture.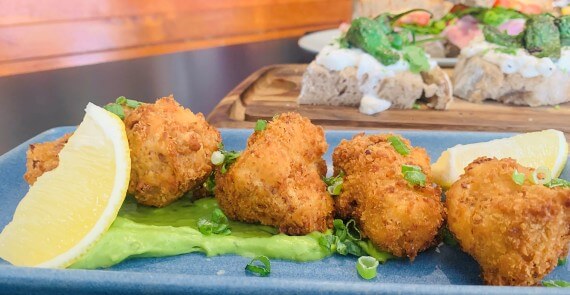 The Cauliflower Wings. Gluten free since it's battered with almond flour and finished at 500 degrees in the wood-fired brick oven, served with fresh mint salsa verde, this vegan option is a favorite amongst veggie and vegan guests for it's light feel and crunchy cauliflower texture coupled with a tangy mint salsa verde.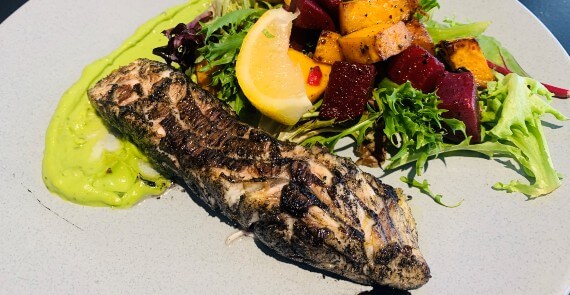 And the jewel in the crown, the Blackened Barramundi. Fished in Singapore waters in collaboration with Kuhlabarra, Burn presents the blackened barramundi, coated with black quid ink and roasted at 500degrees C until the skin turns to crackling and seals up the fish such that the meat is steamed. The texture is extraordinary and it's complimented with an avocado feta dip and a refreshing beetroot and charred pumpkin salad.
Burn located at 21 Club Street is offering your favourites for TAKEAWAY and DELIVERY for all your home-dining needs. Perfect for enjoying at home or gifting your favourite people, enjoy your favourite wood-fired dishes made from the freshest Australian ingredients from BURN and enjoyed in the comfort in your own home. 
Orders will be delivered to you on the same day within 1 hour when payment has been made. Last order is at 8:30pm.
$10 islandwide delivery for any orders above $50
$5 islandwide delivery for any orders above $100
$15 flat rate for any orders below $50, or stop by our restaurant at 21 Club Street to pick up for free!
INFORMATION
A. 21 Club St, Singapore 069410
Comments
Cooking food in a wood-fired oven is the best thing you can do for the flavour and retaining the nutritional values.
It was a pleasure to film this segment with the team at Burn. Their food really is quite a step above. I personally am a breakfast fiend and love anything eggs, which of course Burn do superbly. I particularly love a great Ham and Cheese toasty and this awesome ham melted cheese, lettuce and tomato sandwich is just what the doctor ordered when you need a late lunch . But it really is the dinner menu which is exciting knowing that a restaurant such as Burn is offering a menu with pricing well under the charges being charged in the same area for good, but not necessarily great food.