What do you think about Best Rooftop Restaurants in Singapore?
You can pretty much bet your cotton socks that a restaurant sits at the top of most of Singapore's skyscrapers.
There's nothing better than a stunning view - be it over lunch or dinner - and a delicious meal to satisfy the senses. Then you have the plethora of opportunities to experience fireworks from these awesome vantage points and of course - the world renowned F1 Night Race in September each year have catapulted these restaurants into the most popular vantage points for both residents and tourists to Singapore. Although, it is the food that we are focusing on here and all the rest comes as icing on the cake.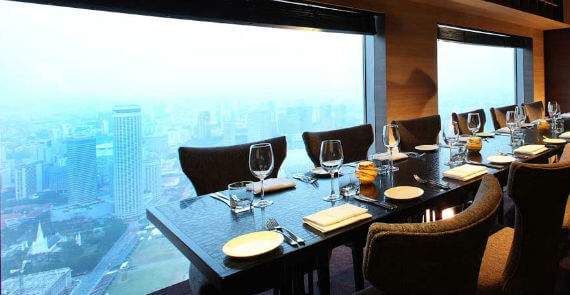 The award-winning combination of outstanding cuisine and spectacular views makes Stellar a breathtaking dining experience. Renowned for its modern gastronomic cuisine that focuses on artisanal methods of preparation, Stellar's kitchen is a culinary workshop where the utmost care is taken to source the best seasonal produce and present modern creations to delight the palate. contact and location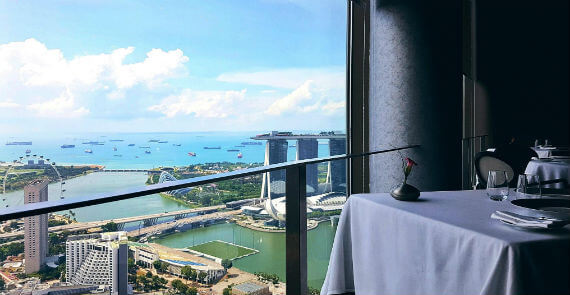 Derived from the ancient Sanskrit word for 'bowl', JAAN is an intimate, 40-seat restaurant dedicated to showcasing the finest in modern French cuisine in Singapore. The artisanal menu is built around a passion for showcasing the freshest ingredients through simple but beautiful dishes that reflect both culinary tradition and creativity. The result is imaginative, innovative cuisine that celebrates and respects seasonality, terroir and the skills of the world's best gourmet producers. contact and location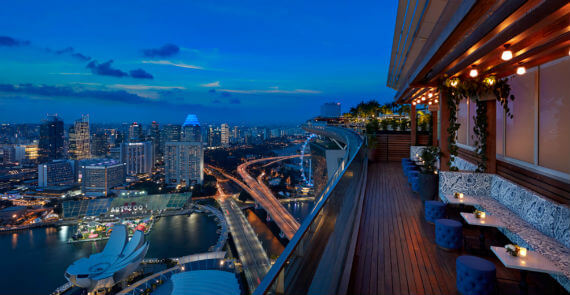 Perched 57-storeys atop Tower 1 of Sands SkyPark, LAVO Singapore offers a fresh vibe dining concept set against the spectacular backdrop of the city sky-line. Inspired by LAVO New York and Las Vegas, the Singapore venue features an Italian American restaurant that offers a vibe-dining experience complete with a luxurious indoor and outdoor lounge. Then there is the wraparound terrace and exciting nightlife programming that include live DJ sets. contact and location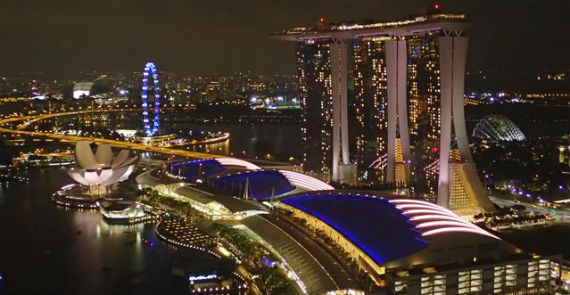 LeVeL33, the World's Highest Urban Craft-brewery and rooftop restaurant is a concept which presents an unparalleled dining experience complete with one of the best views of Singapore's Marina Bay and city skyline. Residing in the penthouse of Asia's best business address™, the Marina Bay Financial Centre (MBFC), LeVeL33 is the epitome of urban penthouse dining. contact and location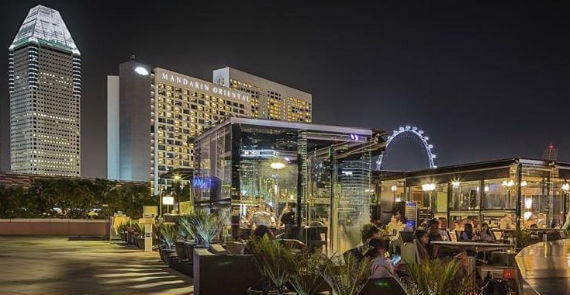 The food and beverage team at Orgo is headed by renowned Japanese master mixologist, Tomoyuki Kitazoe, who is also the brand adviser to Bacardi Japan. His personal brand of alchemy culminates in the ultimate version of your favorite drink. This emphasis on freshness and quality extends to the food menu. The primarily French menu focuses on the innovative use of Asian ingredients of the finest quality with with a French flair. contact and location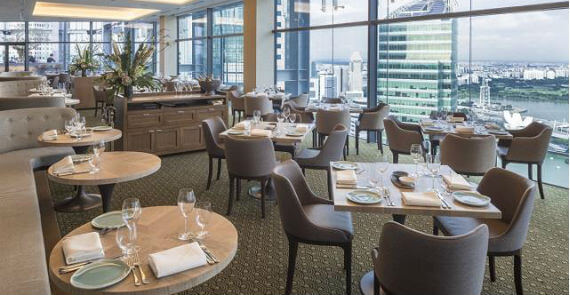 On the 40th floor, nestled between the clouds and a 15,000-square-feet Sky Forest, Artemis is known as a Singapore landmark showcasing the Mediterranean's rich culinary heritage with the freshest organic produce. Elevated above the hustle and bustle of the city on the rooftop of CapitaGreen, the restaurant and bar offer spectacular views of the urban skyline to the sea beyond as you step out on the breezy outdoor terrace which is ideal for savouring a broad portfolio of wine, cocktails and craft beers. contact and location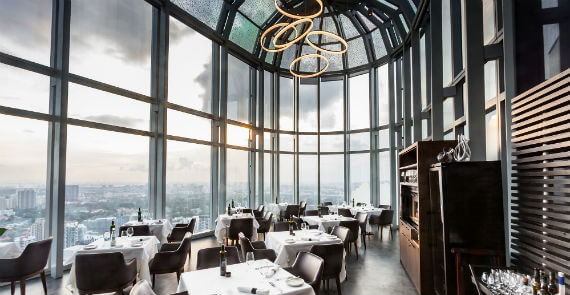 Perched high up on floors 55 & 56 of ION Orchard Tower in the heart of Singapore is Salt Grill & Sky Bar. The kitchen delivers contemporary Australian cuisine high above the landscape of Singapore's famous Orchard Road. The restaurant boasts stunning floor to ceiling windows, showcasing the magnificent height of the dining room and bar area. With a menu that focuses on quality Australian and local produce and an impressive wine list to match, Salt Grill & Sky Bar offers diners with breathtaking panoramic views of Singapore, both day and night. contact and location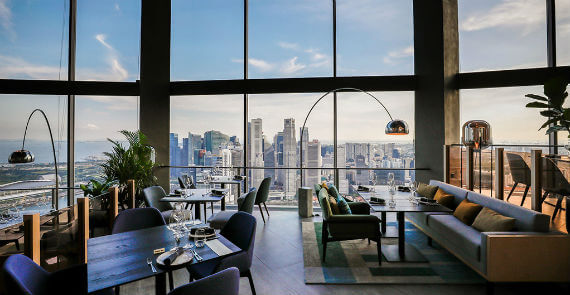 Swissötel restaurant and grill, Skai, also doubles as a cool cocktail bar with an awesome view. Skai is a lively contemporary grill, situated on the 70th floor of Singapore's acclaimed Swissotel The Stamford. Iconic city views, seamless service and bespoke beverages create the perfect ambience from which to savour Executive Chef Paul Hallett's finely crafted menu of sharing dishes, all of which feature a truly personal and progressive touch. contact and location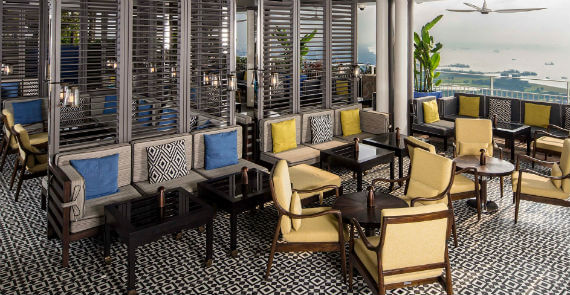 Wolfgang Puck's critically acclaimed flagship restaurant, Spago, is located at Sands SkyPark at Marina Bay Sands Singapore. The beautiful and airy outdoor terrace is where you'll want to be for spectacular skyline scenery. Featuring a fine dining restaurant and terrace lounge with an al fresco bar overlooking Marina Bay Sands' famous infinity pool, Spago boasts a spectacular view of the city skyline and garden. contact and location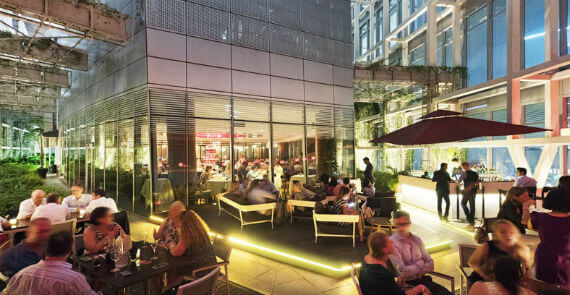 Zafferano is perched 240 metres above ground. Guests come through an entryway flanked by two glass-clad kitchens: the cold preparation area to one side, the hot kitchen to the other. You will then step into an open hall with encircling glass curtain walls. The main dining room sits on a raised wooden platform that offers gorgeous and expansive views. contact and location