Hero Video :Insider TV Due to Covid-19 restrictions some of the named businesses in this article my have closed after publication until further notice. We leave those businesses in the article in the hope they will return in due course.
From colonial buildings to avante guard skyscrapers, Singapore's skyline has got it all.
Enjoy the views and take a gander at life at the top with the best of Singapore's swanky rooftop bars! Whether you're looking for a romantic night out, top mixology, party hotspots, or even just the best vantage point on the island, we've got the 'high'lights of Singapore's best rooftop bars.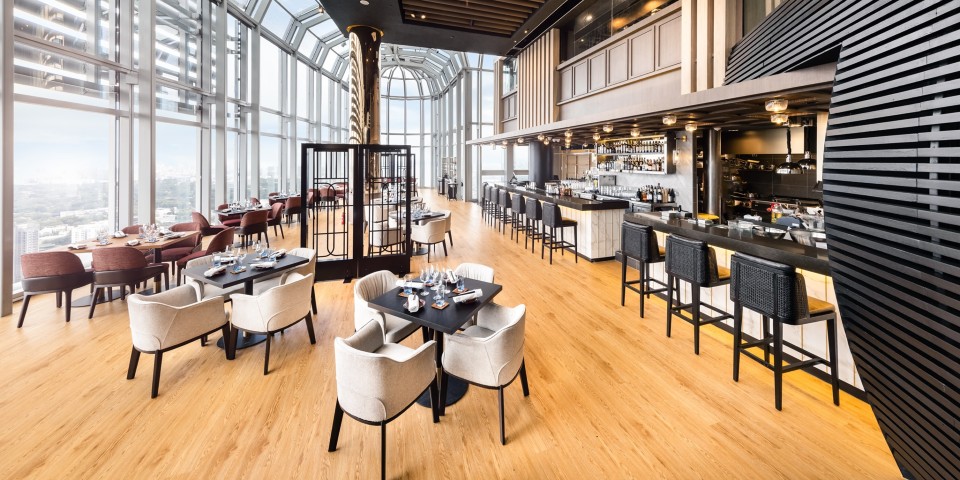 Set with poise at the summit of ION Orchard, under the new rooftop establishment 1-ATICO — FLNT ("flint") is a lifestyle destination celebrating Nikkei culture in Singapore! Recognized as the only Nikkei-influenced Sumiyaki Grill and Bar in town, this trailblazer gastro bar offers a progressive range of Japanese-meets-Peruvian beverages and cuisine. Cocktails feature flavour profiles that bring together the elegance and delicacy of Japan, with the freshness and spicy punch of Peru. Talk about bursts of flavour! What's more to love — the chic, luxurious setting provides guests with panoramic views of the majestic city skyline!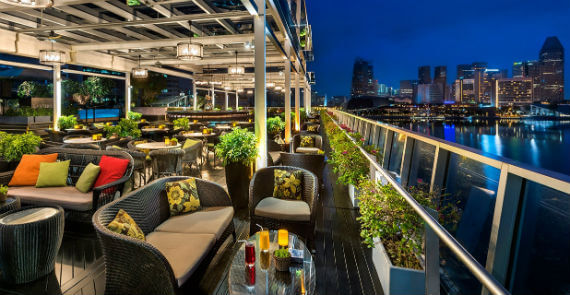 Named after Clifford Pier's original Chinese name – Red Lantern Pier, this gorgeous rooftop bar at The Fullerton Bay Hotel Singapore offers up a panoramic view of the Marina Bay waterfront. Come for the infinity lap pool, and stay for the light and laser show. While you may have to shell out a little bit more for your Singapore Sling, it's worth it for the view.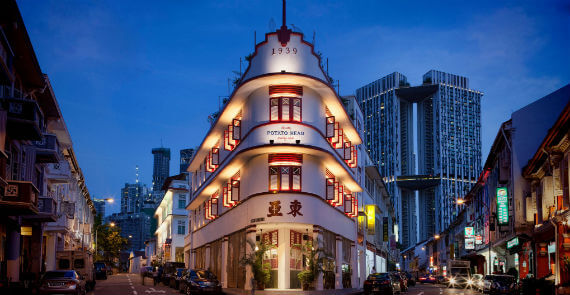 Image Credit : Potato Head Folk Facebook Page
If you're looking for that old-school bohemian vibe with a touch of whimsy, The Rooftop Garden at Potato Head Folk is calling your name. Apart from the gorgeous fairy lights, and wildly popular burgers, The Rooftop Garden also serves up some exquisite tiki cocktails. A casual venue, with a relaxed vibe, a visit here won't break the bank.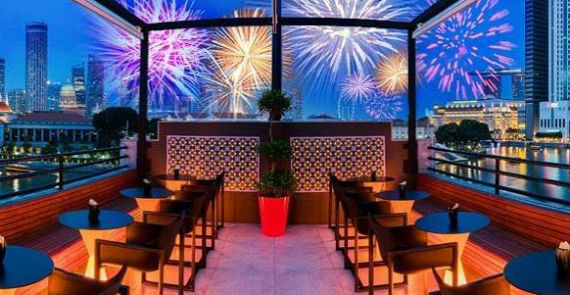 Photo Credit : Braci Facebook Page
Nestled away in an enchanting shophouse by the Singapore River, Braci was conceptualized by Michelin Star Chef Beppe De Vito. Braci, which means 'embers' in Italian, is dedicated to serving up modern Italian fare primarily cooked using wood; an ode to the old while ushering in the new. The 30-seater bar is known for their signature cocktails and aperitifs. Don't believe us? Try the Honeytrap, a gin-based delight whipped up by their excellent bartenders.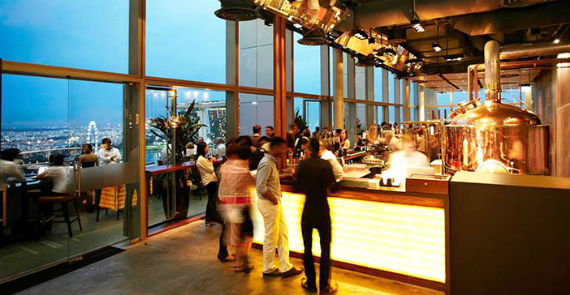 Labelled as the World's Highest Microbrewery, Level 33 is home to a unique dining experience. Enjoy the unobstructed views of Marina Bay Sands, and watch the sunset while enjoying happy hours at this microbrewery. This hotspot is always packed, so it's best to call the restaurant directly to book a table in advance if you'd like to avoid a long wait time. If you're just there for the view, get yourself a standing table on the Terrace while you enjoy their craft beer, or choose from their extensive wine list.
A. MBFC Tower 1, 8 Marina Boulevard, #33-01 018981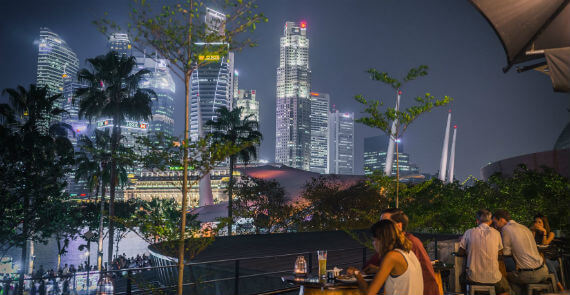 This is a cosy alfresco dining option by the waterfront and a rooftop bar with breathtaking views of the Marina Bay skyline. Order late night items like garlic truffle fries and parma ham with rock melon, or Asian-styled bites like the salted egg drumlets and satay nachos, as well as a whole range of pizzas. Open late until 2am from Monday to Thursday and until 2.30am on Friday, Saturday and Sunday. Supply & Demand is also known as a go to after-show supper haunt with wine, beer and cocktails plus yummy beeritas thrown in for that hearty filler at the end of the night! Review Here
A. Esplanade Mall, 8 Raffles Avenue #01-13 039802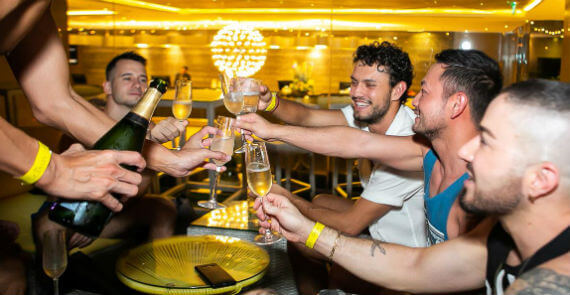 Photo Credit : Bar Canary Facebook Page
Located at the top of Grand Park Orchard, this newly revamped bar has a host of cocktail options that are perfect for the summer. Try their delicious Boozy Pops that come in six different flavours and a host of alcoholic combinations, for that perfect social media post. Or, you could try the Beat the Clock by heading to Bar Canary as early as possible for the best deal available. You can opt for a bucket of eight beer, a set of bottled house wine, or four signature cocktails. But, beware! The prices rise the later you get there.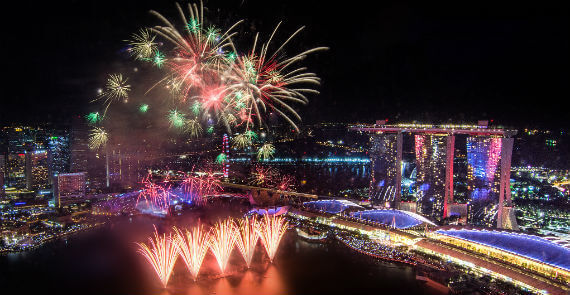 At this highly rated Italian restaurant you'll find the perfect place to head to for an authentic meal. They've also got a wide variety of vegan-friendly options that make it an ideal place for herbivores. You can also opt for a free flow of drinks at the Rooftop Terrace Lounge for $78 from 6:30 to 9:30 and enjoy a magnificent view of the city from the 43rd floor.
A. 10 Collyer Quay, Level 43, Ocean Financial Centre 049315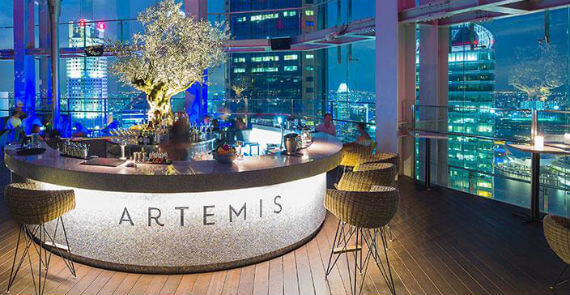 A Mediterranean rooftop restaurant 40 storeys up, Artemis Grill is home to a menu that is continuously changing to offer up the best of seasonal produce. The Sky Bar also has its own food and drinks menu and is open six days a week. Choose from an extensive drinks menu that has a host of beers, classic cocktails, and luxurious wines. Don't forget to take full advantage of their daily happy hour menu as well.
A CapitaGreen, 138 Market Street, #40-01 048946 
Video Credit : Panks Online
Head to this tourist hotpot that overlooks the Marina Bay for an amazing view. Skip the observation deck and head to lounge instead as the price difference is negligible and you can get yourself a drink with the entry charge. The consensus seems to be, that the best time to visit is during sunset. With excellent service, and an epic view, this bustling hotspot isn't one to miss.
A. SkyPark at Marina Bay Sands, Tower 3,, 1 Bayfront Avenue 018971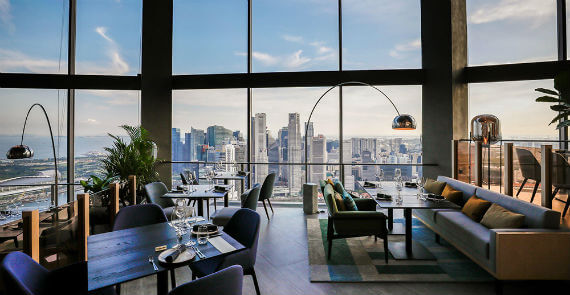 Located on the 70th floor of Singapore's famous Swissôtel The Stamford, this rooftop grill restaurant provides a contemporary look at all things grilled. With such a great vantage point, Skai offers up a stunning view of downtown Singapore. Don't miss trying the Wagyu, with rave reviews, and make your night extra special with their Champagne Evenings, which includes a free flow of champagne, beers, wines, and cocktails, along with hot and cold appetizers and a buffet!
A. Swissôtel The Stamford, 2 Stamford Road, Level 70 178882 

P. +65 6837 3322​​​​​​​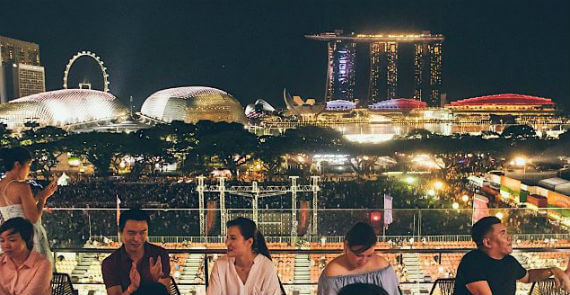 You don't have to be in a skyscraper to get an incredible view of the city, and Smoke & Mirrors proves that with their uninhibited view skyline from their six storey perch. Known for their signature cocktails crafted by bartender Jorge Conde, expect a creative menu guided by the name; so it's all about combining illusions with a magical cocktail experience.
A. National Gallery Singapore, 1 St Andrew's Road, #06-01 178957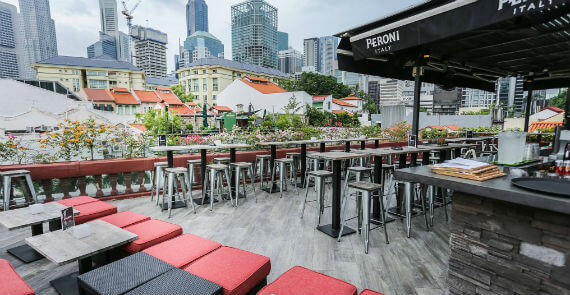 Photo Credit : The Sceening Room Facebook Page
This cozy haunt, formerly known as the La Terraza, is located in Ann Siang Hill. An award-winning bar in its own right, Screening Room offers its patrons a unique 'East meets West' view of Chinatown. Expect to find great service, and a lively expat crowd. True to its name, Screening Room also hosts movie screenings at various timings during the day, so make sure to check their website if there is a cult film that you've been looking forward to seeing, then head upstairs for a few drinks after.
A. 12 Ann Siang Rd #03-00 069692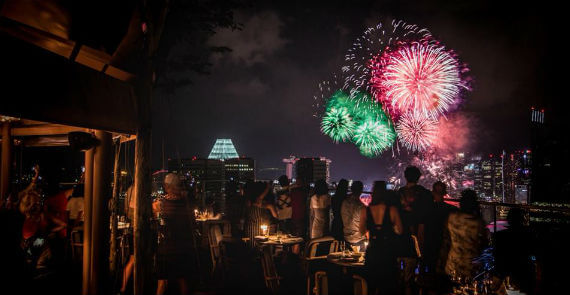 39 floors up in Andaz Singapore, Mr. Stork is named after the bird that is thought to bring luck. But, that's not the only thing Mr. Stork will bring you. Apart from the 360-degree view of the city, the tropical oasis-like vibe makes the sunset particularly gorgeous. Enjoy some delicious cocktails, or choose something from the extensive wine list. Although the bar is 'walk-in' only, you won't have to wait too long for a table; groups of ten or more can email in advance to be accommodated.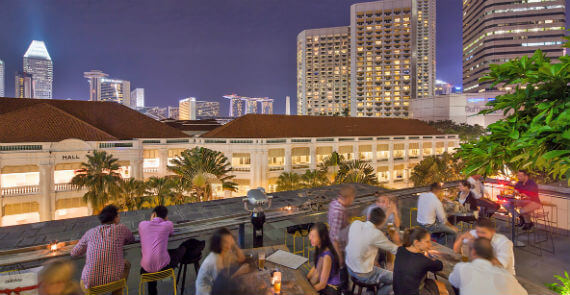 Picture Credit : Loof Facebook Page
A standalone rooftop bar located in Odeon Towers, Loof is actually a play on the way that Singaporeans pronounce roof. Sip on some signature Southeast Asian cocktails, while munching on the 'Dude-Sin' cuisine; a Singaporean take on popular bar bites. Don't miss out experiencing their Supper Club Series, which features must-try creations from Singapore's top mixologists and chef.
A. Odeon Towers, 331 North Bridge Road, #03-07 188720 
Orgo check with venue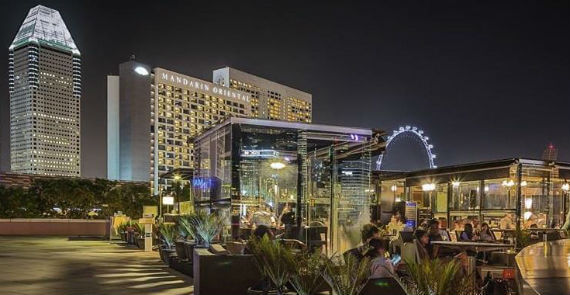 Science plays a big part at Orgo, where organic chemistry provides much of the inspiration for the menu. Expect to find meticulously made cocktails curated by Japanese master mixologist Tomoyuki Kitazoe. Located on the roof of Esplanade, you can enjoy a magnificent view of the Sands Hotel. The, primarily, French menu takes Asian ingredients and treats them with a French twist for a refreshing dining experience.
A. Esplanade-Theaters on the Bay, 8 Raffles Avenue, #04-01 039802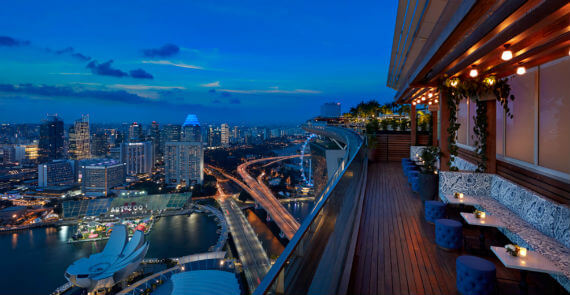 Dine 57 storeys off the ground at this Italian-American restaurant complete with a resplendent view of the Singapore skyline. Feast on some classics such as the famous Lavo Meatballs, and sip on some delicious craft cocktails. On the weekend, dance the night away at the lounge with a fully equipped DJ booth. While dinner and drinks at Lavo will cost you, the finer things in life don't come cheap.
A. Level 57, Sands Skypark Hotel Tower 1, 10 Bayfront Avenue, Marina Bay Sands 018956
This multi-concept dining and lifestyle destination is also home to the world's highest al fresco bar. Taking up the top three floors of One Raffles Place, you'll get access to an unhindered 360-degree view of Singapore. A popular nightlife destination 1-Altitude offers up a superb view of the sunset; don't forget to take a stroll around the gallery as well while you're there.
A. (Former OUB Center), 1 Raffles Place 048616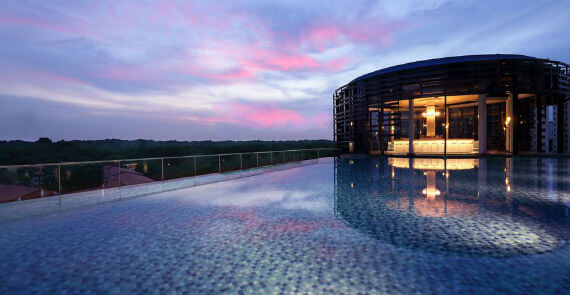 Say hello to some stunning views at this rooftop property at Park Hotel Alexandra. Home to a 25 meter infinity pool, and an amazing 180-degree view courtesy of a floor to ceiling glass conclave, you can sip on some unique specialty cocktails, and munch on bar bites at this relaxed venue. As a plus, if you're a guest of the hotel, you can get served at the swim-up bar – the only one in a city hotel in Singapore.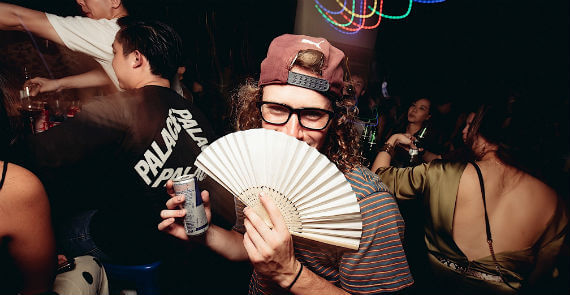 Photo Credit : Kinki Facebook Page
At only two floors up, Kinki Restaurant + Bar is a happening Japanese joint located in Collyer Quay. Head there from 5 pm to 8 pm and you'll be able to avail of one plus one on drinks. A mixture of eastern and western flavours, try the Classic Saketini or stave off your hunger with the Ebi Fritters Taco. Don't forget to get a picture of the floor mural by tattoo artist Chris Garver, who gained popularity with Miami Ink, for the 'gram.
A. 70 Collyer Quay, #02-02 Customs House, Singapore 049323 049323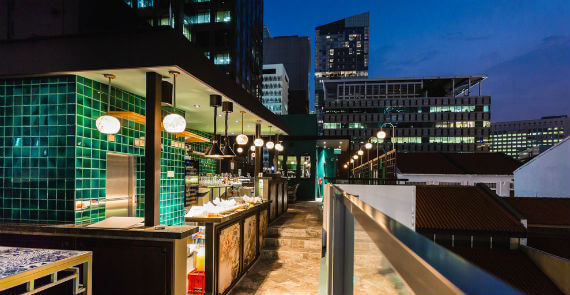 Located in the heart of the CBD, this shophouse-styled restaurant-bar is a one of a kind space. With the charm of an oriental design, this rooftop space is the perfect space to head over to after a long day at the office, especially with their daily happy hours until 8 pm. You can also try a few bites from their Chinese-style tapas menu. It's best to make a reservation beforehand, as otherwise you may be subject to a bit of wait.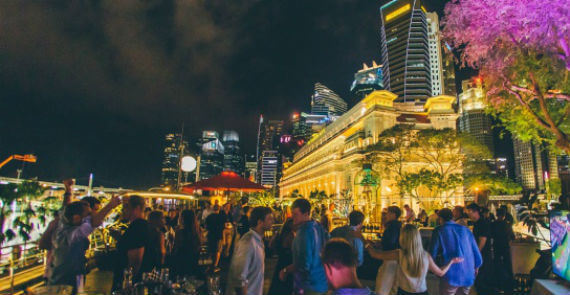 The rooftop at 1919 Waterboat House is a charming spot in The Fullerton Waterboat House that offers a scenic vantage point where the Quay canals meet the Marina Bay. Enjoy a romantic evening with a picturesque view of the city. On the menu are some classic bar bites to ease your hunger, while their signature vodka-based cocktails certainly come highly recommended.
A. The Fullerton Waterboat House, 3 Fullerton Rd, #03-01 049215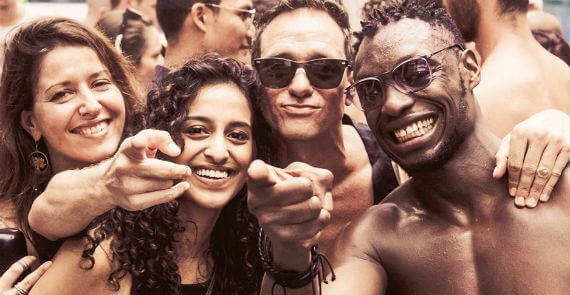 Photo Credit : SO Sofital Singapore - 1927 Facebook Page
Enchanted by an infinity swimming pool, a chic modern terrace, and a relaxed vibe? 1927 might be the place for you. Located at So Sofitel Singapore, enjoy sipping on some craft cocktails or munching on bar bites. They also do party-bookings and will offer up a plethora of services perfect for your next event.
A. Level 6, 35 Robinson Road 068876 

P. +65 6701 6800​​​​​​​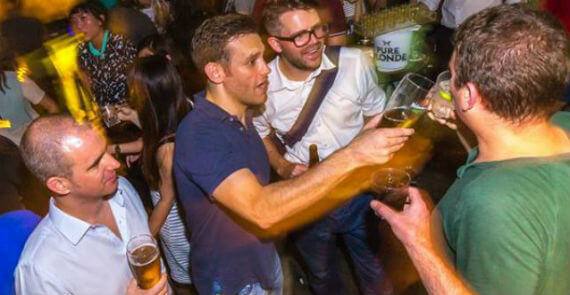 Photo Credit :  The Mad Men Attic Bar Facebook Page
Known for some authentic pub grub, live music, and good vibes, The Mad Men Attic Bar is located smackdab between Marina Bay and Boat Quay. If you haven't visited before, the speakeasy-style entrance might be hard to find, but it's well worth the investigation!
A. 11 North Canal Road, #03-02 048824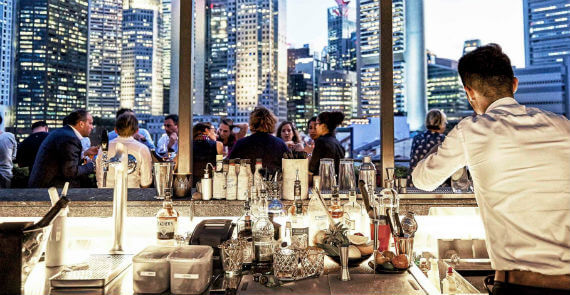 Photo Credit : Southbridge FotographEY Eric Yip
The view is to die for at this oyster bar located a hop, skip, and jump from Merlion Park. Sip on some exquisite wines at an affordable rate, and gorge on seafood until your heart's content. Open from 5 pm onwards, it's best to make a reservation before visiting as it's a popular locale, especially at night. Enjoy a panoramic view of Boat Quay, Marina Bay Sands Hotel, and the Singapore River from this amazing vantage point.