Image Credit: Meatsmith_SG Facebook Page
There's no such thing as a bad burger - the satisfying oozing cheese, fluffy bun, and juicy patty are definitely worth cheating on your diet for!
Burgers often get a bad rap thanks to its synonymity with fast food joints, but restaurants home delivery have raised the 'steaks' with gourmet offerings created with Angus beef, slices of truffle, smoked brisket patties, and even Impossible Foods options for the veggies.
With a little help from our expat burger testing army – applications open – we've rounded up a list of spots with the best burgers in Singapore.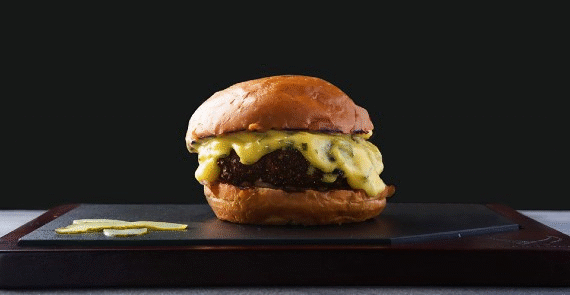 Image Credit: The Feather Blade Facebook Page
Inspired by London steakhouse Flat Iron, The Feather Blade knows a thing or two about creating a perfect burger. Treat yourself to a 200-gram patty of minced feather blade steak deep-fried in beef fat, topped with bearnaise, shallots, and finished with a brioche bun. Order in directly from their website and get free delivery on orders above $90. Pair with a beer, or one of their reds for best results.
S. www.facebook.com/pg/thefeatherblad
Video Credit: DanielFoodDiary Three Buns - Award-Winning Burger Concept From Potato Head Family
A space that has redefined the traditional burger joint, Three Buns Quayside has their own merch, and supports the creative arts! Known for their extremely popular Impossible Burgers, you can also find a wide variety of ethically sourced meat burgers here, like the Baby Huey with Tasmanian Vintage Angus Beef, or the Rambo Lamb Burger. They're currently offering island wide delivery on Deliveroo – the Three Buns 4 PAC Family Bundle is an absolute steal deal.
A. 60 Robertson Quay, #01-01 238525
W. www.threebuns.com/singapore/
S. www.facebook.com/threebuns/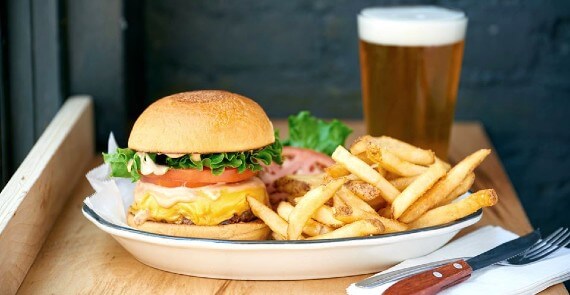 Image Credit: Black Tap Singapore Facebook Page
Bringing their signature NYC style to Singapore, craft burgers and beer is Black Tap's tagline, and they certainly don't disappoint. Scarf down their All-American Cheeseburger, or the half pound Wagyu beef burger, the Greg Norman. Vegetarians can try their black bean patty burger, or the Falafel Burger. As a plus, you can swap out the buns for a vegan or a gluten-free option. Don't forget to add on a Crazyshake or craft beer to round out your meal.
A. The Shoppes at Marina Bay Sands, 10 Bayfront Avenue, #01-80 018956
W. www.marinabaysands.com/restaurants/american/black-tap.html
S. www.facebook.com/blacktapsg/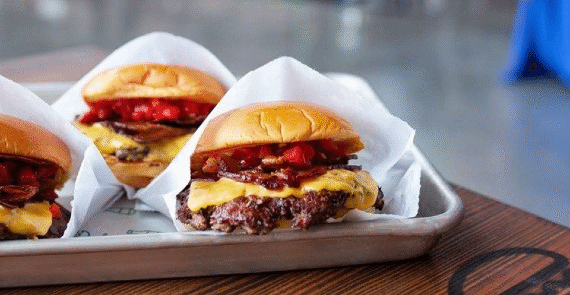 Image Credit: Shake Shack Singapore Facebook Page
This Big Apple staple recently opened its second outlet at Neil Road after a tumultuous response to their Jewel Changi Airport debut, with Shake Shack – and their crinkle cut fries' – popularity showing no signs of dying down. The ShackBurger is a cult favorite, while the 'Shroom Burger has made fans out of veggie, and meat lovers alike. You can still get takeaway at both outlets, or get your burger fix home delivered with FoodPanda.
A. 78 Airport Blvd, Singapore 819666
S. www.facebook.com/shakeshacksg/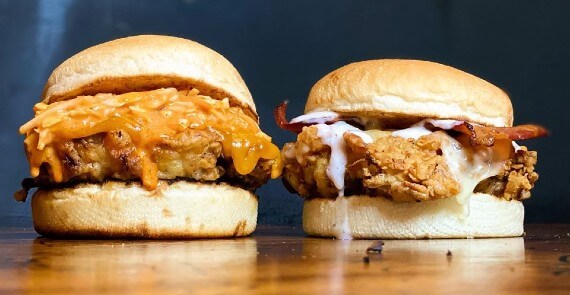 Image Credit: Burger bar new york Facebook Page
Blink, and you might miss this American-style burger joint tucked away on Amoy Street. The standard Cheeseburger, and Double Bacon Cheeseburger don't disappoint, and Burger Bar New York's fluffy brioche buns ensure your burger is pleasantly light. Pro-tip: order your patty medium rare for best results. Get your burger, with all the fixings, delivered island wide with GrabFood.
A. 115 Amoy St, Singapore 069935
S. www.facebook.com/burgerbarsg/
Video Credit : SETHLUI.com Authentic American BBQ in the Heart of Singapore: Meatsmith Telok Ayer
It's all about barbecue at Meatsmith, and their Telok Ayer outlet offers up the perfect burger and American smokehouse barbecue combination. Their signature Meatsmith Cheeseburger comes with double beef brisket patties, and the Beef Marmalade includes beef brisket and a beef marmalade patty for double the fun. Served in a housemade potato bun, topped with sliced cheddar, pickles, and their special burger sauce, you can't go wrong with this one. Meatsmith is offering island wide home delivery, so you can get your burger with a side of ribs, or an ice-cold pint.
A. Telok Ayer, 167 Telok Ayer Street 068620
S. www.facebook.com/meatsmithsg/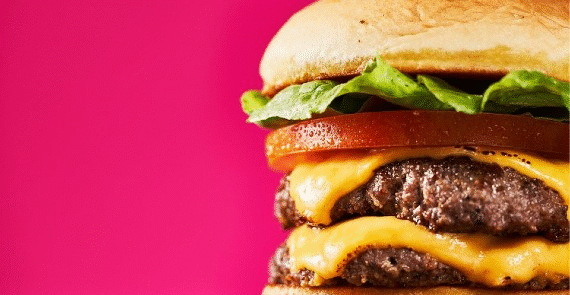 Image Credit: Burger+ Facebook Page
Bringing the best of Korean dishes with a western twist, and a love of K Pop, Burger+ has popularized Korean-style fast food in Singapore! All their beef burgers are served with a fluffy potato bun, and a 130-gram beef patty. The Korean Bulgogi Burger is a must-try, and the Truffle Burger, complete with truffle slices and truffle mayo, is the ultimate decadence. Don't miss out on adding their Yangnyeom Chicken wings to your delivery cart if you're ordering in from FoodPanda or Deliveroo.
A. 435 Orchard Rd, Singapore 238877
S. www.facebook.com/BurgerplusSg/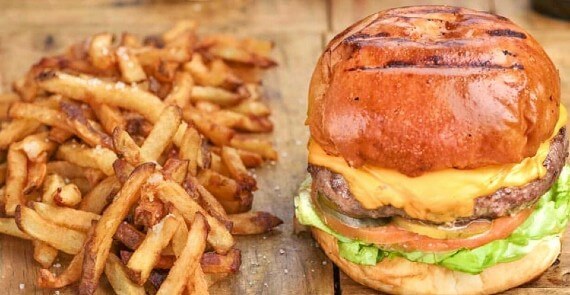 Image Credit: Burger Frites Facebook Page
Famed for their flame grilled Angus beef patties, bakery-fresh artisanal buns, double-fried homemade fries (frites), and great selection of sauces made in house, Burger Frites sure knows how to put up a good burger. The Juicy 180G Angus Beef Burger is the showstopper here, but don't sleep on their Crispy Tender Chicken Burger, or the Breaded Brie Cheese Burger as a vegetarian option. Text +65 9116 3304 on WhatsApp to get your order ready for delivery or takeaway.
A. 340 Joo Chiat Rd, Singapore 427592
S. www.facebook.com/burgerfrites.sg/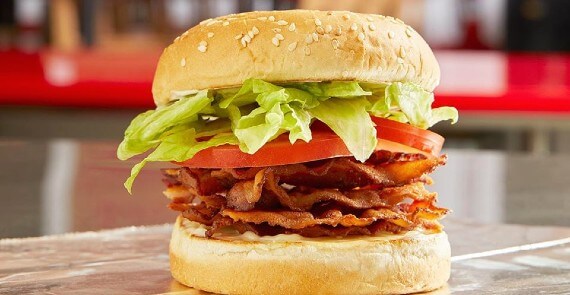 Image Credit:  Five Guys Facebook Page 
A popular American franchise, Five Guys might lean a bit more towards a fast food joint, but their quality ingredients, and consistency set them apart from other chains. Gorge on the double patty Cheeseburger, Baconburger, and Bacon-Cheeseburger with customized toppings, along with their malted milk milkshakes. Satisfy your cravings by getting your Five Guys on delivery or takeaway through GrabFood.
A. Unit #01-32/33/34C/35, Singapore 238839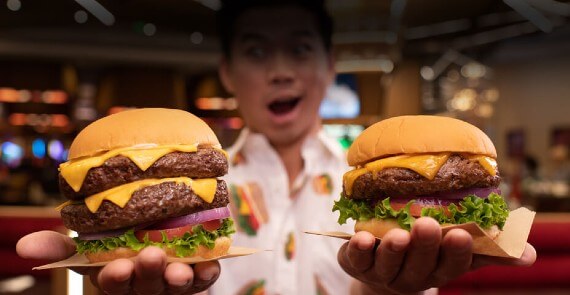 Last but by no means least. Let's face it, Hard Rock Cafe has been dishing up the same reliable legendary burger for over 20 years in Singapore and we have to give them a mention. You can still indulge in your favourite legendary delights (not just burgers) from Hard Rock Cafe Singapore in the comfort of your own home by checking out their multiple delivery, drive-thru and self-collection options. Delivery/Collection Hours: 11.30am – 9.30pm Daily
A. 50 Cuscaden Road #02/03-01 HPL House 249724
W. www.hardrock.com/cafes/singapore
Comments
There's no such thing as a bad burger - the satisfying oozing cheese, fluffy bun, and juicy patty are definitely worth cheating on your diet for!
We heard ya! We've started delivery so ya can enjoy burgers at home. There's still a way to enjoy your favourite burgers during this time - have your Shack to go and enjoy your burgers from the comfort of your home. Hop onto to foodpandasg to get your Shake Shack fix!