Hero Image: Bouchons Hangover Cure Les Bouchons Rive Gauche
Tucked away in a corner of Robertson Quay, Les Bouchons Rive Gauche extends from its smallish air-conditioned interior to a breezy veranda.
The introduction of 'Bouchons Riviera Sunday Brunch' at Les Bouchons Rive Gauche situated along Robertson Quay, marks Les Bouchons' first-ever brunch menu.
True to its French heritage, the a la carte brunch menu designed by Head Chef Mickael Cornac includes a selection of Les Bouchons' newly introduced brunch-inspired dishes such as the Riviera Wellness Bowl, Bouchons Sunday Roast, Eggs Mimosa and Crepes with a choice of Nutella, Nutella banana or honey. Fans of the establishment can also look forward to well-loved, popular signature classics like the Escargots De Bourgogne with garlic butter and Grilled Black Angus Rib Eye Steak & Frites.
Overlooking the Singapore River, diners can experience brunch likened to the French in alfresco style with a cocktail or champagne in hand. The brunch menu also features a wide selection of alcoholic and non-alcoholic beverages.
With six cocktails and an exclusive boutique collection of Champagne Jean Vesselle from which to choose from, you will be spoilt for choice. Apart from the classic brunch-worthy cocktails from the Bellini to the Bloody Mary, diners may wish to try Les Bouchons' signature cocktail, the Riviera Sunrise comprising gin, yuzu, orchid syrup, angostura bitters and lemon bitters. So, what does reviewer Sylvia Fernandez have to say about her tasting experience.
Very French in style it is a bistro that welcomes kids and adults alike. On this weekday afternoon, I sauntered through The Quayside in search of the restaurant. Inspired by the decadence of the French Riviera this branch (one of four in Singapore) is strategically positioned by the Singapore River. 
I discovered that the brunch menu I was about to taste was the first that had ever been launched - designed for the "Sunday Brunch" with 90 percent of the menu newly created. Designed in a casual style with generous portions of food, it was meant to attract families where children are kept busy doodling on paper that acts as a table cover.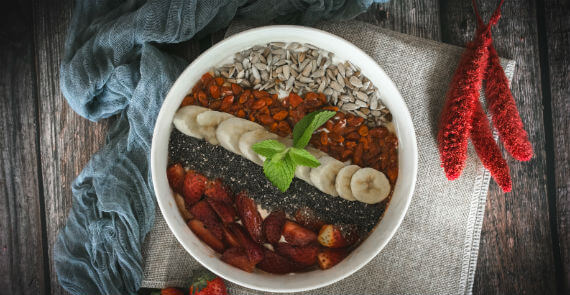 Chef Micka who hails from Occitane, presented his first dish of the day – a Riviera Wellness Bowl that was beautifully presented with goji berries, banana, strawberries and chia seeds on a bed of granola and honey yoghurt. I'd say anyone wanting a healthy start to the day would be filled with this huge bowl undoubtedly for most of the day.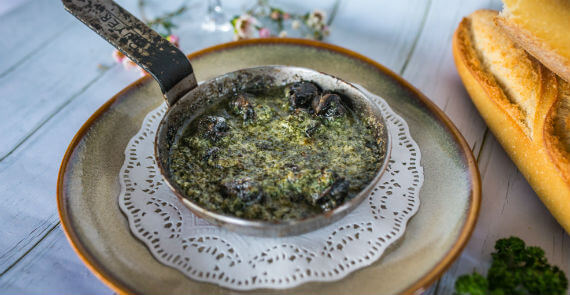 For those feeling like a 'cheat day" - diet that is, the starter options of the Les Bouchons Rive Gauche Escargots De Bourgogne with garlic butter were best eaten with freshly baked sourdough rolls. I was advised to dunk my bread into the garlic butter and wipe it clean, as it would be sacrilege to leave even a tiny morsel behind. Of course I had to condone…heartily too I might add! 
My next starter was the Eggs Mimosa which was served cold with warm asparagus. This is typically served for a Sunday family dinner in France. Egg yolk mashed with mayonnaise, chives, lemon juice and Dijon mustard. It was delicious to savour this traditional dish that was presented well, and tasted so good.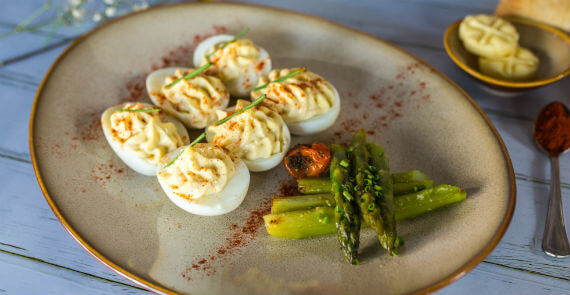 Do you know the origins of Brunch and how it came to be? I was unaware that it was created to cure a nasty hangover from the night before. Usually greasy, Chef Micka of Les Bouchons Rive Gauche wanted to produce some healthier options. In fact if you are Vegan you could even call the restaurant first to ask for something you prefer, before turning up at the restaurant with your friends and/or family.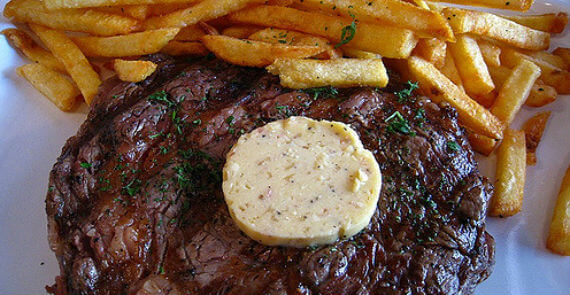 Moving on to the mains, I was about to taste three beef dishes. The Signature Les Bouchons Rive Gauche Black Angus Rib Eye steak grilled to perfection, was accompanied by free flow homemade French Fries that were just the right thickness and crunch. Served with 4 condiments – béarnaise, Dijon & multi grain mustard's and mayonnaise, the salad was a light accompaniment. 
To me this won the Gold Medal of the day and would be my choice of meal the next time I visit. The vigneron dollop of butter placed on top of the steak slowly melted its way over the meat, making it even juicer than it already was. Yum!!!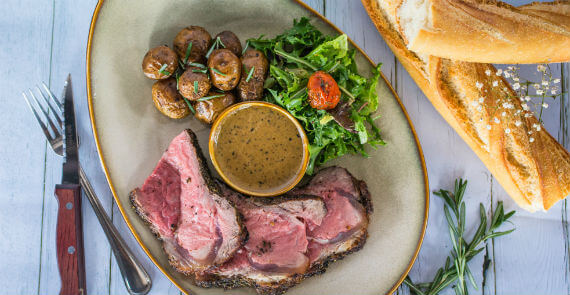 This was followed by Les Bouchons Rive Gauche unday Roast which changes weekly, from beef to lamb and quail. The restaurant does not serve pork and all its meat is halal, catering for Muslims who may want to frequent. Today's roast happened to be the short rib with porcini and button mushroom sauce, ratatouille, salad and baby potatoes. 
Slow cooked overnight for 10 hours it was flavor full and tender. As it is slow cooked on a very low temperature, the rib remains juicy and does not reduce much. To me this was a portion for two. Priced at $32++ it is fantastic value.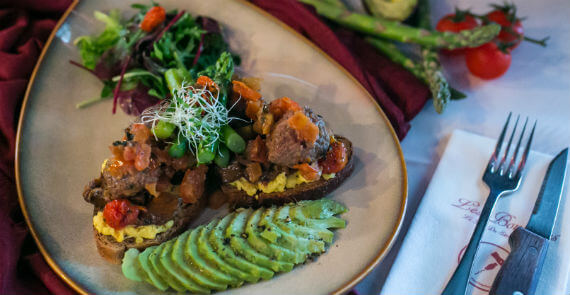 I started to feel "meated" out and was happy to note that the Les Bouchons Rive Gauche Hangover Cure was made with "Impossible" meatballs. I didn't know this but to replicate the fat in burgers and meatballs, Impossible Foods use flecks of coconut fat, which are mixed with ground textured wheat and potato protein.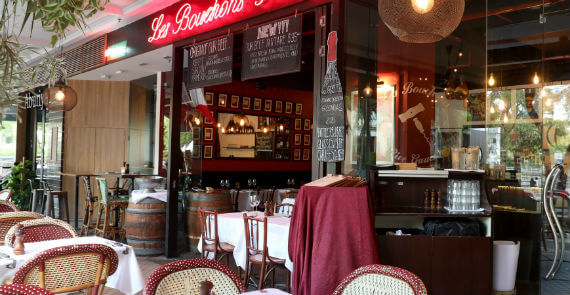 So this was served with truffle oil scrambled eggs, sautéed porcini mushrooms, roasted cherry tomatoes and asparagus, all on a slice of toasted sourdough bread. All this for a princely sum of $24++ which in my opinion would line my tummy for a good part of the day. 
I forgot to say that I ate heartily because I had the privilege of drinking Jean Vesselle Brut with my meal. I find a few good glasses of Brut or good wine makes food that much more delicious and helps with digestion too. There was the choice of freshly squeezed juices too if you prefer the non-alcoholic side of the bar.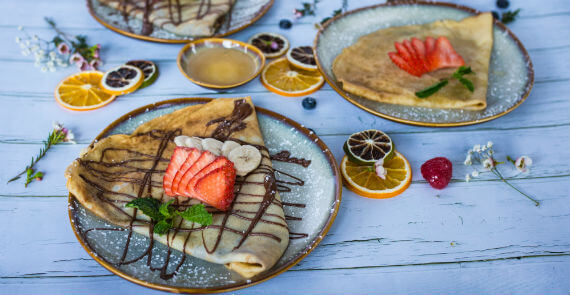 On the last leg of my meal I was so looking forward to the three desserts that were about to be presented. Crepes which are found on any street corner in France and eaten at any time of day, are a favourite with patrons. Served with Nutella, banana or honey the crepe was so thin and light. For only $8 I would even pop in to Les Bouchons Rive Gauche just for dessert.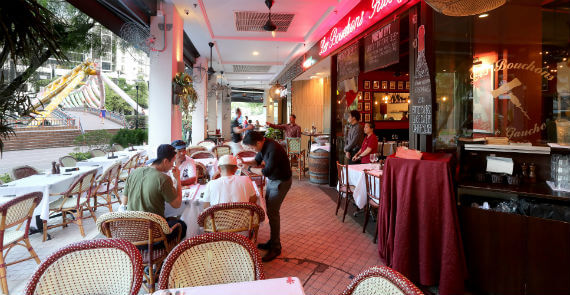 The all traditional Crème Brulee which is the favourite of many, was true to form. Cracking the glazed treacle on top I spooned a mouthful feeling really decadent with this creamy treat. Apt to be shared, I would recommend having a few desserts to savour them all and also because portions are large.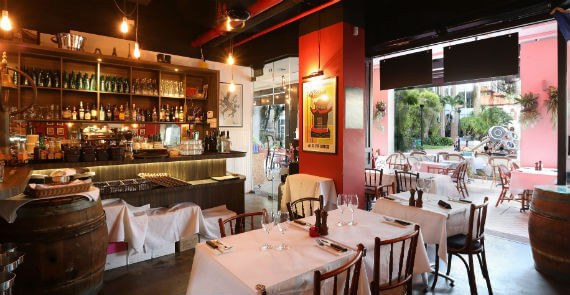 My favourite dessert and last for the day was definitely the Chocolate Brownie "Fait Maison". Available only on the Sunday Brunch menu, this warm and soft dark chocolate dessert was out of this world…and that's from someone who isn't even a chocolate-crazy so and so. I can't imagine what it would be like for a chocolate addict! Chef Micka did notice my partiality to this dessert and was quick to quip that a molten chocolate lava cake was also available on other days. 
My take on Les Bouchons Rive Gauche s that it is a very well-priced restaurant with fantastic ambience, surrounded by lush greenery next to the River. Truly a Sunday Brunch landscape to perfection. Check it out the next time you are wondering what to do on a Sunday! I am positive it will have you going back for more.
Les Bouchons Rive Gauche  A.60 Robertson Quay, #01-02 238252  T. +65 6733 4414  
Comments
Perfect location and perfect place for family to enjoy the atmosphere of this amazing food selection. I discovered that the brunch menu I was about to taste was the first that had ever been launched. 90 percent of the menu had been newly created. Designed in a casual style with generous portions of food, it was meant to attract families where children are kept busy doodling on paper that acts as a table cover.
What are guests saying about Les Bouchons Rive Gauche? Hazel H S Chan reviewed Les Bouchons – 5 star on Facbook: Very relaxed restaurant by the river. Had expected a more upmarket kind of ambience but it was just nice for us. The tables were not packed too close together and luckily for us, managed to get a corner table despite not reserving one. We ordered an escargot, bone marrow on toast, a rib eye and an entrecôte. All were perfectly done and we finished everything. Except the frites and creamed spinach. The servings were huge. Frites were declared to be the best, according to the husband who is very fussy about his food. Crispy on the outside and mashed potatoes on the inside. Prices were value for money and we thoroughly enjoyed ourselves. Food took a while to arrive but it was alright as we just took the time to chill for a rare date night. And much gratitude to the manager to chased us down the river to return me the phone that i left behind!