Image Credit: pncc
Chilled beer, delicious finger food and a close group of friends is all we need after an over-stretched work week. It is just me, or are we all working a little harder and longer these days to get the job done?
Head down to these kickass cafes, bars and restaurants for a round of drinks where you will be served up some of the best Fish & Chips in Singapore. Enjoy them all....one at a time!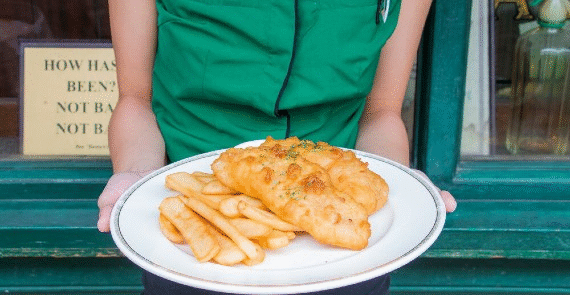 Image Credit: Molly Malone's Irish Pub Singapore Facebook Page
Binge on Molly's Famous Fish & Chips made with fresh white fish fillets dipped in a special house batter and deep-fried till they get crispy on the outside and develop a nice, buttery flavour on the inside. Give it a good squeeze of lemon and enjoy it with their golden steak-cut chips and tartare sauce.
INFORMATION
a. Boat Quay, 56 Circular Road 049411
s. www.facebook.com/MollyMaloneSinga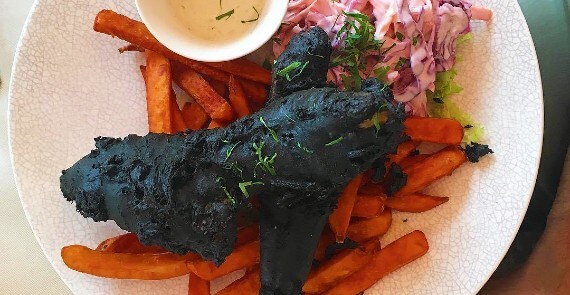 Image Credit: SPRMRKT Facebook Page
A chic restaurant, Sprmrkt has an elegant space serving tipsy concoctions and craft beer. Their Blackened Fish & Chips are striking in appearance as the delicious sea bass fillet is coated in a squid ink batter before frying. Relish this with their tasty kimchi slaw and crispy fries.
INFORMATION
a. Blk 8 Dempsey Rd, #01-15A Singapore 247696 (Dempsey Hill)
a. 501 02-13 Bukit Timah Road Cluny Court, Singapore 259760 (Cluny Court)
s. www.facebook.com/SPRMRKTSG/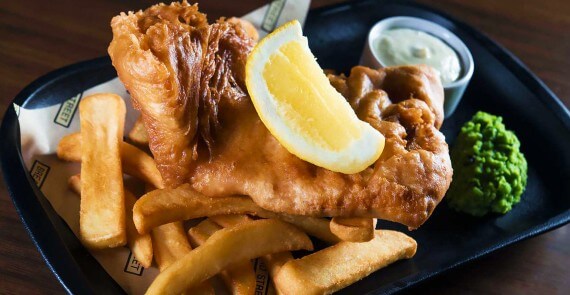 Image Credit: Bread Street Kitchen Singapore
Tuck into Traditional Fish and Chips served with crushed peas and tartar sauce at Bread Street Kitchen by the legendary Gordon Ramsay. They serve an array of English dishes and bar bites which go amazingly well with their intoxicating tipples.
INFORMATION
a. The Shoppes at Marina Bay Sands, Bay Level, L1-81 018956
w. www.marinabaysands.com/restaurants/celebrity-chefs/bread-street-kitchen.html
s. www.facebook.com/breadstreetkitchen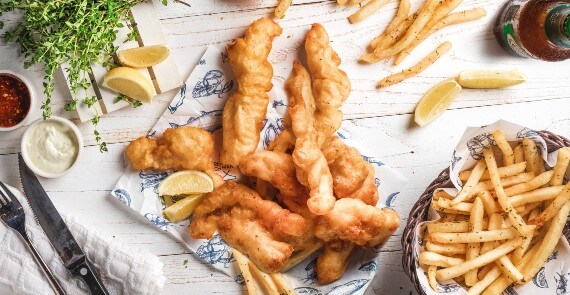 Image Credit: Greenwood Fish Market Facebook Page
For lip smacking seafood made with the freshest fish, head to Greenwood Fish Market. They offer a delicious plate of House Fish & Chips along with a refreshing calamansi vinaigrette salad. They've also added 12 lip smacking cocktails and choicest of craft gins on their menu. Indulge.
INFORMATION
s. www.facebook.com/greenwoodfishmar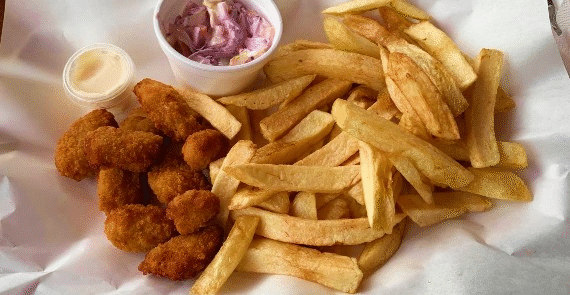 Image Credit: Smiths Traditional Fish and Chip Shop Facebook Page
Making use of the traditionally used cod or haddock fillets for their Fish and Chips, Smith's is one of the most authentic places in Singapore to binge on the real deal. They also make chips with Wholetail Whitby Scampi, Dory and Halibut. Their Fish Cake and Chips are also really delicious.
INFORMATION
a. 271 Bukit Timah Road, #01-02 Singapore 259708
w. www.smithsfishandchips.com/
s. www.facebook.com/SmithsFishandCh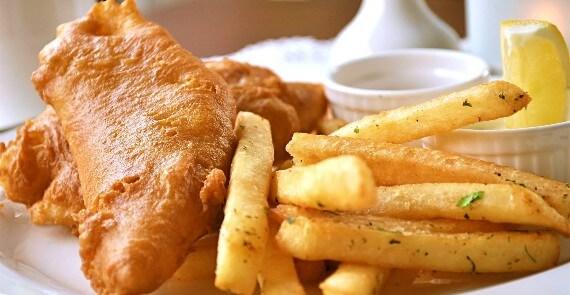 Image Credit: The Privé Group Facebook Page
Prive is a gorgeous place to sip on Singapore Sling and binge on The Ultimate Fish & Chips. The sumptuous beer-battered snapper comes with crispy fries, mesclun salad as well as tartar sauce and malt vinegar.
INFORMATION
a. 20 Anson Rd,#05-01 Singapore 079912
s. www.facebook.com/theprivegroup/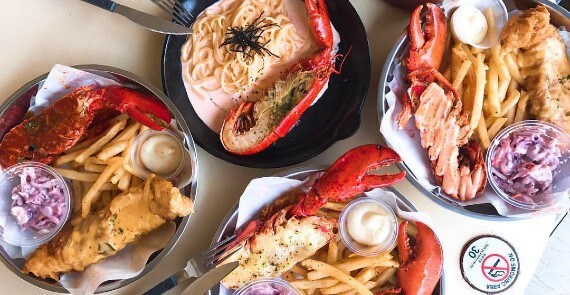 Image Credit: Fish & Chicks Facebook Page
Delivering island wide, Fish & Chicks make amazing Fish & Chips. Their most popular version is the one served with their special salted egg sauce. Their classic is delicious too, but we love their house sauces like chilli crab sauce and curry cheese sauce as they go so well with the batter fried fish.
INFORMATION
a. 531 Ang Mo Kio Ave 10, #01-2429 Singapore 560531
s. www.facebook.com/fishnchickssg/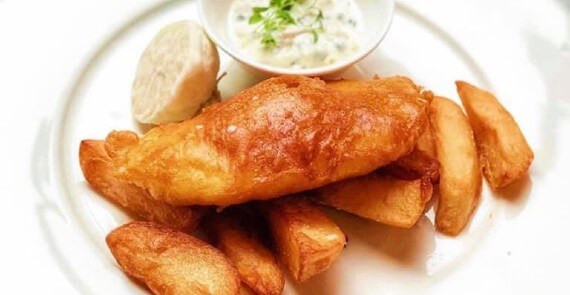 Image Credit: The English House Facebook Page
Hands down, one of the best places to relish a fine English meal with all the classics on the menu. The English House by Marco Pierre White serves Traditional Fish and Chips offering a choice of fish - Wheeler's Haddock, Atlantic Cod and Monkfish. Relish the golden batter fried fish with triple cooked chips and sauce tartare.
INFORMATION
a. 28 Mohamed Sultan Rd 238972
s. www.facebook.com/pg/theenglishhous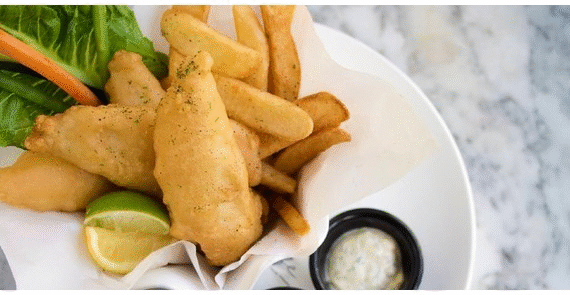 Image Credit: PS.Cafe Facebook Page
Perfect place for brunches with wine, cocktails or ice-cold beer, PS. Cafe was made for weekends. Their menu is delightful and their Fish & Chips are delicious. They're made with a snapper fillet coated with a beer batter and served with crunchy shoestring fries and dill pickle aioli. Yum!
INFORMATION
a. 28B Harding Rd, Singapore 249549
w. www.pscafe.com/pscafe-at-harding-road/
Comments
Looking for an online helper? No need to rack your brains. Read more about this service. https://writepaperfor.me/do-my-assignment
Smiths Fish and Chips has already become a favourite with ex-pats, tourists and locals alike with the crisp and light fish and chips. The extensive menu offers the usual British fare such as home-made pies, chicken & chips, fish cakes, battered sausages, mushy peas, curry sauce, pickled eggs, chip butties, just to name a few. If you're craving for some good old-fashioned fish and chips in Singapore, come on down to our Balmoral Plaza Fish and Chip Shop, located at 271 Bukit Timah Road and prepare to be satisfied!