Maison Ikkoku, voted & awarded as the "Best Cocktail Bar" by the people of Singapore was established in 2011 and is famously known for its "no menu" bespoke cocktail concept + SLING now taking guests on a culinary journey with a twist.
At Maison Ikkoku + SLING, Executive Chef and Head Mixologist, Ethan Leslie Leong applies his legendary cocktail techniques with a balanced selection of food, from soups to salads, cocktail carpaccio to hand-rolled maki, signature dishes & desserts.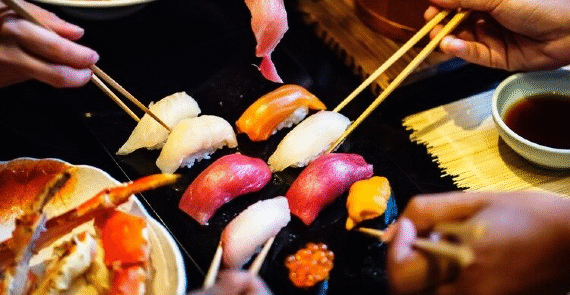 The cocktails at Maison Ikkoku focus on "Bespoke taste profile development" – a bespoke style of customization cocktail mixing, using only fresh fruits, fresh herbs and techniques such as distillation, infusion, spherification, dehydration, emulsion.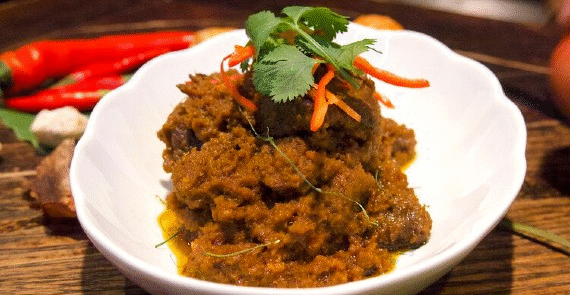 Nothing is Impossible. Maison Ikkoku + SLING make magic happen everyday from 3pm! View the menu here. Below, Expat Choice highlights some of the treasure you will find on this fabulous menu.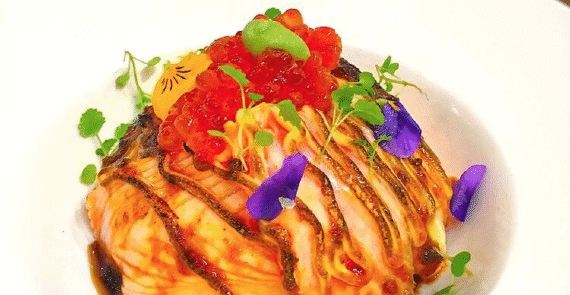 M.I TUNA TARTARE
One of the best Tuna Tartare ever tasted, The Signature M.I.TARTARE accompanied with buttery brioche toasts, freshly chopped red onions with the right amount of spiciness that is really something that has not been tasted before. Completely out of this world!
TACOS EBI
The only taco you need is this. Hand battered and freshly cooked succulent crispy Tiger Prawn Tempura on a bed of kimchi slaw, sushi rice wrapped with crunchy taco finished with Japanese mayonnaise and seaweed. Nobody should miss this "Taco-tunity"! view the menu here
VIENNA MAKI
This is a celebration in your mouth! This Vienna Maki with perfectly cooked Wagyu Beef and creamy mashed potatoes with nutmeg is a gratifyingly delicious every bit of it.
FLOSSY MAKI
Not your everyday Maki! I have never had Maki this complexly delectable as this Flossy Maki with delish Tiger Prawn and rich avocado and the maki covered with generous fish floss. Never a dull moment.
UME MAKI
One word, FANTASTIC! The Ume Maki is an elaborate piece of edible artwork. Exquisite tender maguro tuna matched with avocado then intricately covered with crushed peanuts & peas finished with bright Ume sauce is a masterpiece. view the menu here
SKINNY MAKI
Guilt-free indulgence having this absolutely NO RICE Skinny Maki! A hearty combination of lettuce, avocado, cucumber wrapped delicately with Prosciutto di Parma and freshly shaved Aged Parmigiano Reggiano to complete this marvelous creation.
FLAMING LOBSTER LINGUINE
Everyone's talking about. Maison Ikkoku's Signature Lobster Linguine using the heavenly sweet Asian Rock Lobster cooked in this rich, creamy luscious 72 hours slow cooked lobster broth with the right balance of sweet, tangy and spicy flavour on the palate. 1 is never enough. view the menu here
MISO COD
There's always something for everyone at Maison Ikkoku! With it's delicate and buttery texture, this Oven Baked Miso Cod simply melts in your mouth. Moist, Tender and Crazy Delicious Cod Fish baked to its perfection, taste so refined, elegant and beautiful! Love at first bite.
RACK OF LAMB
Lamb never tasted this good before! Never ever! I can't get enough of this Rack of Lamb. The outstanding flavor of honey and black pepper sauce with tender finger-licking rack of lamb. I could eat this all day, everyday. view the menu here
INFORMATION
Comments
SLING – THE CONCEPT In a quiet location set amongst a beautiful row of converted shophouses, renowned Mixologist and Chef-extraordinaire, Mr Ethan Leslie Leong of Maison Ikkoku has established a little oasis called SLING. This concept bar and restaurant aims to revive the iconic Singapore Sling by introducing an all-natural craft cocktail menu that provides innovative interpretations on this classic drink. Mr Leong has combined this with a menu of familiar Peranakan favourites – a homage to Ethan's grandmother – that uses 100% natural locally sourced ingredients, and strictly, no MSG, no preservatives, or artificial flavouring or colouring. SLING - THE COCKTAILS Ethan has created five distinctive "SLINGs" that suit the modern cocktail lover: an Original SLING with enticing pineapple and lemon foam on top of a select batch of perfect ingredients; a Coco SLING served in very hip SLING branded coconut husk; the 1819 SLING that pays homage to Sir Stamford Raffles' interest in botany and so includes pineapple liqueur, cinnamon and a peppery spice; a Majulah SLING which, with the addition of Campari, is almost like a Negroni style SLING; and finally, SLING-a-pu-ra that adds passionfruit, fresh pandan, lemongrass, ginger, kaffir and calamansi which are all devilishly good! Beware – they are all so easy and delightful to drink! SLING - THE DISHES All the dishes on the menu are made from scratch on-the-day with quality. The D.I.Y. Popiah comes with instructions, which makes you appreciate even more one of Singapore's favourite dishes. Available in Vegetarian, Sweet Pork and Crispy Prawn (tempura style). We can vouch for the latter. Most of the other dishes are designed for sharing plates. The Tumeric Chicken is from a recipe from Ethan's grandmother and felt like it was made with love: the fragrant ginger, lemongrass and tumeric added to that feel. The Beef Rendang made from Wagyu beef, slow cooked in a rich coconut curry, simply melts into your mouth; the Babi Hitam is a succulent slab of Korobuta Black Pork braised for 72 hours with local spices and black vinegar and finished with hand-squeezed coconut! Then there is the less glamorous looking but so surprisingly great tasting Ikan Asam: grilled salmon in sour umami asam, tomato, onion and chickpeas – the flavours delightfully balanced. And finally, the Hey Mee, the famous Singapore fried hokkien noodles with Asian rock lobster and lobster broth. This was gorgeous and possibly my favourite. On presentation, it received a lot of "wow" from our group, but then when it is flambéed tableside – wow, wow! Did we say finally? There is also the one dessert: Kueh Dadar. It's Singaporean, it's traditional, and it's delicious. And with a shot glass of Gula Malacca to pour all over it - that is all you need! RECOMMENDATION SLING is fabulous. The location is awesome and the fit out is very cool and having such a passionate, talented and super-enthusiastic Chef and Mixologist at the helm will be sure to put a zing back into the SLING! Ethan's understanding of F&B and the use of local ingredients shine through; we loved it. And after dinner you can pop upstairs to the bar to continue the fun and have a cocktail or two customised just for you. Posted by Denise McCann Women Of Wine www.womenofwine.com.au