Let's get things straight to the point. Wonderful, brilliant, articulate, exciting, mouthwatering...are only a few adjectives to describe the lusciousness of services and overall dining experience at these top 6 steakhouse picks based on what readers prefer here at Expat Choice.
The list gets longer with your recommendations. Hero Video: Expat Choise TV Morton's Of Chicago, The Steakhouse Main Image  Bedrock Bar & Grill 1kg Bone in Ribeye for 2
Morton's The Steakhouse in Singapore is located on the 4th Storey of Mandarin Oriental, which is situated in the heart of the Commercial and Central Business District. Every detail, from the succulent steaks and seafood and vast wine selections to the seamless service, makes Morton's the classic dining experience. The menu at Morton's is consistent at all locations across the globe, offering generous portions of beef, including a 24-ounce Porterhouse, 20-ounce New York sirloin and a 14-ounce double-cut filet mignon.
INFORMATION

A. Mandarin Oriental Singapore, 5 Raffles Avenue , 4th Floor 039797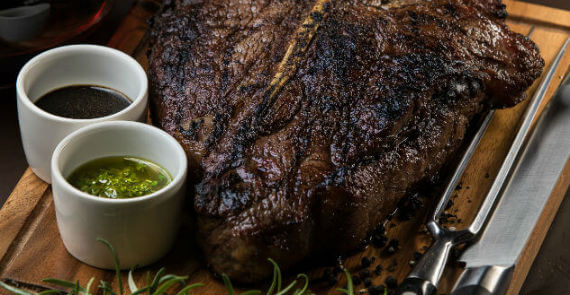 Bistecca is known for their F1 Wagyu beef which is pasture raised in the King and Kiew and Valleys of Australia, and organic grain-finished under the highest ethical standards. Bistecca Tuscan Steakhouse made an imprint on Singapore's dining scene back in 2012 when it first opened by being the only restaurant to serve a 1.2kg charcoal-grilled Bistecca alla Fiorentina Wagyu T-Bone Steak (pictured). After six very successful years this still remains one of the most popular dishes for guests. 
INFORMATION

A. 26 Mohamed Sultan Road 238970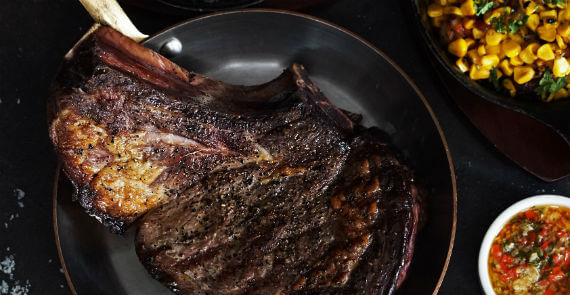 Established in 2008, Bedrock Bar & Grill was founded and built on the vision of serving up the finest steak cuts, including dry-aged meats, crafted with primal cooking techniques at their best. From its cave-painting-inspired logo to the authentic applewood-fired grill that smoulders in the kitchen, Bedrock draws from the earth to create the simple dining experiences - Earth + Food + Fire. Staying true to its culinary philosophy, Bedrock serves up the finest steak cuts grilled over an authentic applewood fire grill to extract the best intrinsic flavours.
INFORMATION

A. 96 Somerset Road, #01-05 238163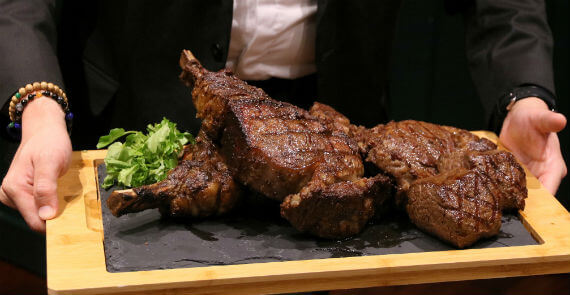 Wakanui Grill Dining located on the fourth floor of the West Tower in Marina One The Heart, features the best quality steak and lamb from New Zealand. Delight in the 1 Kg of Ocean Beef, Bone-in Ribeye (S$199 for 1kg) , dry- aged for 21 days served with fresh banana shallots (pictured above). The Ocean Beef is produced from the Angus breed, where the cattle are grass-fed for 18 months in located in the area of Wakanui, South Canterbury. Alternatively, the Canterbury Grass-Fed Fillet (S$78 – 250 grams / S$138 – 500 grams) is recommended if you enjoy leanness of meat more than anything.
INFORMATION

A. Marina One The Heart, 5 Straits View, #04-02 018935

W. wakanui.sg/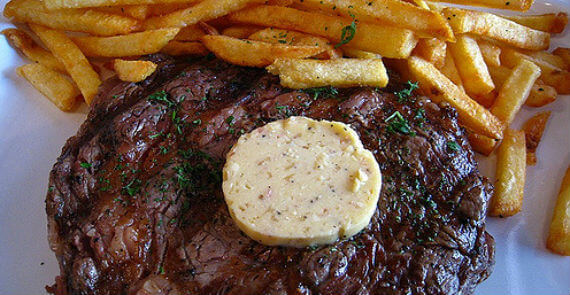 Showcasing classic French cuisine and quality steak frites, Les Bouchons is the destination for a memorable experience of robust flavours and textures. Steaks are prepared as per request and are served with a portion of salad and free flow homemade French Fries, cut to perfection. Les Bouchons takes guests on a gastronomic journey through the bylanes of Paris by paying homage to the grand tradition of French bistros and steakhouses. There are three outlets in Singapore and one in Malaysia – the first on Ann Siang Road (est. 2002), followed by Robertson Quay (est. 2006), followed by Puteri Harbour (est. 2020) and most recently, Rochester Commons (est. 2022).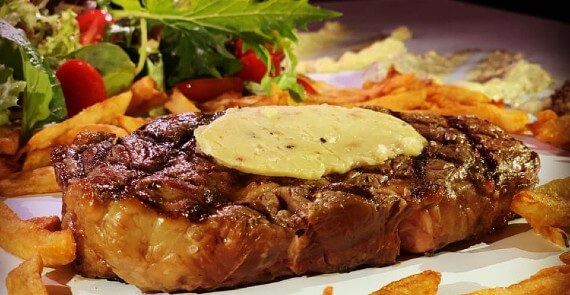 Established in 2006, Les Bouchons Rive Gauche located at Robertson Quay offers a beautiful outdoor terrace overlooking the serene Singapore River. Inspired by the decadence of the French Riviera, the establishment launched its first-ever à la carte French-style 'Bouchons Riviera Brunch' menu designed by Head Chef Mickael Cornac comprising 30 newly created, all-time brunch favourites as well as a selection of popular Les Bouchons' signatures in April 2019.
INFORMATION

A. 60 Robertson Quay, #01-02 238252
INFORMATION

ANN SIANG (the original)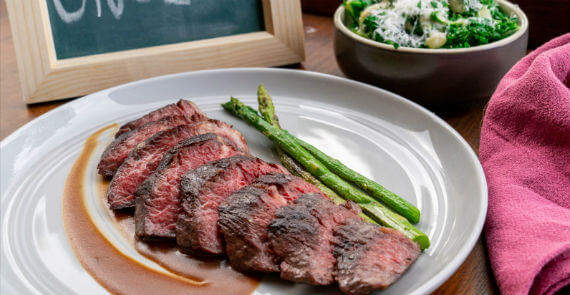 FGB - is a steakhouse with warm and familiar, unpretentious, laid back vibes. The things FGB take seriously are sourcing, butchery, cheffing and showing guests a good time. Established 5 years ago in 2017, FBG (originally known as Fat Belly) — located in the Bukit Timah neighbourhood — is the first steakhouse in Singapore with a focus on difficult-to-access, lesser-known cuts of beef and other meats skilfully prepared over charcoal embers. Victor Loy is the Executive Chef. Victor grew up in Penang, where his love for food developed at a young age. He worked for his family's hawker stall and watched his grandmother prepare a well-loved Penang favourite – the Penang Laksa.
INFORMATION

A. Serene Centre, 10 Jalan Serene, #01-04 258748

S. www.facebook.com/fbgsingapore​​​​​​​