Hero Video: Expat Choise TV Morton's Of Chicago, The Steakhouse Main Image  Bedrock Bar & Grill 1kg Bone in Ribeye for 2
Let's get things straight to the point.
Wonderful, brilliant, articulate, exciting, mouthwatering...are only a few adjectives to describe the lusciousness of services and overall dining experience at these top 6 steakhouse picks based on what readers prefer here at Expat Choice. We also include a "YOU MAY ALSO LIKE...." section. The list gets longer with your recommendations.
Morton's The Steakhouse in Singapore is located on the 4th Storey of Mandarin Oriental, which is situated in the heart of the Commercial and Central Business District. Every detail, from the succulent steaks and seafood and vast wine selections to the seamless service, makes Morton's the classic dining experience. The menu at Morton's is consistent at all locations across the globe, offering generous portions of beef, including a 24-ounce Porterhouse, 20-ounce New York sirloin and a 14-ounce double-cut filet mignon.
INFORMATION
A. Mandarin Oriental Singapore, 5 Raffles Avenue , 4th Floor 039797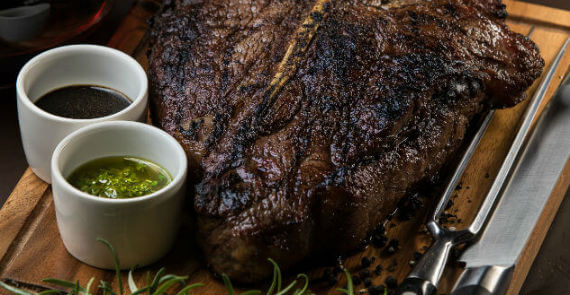 Bistecca is known for their F1 Wagyu beef which is pasture raised in the King and Kiew and Valleys of Australia, and organic grain-finished under the highest ethical standards. Bistecca Tuscan Steakhouse made an imprint on Singapore's dining scene back in 2012 when it first opened by being the only restaurant to serve a 1.2kg charcoal-grilled Bistecca alla Fiorentina Wagyu T-Bone Steak (pictured). After six very successful years this still remains one of the most popular dishes for guests. 
INFORMATION
A. 26 Mohamed Sultan Road 238970
S. www.facebook.com/BisteccaTuscanSteakhouse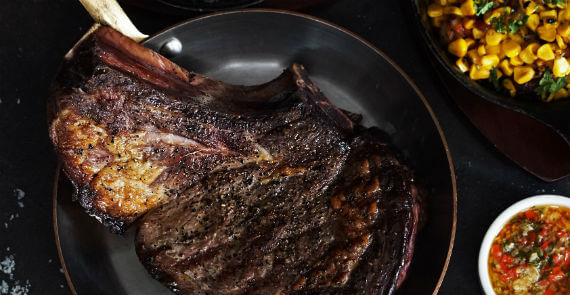 Tucked in a clandestine corner in town, Bedrock Bar & Grill is no secret to those who appreciate the finest things in life. Revel in the classic joy of a full service whisky bar and the finest steak cuts. Experience quality meats, great steak, wood-fired grills, rare Whiskys, classic cocktails and sleek surroundings. 
A. 96 Somerset Road, #01-05 238163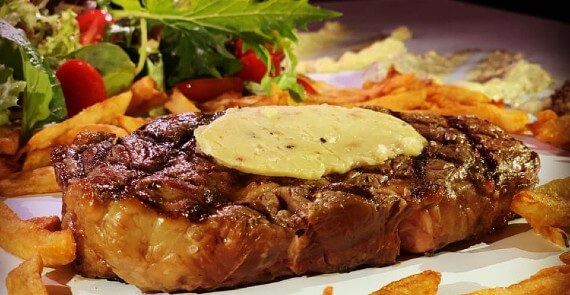 Established in 2006, Les Bouchons Rive Gauche located at Robertson Quay offers a beautiful outdoor terrace overlooking the serene Singapore River. Inspired by the decadence of the French Riviera, the establishment launched its first-ever à la carte French-style 'Bouchons Riviera Brunch' menu designed by Head Chef Mickael Cornac comprising 30 newly created, all-time brunch favourites as well as a selection of popular Les Bouchons' signatures in April 2019.
INFORMATION
A. 60 Robertson Quay, #01-02 238252
S. www.facebook.com/bouchonssingapore/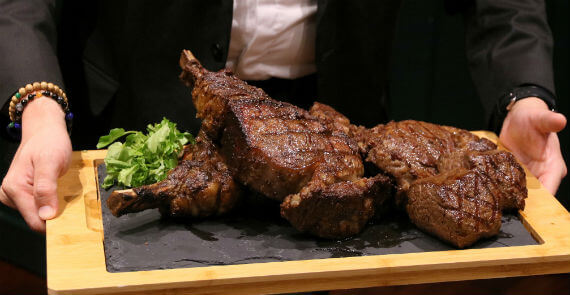 Wakanui Grill Dining located on the fourth floor of the West Tower in Marina One The Heart, features the best quality steak and lamb from New Zealand. Delight in the 1 Kg of Ocean Beef, Bone-in Ribeye (S$199 for 1kg) , dry- aged for 21 days served with fresh banana shallots (pictured above). The Ocean Beef is produced from the Angus breed, where the cattle are grass-fed for 18 months in located in the area of Wakanui, South Canterbury. Alternatively, the Canterbury Grass-Fed Fillet (S$78 – 250 grams / S$138 – 500 grams) is recommended if you enjoy leanness of meat more than anything.
INFORMATION
A. Marina One The Heart, 5 Straits View, #04-02 018935
W. wakanui.sg/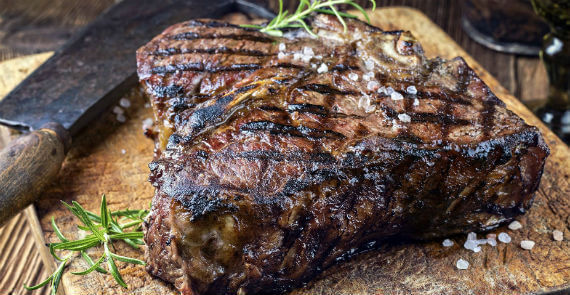 Reviwed by Richard on Expat Choice "I was fortunate to be invited to this amazing place, The Ranch Steakhouse and I had no need to look any further for good quality cut meats and seafood alike at lower than expected prices. The decor and high ceilings with sleepers give the feeling you are in THE Ranch, the open style kitchen watching the chefs do there thing is an eye opener. We had cold cut platters of sliced Wagyu beef, homemade crab cake. The New Zealand King Salmon USDA Prime 30 Days dry aged bone in Ribeye, Japanese Hokkaido Wagyu to name just a few! This has certainly made Clarke Quay stand out amongst it friendly rivals in nearby places. Go and experience this place out now. I know we'll be coming back many times!"
INFORMATION
A. Clarke Quay, 3B River Valley Road #01-15 179021
W. www.astons.com.sg/partners/theranch
S. www.facebook.com/TheRanchByAstons/
YOU MAY ALSO LIKE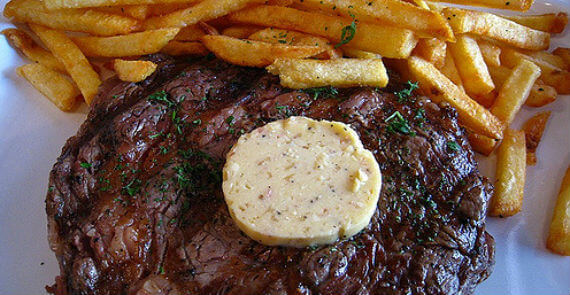 Les Bouchons restaurants on Ang Siang Hill and in Robertson Quay areas serve some of the best steaks and fries in town, in a typical Parisian bistro décor. Don't hesitate to make a reservation and try the popular Juicy and Tender 300g Ribeye with Vigneron Butter, (pictured) served with mixed Salad and free flow of Homemade French Fries.
INFORMATION
www.facebook.com/pg/bouchonssinga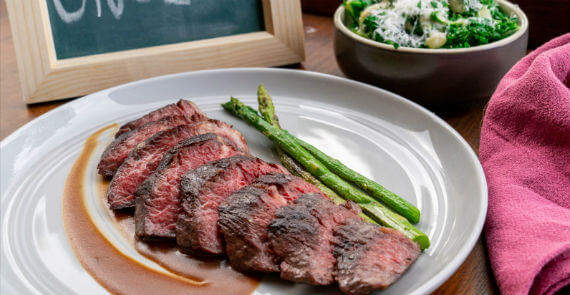 Fat Belly - serving alternative steak cuts and Sugarhaus Restaurant Singapore is a two-in-one affair offering steak and ice cream at great prices. Secretly tucked behind the ice-cream shop, the restaurant serves high quality and lesser-known cuts of beef. With minimal preparation, they preserve the original and unadulterated flavours to mouthwatering effect. The wagyu onglet steak was super tender and juicy. Perfectly cooked and seasoned well. Expect to pay about $30 per head.
INFORMATION
A. Serene Centre, 10 Jalan Serene, #01-04 258748
S. www.facebook.com/fatbellysg/