Video Credit: Venuerific Binomio Best Spanish Restaurante in Singapore 
We can't go to Spain this year, but Binomio Spanish Restaurante can bring you the taste of Spain right here in Singapore.
Binomio in Spanish literally refers to a "pair" or "duo" in English. Binomio Spanish Restaurante is exactly this - the pairing up of two different concepts, a casual Tapas Bar and a Fine-Dining area, both serving up authentic Spanish food.
It's also the pairing of two unique individuals who drive Binomio with passion, dedication and flair.
After almost 4 years, Malaga born Gonzalo Landin Gimenez, head chef at Binomio Spanish Restaurante & Almeria born Eduardo Ortega, general manager, Singapore's most respected and consistent Spanish tapas bar and restaurant, continues to bring the Andalusian vibes through food and hospitality to Singapore.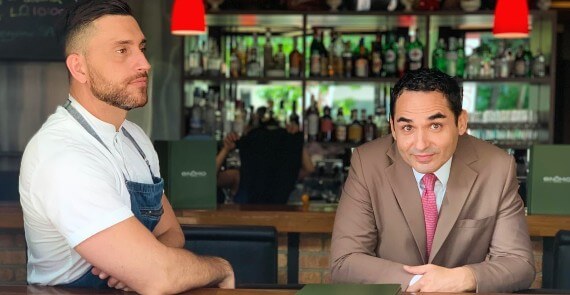 Image Credit: Gonzalo Landin Gimenez & Eduardo Ortega
Yet, (with tongue in cheek) it seems these two champions of hospitality have a love, hate relationship. It is this fire in both their bellies proving to be the winning formula here.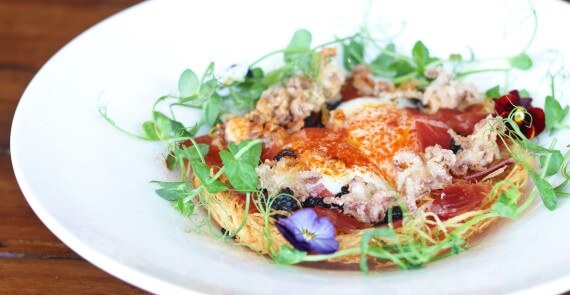 Fried potato nets, accompanied by soft egg, sea urchin, caviar and Spanish Jamonblack label. This is a classic Spanish dish with a chef Gonzalo twist. The potato is cut into strings and carefully shaped into a net, then fried in hot olive oil. Separately, the egg is slowly cooked for 20 minutes at a controlled temperature of 60 degrees to produce a soft yolk and a semi soft egg white before being added to the nets. Finally the dish is topped with Sea Urchin , caviar and (Jamon) Ha MON black label for extra taste
Binomio Spanish Restaurante showcases a menu of authentic Spanish cuisine. The menu includes popular, all-time Spanish favourites as well as personal dishes prepared by Chef Gonzalo Landin after years of creating awesome Andalusian inspired dishes.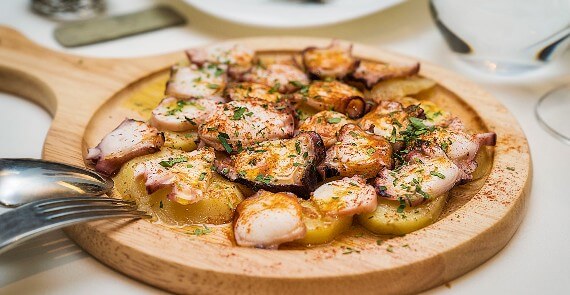 A prime example is Chef Gonzalo Landin's secret to cook his Atlantic Octopus "a feira style" to perfection. (pictured above).  He suggests, first freeze the fresh octopus for a day and when the time comes to prepare the dish never boil the water when cooking, just a gentle simmer for a few hours is enough.
Balancing the taste, texture, appearance and colours of Andalusian inspired dishes, guests delight in the variety offered here. The menu changes at least 4 times a year depending on available seasonal ingredients.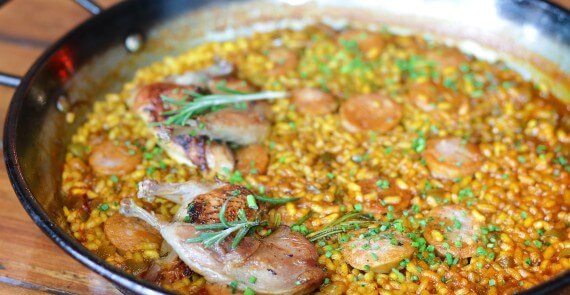 Paella is a popular house speciality served on the menu here at Binomio. It can be prepared in many inventive ways depending on available stocks and seasonal ingredients. Sofrito, a versatile, aromatic puree of tomatoes, peppers, coriander, onions, and garlic acts as the base to cook the raw rice with olive oil.
After a few stirs bringing the base ingredients together chef Gonzalo adds A generous amount of stock, allowing the stock to reduce until the rice is cooked before adding the meat to the paella Grilled Quail and Buti far (ra) - a type of iberico pork sausage. Chef Gonzalo then adds rosemary for aroma allowing the paella to reduce before serving this typical country style dish
Every day, Chef Gonzalo comes up with special dishes and tapas "off-menu" based on the fresh produce available by their premium select International suppliers.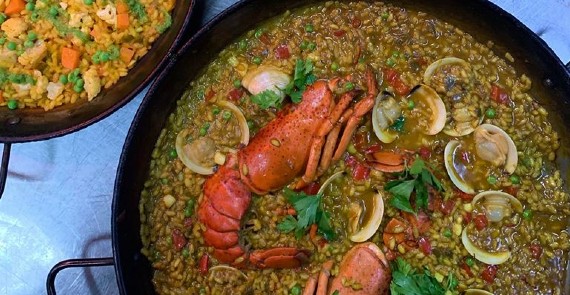 Order the classical chicken and seafood paella ($69), perfect for sharing or the squid ink rice with clams and calamari paella ($70) Check out the menu here.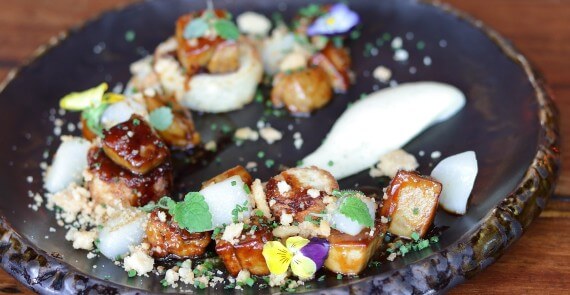 Next, we have the Grilled dices of Foie gras and scallops , homemade brioche and sherry wine reduction, accompanied by parsnip and vanilla purée  The Foie gras and Scallops are cut into cubes (lightly grilled). The Purée of parsnip is mixed with vanilla to combine the flavours, then a Sherry vinegar reduction is added to balance the taste of the dish before the ingredients are placed on delicious Home-made brioche and garnished with lemon balm and edible flowers.
Deviating from the traditional approach to presentation, Chef Gonzalo Landin has introduced interesting twists to tapas dishes over the years. Adopting a simple and uncluttered presentation of dishes, guests are pampered by his creative culinary skills.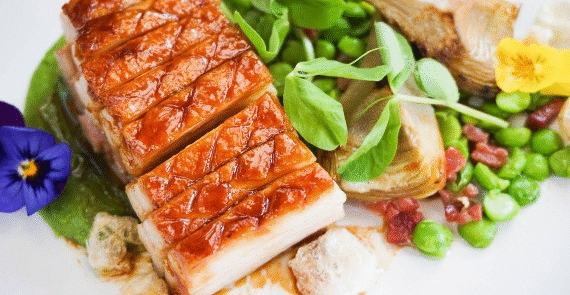 The Expat Choice team wish Binomio Spanish Restaurante to live long and prosper. Having survived circuit breaker delivering superb creations to loyal fans, the restaurant and tapas bar is back in full swing, social distancing is their priority along with ensuring the preparation and service of the fine quality of Spanish Andalusian inspired cuisine guest have come to know.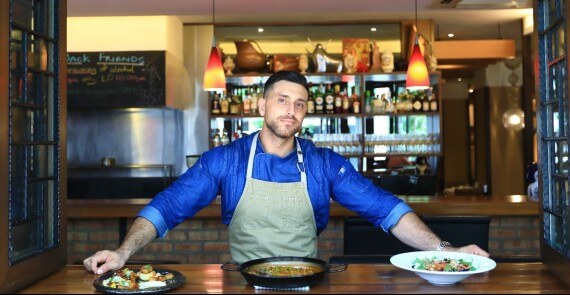 Image Credit: Chef Gonzalo
INFORMATION
A. Craig Place, 20 Craig Road 089692