An awesome restaurant in Little India boasts a wood-fired brick oven made from scratch
Little India welcomes ​Sideways​, a woodfired restaurant that serves artisan breads and fresh produce baked in a wood-fire brick oven forged by the hands of chef/owner and serial entrepreneur, ​Pav Khialani , most recently of  the now closed The Hangar ( due to landlord disputes) and his partner Giulia Cian Seren.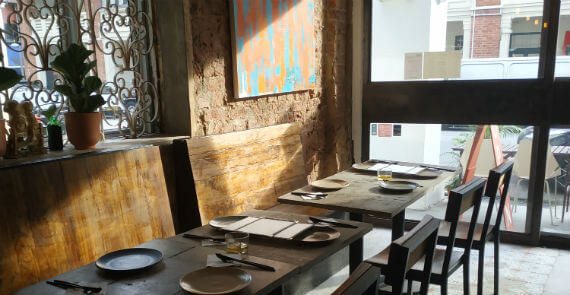 Sideways is nestled in the heart of one of Singapore's heritage trails along Little India and Jalan Besar. The unassuming shophouse—once a school —is now decked in famous street art, which starkly contrasts its bricked interiors.
It is this eclectic combination that won the hearts of Singapore-born, Melbourne-raised Pav, and Italian Giulia Cian Seren."I really love the neighbourhood for its colours, vitality and energy!" said Giulia, co-owner of Sideways.
"These handsomely restored conservation areas tucked away from high-rise buildings and high-end shops really makes you feel like you're ​in Singapore. We thought it'll be really cool to have a woodfired restaurant added to the mix."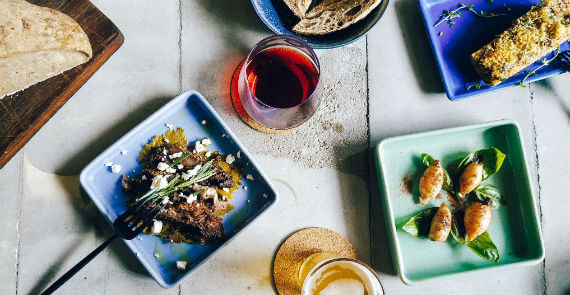 The main looker at Sideways is their four feet wide wood-fired brick oven which was made from scratch by Pav. It was during the time when he started ​The Hangar​—a Melbourne-style cafe and bar along Arab Street—that Pav's passion for baking artisan breads fuelled his curiosity for exploring this traditional technique. "We used refractory bricks which are perfect for keeping the heat in," explained Pav.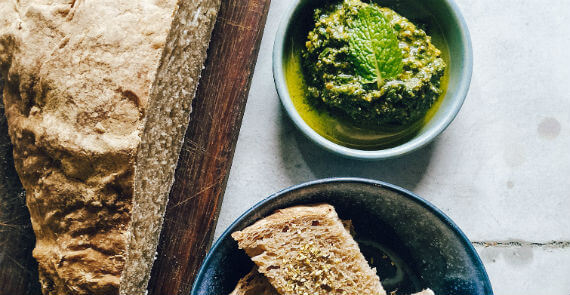 "At The Hangar, we baked our sourdough loaves, ciabatta, and burger buns in an electric steam oven, which is great, but we thought it would be really cool to ​revert to the old methods of baking​, and giving our breads a whole new dimension to its taste and texture—something you can't replicate with an electric oven." "People really like our ideas and the hard work we put into it," added Giulia. The result is unpretentious food made fresh on the spot over open fire—crusty bread with an airy centre, charcoal-kissed steaks, and beautifully caramelised vegetables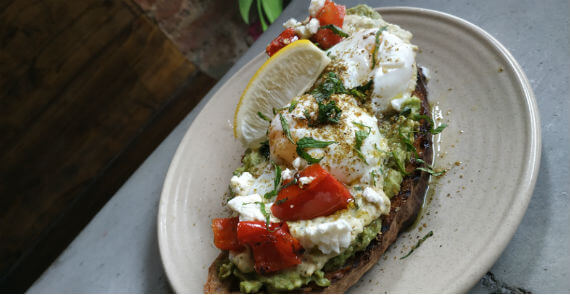 Nduja & Burrata toast - the best selling brunch main, sourdough toast, nduja (spicy salami spread), burrata, poacahed eggs, basil and lemon  
With such dedication that goes into the cooking vessel, you can be sure the food is nothing short of mundane. Be spoiled for choice with ingenious takes on comfort woodfired dishes like ​garlic shrimps, Spanish smoked pork belly and bone marrow as well as eclectic dishes like the Talagani with figs, white-wine roasted artichokes and cauliflower steak with beetroot tahini.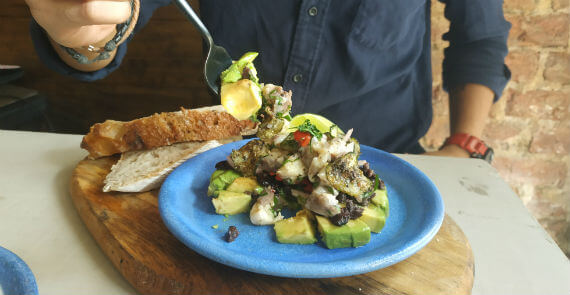 "You won't find your grandma's ​ragù or anything you normally see in Italian or Greek restaurants; but we believe in the integrity of the ingredients, hence, came up with simple dishes that are full in flavour, and go well with bread and ​vino" explains Giulia.
Sideways also offers a rotating selection of five crafts beers sourced from Germany, Australia, the US and the UK, pulled from a custom-made tap system for those looking to knock back a couple of cold ones.  
One Small Step Sideways, A Giant Leap for the Community
Following the foot steps of their sister establishment, The Hangar, Sideways aspires to make their mark in protecting the environment by paying attention to their actions. Apart from stainless-steel straws used in-house, Sideways is also growing some of their herbs and vegetables on the roof, and as much as they can, composting organic wastes.
The name Sideways defines both owners' approach to their imaginative concepts; from the rustic interiors with modern touches, to dishes prepared ​à la minute in a home-made, wood-fire brick oven, Sideways is the brainchild of their lateral thought processes.
"In Australia, to get sideways also refers to one getting tipsy, and we thought it might be something funny to share since we're all here for good company, good food, and a good selection of craft beers and wines." Pav playfully added. "Australians will surely get it, while everyone else will just think it's a really cool name"  contact and location
Comments
How cool is this place in Little India! A New restaurant in Little India boasts a wood-fired brick oven made from scratch
wow wow wow I loved my visit recently to Sideways. I sat at the bar overlooking the goings on in the kitchen just beyond the bar serving area. The wood fired oven is the jewel and is visible from the small and intimate restaurant space. You will only have 20 to 25 guests at any one time here. It really is a refreshing environment. I had the stuffed peppers for an entree followed by a delicious Rib Eye at $16 cooked to perfection and you got a hit of the smokeyness. This place is going off the charts.... get in now before it becomes over run with fans and you'll never get a seat....true story mate!