LAVO Italian Restaurant & Rooftop Bar continues to deliver with its "Adults Only" Sunday Funday Champagne Brunch.  A favourite on the free-flow scene - and no kids allowed - this is for the big guns only....
So, what is the score...Priced at SG$98++ for the buffet or SG$158++  with free flow Veuve Clicquot champagne, Mimosa and Bloody Mary cocktails, and Singapore Slings, as well as a free flow of red and white wine, peroni beer, and a selection of non-alcoholic beverages, soak up the atmosphere 57-storeys high featuring live DJ sets and more.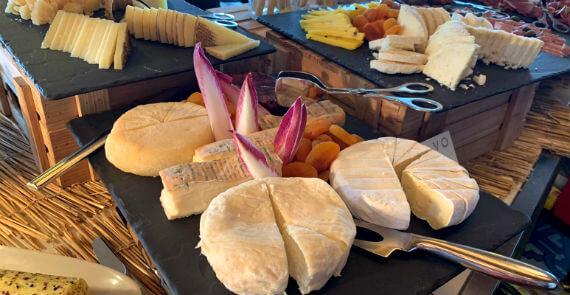 LAVO Italian Restaurant & Rooftop Bar is toasting to a vibe-dining experience with it's popular adults-only champagne buffet brunch offering a 360-degree view of the iconic Singapore city skyline. 
The raw bar has a selection of Oysters, Shrimp Cocktails, Chilled Lobster, Chilled Snow Crab, Chilled Scallops, Green Lip Mussels, Yabbies, Poached Salmon, Middleneck Clam. We loved the Seared Foie Gras with Apple Chutney on Puff Pastry or do you prefer your meat?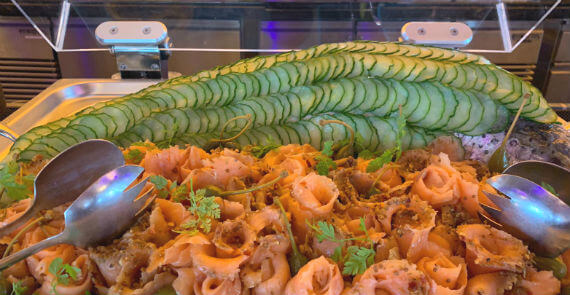 Indulge in your favourite carved meats at LAVO Singapore's Sunday Funday brunch with Roasted Pork Roulade with Juniper Agrodolce, Broiled Beef Tenderloin with Horseradish Cream & LAVO Steak Sauce, Whole Roasted Free Range Chicken with Red Wine jus and  Confit Fingerling Potato.
Guests can also look forward to a smorgasbord of culinary treats that include U.S and Irish oysters, shrimp cocktails, chilled snow crab, and an assortment of canapes that include charred octopus with fennel and red wine vinaigrette, tuna tartare with black olive vinaigrette, and eggplant caponata with whipped goat cheese.  
No brunch is complete without LAVO's breakfast hits that include mixed wild mushroom frittata, apple wood smoked bacon, and its signature meatballs made from imperial wagyu and Italian sausage.
LAVO Singapore dishes out a tempting Italian twist with its Parmesan Cheese Wheel with Linguine Pasta Cacio E Pepe Style, Spaghetti with Fresh Tomato & Basil at this awesome Sunday Champagne Brunch.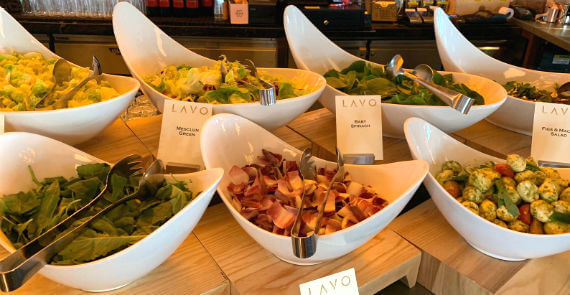 An absolute must-try or tempt yourself with the brick oven Spinach and Artichoke Pizza, Margherita Pizza, Quattro Formaggi Pizza, Carne Pizza or the Salmon Oreganato with Garlic Butter and Breadcrumbs.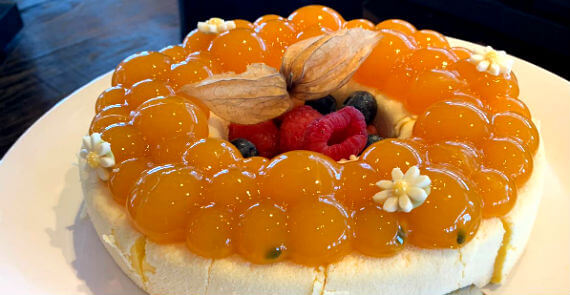 To top it off there is a massive assortment of delicious desserts (mountains of them), Muffins, Bagels, Sour Dough, Rye, Croissant Mignardises, Petit fours, Gelato, Sorbet, Fresh Selection of Fruit are all available for you to enjoy.
12 pm to 3 pm every Sunday, SG$158++ per person (with V.C champagne); SG$98++ (buffet only). 18 years and over (no kids, sorry!). To indulge in Lavo Singapore's Sunday Funday Champagne Brunch Reservations, contact and location here
Comments
I haven't eaten up at one of the rooftop restaurants at Marina Bay Sands since I arrived in Singapore 7 years ago. Now I have a very good reason to - LAVO Restaurant's Sunday Champagne Brunch Buffet! When you are a long term expat, it is always a great day when a new dining offering is launched. And there is nothing that this expat loves more than a boozy buffet brunch! From the minute we arrived at the Marina Bay Sands Hotel Lobby Tower 1, we were greeted warmly at the LAVO desk which is situated right by the lift lobby. Once up on Level 57, the welcoming staff at LAVO showed us to our window seat overlooking the balcony with views over the Marina. When escorted to our seats we passed several food stations, all filled with an abundance of fresh produce. We chose the Brunch option with free-flow Veuve champagne, which is well priced comparative to the other free-flow brunch options in Singapore. Our attentive, friendly waiter welcomed us with our first (of many!) glasses. Time to eat. Wow, what a spread! The buffet stations overflowed with fresh seafood, salads, cheeses, breads, pizzas and hot dishes like LAVO's famous meatballs and eggplant parmigiana. There were also stations manned by chefs serving pasta, eggs benedict, and a carvery with beef, pork and chicken. Everything was fresh and satisfying. I have a sweet tooth, so I always try to keep room for dessert. I have to say I struggled because I overdid the mains. But with a little break and more bubbly, I found room!! The dessert buffet has its own space in the restaurant to accommodate the huge variety of cakes, puddings, tarts, sweet treats, fresh fruit, plus a very large chocolate fountain with strawberries and marshmallows. It was beautifully presented and all looked so delicious. I kept my choice to 3 items to save room for gelato (I chose chocolate infused with brandy). We finished our meal off with a coffee. If you are looking for an adult-only free flow buffet brunch experience on a Sunday, then you must give LAVO a try.
Excellent customer service by the manager Quentin and Reggie, the staff was very friendly lucky to catch their names Viji and Thea. Credit to the bartenders who made our lovely drinks. kudos guys you made our night special. Cath Vibanco recommends LAVO Singapore on Facebook. Loved the experience there. The food was good (and rich — it's best if you go there with a party), the view stunning, service top-notch. I loved the ambience in particular: warmth in a large space. Posh yet really inviting and I can't rave enough. Prices are a bit steep but for the experience, definitely worth it. Good for dates but ask for a quieter space for better conversation. Kelly Roxanne reviewed LAVO Singapore – 5 star on Facebook. From the moment you step inside the restaurant, the staff are so attentive and keen to make sure your experience is a positive one. We booked a table for 8 but 2 cancelled so they checked to see if they could move us to a smaller table which gave us a beautiful view. Our server Sarah, made sure our glasses were always full, helped to take photos & was genuinely warm & friendly. Only 1 change I'd make & that would be the creme brûlée which wasn't nearly as good as the other desserts. Lydia Abbey recommends LAVO Singapore on Facebook