Welcome to The English House and Marco Pierre Whites Classic English Cuisine with a hint of Asian Flavours.
The English House are flying in fresh Haddock Fillet bringing back the traditional English Fish & Chips Friday. 11am-7pm. Pre Order highly recommended. When it's gone, it's gone.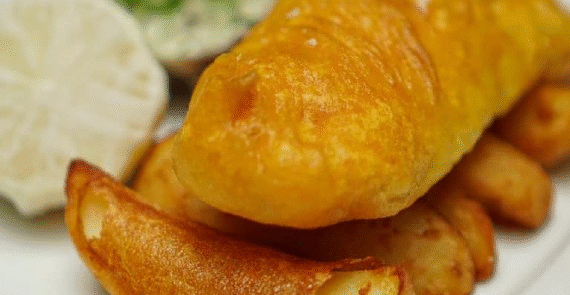 Adults can enjoy Beer Battered Haddock Fillet with Triple Cooked Chips (S$38) served with Buttered Mushy Peas and The English House Sauce Tartare, while the little ones enjoy a Kids' serving (S$15) of the Fish & Chips with a side serve of Butter Gardens Peas.
Putting pandenmics aside, expat choice is delighted to share; The English House offers a superb in-home dining delivery service Islandwide.
You will be entertained to an "English Experience" like no other -  in the heart of your home.
Marco Pierre White is the British chef, restaurateur, and television personality from Leeds, UK. White has been dubbed the first celebrity chef, and the enfant terrible of the UK restaurant scene. He was called the godfather of modern cooking by Australian MasterChef and has a following that is global - to say the least.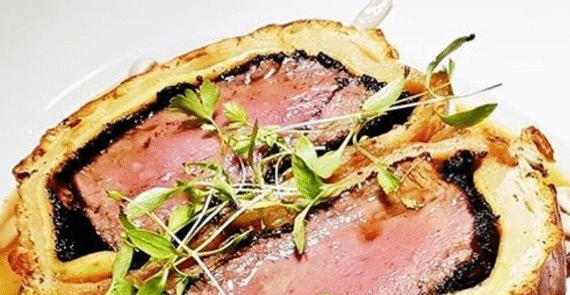 The home delivery menu is a limited selection of some of the greats from the full menu, and it does not disappoint. The English House Rump & Foie Gras Burger (S$25) Crisp Bacon, Melted Cheese, Iceberg Lettuce, Tomatie, BBQ sauce together with Pomme frites or something a little more substancial, a Braised Angus Beef Cheeks with Singapore Spiced Noodles ($44)
The following is an explanation from the author of what to expect from your delivery menu. Try Marco's Minestrone Soup served with fresh basil (S$4.50), a Braised Beef Brisket in Rich Tomato Sauce (S$35) served with creamed potatoes, or our pick for the day was the Classic Beef Wellington en Croute - serves two, (S$125) served with Buttered Leaf Spinach, Jus Viande, served medium rare.
Wait till you taste this hearty mouth-watering sensation. On arrival to your home all dishes should be slightly refreshed with heat on your stove or in your oven for your ultimate dining enjoyment.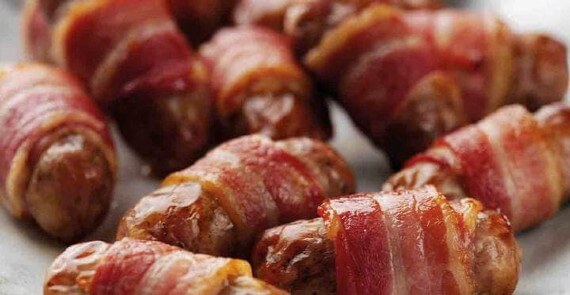 Considering a Classic Sunday Roast? There are four to consider. To experience them all in one sitting, get your family to share the best that The English House has to offer. There is the Roast Chicken Properly Garnished served with Yorkshire Pudding, Roast Potatoes, Seasonal Vegetables, Cheese Baked Cauliflower, Pigs in Blanket, topped with Chicken Roasting Juices.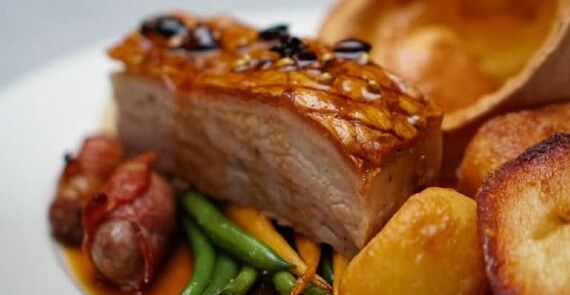 Honey Roast Pork Belly with Crackling, (pictured above) with Honey Roasting Juices and all the trimmimgs or a selection the Roast Fillet of Black Angus, served with the classic Yorkshire Pudding, Creamed Horseradish resting in a Beef Roasting Juices or the Tradional Roast Lamb with Mint Sauce.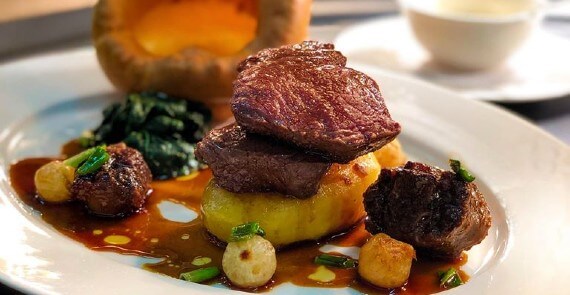 No meal is complete without a signature - Mr White's Tiramisu.
Image Credit : Marco Pierre White Delicious.com
The good news is that The English House offers takeout for both ISLAND WIDE DELIVERY* and collection. Available 7 days a week. *Delivery $15 or complimentary with orders over $150.
HOW TO ORDER TAKEOUT FOR DELIVERY OR COLLECTION
Chose your dishes from the takeout menus below.
Whats app +65 9021 3170 or call +65 6545 4055 to place your order. Pre-Order in advance is highly recommended.
For delivery please share your address and required timeslot. For collection please share your pickup time.
Delivery is $15 flat fee or complimentary if order is over $150.
Wait for confirmation from The English House team.  For delivery you will be given tracking of your delivery via shareable GPS link
Enjoy your food!
INFORMATION
A. 28 Mohamed Sultan Rd 238972