When New Ubin Seafood first opened Garang Grill at Swan Lake Avenue in 2017, it promised a three-month pop-up of fierce, bold charcoal flavours that were Truly Singaporean.
This came much to the delight of east-siders, who until then haven't been able to visit New Ubin Seafood's numerous off-the-beaten-path locations over the years without enduring a bracing car ride. It announced its closure on 31 December 2019, effectively ending a "pop-up" that lasted two months... short of three garang years.
With the closure of its flagship tze char eatery at Hillview Avenue in June 2020 leaving fans scrambling into the city for their New Ubin fix; an upscale restaurant in the city centre CHIJMES cluster and a hotel restaurant in Zhongshan Park didn't feel quite the same.
The formula is as bewildering as it is exact. An off-the-beaten-path location accessible at best by car, far flung from the city and tucked away into the forgotten crevices of Singapore. It'd count the likes of paint shops and autorepair businesses as its neighbours, and its cuisine best enjoyed in a nondescript outdoor canteen setting that has no business serving choice rib-eye cuts, kaya toast on baguette with French butter, or premium Bordeaux in Riedel glasses – but do so anyway.
Here, New Ubin's brand of rustic roots and kampong essence, which it serves its 'Truly Singaporean' cuisine with, fares exceedingly. Today, that recipe has been exacted to a tee, and with all previous moves, comes with its own set of upgrades. Located on the ground floor of [email protected], a commercial property along Tampines Industrial Crescent flanked by furniture showrooms and inflatable air dancers, is the 5,700 square feet New Ubin Village.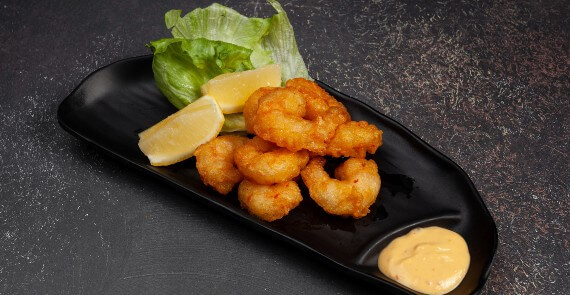 Joining the move is the "grill" in Garang Grill, a $16,000 charcoal grill oven by Spanish brand Mibrasa. Famed for its ability to deliver the intense heat of primal charcoal flames in an enclosed oven, it has been responsible for many of the brand's cult favourites over the years – from USDA 'Choice' Black Angus Rib-Eye to the delicately sliced Crispy Pork Jowl.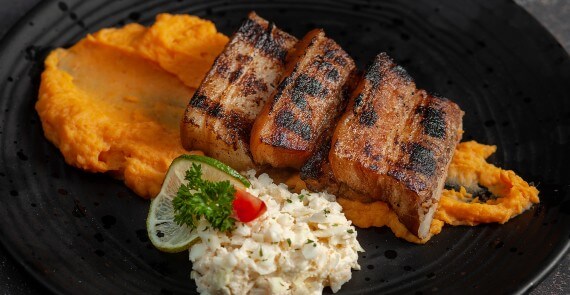 Plucked out of one remote location along Siglap's sprawling private housing estates and planted into another equally remote location right smack in the middle of Tampines' industrial estate, the new Garang Grill sheds some of its suburban charm but manages to stay relatively on brand as a New Ubin Seafood offshoot. eat and an embarrassing amount of butter. Deep-fried mantous seal the deal on this Garang Grill specialty.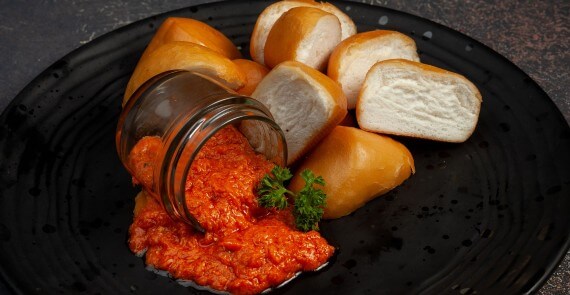 Power Starters & Side Kicks include Chilli Crab Rillette (S$12). Reimagine New Ubin Seafood's chilli crab sauce as a smooth, decadent spread of tomato paste and sambal rempah, folded in with crab meat and an embarrassing amount of butter. Deep-fried mantous seal the deal on this Garang Grill specialty.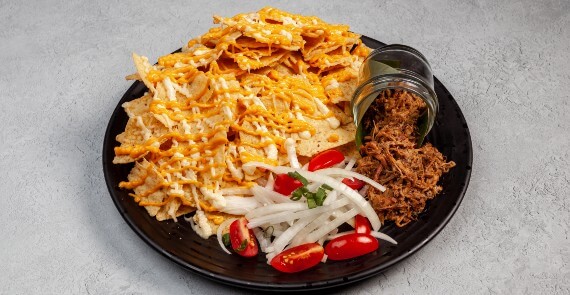 Pork Rendang Nachos (S$15). Previously served with deep-fried gyoza skin, this starter to share now comes as advertised—and also gluten-free— using gluten-free nacho chips, topped with cheese mayonnaise and served with its signature pork rendang.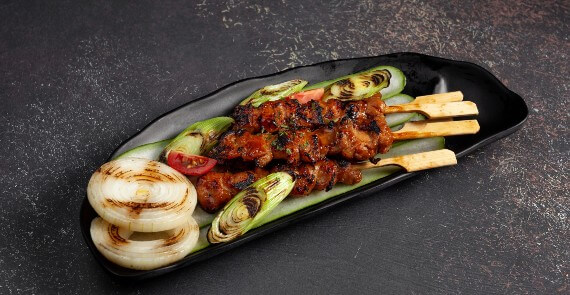 Crispy Pork Jowl (S$12). A delicate cut of fatty meat that needs to be sous vide for half a day before it's coated in a special flour mix, deep-fried and finished off in the Mibrasa oven for a smoky, charcoal flavour boost. A miso-infused gula melaka dipping sauce coats another layer of umami to each crisp, thinly sliced morsel.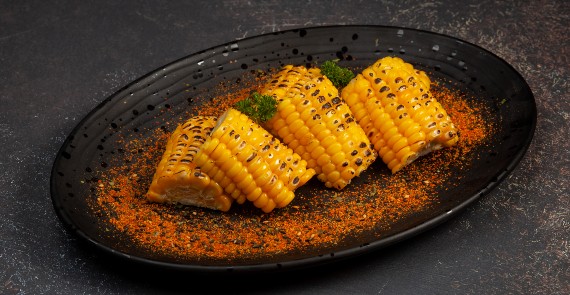 Togarashi Corn (S$9). Roasted sweet pearl corn coated with an irresistible char, finished with a sprinkling of house-smoked sea salt and a dash of Japanese togarashi powder.
Moving on to Meats & Carbo Load items. LA Galbi Beef (S$18) Korean-style beef short ribs marinated in a sweet and savoury ganjang-based sauce and barbecued till fall-off-the-bone tender, served with iceberg lettuce and sliced green chilli as a do-it-yourself lettuce wrap with a kick of spice.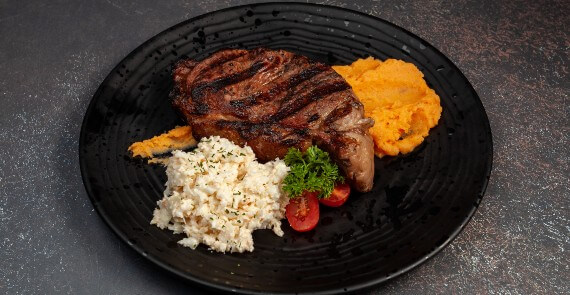 Argentinian Striploin (S$38). Considered some of the world's best for its incomparably tender texture and rich flavour, the striploin here is served as it is with sweet potato mash and Garang slaw - a testament to the Mibrasa oven's prowess.
Lime Leaf Chicken (S$30). A crispy half chicken bathed in a secret blend of Asian condiments and spices that's served with sambal mayonnaise, pickled ginger and tomato chutney and the Classic Carbonara (S$12).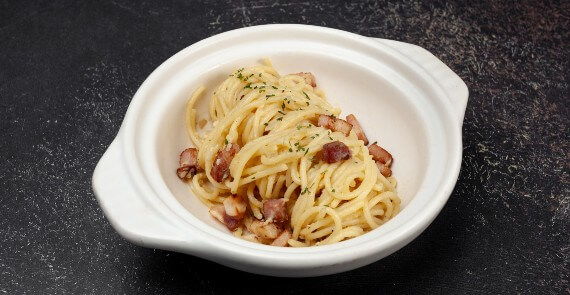 A quintessential Roman dish from Italy is given a uniquely Singaporean twist by cooking spaghetti with cream and cubes of house-smoked pork belly – a delicious blasphemy that is then served in a claypot.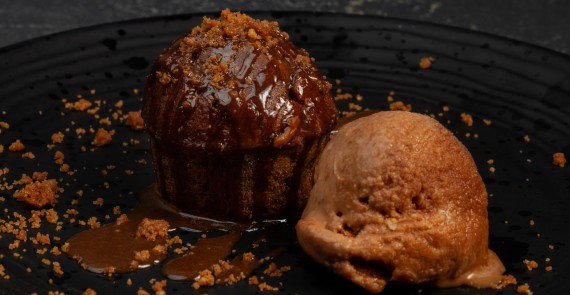 Garang Grill is now open at New Ubin Village and available for dine-in, takeaway and island wide delivery. Order via online.garanggrill.com and sign up as a Garang Grill member upon checkout to enjoy privileges for dine-in (exclusive add-on items), takeaway (skip the queue) and island-wide delivery (flat fee of S$10, free from S$200).
INFORMATION
a. 18 Tampines Industrial Crescent 528605, #01-16 ([email protected])
s. www.facebook.com/NewUbinTampines/
Comments
With a name like Garang Grill, one would expect 'fierce' 'bold' flavours and they delivered exactly that .... The place was a little tricky to find, google took us to the estate but once there, a little driving around the complex before we saw the neon crab sign.  Parking was easy. The very casual ambience meant one could really dress down and relax and enjoy the food.  The place is non airconditioned but there was a gentle breeze from fans keeping us cool.   The first dish we had was a Crispy Pork Jowl, the meat was tender and a very light crisp on the skin creates a nice crunch.  The dipping sauce was a tangy.  Good start.  Then came the Chili Crab Dip with Man Tou. (Chili Crab Rillette), the man tou was very nice with the sauce - lazy way of eating chili crabs. :-)  Garang Prawns and Meat came next and it did pack a punch.  The sambal mayo with the prawns was delicious. Togarashi Corn - nicely charred corn with the Japanese togarashi powder, simple and yet so yummy.  A little spicy too. If you don't like creamy pasta sauce, you might find the classic Carbonara just nice.  It is not overly creamy like the normal carbonara, it is flavour packed from the pancetta and light sauce, served in claypot (so Singaporean).  I would definitely order this again. The star of all the dishes were the Galbi Beef short ribs, the Argentinian Striploin & BBQ Pork Belly.  The grill on the the meat was perfect.  The aroma of charcoal made the meat taste even better.  Accompanied by the sweet potato mash and slaw, it was like labour day cookout. I was told that the Mibrasa oven is the best for such grill and it really is true. We rounded off the meal with sticky date pudding.  A little British touch to an otherwise very American style dinner. Definitely would come back again and try other grill items on the menu. 
With a penchant for unusual spots, co-owner of Garang Grill (a New Ubin Seafood offshoot) does it again. Located smack in the middle of Tampines industrial estate, SM Pang the infamous New Ubin Seafood co-founder, somehow has a knack for finding quirky venues. This time flanked by showrooms, warehouses and factories, Garang Grill which boasts a $16,000 charcoal grill oven, chars prime meats that are ever so flavourful. Be prepared for a calorific meal as nothing is spared, to produce the tastiest fare. There were a bunch of starters that hit our table - chilli crab sauce with mantou buns made their grand entrance. Most of us love mantou buns which are friend and easily filled with any topping. The crispy pork jowl which is sous vide for half a day, then fried and finished off on the grill, was one of my favourites. A must try when you visit, it is accompanied by a miso-infused gula melaka dipping sauce. You may want to order two portions of this! I would highly recommend visiting Garang Grill with a bunch of people as it's perfect to pick on a variety of plates that are ever so delicious. My other favourite starter was the sambal mayo sauce that accompanied crispy friend battered prawns. With spicy tones, it lent a fabulous bent to the prawns. Skewers of tender juicy yakitori chicken with leek and onion were also well marinated and grilled to perfection. Prices for starter plates that feed five people range from $9 to $15, well worth it for the quality that it is. As Garang Grill is immersed within a hawker-type setting, where other vendors sell drinks, it is easy enough to order beers that go well with these starters. Especially with ones like Togarashi corn where corn is grilled to an irresistible char and finished with sea salt and Togarashi powder. The spicy taste blends well with a few gulps of beer. SM Pang popped around for a chat as we chomped away. He is a man of many stories. Reliving his school days at ACS, he shared a tale or two that cracked us up. This lean gentleman looks after himself with daily walks despite his busy schedule. We moved on to mains. If in need of carbo loading, the Classic Carbonara (priced so well for only $12) is a must. Cooked with a Singapore twist, this was done with egg yolks rather than cream, in a claypot. The genius dishes behind Garang Grill are the twist I love. Korean-style beef short ribs served with lettuce and green chilly, a healthy wrap for non-carbo patrons. SM Pang recommended that we walk around to enjoy the picture collages of old photos from days gone by. Images of people, lanes, Singapore streets, trishaws met my eyes. It was great to walk down memory lane and reminisce I did. The grand finale of Argentinian striploin, known for its tender texture and rich flavor, was grilled rather rare. I love good cuts of meat this way as the full taste of the meat is highlighted. If you are just the opposite, ask for a longer grill that might suit your palette better. Or perhaps the BBQ pork belly might suit you better as this is served with sweet potato mash and slaw. Sticky date pudding greeted us at the end. What a nice surprise. Paired with burnt salted caramel ice cream, it was the perfect end we needed. Walking away from this funky, earthy establishment, we were discussing our return to taste the rest of the varied menu that Garang Grill had on offer, at wallet-friendly prices.
"It's time we expanded our horizons to look beyond tze char, and into other areas that we can lay our 'Truly Singaporean' claim on. Moving from one end of Singapore to the other over the years—even from a kampong to a hotel—have shown us the potential our brand of 'Truly Singaporean' cuisine has, and I intend to make it my legacy to stretch it as far as possible, and make New Ubin a brand that champions everything that makes us proud to be Singaporean," asserts SM. His next big project? "Smoked Impossible meatballs. Now that's a business with real scalability I can get behind – creating a bleeding piece of meat substitute from yeast. We're experimenting with new desserts as well. Making our sauces shelf-stable and world-famous. There's plenty to be done."