Image Credit: Regent Singapore Facebook Page
With Easter just around the corner, preparations are underway to make the most of the celebrations despite self-isolating, Easter eggs, hot cross buns, and all!
Traditionally eaten on Good Friday, hot cross buns signal the end of Lent – and the beginning of cheat days. If you haven't got the 'baking' gene, or don't have the ingredients or kitchen setup to make your own, we've cooked up a list of bakeries serving up the best freshly baked hot cross buns in Singapore.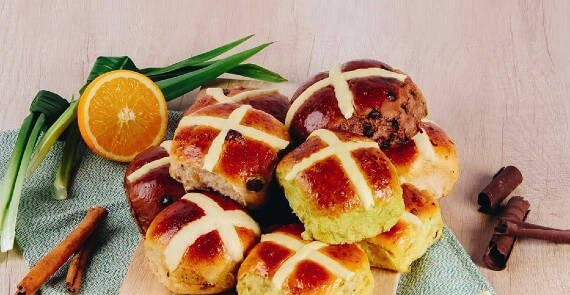 Image Credit: Cedele Facebook Page
Although Cedele temporarily shut its doors, they're keeping the oven burning with same day order and delivery – Easter treats included! Snag a dozen hot cross buns starting at $21.50, or half a dozen for $11.50. Besides the classic hot cross buns, they've got some amazing options, like a vegan Pandan Coconut version, a savory Spinach Cheddar take, and an Orange Cranberry Brioche.
A. 180 Kitchener Rd, #01 - 24 / 25, Singapore 208539 208539
S. www.facebook.com/cedelesingapore/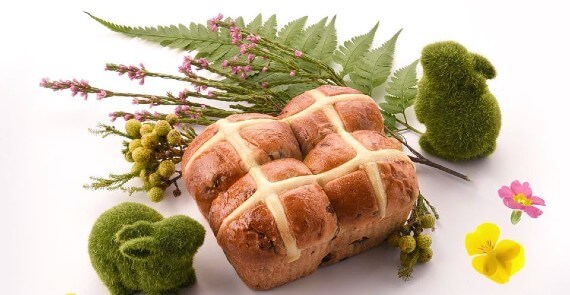 Image Credit: 'Tarte by Cheryl Kol' Facebook Page
Don't miss the chance to order up your share of Easter goodies from Tarte by Cheryl Koh, available until Sunday 12 April. They've recently started island wide delivery, so you can get their spiced whisky hot cross buns with raisins and candied orange delivered right to your doorstep! Don't forget to add on their assorted chocolate Easter eggs for a post-Lent treat.
A. 1 Scotts Rd, #02 - 12, Singapore 228208
S. www.facebook.com/tartebycherylkoh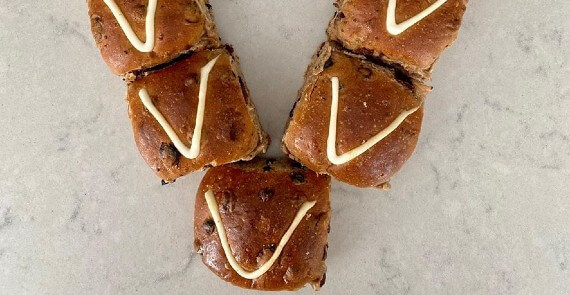 Image Credit: Baker & Cook Singapore Facebook Page
Get your share of hot cross buns (vegan variety available) with a side of goodwill at Baker & Cook, because the artisanal bakery will be donating $1 to the Breast Cancer Foundation with every half dozen pack purchased. On the delivery menu until Monday 13 April, Baker & Cook is serving up Double Chocolate, Traditional, and Vegan Hot Cross buns starting from $15 for six.
S. www.facebook.com/bakerandcooksg/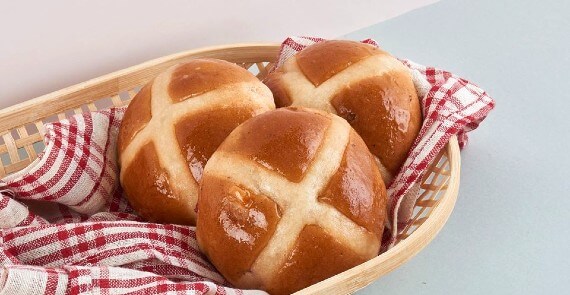 Image Credit: Regent Singapore Facebook Page
Start your Easter on the right note, courtesy of Dolcetto's signature hot cross buns, packed with spices and aromatics. Hop on over to the Regent Singapore from now to April 12th, and pick up the freshly baked goods starting at $7. If you're planning an Easter egg hunt for the kiddos at home, you can grab their hand-crafted chocolate eggs at $48 as well.
A. 1 Cuscaden Rd, Singapore 249715
W. www.regenthotels.com/regent-singa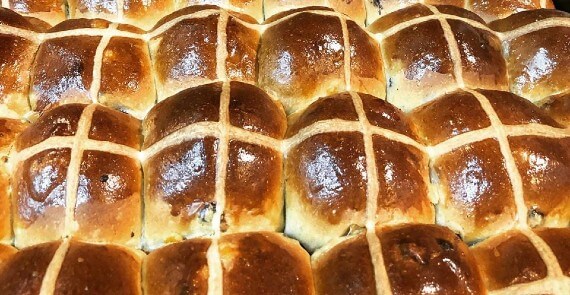 Image Credit: Bakery Brera & Fine Foods Facebook Page
Enjoy a lighter and fluffier version of the traditional, European hot cross buns at Bakery Brera at prices that won't burn a hole in your pocket! While the bakery is still open for pick up, you can get their amazing Chocolate Hot Cross Buns, delivered on Feastbump if you would prefer not stepping out.
A. Empress Mall, 8 Empress Road, #01-05 260008
S. www.facebook.com/bakerybrera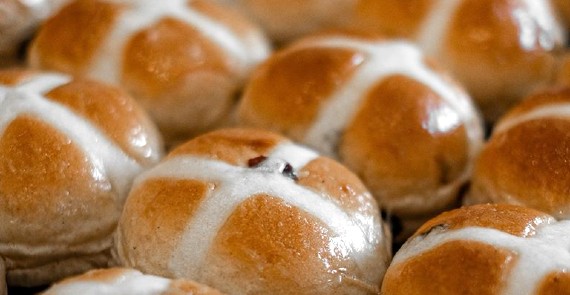 Image Credit: 'Culina at COMO Dempsey' Facebook Page
Pick up your share of freshly baked hot cross buns at the bakery in Culina Market. Spiced with citrus, and stuffed with apricot and orange chunks, their signature hot cross buns retail at $4 for two! While you're there, grab a hand-painted, chocolate hen, lollipop rabbit, or polka-dotted egg as a special Easter treat.
Comments
Artisanal tarts and other confectionaries are baked from scratch every morning with only the best available ingredients sourced from around the world. Many of these ingredients are highly sought-after and rarely used in Singapore. At Tarte, a lot of time and effort is spent perfecting a seemingly simple tart and all tarts are made with a high level of technicality and finesse.
It's entirely possible to conduct your Easter egg hunt at home with all the takeaway treats available at Dolcetto. Hand-crafted chocolate eggs ($48) could serve as your centerpiece (break them open to reveal an assortment of pralines) while cupcakes ($5) and bombolones ($6) make a colourful dessert display. Rouse the kids up from their sleep on Easter morning by toasting a few of Dolcetto's signature hot cross buns ($7). Heavily spiced and aromatic to a fault, they are best warmed and served with a pat of butter. Cue swoons all around.