Picture Credit: Oriole Truffle Burger Hero Video: Oriole Truffle Burger​​​​​​​
Who doesn't love a juicy burger? A thick patty encased within sesame buns that don't fall apart, with crunchy toppings of your choice and sauces to give it that oomph.
There are few things as satisfying as biting into a heavenly burger. But with an array of options, ranging from gourmet to fast-food, how does one find the perfect burger in the city? We conducted a burger-hunt to search for the best of the best and found a few that leave behind the rest. To maintain a level playing field, we kept the hunt within mid-range joints to high-end gourmet burger cafes, weeding away the fast food restaurants. The entries all range from $15-$35++
Look at this Juicy Beef Patty brought to you by Oriole Coffee + Bar (video above) located at Pan Pacific Serviced Suites Orchard, 96 Somerset Rd, #01-01 238163 - It is slathered with a generous amount of truffle aioli and topped with melted aged cheese, fresh mixed greens, sautéed mushrooms, caramelized onions, and served on a warm soft bun. Complementing the dish, Oriole-spiced fries are served. Get down and dirty, and tuck into the burgers the way they are meant to be consumed - with your hands. Price - $24++
A. Pan Pacific Serviced Suites Orchard, 96 Somerset Rd, #01-01 238163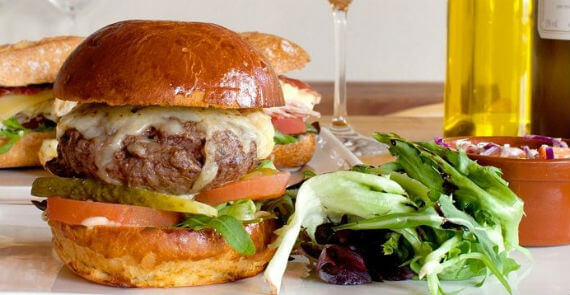 A wine bar on Aliwal Street, 13% Gastro Wine offers their 13% burger and it is a pleasant surprise. With juicy beef patties, gherkins, melted cheese and tomato slices nestled within a brioche, the burger is a hit. If you love seafood, you will enjoy the Crispy Crab Burger too, which features breaded blue crab. Review Here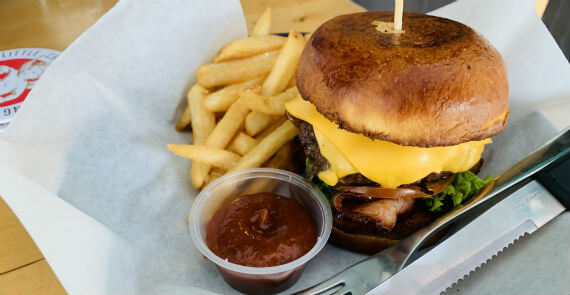 One of the best burgers we've eaten in a while. It's the simplicity of its preparation that wins us over. And the bun just melts in your mouth. The Jolly Roger is a gem - Expat Choice highly recommend a visit.  The Jolly Roger is open for breakfast every Saturday and Sunday from 10am. This cosy pub in West Singapore, serving a great all-day menu in the Upper Bukit Timah and Bukit Batok areas is nestled in the residential Hillview neighbourhood, located halfway up a hill against a backdrop of lush, green rainforest.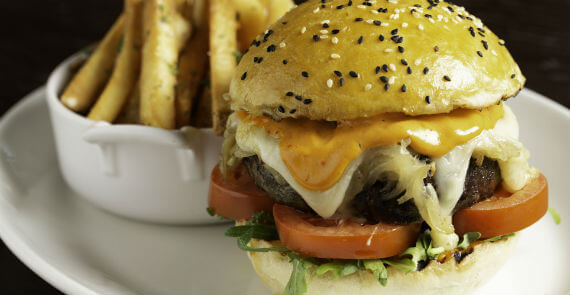 Offering a brand-new brunch service every single day, LAVO Singapore has upped the game where mid-day meals are concerned. The restaurant now opens its doors from 10.30am onwards, serving up brunch items like Ricotta Pancakes topped with homemade blueberry jam and the Wake and Bake (baked eggs, Tomato, Bell Pepper, Onion, Paprika, and Toast on the side),  till 3.30pm daily - and not to forget the delicious Burger treat. Guests can also order LAVO favourites such as its signature one pound meatball during brunch service. An excellent solution for the hungry hearted and for lovers of all things sky-high with awesome views of Singapore. Write A Review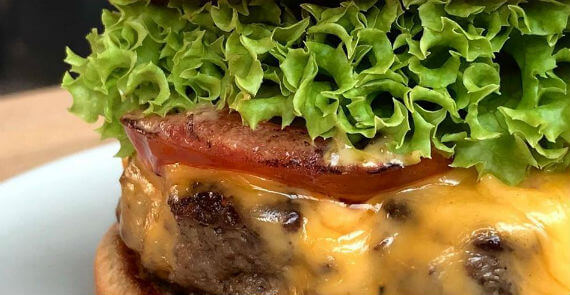 Basic Burger at BurgerLabo consists of 170g patty which consists of a blend of grass-fed Black Angus neck, Toriyama Umami Wagyu A4 tenderloin, Aomori Gyu ribeye & Sendai Wagyu A5 brisket.This is then topped with two slices of American cheese, grilled organic tomato, organic green ice lettuce & house-made sauce. Delicious. Burger Labo is the newest entry in to our Best Burgers in Singapore List. contact and location A. 41 Malan Rd 109454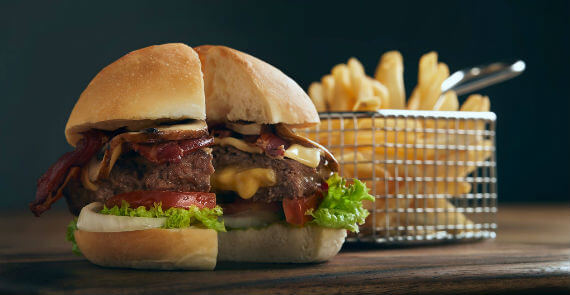 Burgers! Fish & Chips! Wings! Buns baked fresh daily, burgers grilled to order and fish hand battered when you want it. The Wild Restaurant is fabulous. Gourmet burgers are made from scratch everyday!​ From the kneading and baking of the buns to the grinding and forming of our patties. Their attention to detail is impeccable, from the sauce in the mash potatoes, to the salad dressings. contact and location Address: 9 King Albert Park 598332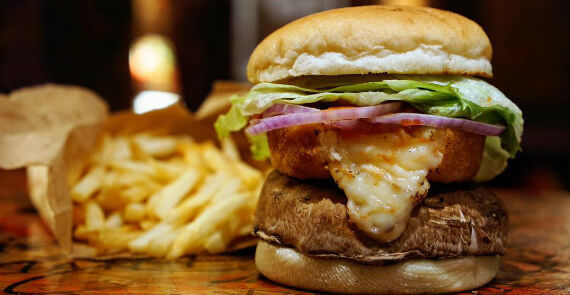 Burger Joint is the single best place in Singapore to grab good food and good beer. The burger is consistently good and the beer list is among the best if not the best in Singapore. The owners are passionate, friendly and generous. Seconds away from an MRT station and in a beautiful district, this place is not to be missed. Absolute must see while in Singapore, fantastic burgers and one of the best tap lists we have ever seen. Contact and Location
Crossroads Cafe brings East-meets-West cafe concept to life with a wide menu of signature dishes, premium wines by the glass and draft beers on tap. With a focus on high quality produce and ingredients, expect a menu of sumptuous signatures such as Wagyu Burger, or the all-time local favourite – Hainanese Chicken Rice. This corner bistro on the famed Orchard Road shopping strip is perfect for guests to people-watch while dining, and the casual pace keeps it feeling cozy enough for lazy afternoons. Crossroads Cafe is also Orchard Road's favourite place to grab a bite while meeting up with friends. contact and location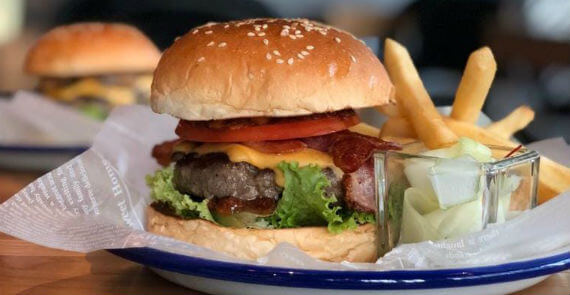 Pioneer mod-Sin restaurant Wild Rocket has long gone, but some flavours of it still lives on at its casual concept, Relish. Relish was formerly located at Cluny Court but now resides in Frasers Tower. Expect delicious burgers and mod-Sin pasta such as the laksa pesto linguine. Other items to look forward to include Thai basil chicken with bee tai mak noodles and baked cabbage sayur lodeh. contact and location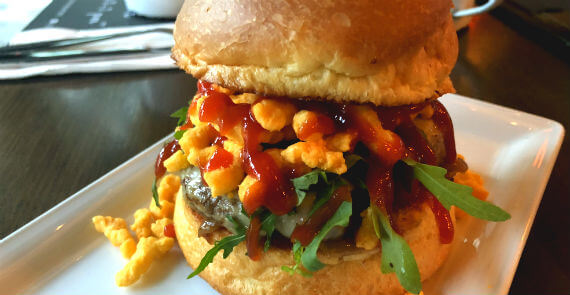 Cruise through this crunch time with the limited-edition Crunch Burger at 25 Degrees. Sandwiched between two warm and fluffy buns, chow down on the juicy all-American beef patty layered with slices of savoury Emmental cheese. Caramelized onions and rocket leaves provide an added dimension to each bite that is befitting of the burger's name. Served with corn snacks and Tabasco ketchup, the Crunch Burger is priced at $15++ (a la carte) and available only at 25 Degrees from now till 31 October 2018, after which time the fabulous classic burgers we have all come to know and love will continue to be served daily. Write A Review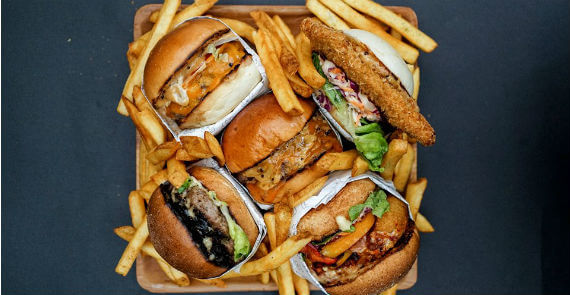 Three Buns is a culturally lead, creative space with a restaurant at the core offering gourmet burgers and crafted cocktails, redefining the burger joint. Potato Head Folk has brought its popular burger brand to Robertson Quay with Three Buns Quayside. To set it apart from the flagship in Keong Saik, Three Buns Quayside features the standard menu you most probably know and love, but also a beefed up selection of new burgers and hot dogs created by Executive Chef Adam Penney. Write A Review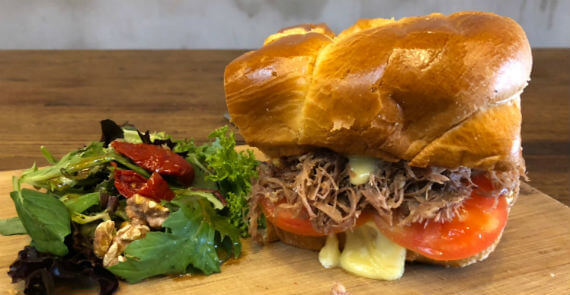 A favourite cafe for many in Singapore. Packed to the rafters day and night from 7am. My Awesome Cafe is a unique place with a historic setting, and quality food and service. Sitting at one of the high tables in the five foot way is a great way to relax and watch the world go by in that little corner of Singapore. Try an awesome burger with French Brioche. There are three to choose from. French Duck Confit, Peppered Roast Beef or the delicious Chicken & Bacon burger. You will not be disappointed. Review Here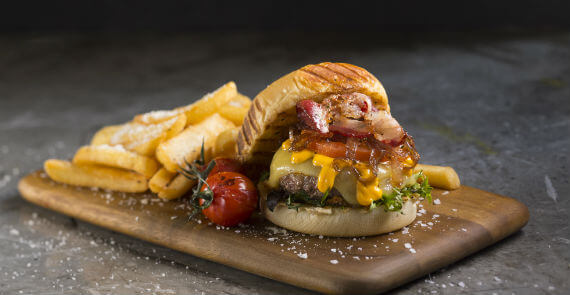 Rumours Grilled Cheese Burger is a jewel. The burger is made up of a homemade patty grilled to perfection, topped with bacon, cheddar cheese and crispy Old Dutch cheese, and served with fat chips. Rumours Bar & Grill is set to make its mark on Singapore's competitive food and beverage scene with its undeniable value for entertainment with its week-round live band performances and live DJ on weekends, and a delicious menu by award-winning Chef Noor Azman. Review Here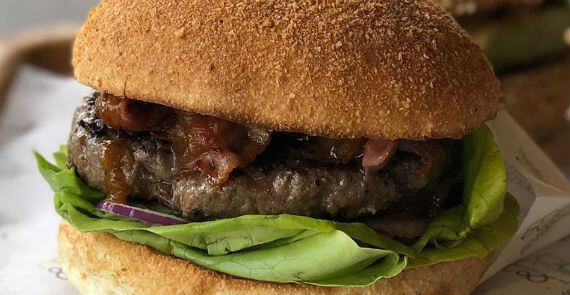 This is the latest burger to hit town. 180g Beef pattie with house made sourdough bread! This is the latest project by Baker and Cook and Plank pizza. The buns, gherkins, mayo are all made in house! The beef pattie is pressed on a hot plate to develop a nice crust. The main difference is the sourdough buns. They are not the usual soft and squishy buns and have a bit of structure. The burgers start at $17 and are quite big. It's a good hearty burger for those who like their bread to be more rustic. Worth checking out if you are around the area or if you are a burger fan. They also have a NZ style burger with beetroot as well as other proteins like chicken, veggie and grilled barramundi. Review Here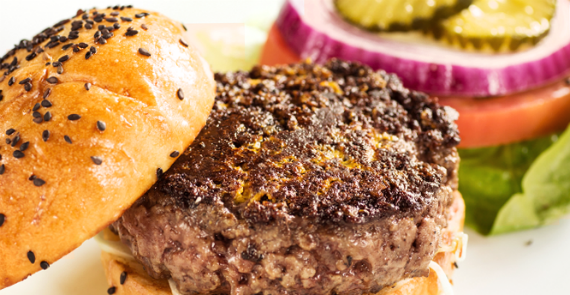 Luke's offers a mean burger, but in all fairness, it is only available in limited quantities each day. The Blue Label Burger is made up of a tender beef patty, onions, delicious pickles, tomato and lettuce all rolled up in a Luke's special sauce and held together by a fluffy, home-made bread roll. We suggest adding on extra ingredient or two such as cured bacon, perfectly fried egg or cheddar cheese. Review Here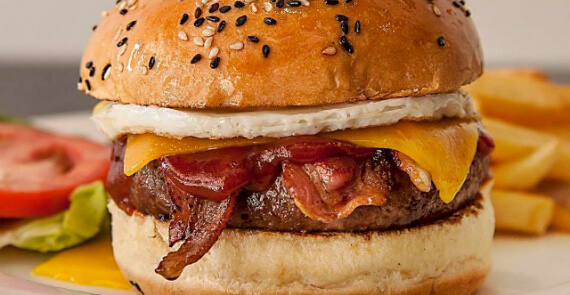 A chain with multiple outlets across the island, Fatboy's The Burger Bar is known for sinful burgers. The burgers are loaded and juicy, with options like chicken, beef or pork. The swiss shroom burger, in particular, makes us go weak in the knees. Lunch-time specials make this one an affordable stop if you're craving a drippy-delicious-burger. Review Here
P.S.- The shakes are incredible too!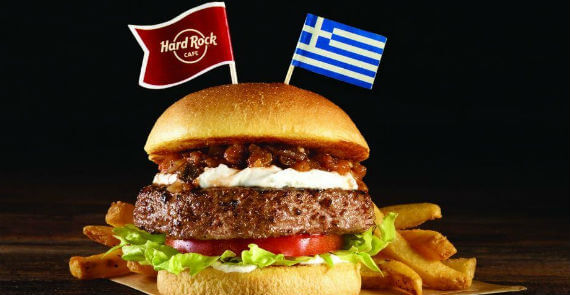 Just like the artists whose memorabilia lines the walls at Hard Rock locations worldwide, the burgers served at Hard Rock Cafe are nothing short of "legendary." All Legendary©Burgers feature the highest quality meat, fresh ingredients, savory sauces and rich, melted cheese. Legendary© Burgers are served with lettuce, tomato and paired with the ultimate sidekick – Hard Rock's Savory Artisan french fries. Each french fry selection is paired with a complementary signature dipping sauce. Guests in select regions can choose from Hard Rock's classic seasoned french fries or additional new offerings, including Garlic Fries with Garlic Aioli and Spiced Curry Fries with Tandoori mayonnaise**  Review Here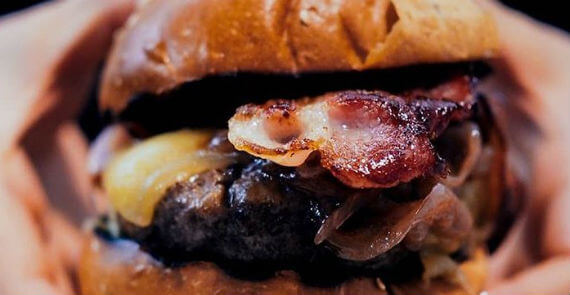 Known for high-quality meats, Huber's at Dempsey also has a lovely bistro that opens up for lunch. The burger is possibly the best in the city, owing largely to the pure Australian 100% beef patty cooked to perfection. Topped with caramelized onions and bacon, this one is a winner.  Review Here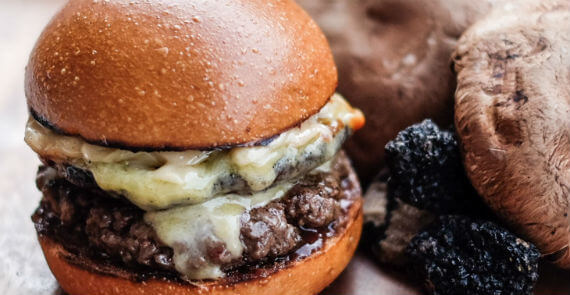 Here's one for the books. Fun Boy Three (pictured) is a decadent concoction of Black Angus beef, roasted portobello mushroom, smoked applewood cheddar, garlic and miso butter, with a splash of truffle aioli. Three Buns also bakes its brioche buns in-house and uses prime grass-fed lamb and beef from Australia in these awesome patties. Housed in one of the most iconic buildings on Keong Saik Road, Potato Head Singapore is a dynamic destination offers four venues within one building. Review Here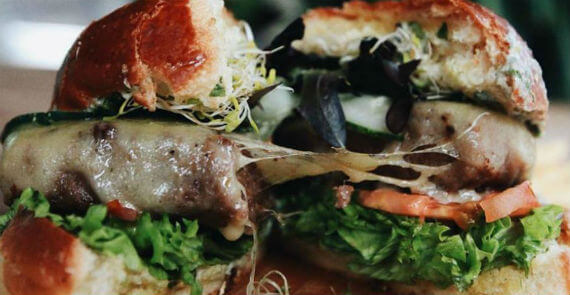 While we're on Arab Street, Working Title Burger Bar deserves a mention. This interestingly-named café sits below a hostel run by the same people and is frequented by backpackers and locals alike. The hipster vibe makes it a fun place to work out of or just drop in for a bite. Speaking of which, their Baconator is a killer halal certified beef burger topped with turkey bacon and melting Swiss cheese. The lunch deal gives you a drink free with your order. Review Here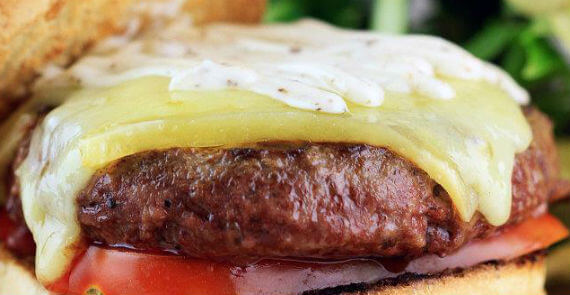 You wouldn't be blamed for missing this tiny space in the Tanjong Pagar area but that would be a loss of magnificent proportions. Serving only burgers, Two Blur Guys reflects the passion of its owners in the quality of the meat used. We love the Prime Beef with Streaky Bacon burger, especially when paired with a bottle from their selection of craft beers. They serve their burgers with potato wedges and a green salad and the truffle mayonnaise used in the burger is made inhouse. Review Here