Image Credit: The Peak Magazine Singapore Melati Founder: Lorin Winata
A homegrown brand, Melati is a deliciously complex adult drink, infused with restorative botanicals from the far east, inspired by ancient recipes. No artificial flavours & colourings, sweetener free, low calories, vegan friendly, small batches, ethically sourced.
A global research study found that 75% of millennials (aged 21-35) say they now limit the amount of alcohol they drink on the majority of their nights out. What can the image-conscious millennials drink when they are on their Dry January or Sober February, pregnant, or simply are non-drinkers and still want to fit in, have fun with friends and look cool?
Melati solves the problem of what to drink when you want it all: Health, Social Lifestyle and Successful Career. Melati enables all the experience of a sophisticated alcoholic beverage without the alcohol. More than a cocktail, Melati sells the experience and ritual of walking up to a bar, ordering a drink, feeling as if you're being looked after by the bartender, and sipping a drink with your friends.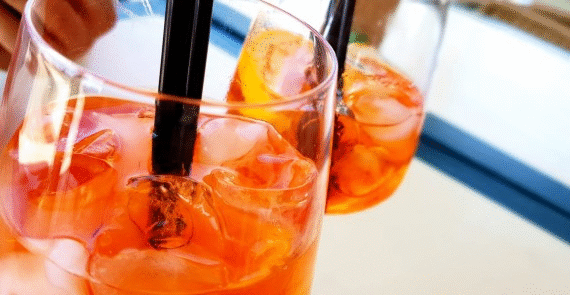 Melati started with Lorin, the founder, who was working in VC. She was always out at networking events, conferences and work dinners. Wanting to stay sharp, she found herself turning down alcoholic drinks. She longed for an adult drink that could be ordered at the bar, which allow her to keep her wits while fitting in with the crowd. Knowing that health is our greatest asset, she set out to create a drink that allows everyone to be their best selves while nailing the challenges of modern life. To network and enjoy social night outs, without the guilt, empty calories, and adverse effects of alcohol.
She believes there's a way to have it all. During a visit to her ancestral farmland in Jatiluwih, Bali, located amongst cascading rice terraces, in a beautiful UNESCO world heritage site, Lorin realized the secret had been with her since childhood. The Asian healing botanicals that she grew up with, have been used by locals for thousands of years, in their balancing tonic drinks.
Inspired by ancient Asian ingredients, delving deeper with her team of botanists, she carefully sourced and hand-picked the highest quality hibiscus, cacao, ginger and spices, individually treating each botanical for maximum potency, to craft an uplifting, restorative, zero-alcohol, plant-based aperitif.
Named after the national flower of Indonesia, Melati represents Indonesian heritage as we all look to the future. Melati is a complex and delicious mood- setter, refreshingly fruity, floral and spicy. Goji and choke berries meet hibiscus for an inviting aroma. Cacao, damiana, and exotic spices enhance connection and mood, with a slight bitterness and touch of sweetness to keep you coming back for more. Born from tradition, reinvented for a new generation.
Melati doesn't believe in mass-market production either; only 500 bottles are made with each release. "Each batch (is) made consecutively with a high concentration on quality which is why we keep the batches so small," says Winata.
Melati is available online here, and at retail shops like Little Farms Valley Point, Little Farms Tanjong Pagar and Temple Cellars. Try Melati at your nearest restaurant, these following establishments are stocking Melati as well: Restaurant Zen, Odette, Esquina, Burnt Ends, Smalls, Cicheti, Bar Cicheti, Caffe Cicheti, Lucali BYGB, Rebel Rebel Wine Bar, The Old Man, Kinou, Hiryu, 13% Gastro Wine Bar, Gazette and 1880 Members Club.
Comments
It is rather easy to appease the appetite of one who drinks alcohol. Take a bottle to lunch or dinner and the deed is done. But what if your host is off alcohol? Or many of your dinner party guests are non-alcohol drinkers? No need to scratch your head. Melati offers the perfect solution. A drink that restores, Melati is a premium non-alcoholic botanical aperitif. Perfect for a gift as we approach year-end, it is boxed stylishly with a menu insert for ideas of how to drink it. Melati means Jasmine flower in Indonesian. Created by Lorin Winata, she urged me to try it with a variety of different mixes till I found the best combination for my palette. I enjoyed a bit of soda and tonic with Melati, remembering the days when Campari soda was the go-to. I was thrilled to have a nip of Melati on the rocks as well. Somehow even though there was no alcohol content, I felt like I was celebrating with a real drink. It made for a great replacement on days that I didn't want to consume alcohol. Strangely psychological! A far better option than having water I'd say. Somehow I felt like I was having something special and no one was going to bug me to have just one glass of wine. So, for those of you who want to treat yourselves to a nip of Melati every night there are some added benefits. It only weighs in at 12 calories, there are no artificial flavours, colours or sweeteners. Its vegan friendly and ethically sourced. Melati is a sophisticated beverage that is healthy and fits in with a social lifestyle. Filled with adaptogens that promote energy, focus and relaxation this drink is filled with antioxidants. Enjoy the experience of a sophisticated alcoholic beverage without the alcohol. Try Melati today. I am sure you will take to it as much as I did.