The best part about being a freelancer or a consultant (besides the flexi-hours, of course) is the fact that you can choose your own office. No more drab cubicles or working from your living room sofa.
Co-working places are the new rage in town and these chic spaces offer a professional and comfortable environment to get your work done. In fact, with meteoric real estate rentals in the city, many start-ups choose to work out of these spaces as well. You can now boast of an office which rivals those of Google and Facebook (though these could do with Google's famed multi-cuisine spread). Here is our pick of the best co-working spaces in Singapore: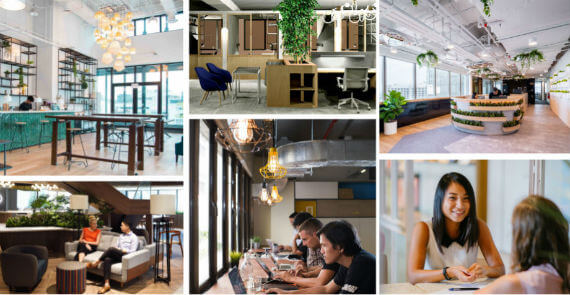 That's right. With workbuddy, you can access over 30 co-working spaces across Singapore as and when you need to. Whether you want to work near a client one day or your gym the next, the workbuddy pass has got you covered. No more fixed desks or lock-in contracts, workbuddy gives you total freedom with one affordable monthly membership that you can cancel anytime.
Choose a plan to suit your budget: five visits a month to any location for S$129 or unlimited visits for S$299. Then simply download the app, book into the nearest workspace, wherever you are, whenever you want and start working! It's that easy.
Looking to get some flexibility back into your work life? Join workbuddy and get your first week free!
How to find the workspace that really makes you happy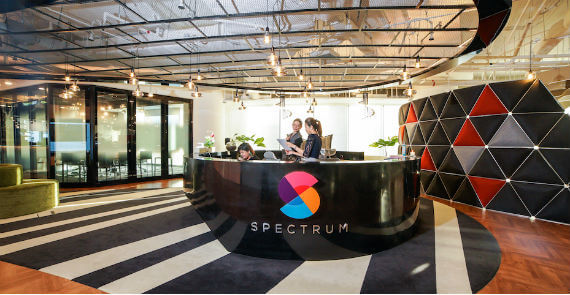 Located at DUO Tower - a highly impressive landmark development at the heart of the city, SPECTRUM is the ideal choice for growth-stage companies that are not only looking for a functionally beautiful space to work but also the resources and connections to accelerate expansion. The thoughtfully designed workspace boasts spacious workstations, a variety of themed meeting rooms, aesthetic breakout areas, Herman Miller ergonomic furniture and even electric hoverboards to move around! SPECTRUM's environment is also complemented by its exclusive space for private discussions by C-suites and decision makers.
4 Things to Consider When sourcing a Co-Working Space for your Team​​​​​​​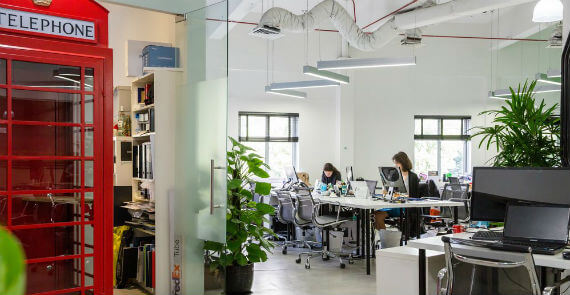 ClubCo Capital Square is a beautiful space that is home to our anchor member The Asia Accelerator boasting an event space, private offices and fixed desks. Instead of just paying for your workspace, up to 100% of your membership fee can be redeemed for food, beverage and other club services. Having recently opened a new workspace at The Quadrant, the new space features multiple levels, more meeting rooms and even a roof top space for community networking and events. Perfect for individuals looking for a space near the MRT at a lower price.
WorkCentral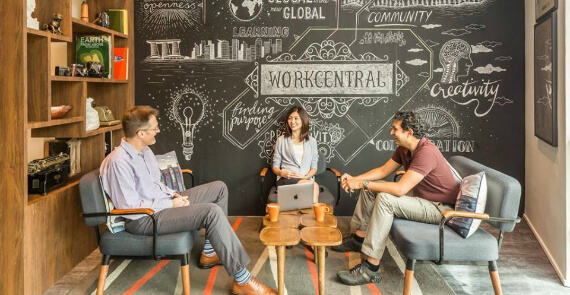 A 1-minute walk from Dhobi Ghaut station, WorkCentral wins points in the connectivity index. Airy and bright, the room is done up in white and grey hues with long tables and comfortable office chairs. There is a well-stocked pantry called The Brew House to cater to your hunger pangs and a sofa-area labelled The Reading Room for a casual meeting or just to unwind. Hot desks, dedicated desks and private offices are available and the space is open 24/7 (9am-6pm for hot desk users). Prices start at $50 per day.
Spaces Clarke Quay ( + various locations)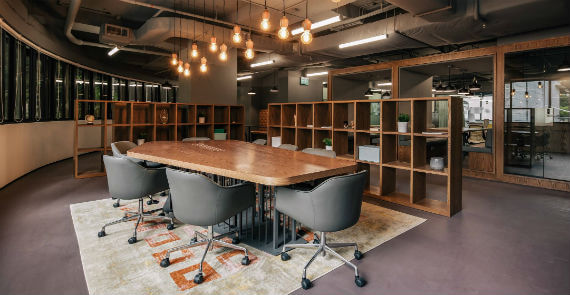 Amid Singapore's skyscraper-speckled landscape, it can be hard to stand out. But Spaces 21 Merchant Road cuts a fine figure, with a striking aquamarine glass exterior and beautiful interiors that showcase polished marble, natural wooden furniture and lots of quirky accessories. This desirable location offers so many different ways to work and meet, depending on whether you need a designated desk, a room for your team, or a break-out area with plenty of comfy seats. This unique co-working hub attracts a wonderful mix of people and companies, as well as friendly and accommodating staff ready to assist with any queries.Enjoy monthly networking events to connect with other members as well as delicious, affordable coffee from the communal kitchen.
The Hub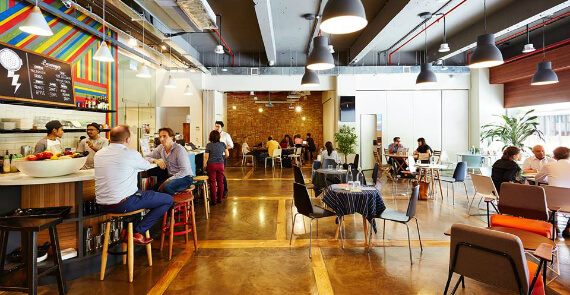 One of the largest co-working spaces in Singapore, The Hub is also one of the most popular. Thus, the Princep branch rarely has availability. The second outlet at Cuppage Road is a more likely bet if you're interested. Popular for a reason, The Hub offers free Ben and Jerry Ice Cream and free beer on Fridays, much like Google's TGIF concept. Packages are offered for hot desks and dedicated desks which include a mailing address for a minimum of 80 hours of usage.
The Great Room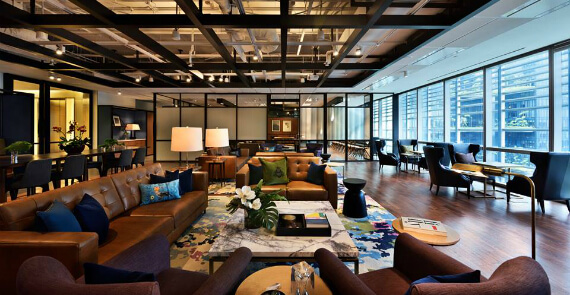 With plush brown leather sofas and hardwood floors, The Great Room resembles a board room more than a co-working space. Individual hot desks share a large stately room with floor-to-ceiling windows. Start-ups may prefer the enclosed hot offices or dedicated offices furnished with storage. The refreshment area is supplied free coffee by Papa Palheta and is great for a break. The Great Room has a second branch in Centennial Tower which boasts of similar views and décor. Day passes are offered at $70 and monthly membership at $750.
The Co.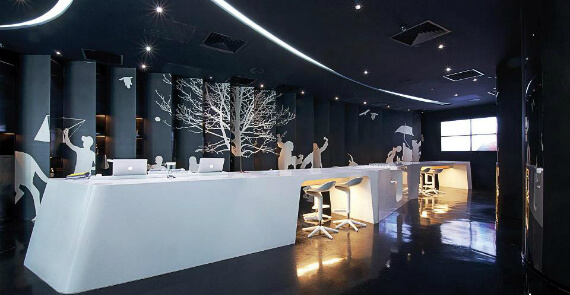 Clean minimalistic décor and affordable hot desks make The Co. another prime choice. This eight-storey building is trendy with a glossy reception and an open-concept floor on the third level. With prices starting at $45 per day, it is popular with local freelancers.
The Company Singapore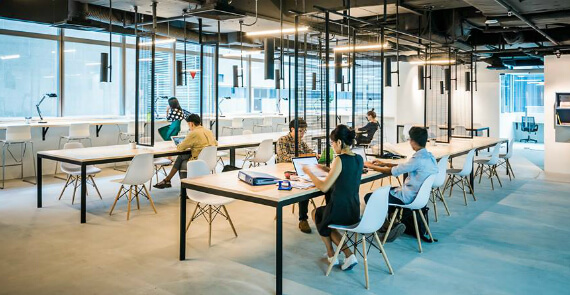 Another minimalistic space, The Company Singapore is more industrial chic with long shared tables and straight-back white chairs. It is located conveniently in City Hall and is open 24/7. Private phone booths and Kyoto-speciality coffee are some of the perks offered to members. If you're planning an event, they also have a space on offer than fits in 100 pax comfortably.
JustCo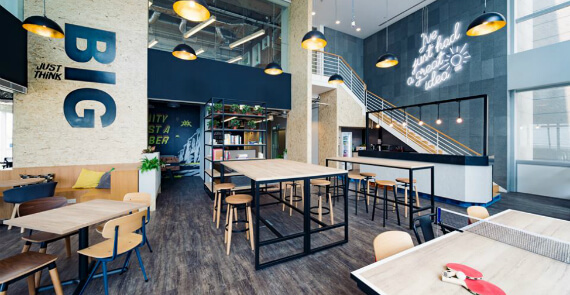 Designed more like a café than an office, JustCo is warm and inviting with wooden hues, high ceilings and a ping pong table thrown in for good measure. Spread over four floors of the Parakou building, this collaborative space has retro graffiti on walls and offers desks for $50 per day. Monthly membership will put you back by $800 for a studio. JustCo also operated three other outlets, all in the CBD area.
MOX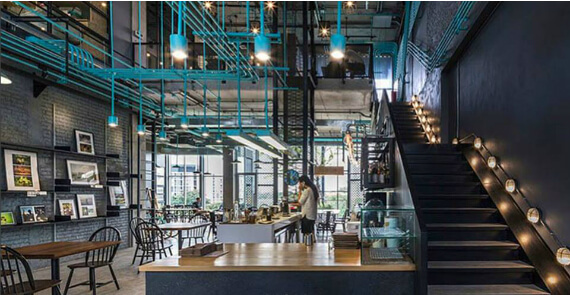 Another one that walks the industrial chic line with aplomb, MOX at Katong Point could very well be a café that we would love to hang in. Perfect for those with a creative bent of mind, it offers novel amenities like a 3-D printer, carpentry desk, a photography studio complete with lighting equipment and work stations with the latest design software. There is even a retail space up-front where you can display pieces that you wish to put up for sale. It's delightfully affordable with a day pass at $30 and a monthly office for $500.
MVR Studio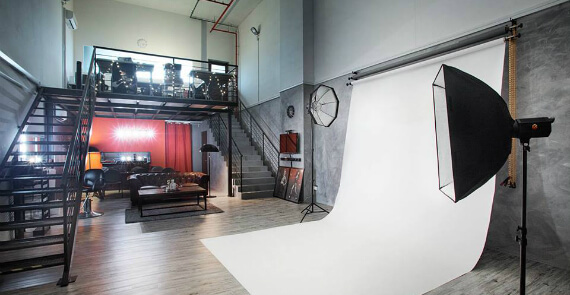 Photographers will love this studio space equipped with lighting, equipment and other technical support they may require. MVR Studio has high ceilings and an industrial-loft feel. The studio is offered on affordable rentals that start at $35 per hour (for a minimum of 2) and hot desks go for $45 per day. If you require support, they also offer services of a junior photo assistant.   
Cliftons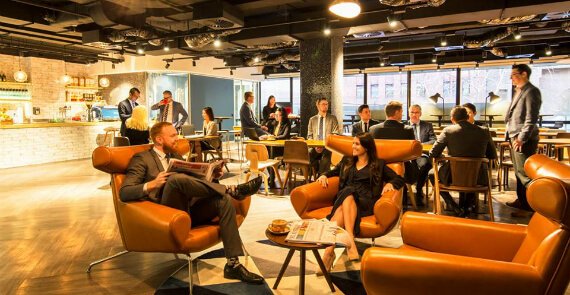 Not your regular co-working place, Cliftons offers training, conference and meeting venues on demand. High definition video conferencing and expert onsite tech support ensure that your event goes off without a hitch. Perfect for image consultants or corporate trainers. Cliftons is a two-minute walk from both Raffles Place and Tanjong Pagar MRT stations. 
the Hive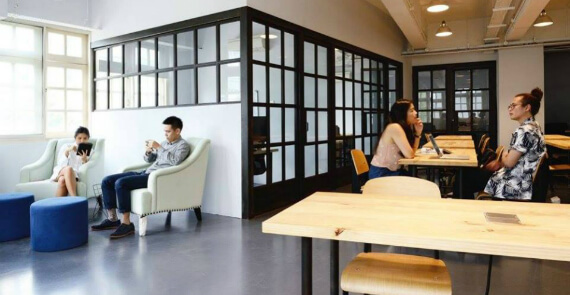 Singapore's shophouses are not just a photographer's delight, they are functional spaces as well. the Hive is located within three such shophouses on Hong Kong Street. For as little as $20, you can have access to their desks, lounge area as well as the lovely rooftop café. Another outlet has just sprung up at Kallang Junction to take care of the East's co-working needs. 
LEVEL3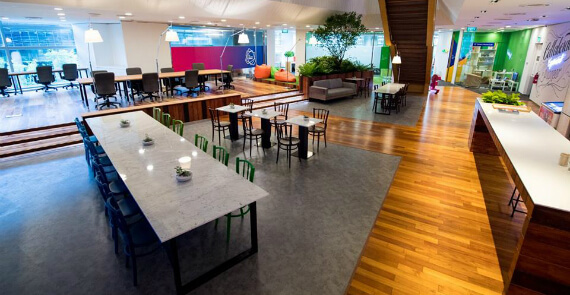 Perfect for start-ups and small businesses, LEVEL3 is a large 22,000 sq.ft. space with desks, meeting rooms, phone booths and event spaces. Run by a company which is a joint venture between Unilever Foundry and Padang & Co., membership at LEVEL3 also gives you access to certain events at the Unilever HQ next door. 10-day memberships start at $275 and premium packages include lockers, support to design a company logo and other perks.
Spacemob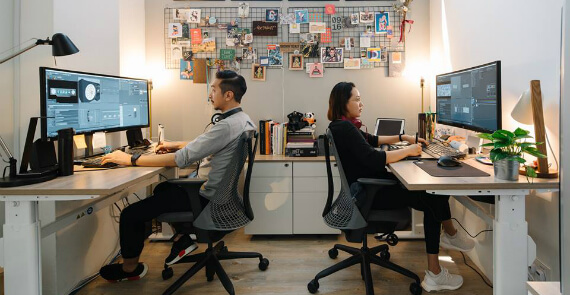 With two branches at Orchard Road and Science Park, Spacemob has the island's co-working needs covered. Large and spread out, the furniture and furnishings are bright and colourful with splashes of yellow, blue, green and red. Seating options include individual desks as well as meeting rooms and an event space that can fit 60 pax. Coffee and snacks are served all day (from their inhouse barista) so you can just concentrate on your work and offers like Takeaway Thursday promise to spice up your work week. $50 can get you a beginner's membership. Free health insurance is included for teams and members also enjoy privileges like corporate hotel rates, etc.