As a freelancer or entrepreneur, you're supposed to be living the life of your dreams, right?
After all, you left the comfort of your nine-to-five for a reason. You wanted more freedom, flexibility and fulfilment. And that's exactly what you got… along with a whole new set of problems.
Workbuddy talked to freelancers and entrepreneurs across the city to find out what bugs them most. Almost everyone had one challenge in common: finding the right workspace.
Those who left their nine-to-fives to spend more time with family found it nigh-impossible to be productive at home. Those who chose a great co-working space in the CBD were faced with long commutes. And fixed contracts meant that those who travelled a lot were often paying for unused space.
When it comes to workspaces, one size does not fit all. At workbuddy, we partner with all manner of co-working spaces, and we've seen how great it can be when a space is the perfect fit. Your match is out there waiting for you, all you have to do is figure out your priorities.
What is your highest priority right now?
If you left your corporate life because you wanted more time for family, hobbies or travel, you need a co-working space that offers a lot of flexibility. You want the freedom to pop out for a workout, pottery class, or trip to the zoo with your kids. Choose a space with lots of branches across the city, so you don't spend the whole day commuting to said activities. And for all you jetsetters, make sure your contract allows you to cancel your membership anytime.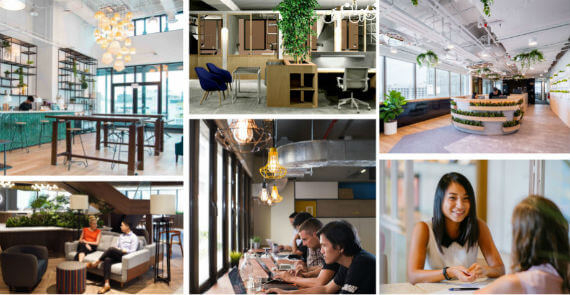 If you're hustling to win more business and rack up those all-star projects, you need a co-working space that gives you easy access to clients. Go for a location smack bam in the middle of the CBD, or wherever your target clients are, so you're always at the heart of the action. At workbuddy, we've found that clients can sometimes be where you least expect them, so choose a space that provides a wide variety of networking opportunities too.
If your objective right now is to just put your head down and get through some massive projects, choose a co-working space with sound-proof rooms or quiet zones where you can really focus. Some people are more productive in clean, clutter-free spaces, others prefer busy vibes, and others like changes of scenery. Know what works best for you before committing to any one space.
With a flexible lifestyle comes a fluctuating income, which can be tricky to manage. It's normal to go through low periods where you need to cut back on spending, especially when starting out. With this in mind, choose a co-working space that makes it easy to downgrade or cancel your membership when you need to.
Having worked with so many freelancers and entrepreneurs, the workbuddy team know that it's not always that simple. You may have different priorities at different stages in your business. Sometimes it's about bringing in more clients, sometimes it's about powering through the work, and sometimes it's a bit of everything! If you're someone who wants it all, you may need a different approach.
At workbuddy, we don't like compromise, either. Our solution? An app that offers affordable, flexible access to more than 30 co-working spaces across Singapore. Work close to home one day and close to a client the next. Try a swanky vibe today and a hipster vibe tomorrow. Moving overseas? Cancel your membership anytime. Ready to start work? Simply log into the workbuddy app, choose a space and book a hot desk. It's really that easy.
If you'd like to give it a go, sign up for our one-week free trial and see how you fair. You'll be joining hundreds of others who are finally enjoying the flexibility they wanted in the first place.
Comments
Access over 30 of Singapore's top co-working spaces with one affordable pass! That's right. With workbuddy, you can access over 30 co-working spaces across Singapore as and when you need to. Whether you want to work near a client one day or your gym the next, the workbuddy pass has got you covered. No more fixed desks or lock-in contracts, workbuddy gives you total freedom with one affordable monthly membership that you can cancel anytime. Choose a plan to suit your budget: five visits a month to any location for S$129 or unlimited visits for S$299. Then simply download the app, book into the nearest workspace, wherever you are, whenever you want and start working! It's that easy. Looking to get some flexibility back into your work life? Join workbuddy and get your first week free! Go to the Free Trial Link at the bottom of this article