There's nothing quite like a hearty English breakfast, usually consisting of bacon, fried eggs, sausage, mushrooms, baked beans, toast, grilled tomatoes, and usually accompanied with tea or coffee.
But who's to say this meal is for the morning? Many cafes, pubs and restaurants offer this serve at any time of day as an "all-day breakfast". We've done our homework and compiled an up-to-date list of your favourites spots around town. Image Credit: Food For Thought - Facebook Page​​​​​​​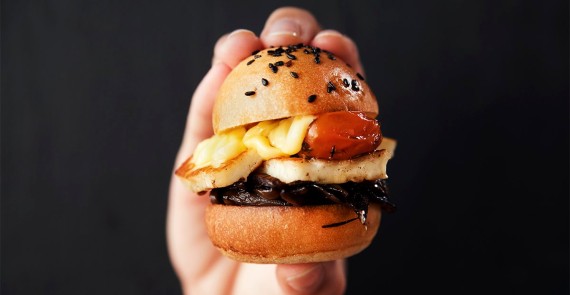 Image Credit: Sarnies - Facebook Page
Freshly roasted coffee is a rarity in cafes and Sarnies is one of the rare ones. Awaken your senses with a brilliant cup of coffee followed by Breakfast of Champions - steak or salmon, scrambled eggs, mixed greens, guacamole and tomatoes. There are plenty of other equally delicious options for brekkie including Bacon & Egg Sarnie, Smoked Salmon & Cream Cheese Bagel, Ham & Cheese Croissant and for those in a rush, Breakfast Wrap made with eggs, roast tomatoes and shrooms.
INFORMATION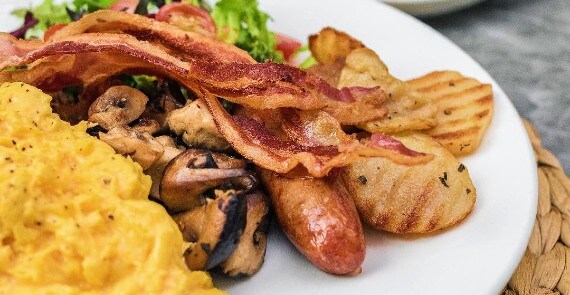 Image Credit: Food For Thought - Facebook Page
Relish a delicious, filling English breakfast at Food for Thought offering Full Works - scrambled eggs, bacon, brioche, baked beans, garlic mushrooms, pork sausage and a mesclun tomato salad. What we love about this cafe apart from the delicious food served here is their initiatives of clean water, providing food to the poor, community sessions and inspiring kindness. Housed within the oldest museum of Singapore, this cafe is one of the most awesome hangouts on the island.
INFORMATION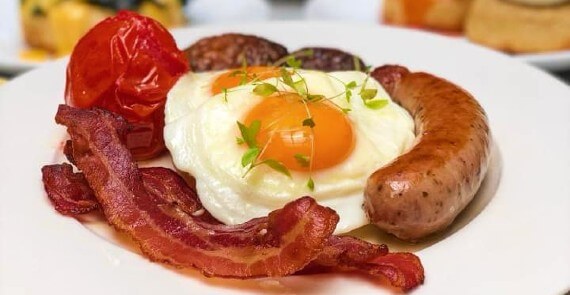 Image Credit: The English House, By Marco Pierre White - Facebook Page
One of the most reputed English restaurants in Singapore, The English House by the legend, Marco Pierre White has a splendid breakfast option on its menu. Served during weekend brunches, Traditional Full English with Toasted Crumpet comes with grilled sausage, crisp bacon, mushrooms, roasted tomato, and fried free-range egg. You can also order their Classic Eggs Benedict with Berkshire Ham Hock or Eggs Florentine for a lighter brekkie.
INFORMATION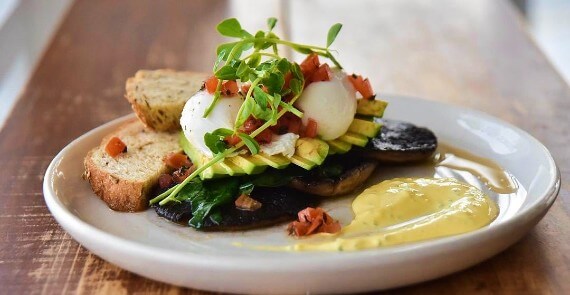 Image Credit: Pacamara Boutique Coffee Roasters Singapore - Facebook Page
Pacamara is one of our favourite cafes to binge at and food choices here are amazing, Beef Burger, Chicken Mushroom Mac & Cheese, Pancake, Truffle Carbonara and so much more. We recommend coming here for their Breakfast Platter - toast, baked beans, avocado, grilled tomato, hash, thick cut bacon, mushroom, greens, and a choice of eggs. This followed by their freshly brewed coffee is sheer pleasure.
INFORMATION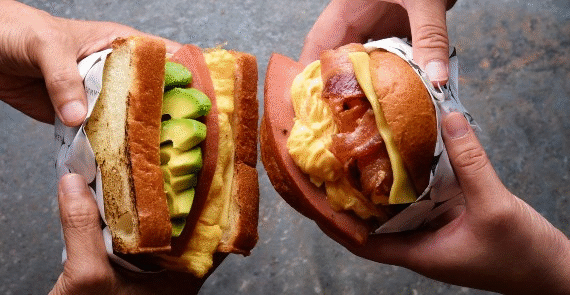 Image Credit: Symmetry - Facebook Page
We love Australian food and are suckers for the Lobster Salad Nachos, Popcorn Chicken and Crab Benedict at Symmetry. Get ready for a sensational meal when you're here and enjoy their laid-back atmosphere and chic vibe. You can satisfy your hunger pangs with their Symmetry Big Breakfast - scrambled eggs, tater tots, Norwegian smoked salmon, chicken cheese sausage, sauteed mixed mushrooms, maple-glazed bacon, and a sourdough with berries butter.
INFORMATION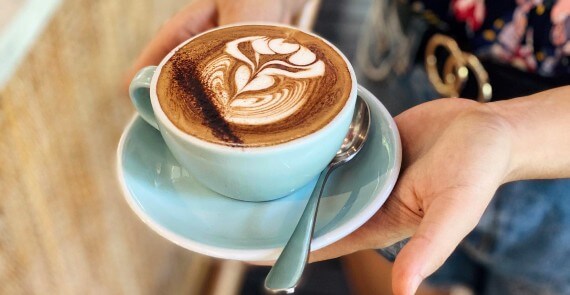 Image Credit: Common Man Coffee Roasters - Facebook Page
Freshly brewed coffee to start your day is a good idea and doing so with the coffee at Common Man Coffee Roasters, makes it a great one. They've got amazing food, perfect for a brunch paired with natural wines and classic cocktails. We are head over heels for their Common Man Full Breakfast - choice of two organic eggs, bacon, pork sausage, herbed roma tomato, vegetable rosti, portobello mushroom, house-made chorizo, and baked beans with artisanal sourdough or wholemeal toast.
INFORMATION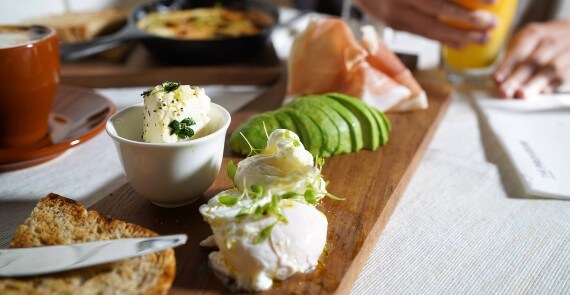 Image Credit: The Providore - Facebook Page
One bite of the Warm Flourless Chocolate Cake at The Providore and you'd always want to come back here. For mornings however replace the cake with their English Breakfast - choice of eggs, sauteed mushrooms, roasted tomato, grilled bacon & bratwurst sausage and a sourdough toast. Pair this with Black Tea, single origin coffee or an iced tea. They've also got plenty of sides like avocado, cheddar cheese, smoked salmon to amp up your breakfast.
INFORMATION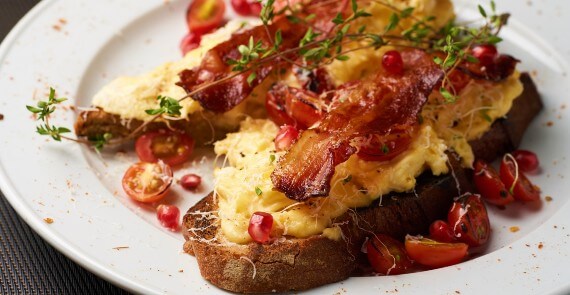 Image Credit: Ninethirty by Awfully Chocolate - Facebook Page
A cafe by Awfully Chocolate, Ninethirty provides a hoard of chocolatey delights like Hot Chocolate, Chocolate Cappuccino with cinnamon stick, Cacao Mocha, Cold Chocolate Salted Butterscotch and savoury delights to go with them. Apart from all things chocolate, we're also fans of The Works - creamy scramble, sausages, bacon, mushrooms, grilled tomato, caramelized onions and griddled ciabatta.
INFORMATION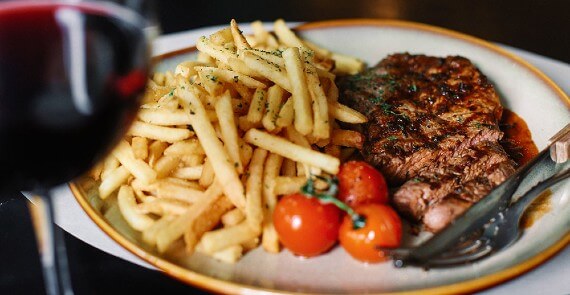 Image Credit: PS.Cafe
Places like PS.Cafe are meant to be for a slow day of lingering, reading or catching up with friends over a kickass brunch, rounds of tea, coffee and delicious pie. The outlet at Harding Road has a speciality which we highly recommend, PS. Big Breakfast featuring a choice of two eggs, smoked bacon, wilted spinach, buttered toast, baked beans with angus or pork sausage, cherry tomato and a rocket & basil salad with honey truffle dressing. Yum!
INFORMATION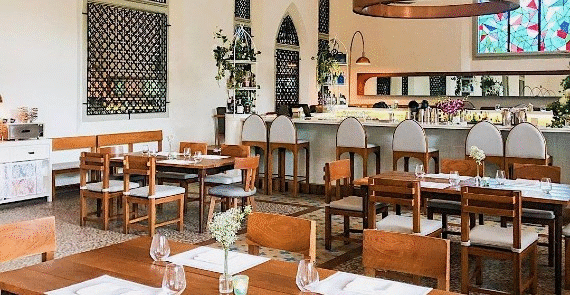 Image Credit: The White Rabbit - Facebook Page
Surround yourself in an ambience like no other at The White Rabbit; housed in a restored 1930s chapel, you get to dine in hallowed halls filled with colonial heritage with high beams, stained-glass windows, modern decor and furnishings. While their Roasted Black Truffle Chicken is apt for brunch, we do recommend The White Rabbit Fry Up - cage-free eggs any style, Iberico shoulder ham, pork bratwurst and grilled baby cos.
INFORMATION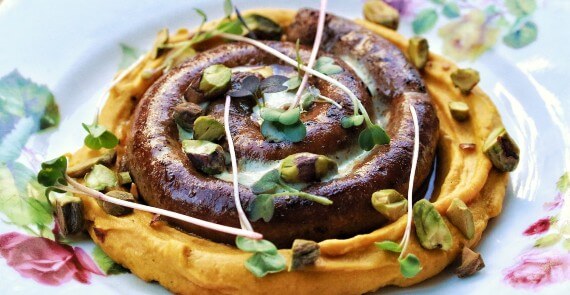 Image Credit: The Butcher's Wife SG - Facebook Page
One of our go-to places for a satiating meal is The Butcher's Wife and their speciality is gluten-free meals and natural wines. Go for a filling brunch here and order their Full Breakfast from The Butcher - choice of organic eggs, lamb sausage and pistachio, fermented beetroot ketchup, crispy glazed bacon, manioc rosti and white beans salsa. If you do manage to have some space left, we recommend their sorbets to wrap up your meal.
INFORMATION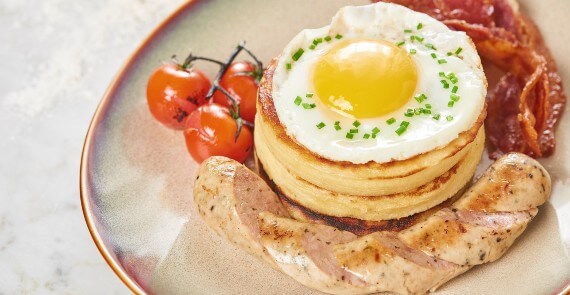 Image Credit: SPRMRKT - Facebook Page
Sprmrkt is a brilliant space to be in the mornings with plenty of sunshine beaming through the window and vivid art pieces on the walls. Their English Breakfast Tea is the perfect accompaniment to their Breakfast Platter - choice of two eggs, mixed mushrooms, two pork sausages, bacon, confit tomato, fresh greens and warm toast. Absolute bliss for the tastebuds and the stomach. Psst, they also serve a delicious dinner.
INFORMATION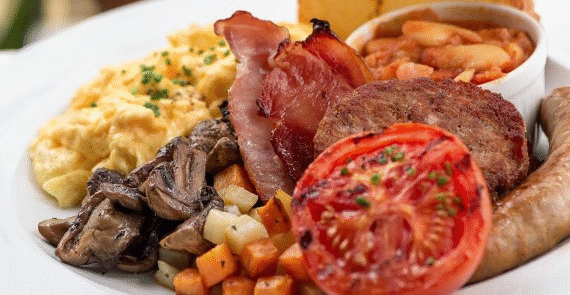 Image Credit: Wild Honey - All Day Breakfast - Facebook Page
Offering a wide range of all-day breakfasts, coffee and cocktails, Wild Honey is great for having a loaded brekkie which can even be turned into a lingering brunch with the addition of wines and potent cocktails. Go for their amazing English breakfast - choice of eggs, poached, fried or scrambled with Canadian bacon, pork and fennel sausage, white pudding, sweet potato hash, sauteed mushrooms, baked beans, grilled tomato and toasted brioche.
INFORMATION
YOU MAY ALSO LIKE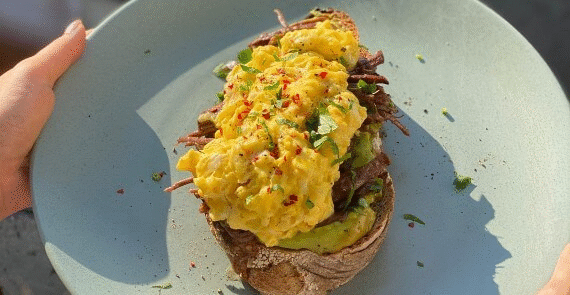 Expat Choice recently caught up with founder and visionary for Burn, Aussie bloke and all-round good guy Pav Khialani who shares his love for food, people, brunch (especially on Sunday) and everything wood-fired. Sunday Brunch is being served all-day until 4pm on Sunday so, if you are looking for a delicious sandwich that is stacked with ham, then The Club Sandwich ($18 SGD) is perfect for your brunch 7 days a week. How does the Smashed Avocado & Feta Cheese (V) ($16 SGD) sound for a brunch meal? Featuring our house-made smashed avocado with mixed nuts, mint & fresh feta as well as a choice of how your eggs done - the meal is simply so perfect! 
INFORMATION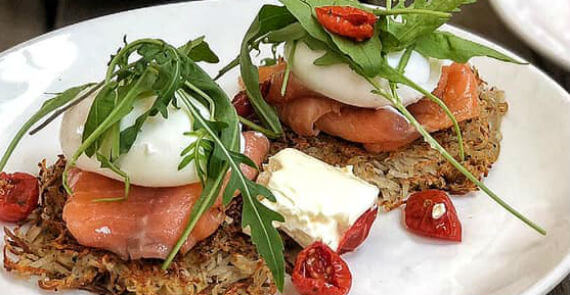 Brunch bites are available 9am to 3pm daily. Check out the sumptuous spread of a la carte brunch classics, hearty breakfast mains & more! Enjoy delights such as Rösti with Smoked Salmon & Poached eggs $18++, Timely poached eggs with smoked salmon, fresh rockets & sun-dried tomatoes resting on a sheet of potato nest. You can also tuck into generous servings of Coastes mouthwatering burgers, pizzas, pastas and delicious fresh seafood. Soak up the sun, sand and sea while relaxing to a mix of Balearic tunes as you sip on your ice-cold beer. Families will love the beach bar for its expansive beachfront and kid-friendly amenities
INFORMATION
Take the Sentosa Express from Vivo City to Beach Station. Coastes is just a 2 mins walk from the Beach Station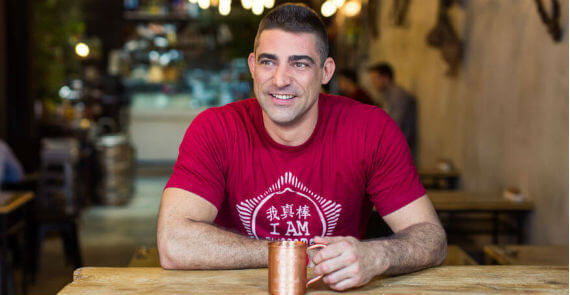 Amazing place to grab a quick breakfast, brunch, lunch or dinner in the CBD. Stepping in to My Awesome Café takes you away from work life, the polished surfaces in the CBD. The salads are generous, and the lasagna delicious and hearty. Wine and Beer flow aplenty.  The road to My Awesome Café did not only start with the renovation of a historical shophouse. It started way before, with the decision to take a leap of faith.  For Franck, the founder - a consummate F&B expert, it was a challenge to be on his own. But a challenge he doesn't face alone. He inspires everyone in his team to serve awesomeness, as he does, all the time. My Awesome Café is a business, as much as it is a playground, a school, a home. In their own little way, they hope to share with you the familial spirit that puts a smile on your faces that keeps us going everyday. 
INFORMATION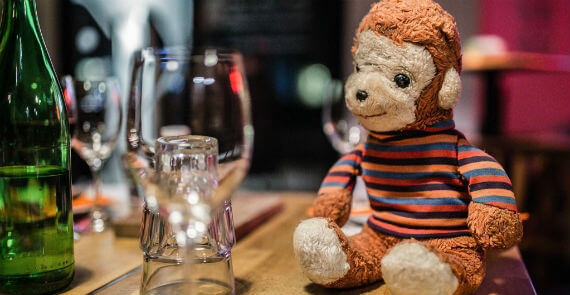 jimmy monkey café & jimmy monkey too are arguably Singapore's hippiest coffee destination brought to you by Michael Ryan. Nestled amongst lush greenery and set in an old conservation army barracks, it has a chilled-out ambience and decor that has no equal. Experience your espresso made by Singapore's very first Slaye espresso machine! Taste your coffee again. For the first time. jimmy monkey provides food that is both hearty and rustic, yet not so simple that you can whip it up yourself at home. Indulge in a delicious brunch or all-day dining with home made dips and toasted focaccias, tasty pastas and all-time favourites such as fish-and-chips and bangers and mash. New Outlet open at Paya Lebar Quarter, 2 Paya Lebar Road
INFORMATION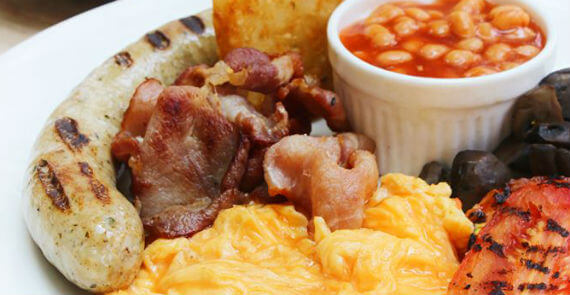 Still a huge crowd pleaser! Dine in for the The Ashes Breakfast pictured $22++ - with pork sausage, bacon, scrambled eggs, hash brown, Roma tomato, mushroom, baked beans and toast! Available weekdays until 11:30am and weekends until 5pm. Whether it's a special occasion, an opportunity for family & friends to catch up, or a pleasant start to a lazy weekend day, Breakfast or a weekend Brunch is a meal for relaxation and good company. Join Boomarang for their award winning breakfast menu daily. Boomarang is a café, bar & bistro located in 2 Singapore locations which proudly serves fresh, authentic Australian cuisine while celebrating her charming culture. Located by the scenic Singapore River at Robertson Quay and also strategically placed near the CBD at Boat Quay, Boomarang offers a relaxing ambience for all-day dining & entertainment. Open Daily from 7am until late. Get the weekly Boomarang Sports Bible to your email inbox. A weekly comprehensive guide to live sport in Singapore! 
INFORMATION
(right next to the Singapore River)
Daily 7am-3am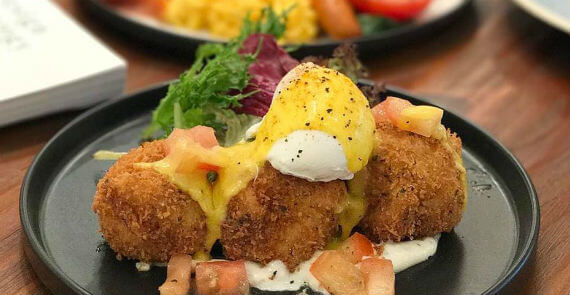 You'll just have to visit this fab find to get the full experience. It's great. Highly recommended. Ask for the Killer Mac & Cheese! Crispy bacon mac & cheese balls with homemade salsa, aioli sauce and a perfect poached egg. Located at the foot of Mt Faber, the junction of Wishart & Morse Road. Serving coffee, all-day Brunch and many more great dishes.
INFORMATION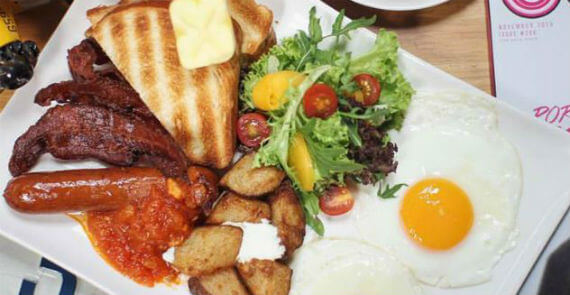 Wheeler's Cafe is a bicycle café nestled in the heart of Balestier, with an industrial warehouse setting that will get your cameras snapping away. Bicycle lovers can cycle here with ease using the park connector and order a cuppa while they rest and admire the range of bicycles and accessories offered. Non-bicycle lovers are definitely not forgotten. With a passionate team of chefs and barista working to satisfy your tastebuds, be sure you're hungrey when you visit here. A huge seating capacity that caters to both small and big gatherings, with a choice of indoor or alfresco, is definitely a plus.
INFORMATION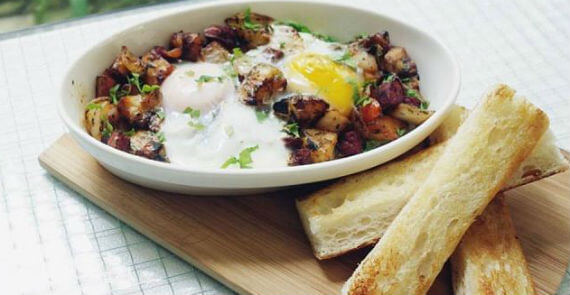 It's pretty difficult to find a decent Egg Benedict in town for a good price, but this hits all the right places. The dishes at Skyve Wine Bistro are well though-out and lovingly prepared, and the lovely space is a haven for both skyvers and busy bees who need a break. If hearty dishes and a lazy, laid-back dining experience are what you are looking for, then Skyve, trues to its name, delivers on all counts.
INFORMATION
10 mins walk from Newton MRT Station